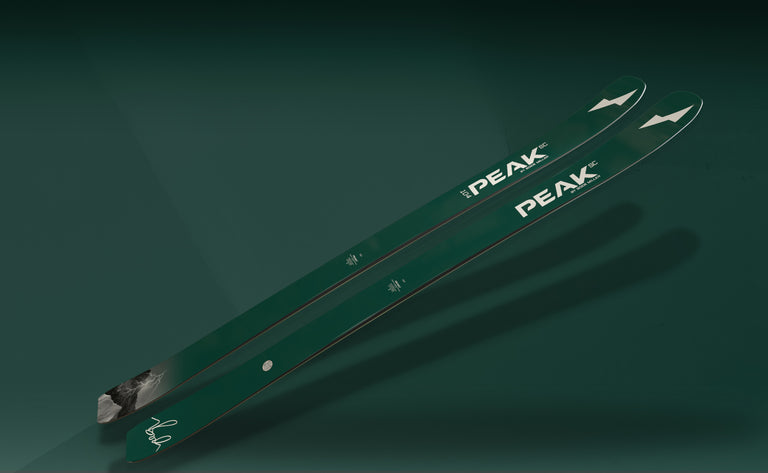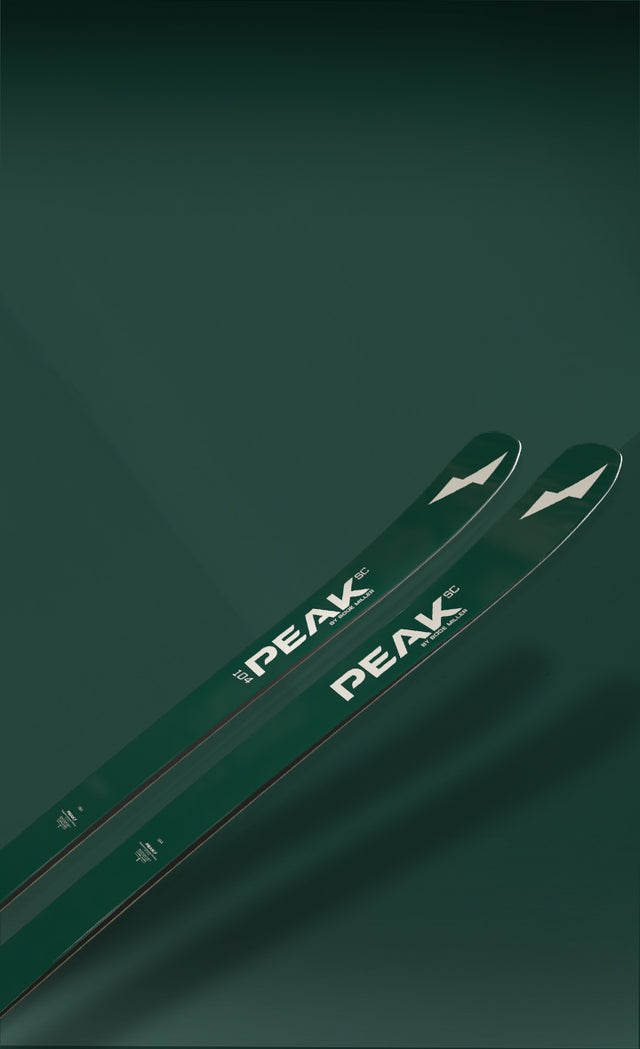 Peak® 104SC
A Ski Without Boundaries
The 104SC floats and carves like the standard 104, but it's a few hundred grams lighter for shouldering on the bootpack or gliding up the skintrack. Not that it's a pure backcountry ski. It's built for adventure skiing everywhere.
Regular price
Sale price
$890.00
Unit price
per
Sale
Coming Soon
Ski Length Guide
Skiing isn't a narrow sport, which is why there's no shame in having a quiver. But who wants to haul three sets of skis to Revelstoke? That's where the 104SC comes in. The SC stands for "side country," which means they're happy cutting a few laps at the resort, but we saved weight and kept things playful for leg-serviced adventuring. Pair it with a resort-to-AT binding and a boot with a tour mode and it's the only rig you'll need to haul to that bucket list resort/snowcat/backcountry adventure.
Shipping & Returns

No Buyer's Remorse—Ever

"We test Peak Skis, so you don't have to."

That's a guiding principle here at Peak. From phase one prototyping to final production and beyond, we test our skis to make sure they offer the huge performance window we envisioned. The customer is not our guinea pig.

But we also know that every skier is looking for a specific "feel" in a ski, and we support that. If you aren't happy with the ski you selected (maybe you bought the wrong length or model) you can return it for another model/length—or a full refund.

We're tempted to call that a "no questions asked" exchange, but in fact we like to ask questions, so we get better at what we do.

Here's the deal: If you receive your new Peak skis in the summer or fall, you have until December 31st of that year to return them for another set of skis or a full refund. (That way you have time to ski on them in December.) If you buy and receive your skis after December 31st, you have 30 days to ski them and decide.

To make this easier, just hold onto that nice box the skis come in and then fill out the below form and we'll respond with a return label. 

It's a pretty easy return—for a product with the dimensions of lumber.

 

Return Form

 

The Fine Print

All Returns

We are only able to refund to the original method of payment. Please allow at least 7 days for the refund to appear on your card.  See below for other details.

Exchanges on Skis

We are happy to exchange your skis within the time frames described above for another model of the same year that we currently have in stock.  Just email support@peakskis.com and include your original order number (PS-####), which ski model and length you are sending back and which ski model and length you would like to receive. 

We'll send you a FedEX return label to put on the box.  Then drop off the box at a FedEX location and make sure to get a receipt!  We will ship out the replacements within a week of receiving the return and will send you a tracking number so you can follow their progress.

Ski Returns

Make sure you are still within the return timeframes listed above and email support@peakskis.com with your original order number (PS-####) and the model and length you are returning.  We'll then email you a FedEX return label.  Drop off the box at a FedEX location and make sure to get a receipt!  Once we receive the skis we will send you a refund. 

Returns on Non-Ski Products

Unused apparel and non-ski gear (anything that is not a ski) that is in new condition with tags and in the original box, may be returned or exchanged within 30 days of purchase. 

Binding Returns and Exchanges

Bindings must be in unmounted condition in the original packaging including all mounting hardware, labels and inserts.  The original binding box must be enclosed in another box to protect the binding box from damage. Email us at support@peakskis.com to get a FedEX return label and make sure to get a receipt when you drop them off. 

Returns on Promotions

The return policy on promotions (including bundles) varies based on the offer and is communicated in the advertisement, offer email or the page related to the promotion.  Typically, all items in the promotion must be returned in order to receive a full refund and non-ski products (bindings, goggles, etc . . . ) must be in new, unused condition, with tags in the original box.  Keep this in mind if you plan to mount bindings that were part of a promotion.  Buy-one-get-one free offers require the return of all items to receive a refund as partial refunds are not permitted.

Shipping

Shipping on purchases over $50, in U.S., is free (for returns too). Elsewhere in the world, the customer pays shipping, duties and fees, but that's all easily calculated with our FedEx app at checkout.

 
Warranty

While unlikely, it's possible that you will receive a pair of skis with a minor flaw. It's also possible, while out enjoying your skis, something goes wrong with them that is unrelated to the ski conditions or environment. Should a circumstance arise where you discover a flaw after putting your skis on snow, and you are the original owner, we will happily replace them for up to three years from the date of purchase. Enjoying your skis is paramount; if enjoying your skis results in damage to the skis from any number of hazards that exist in the mountain environment, we trust that you'll understand if we have a tough time replacing them due to conditions or circumstances outside of Peak's realm of influence.
View full details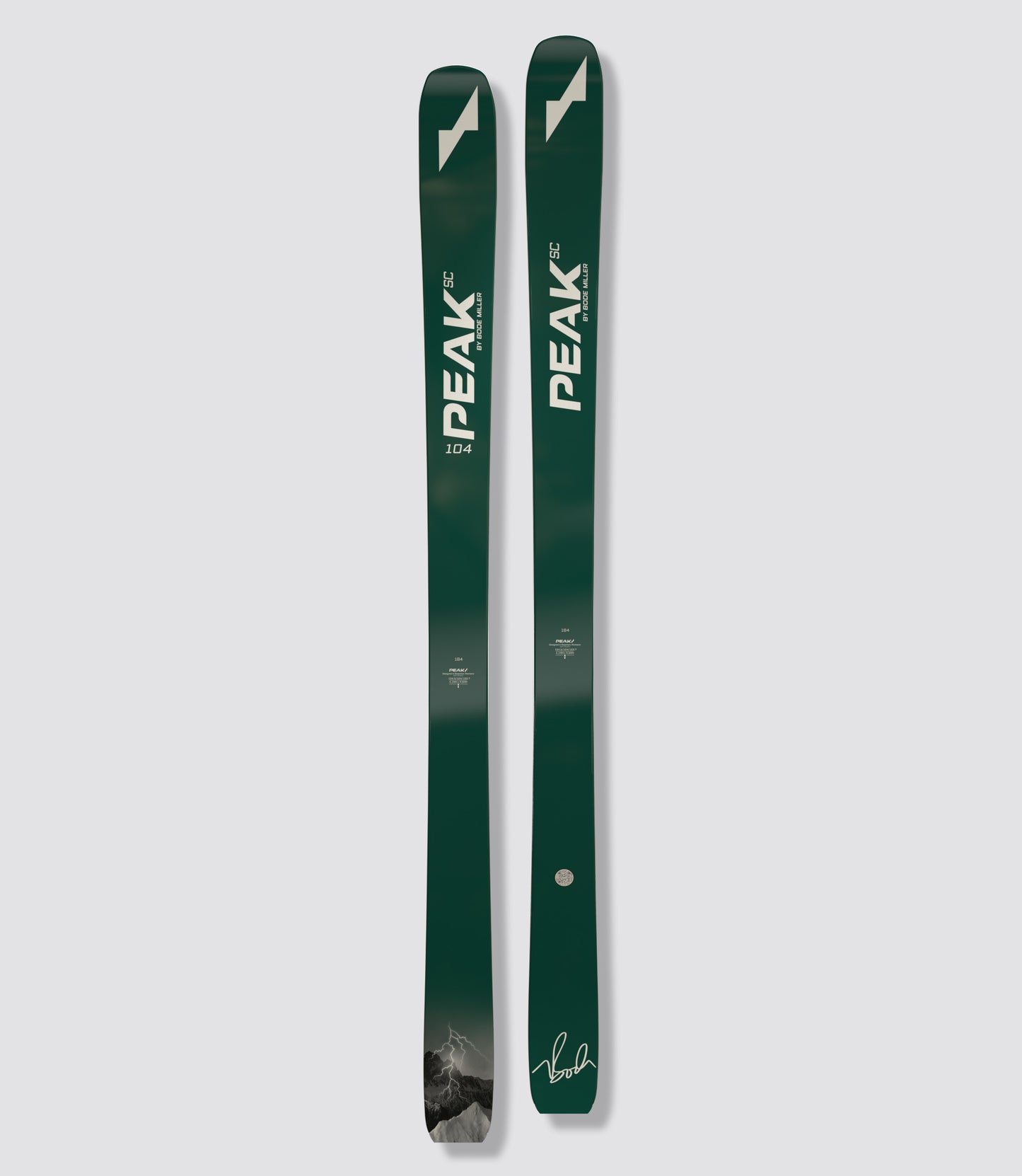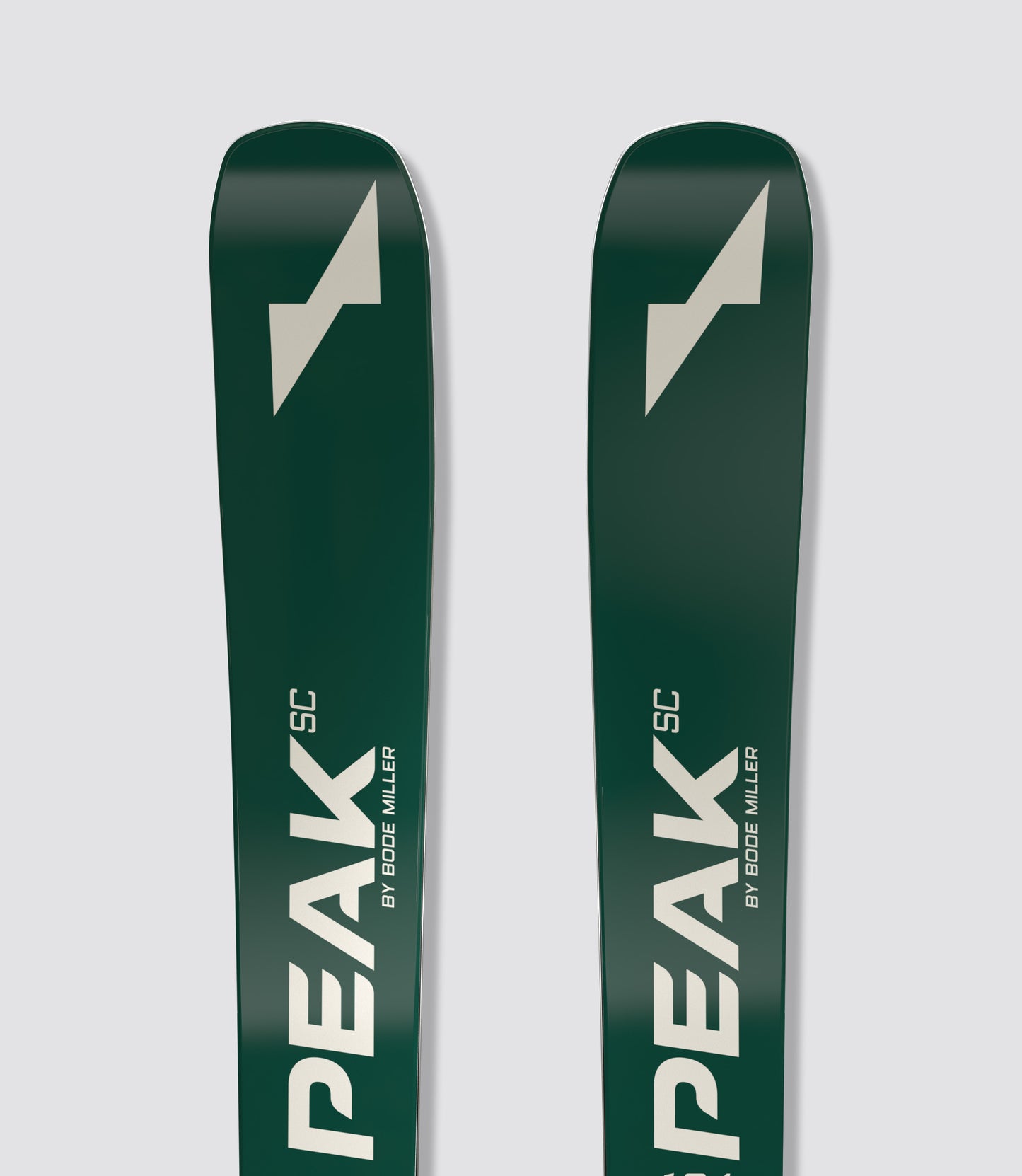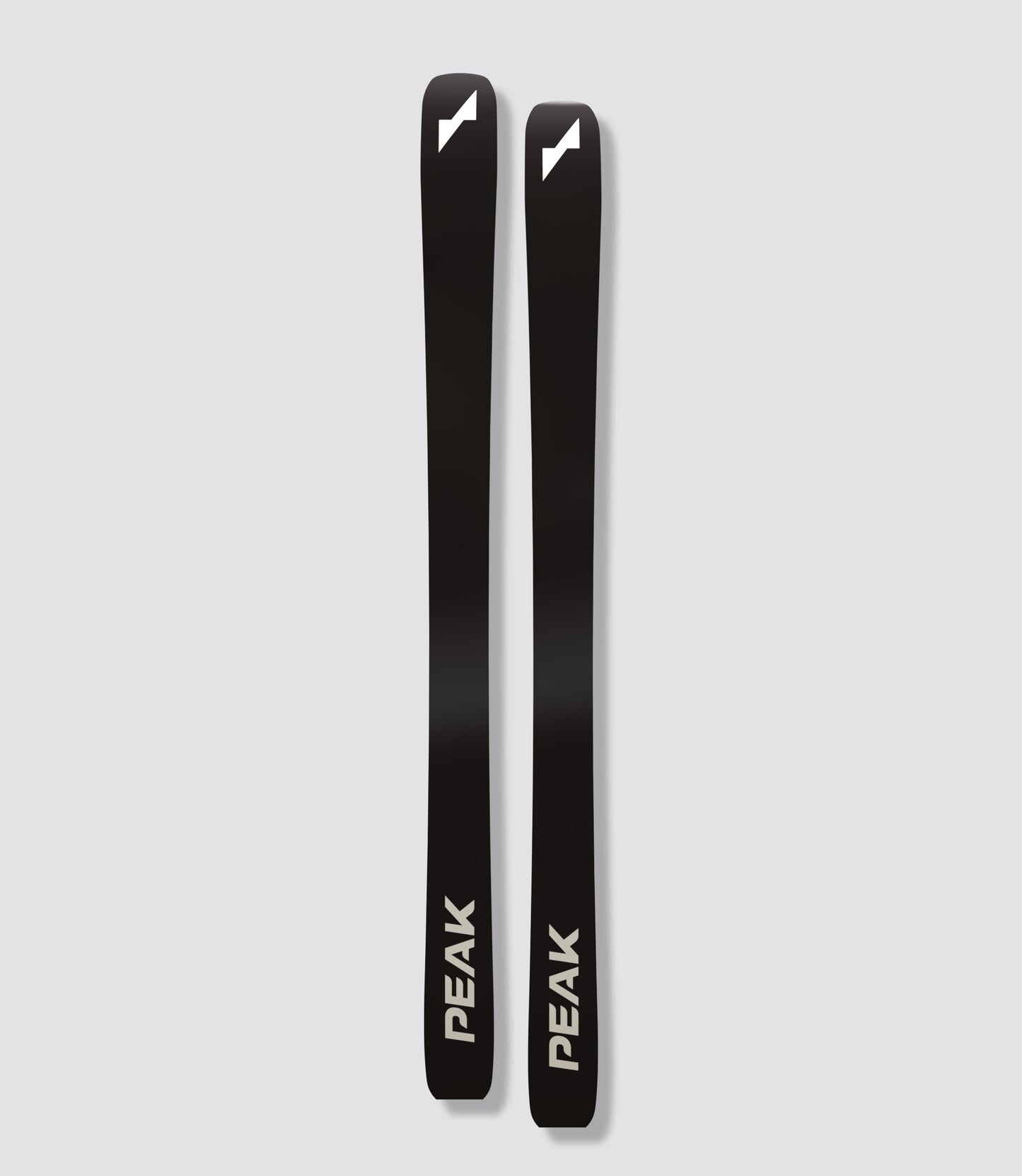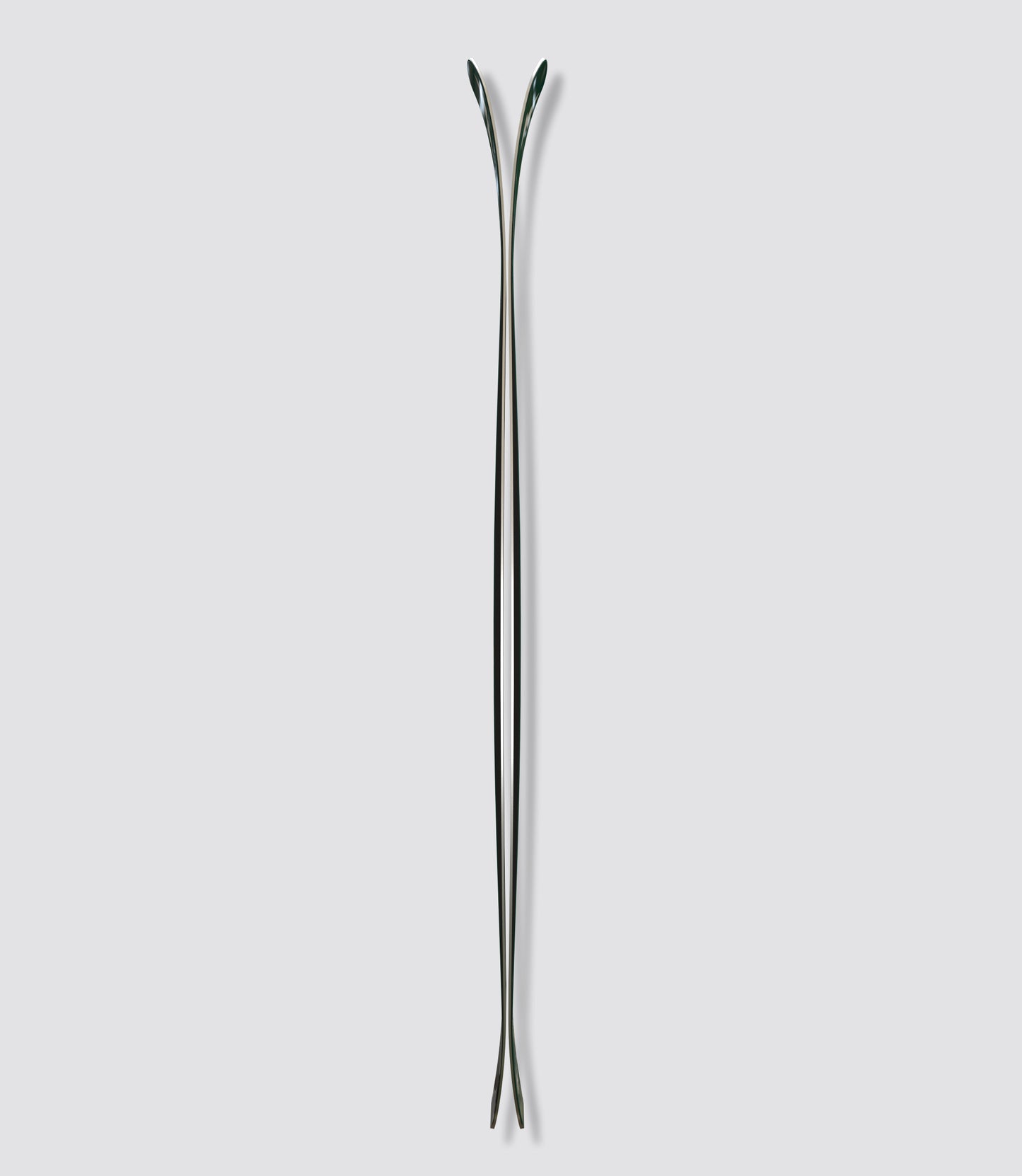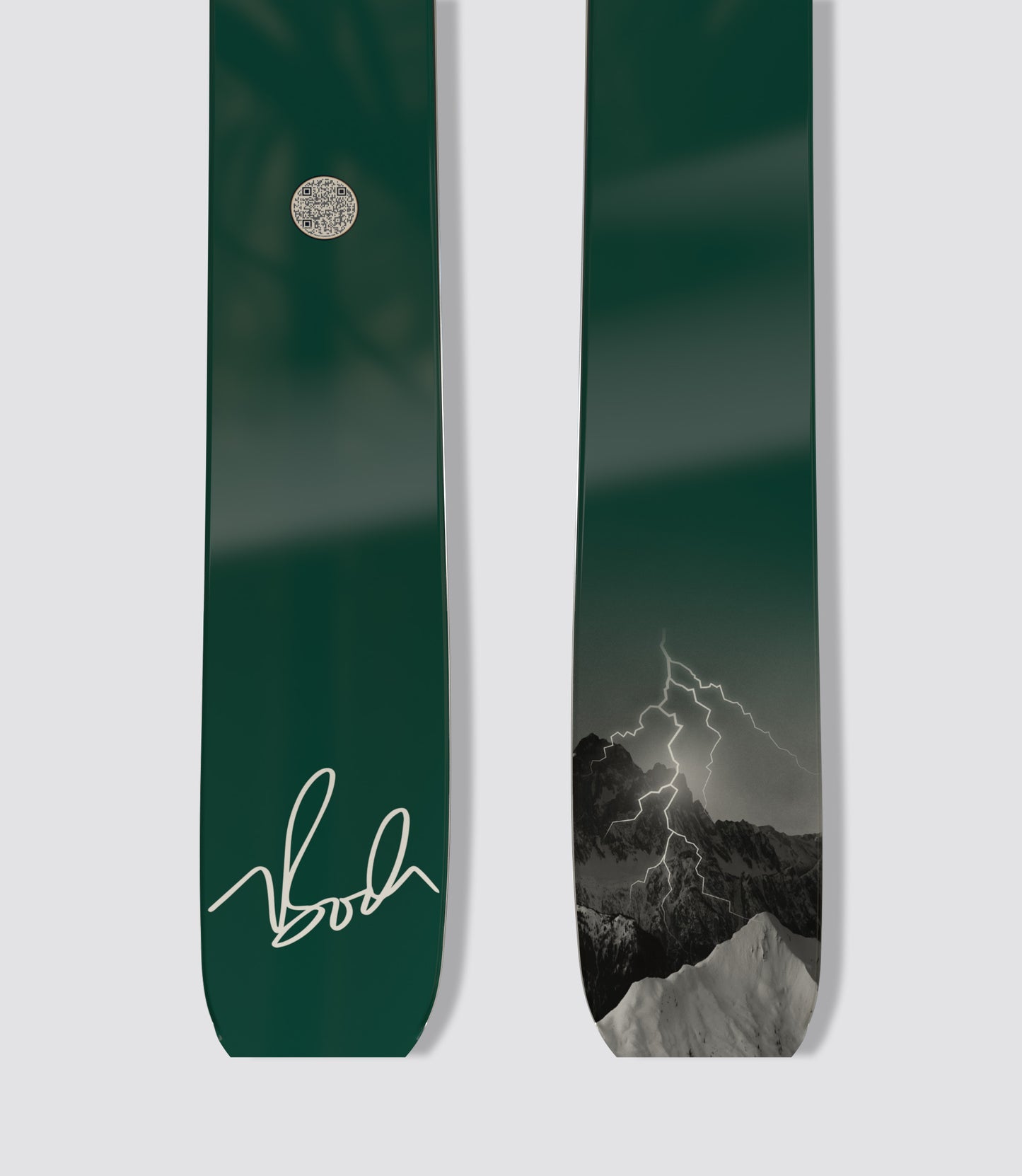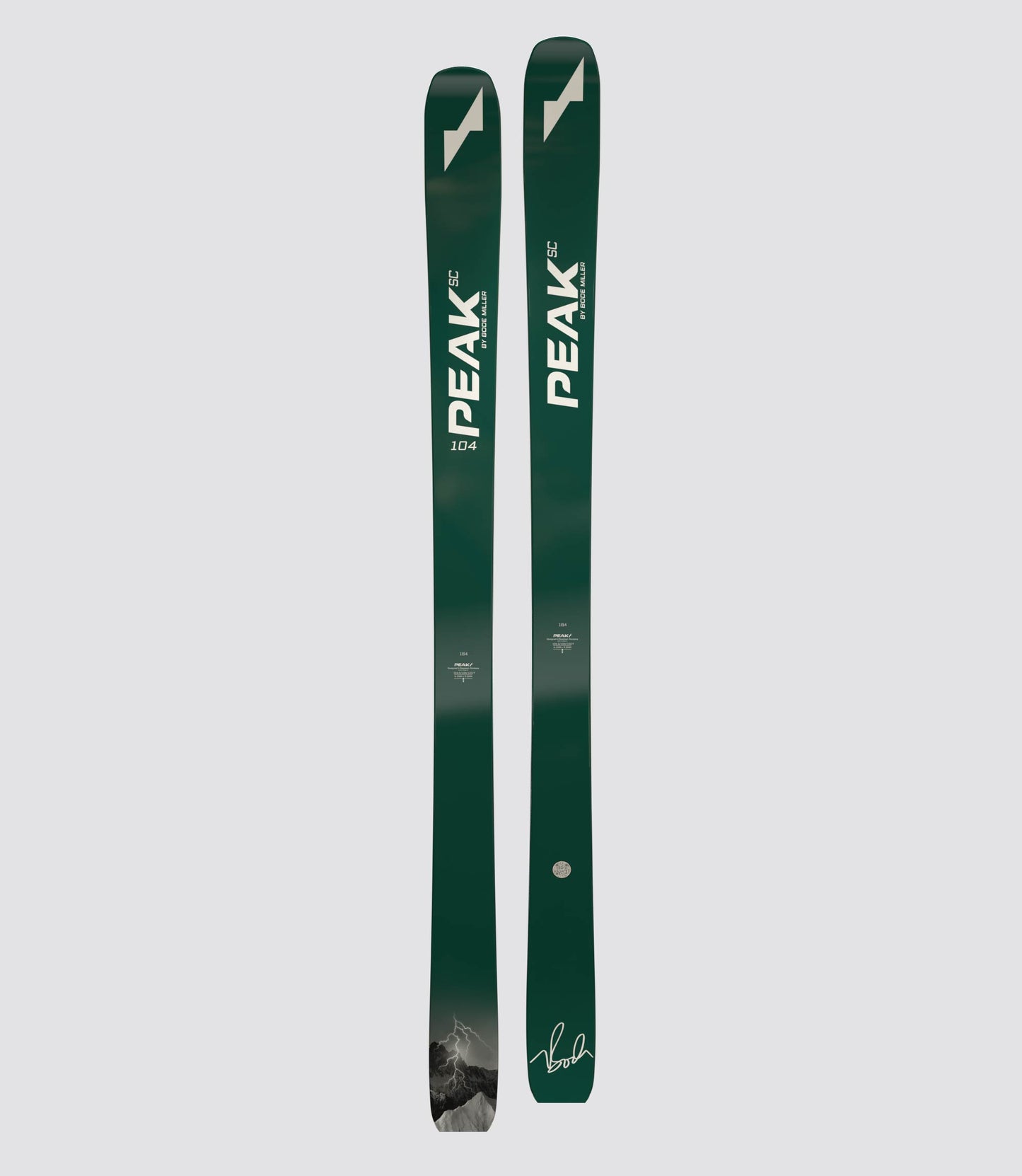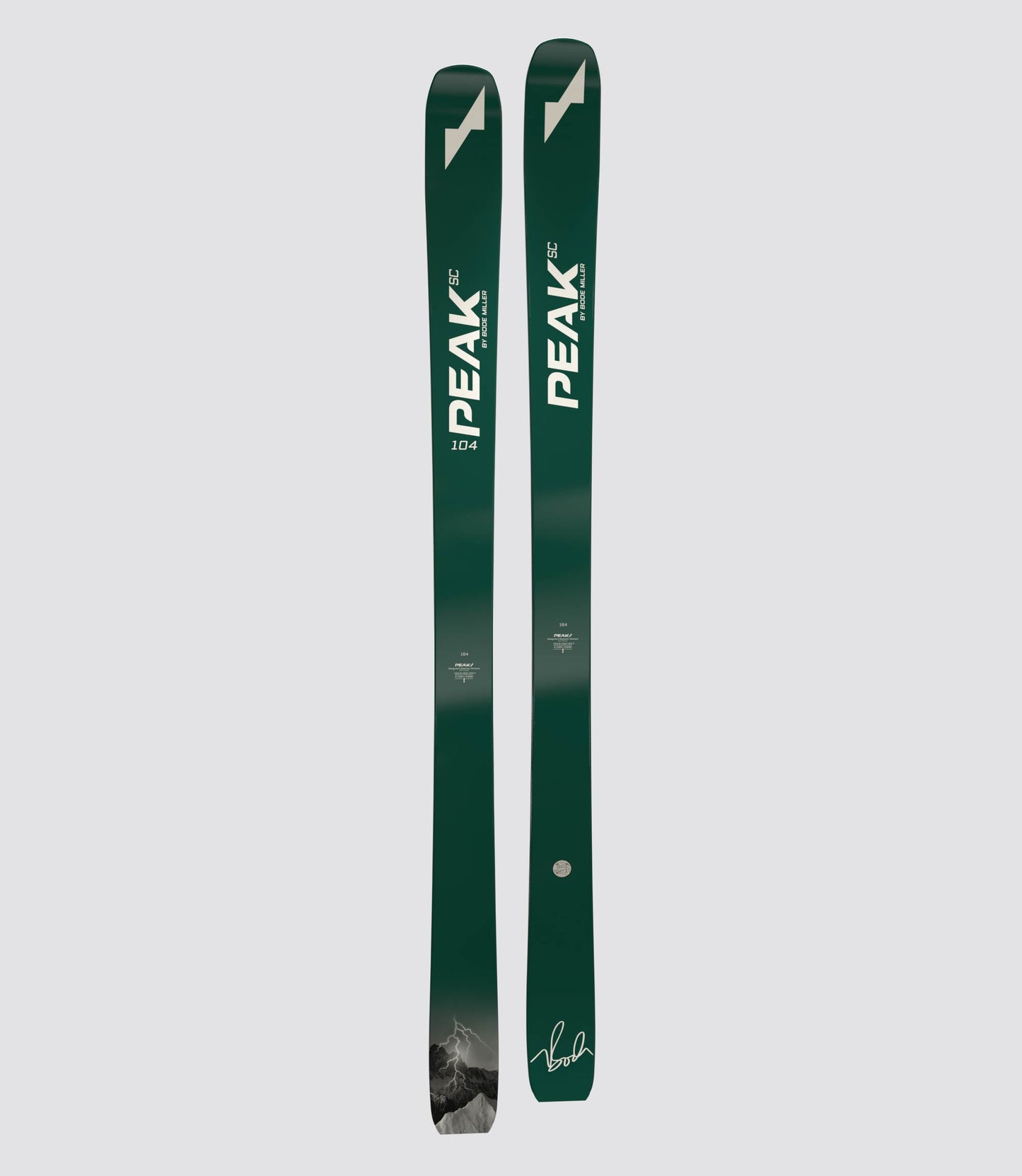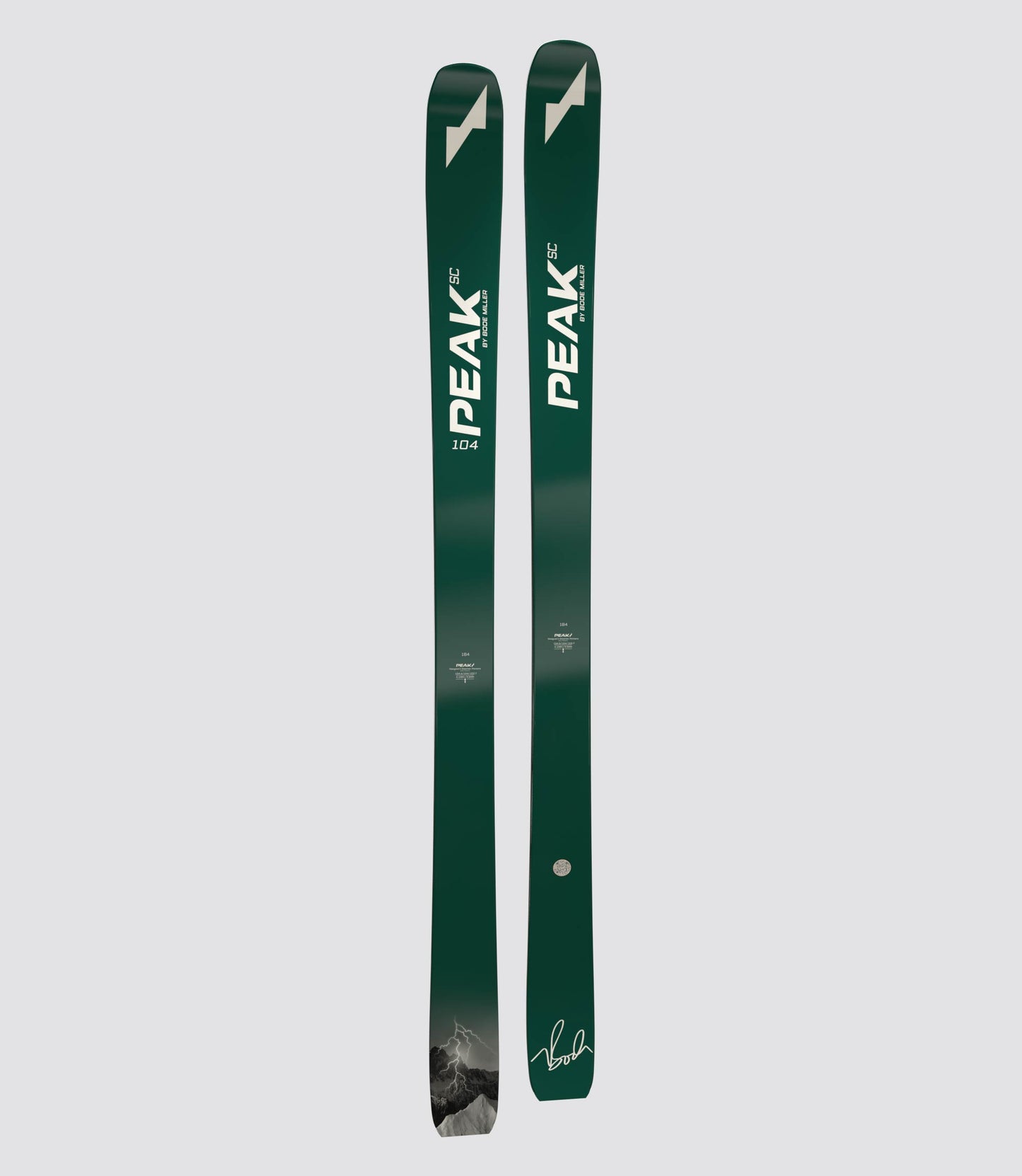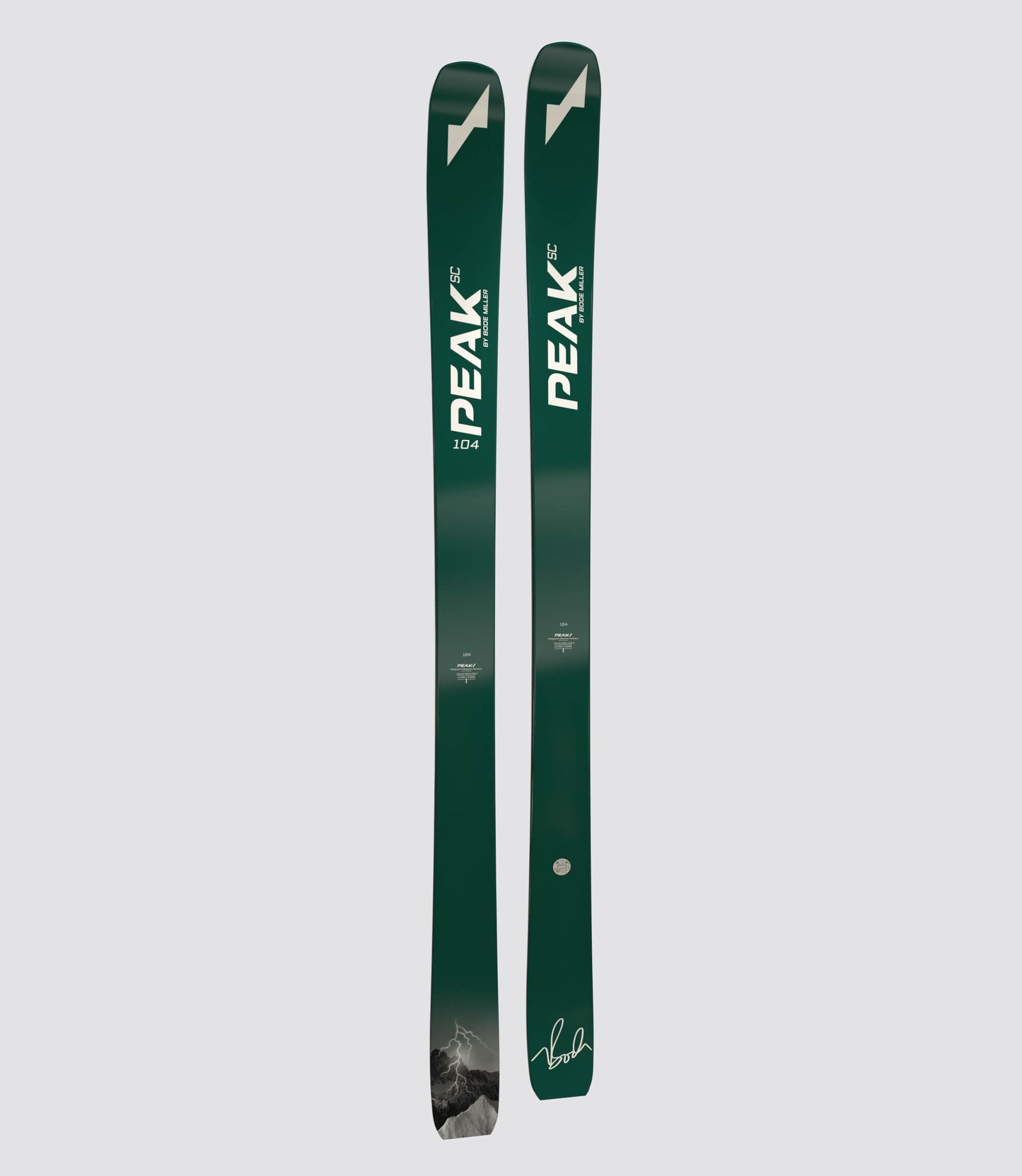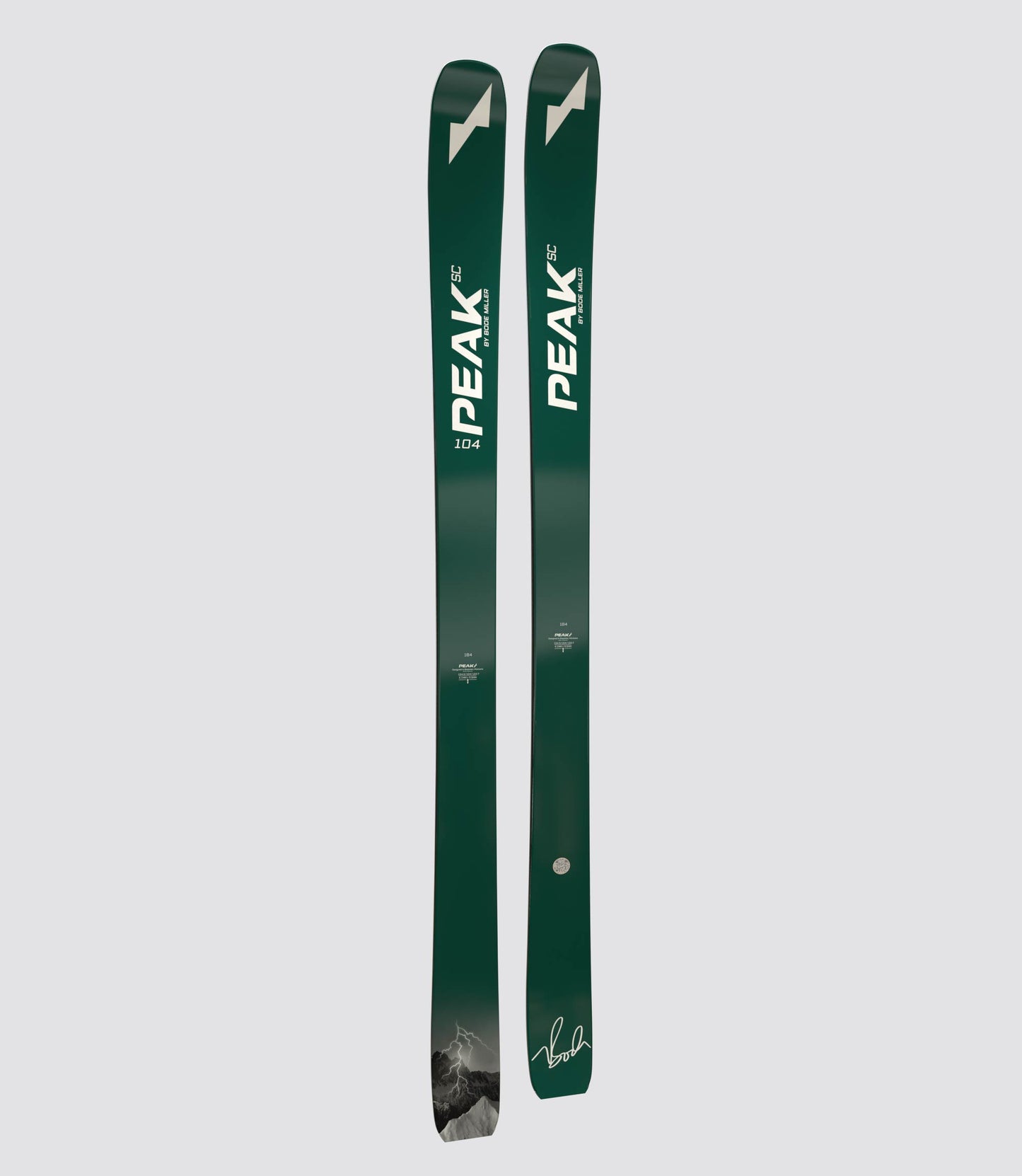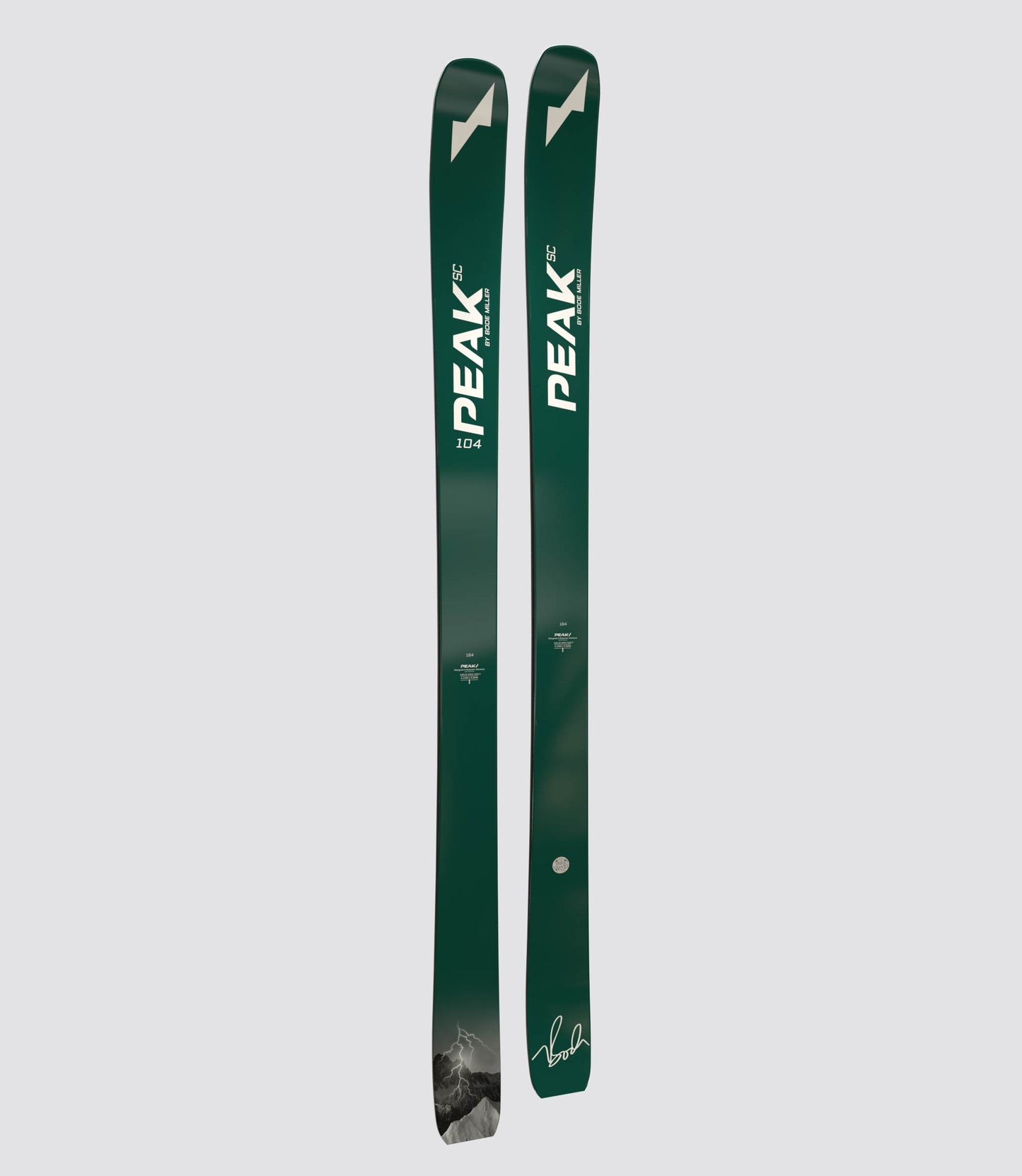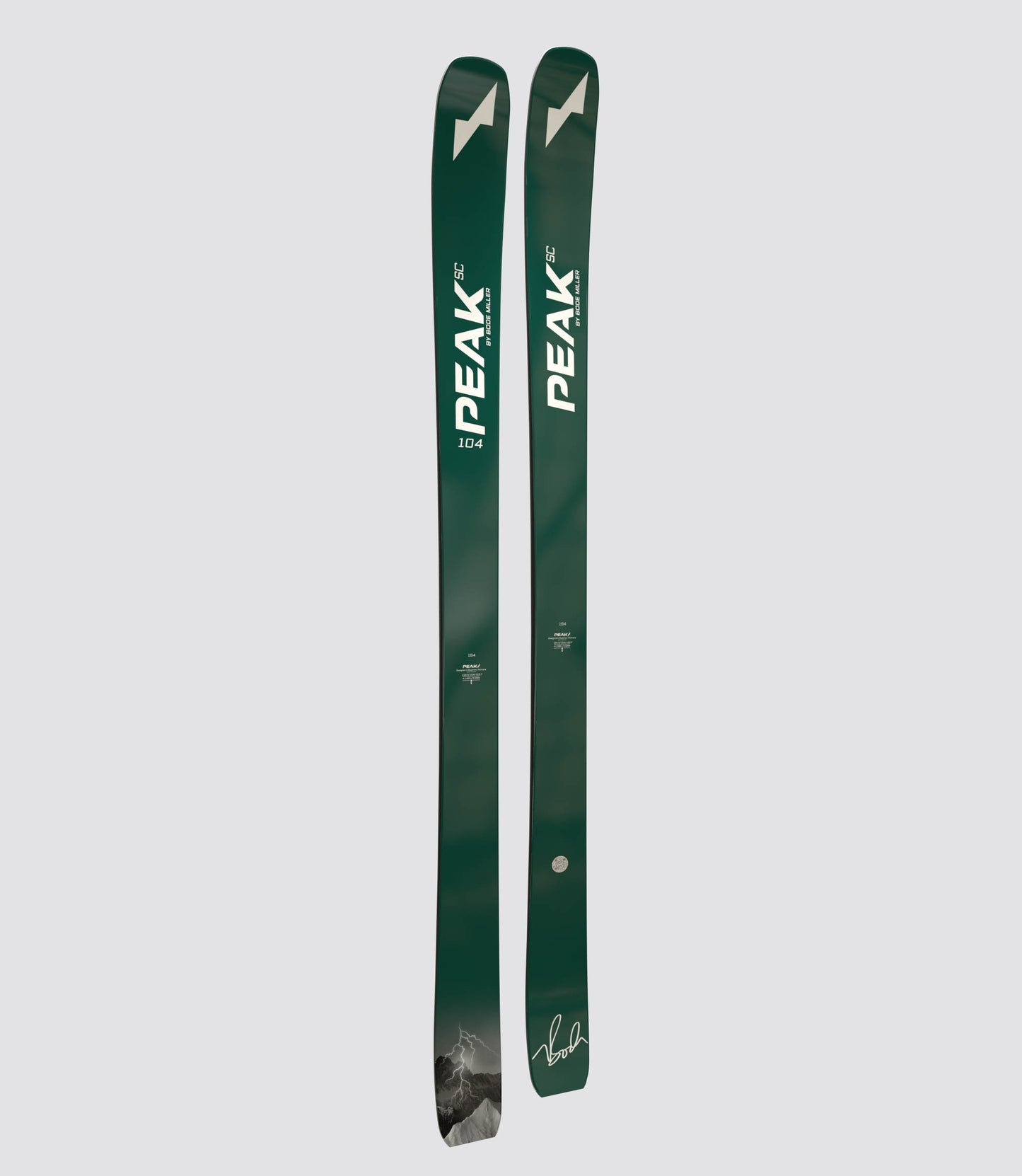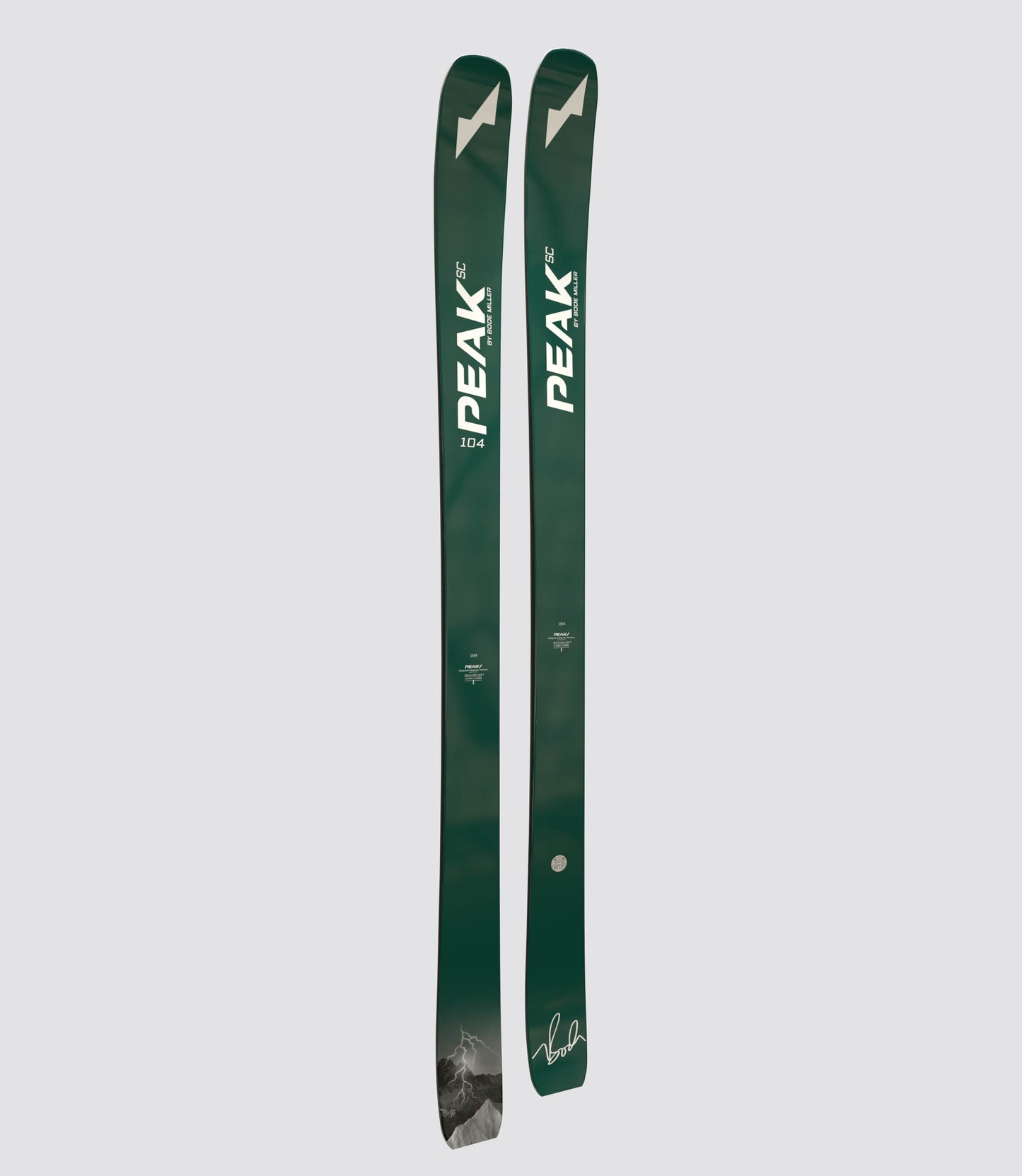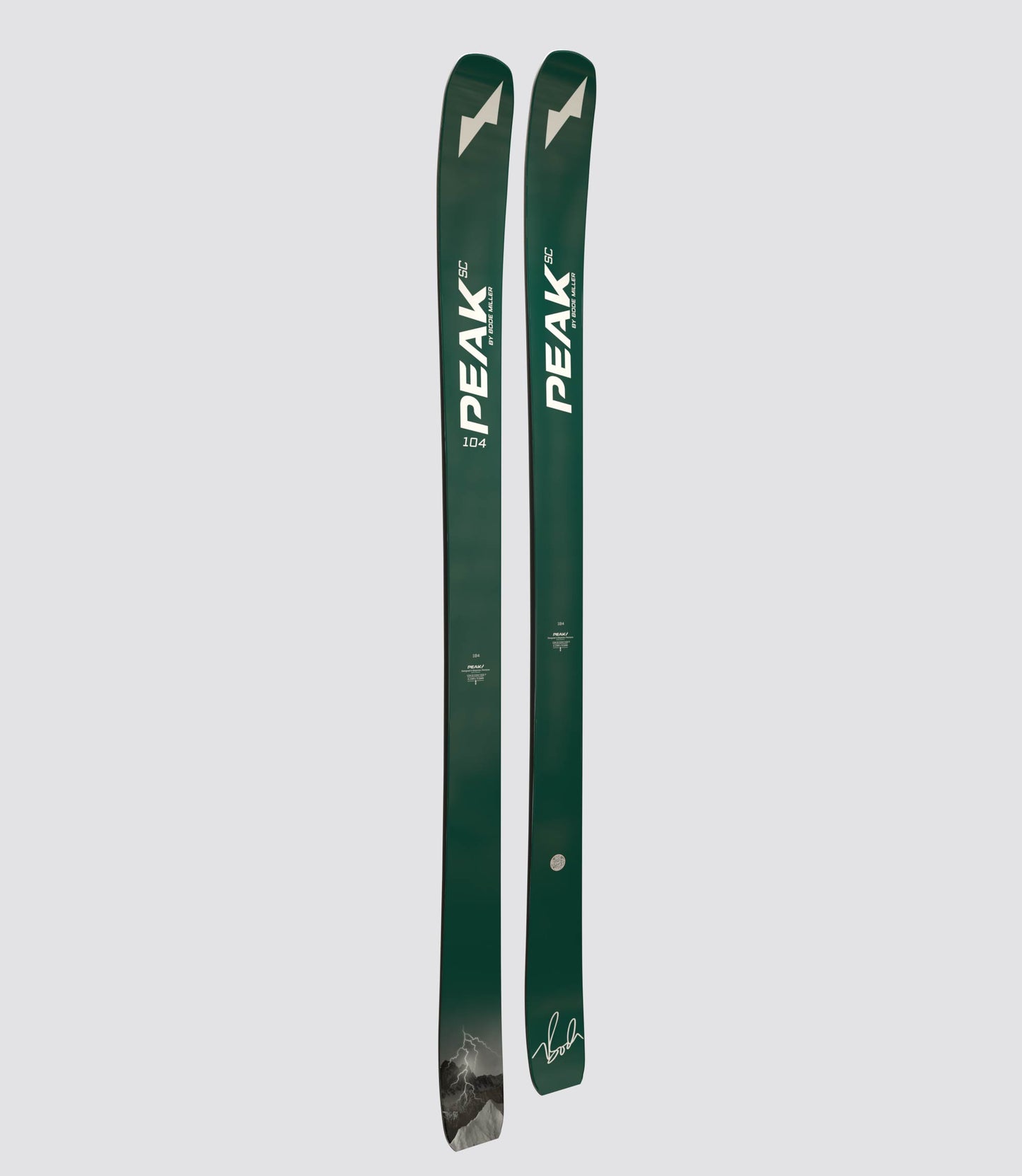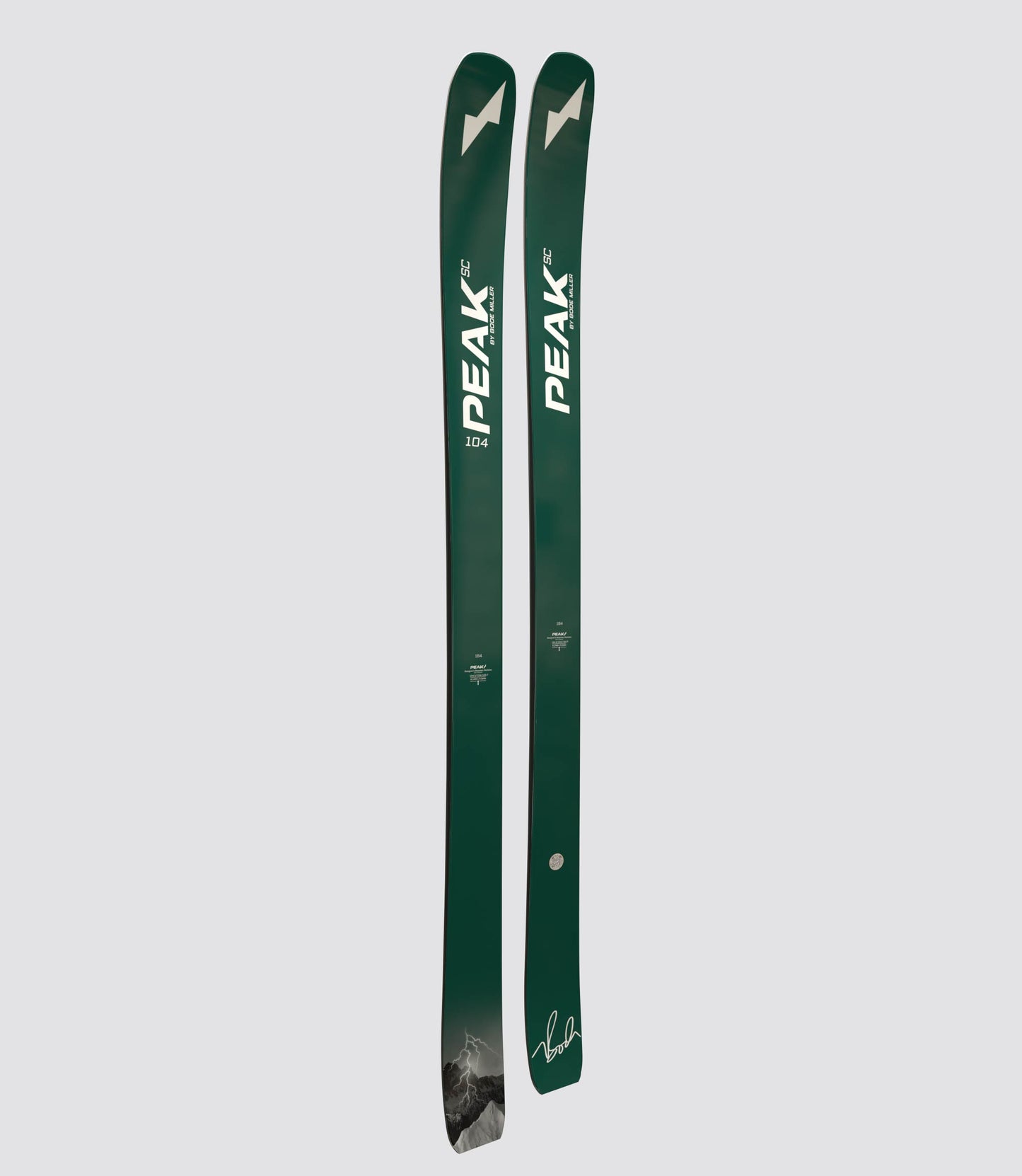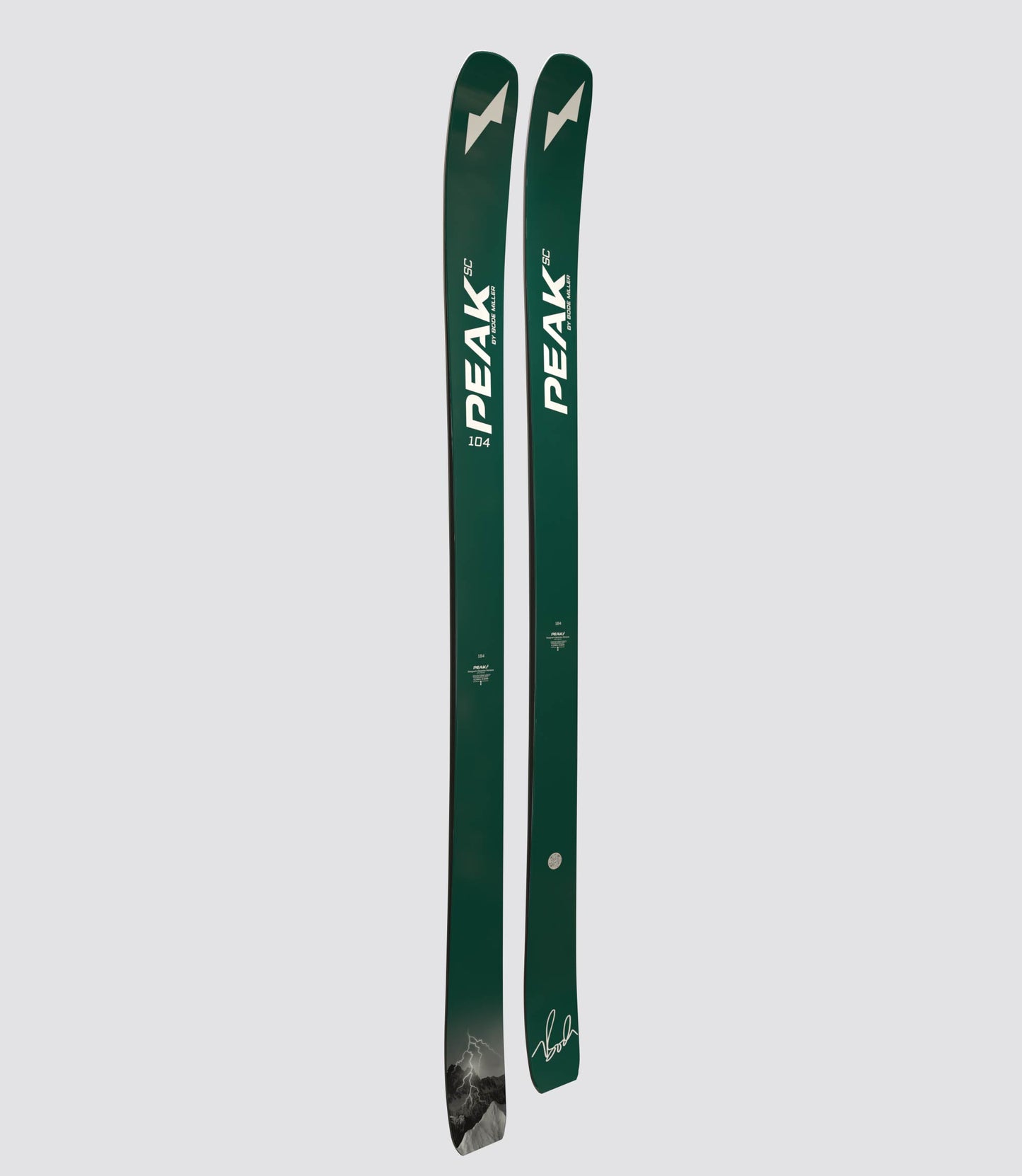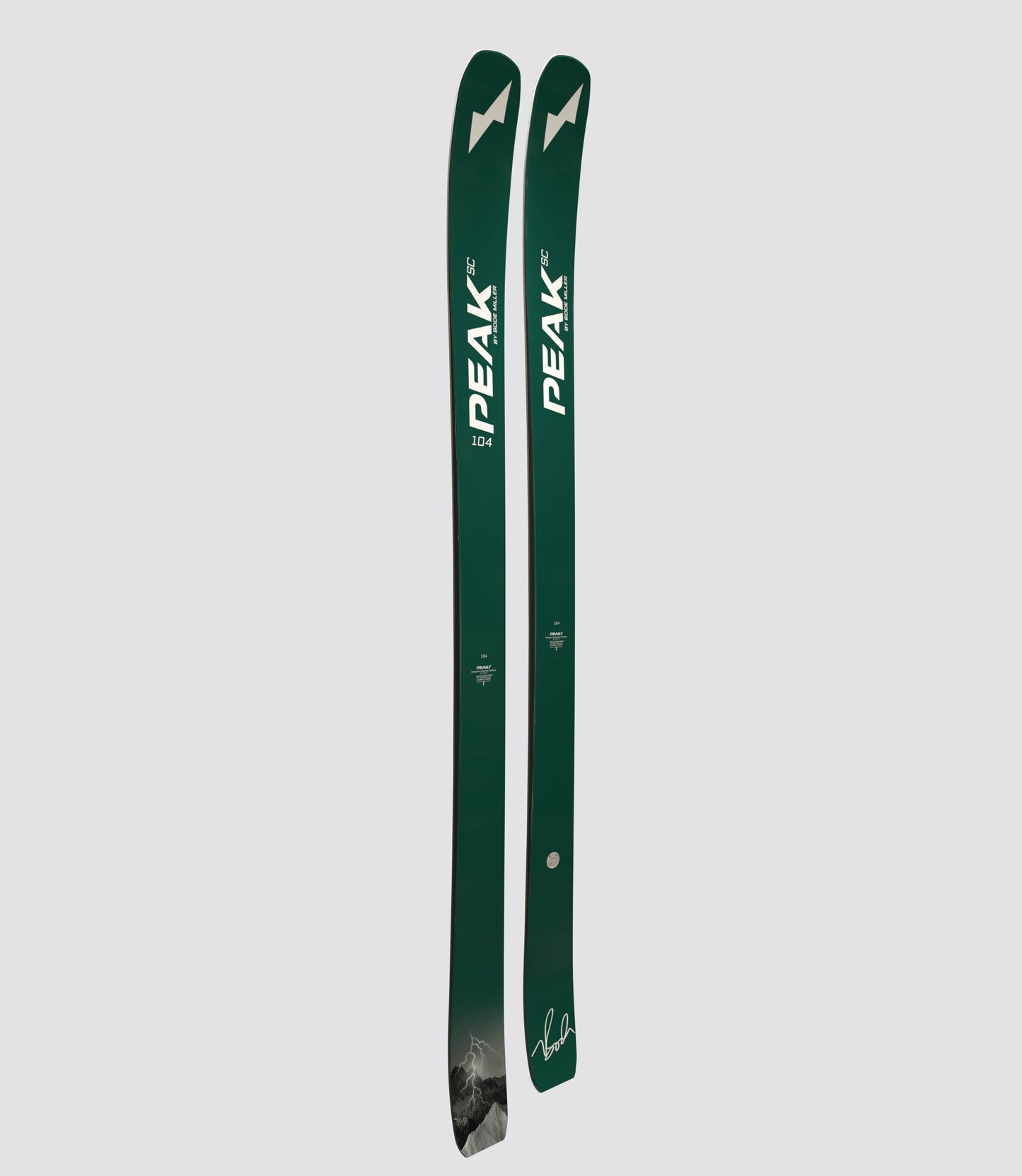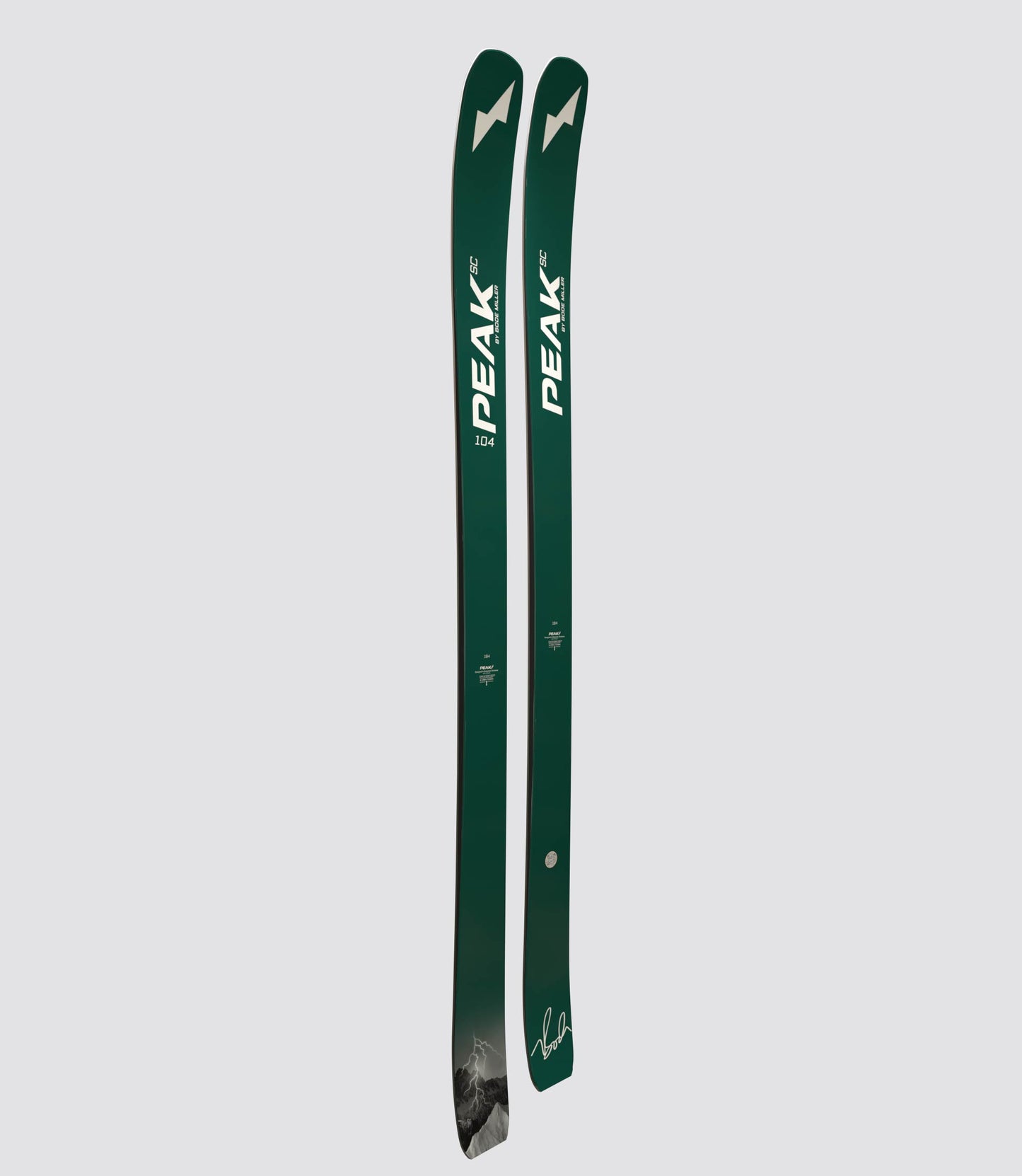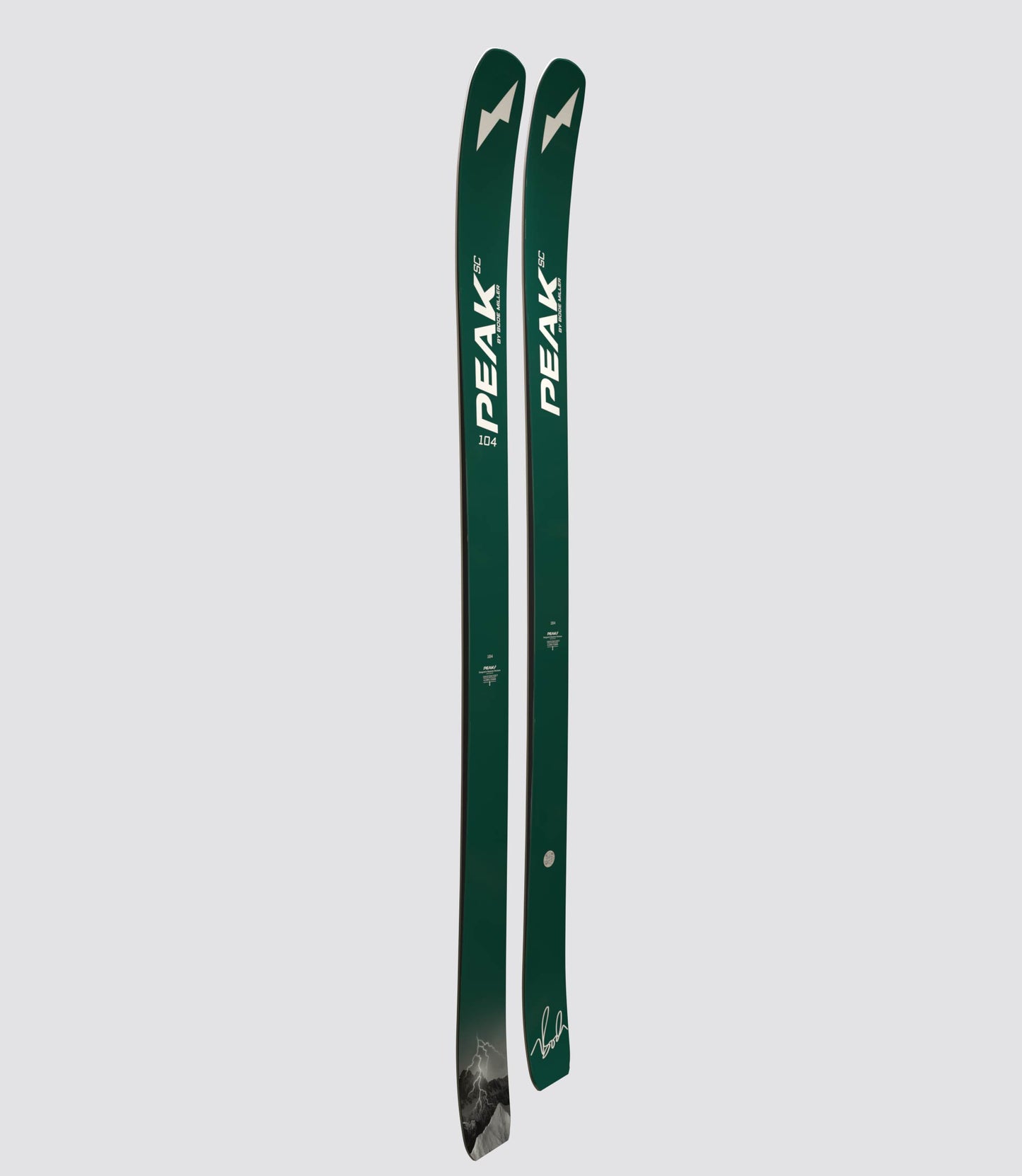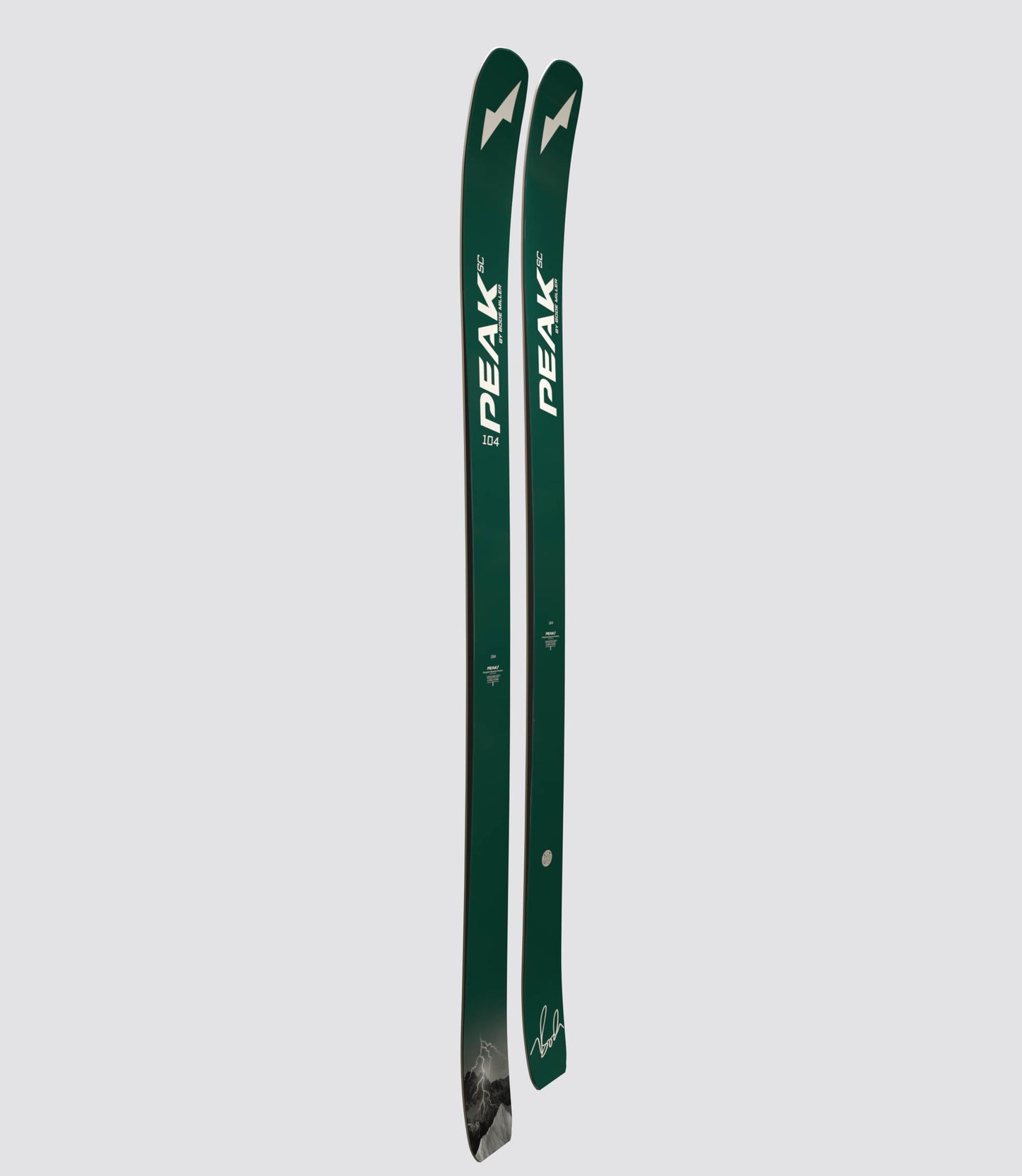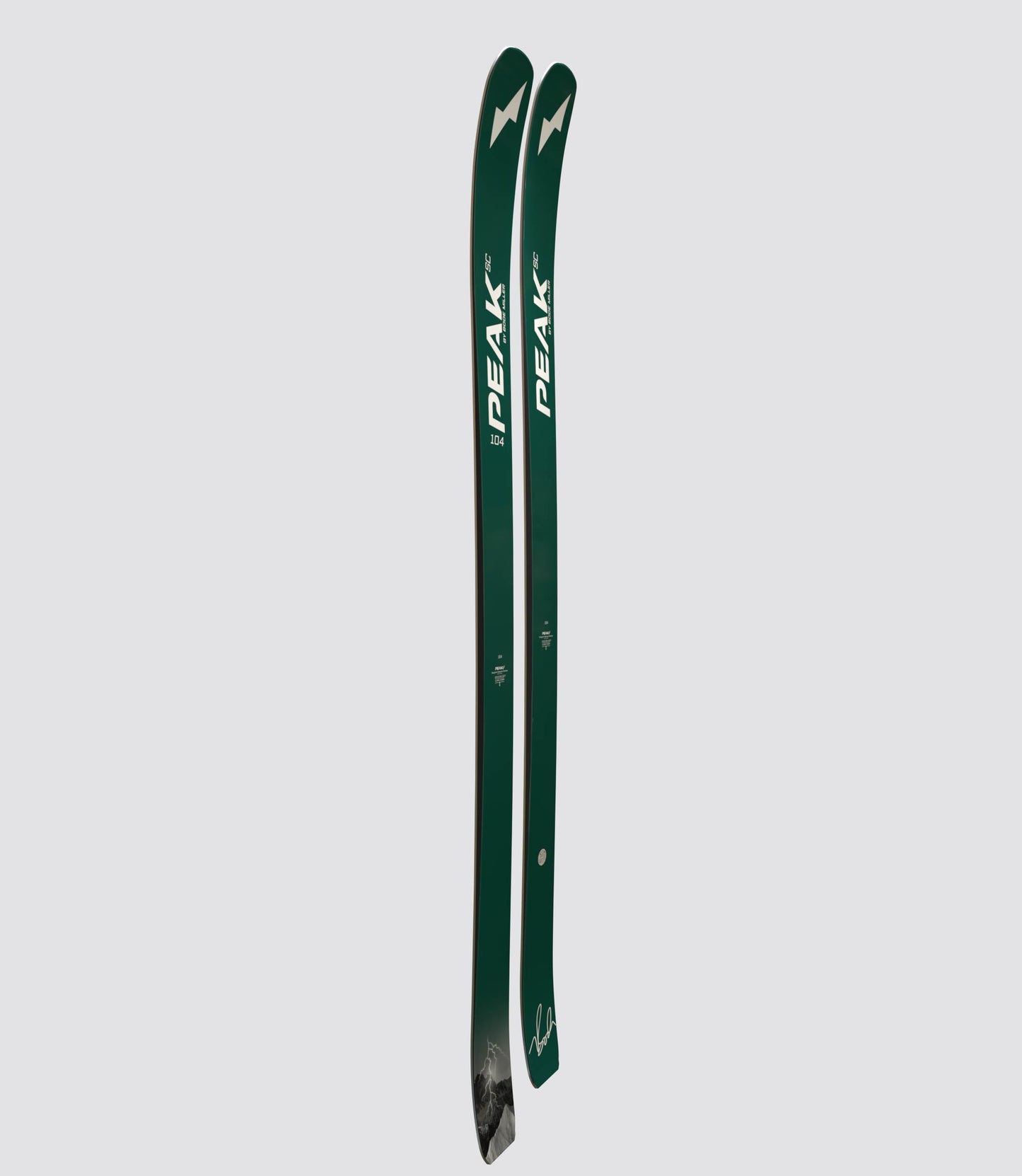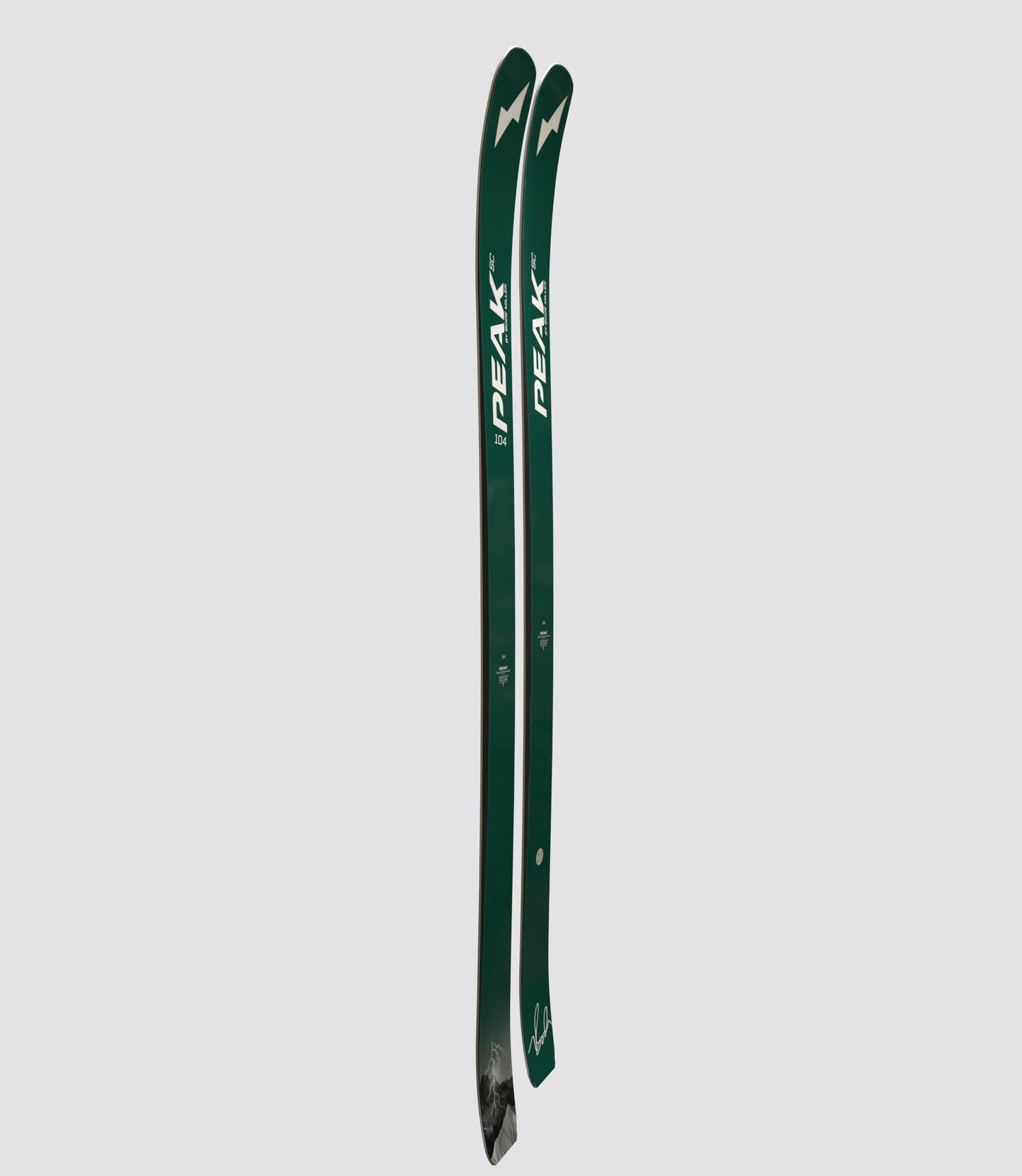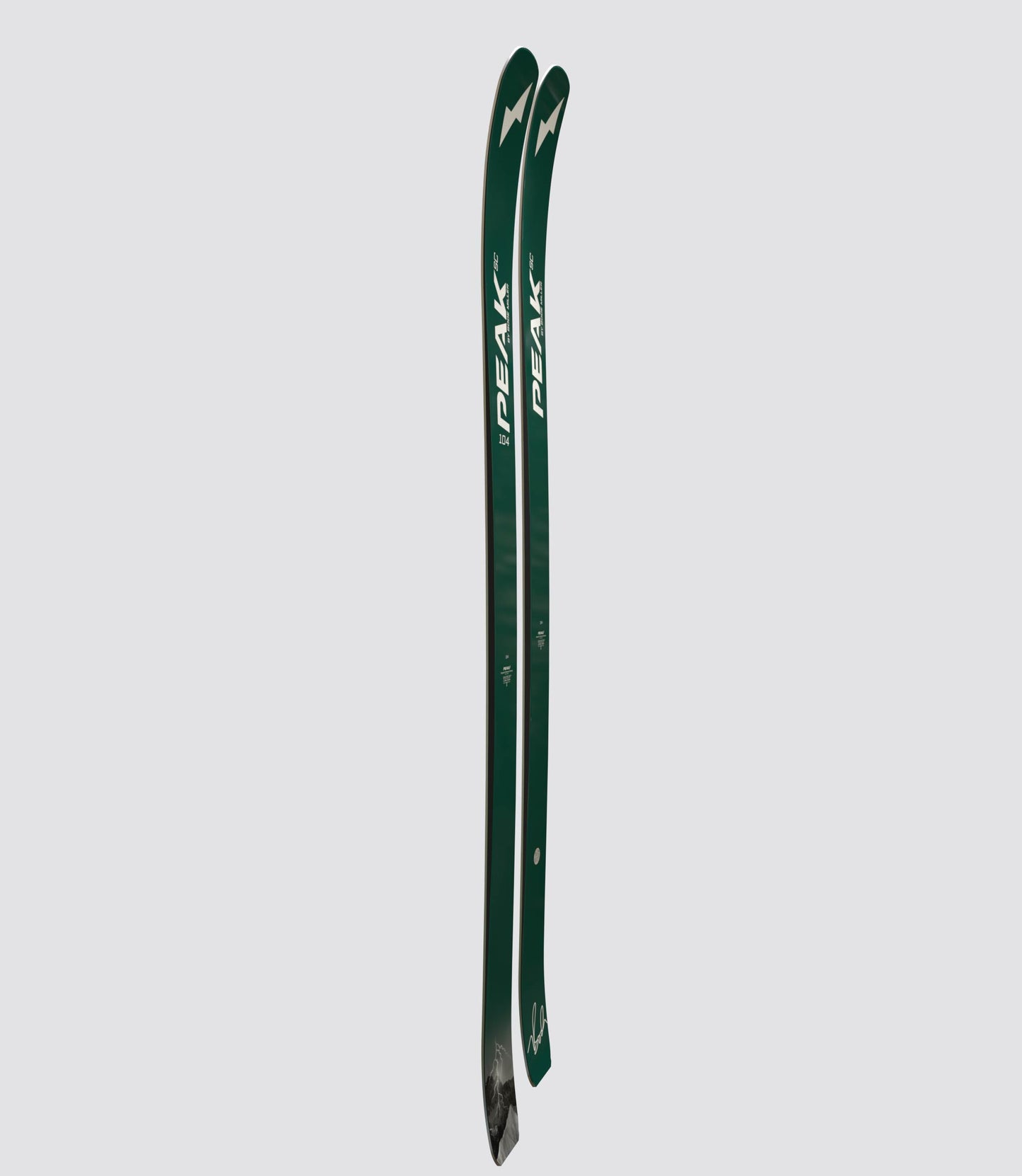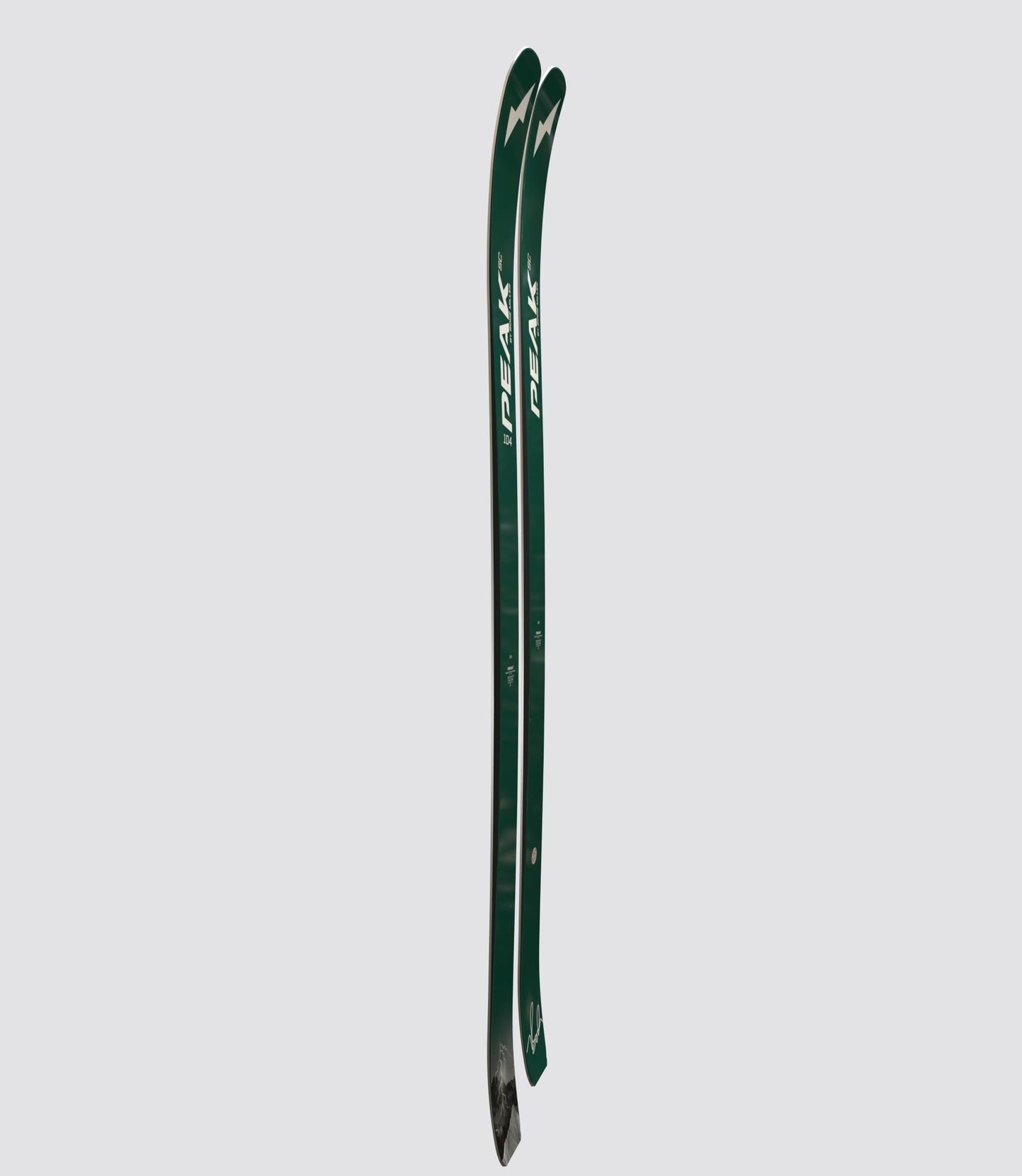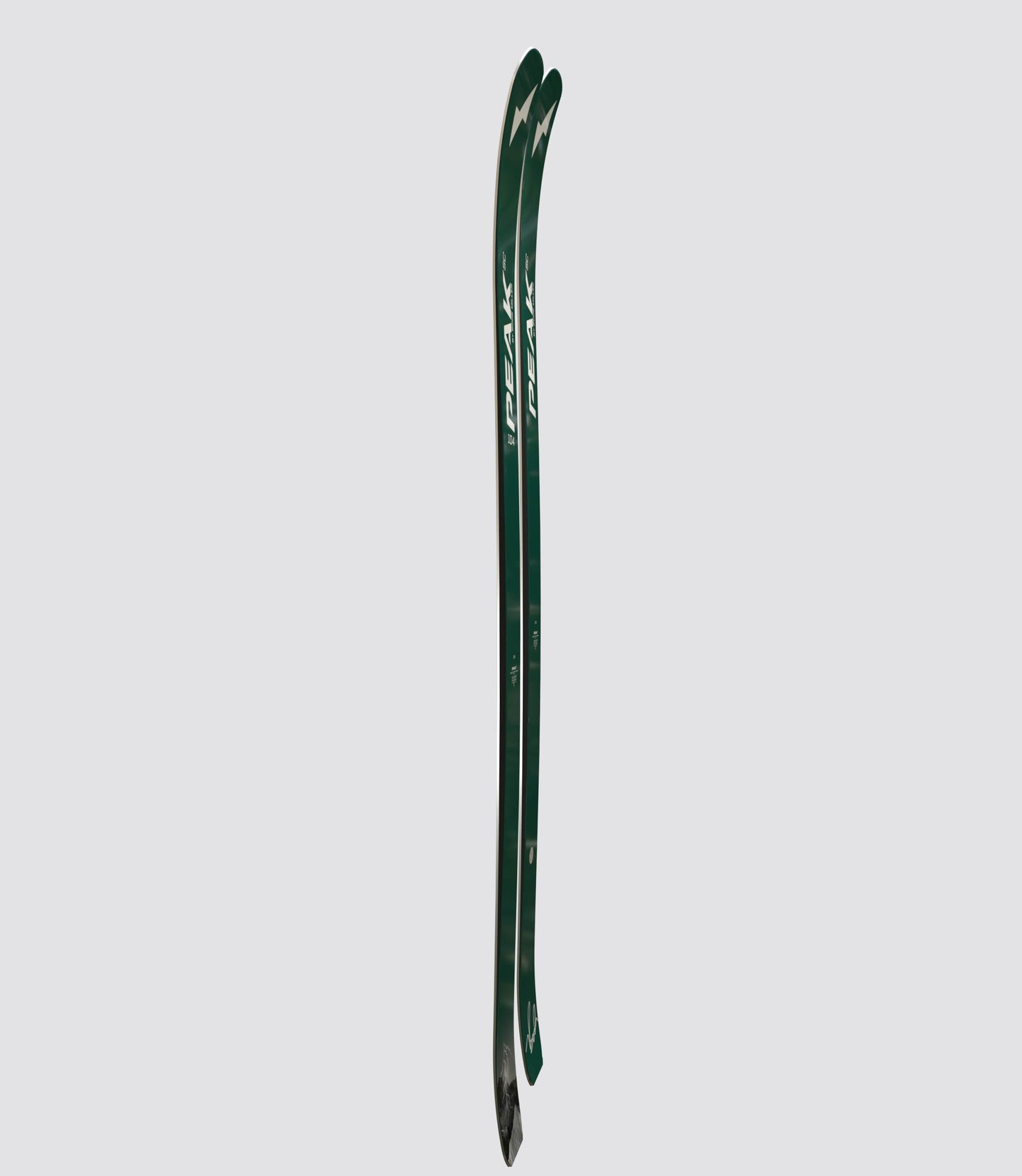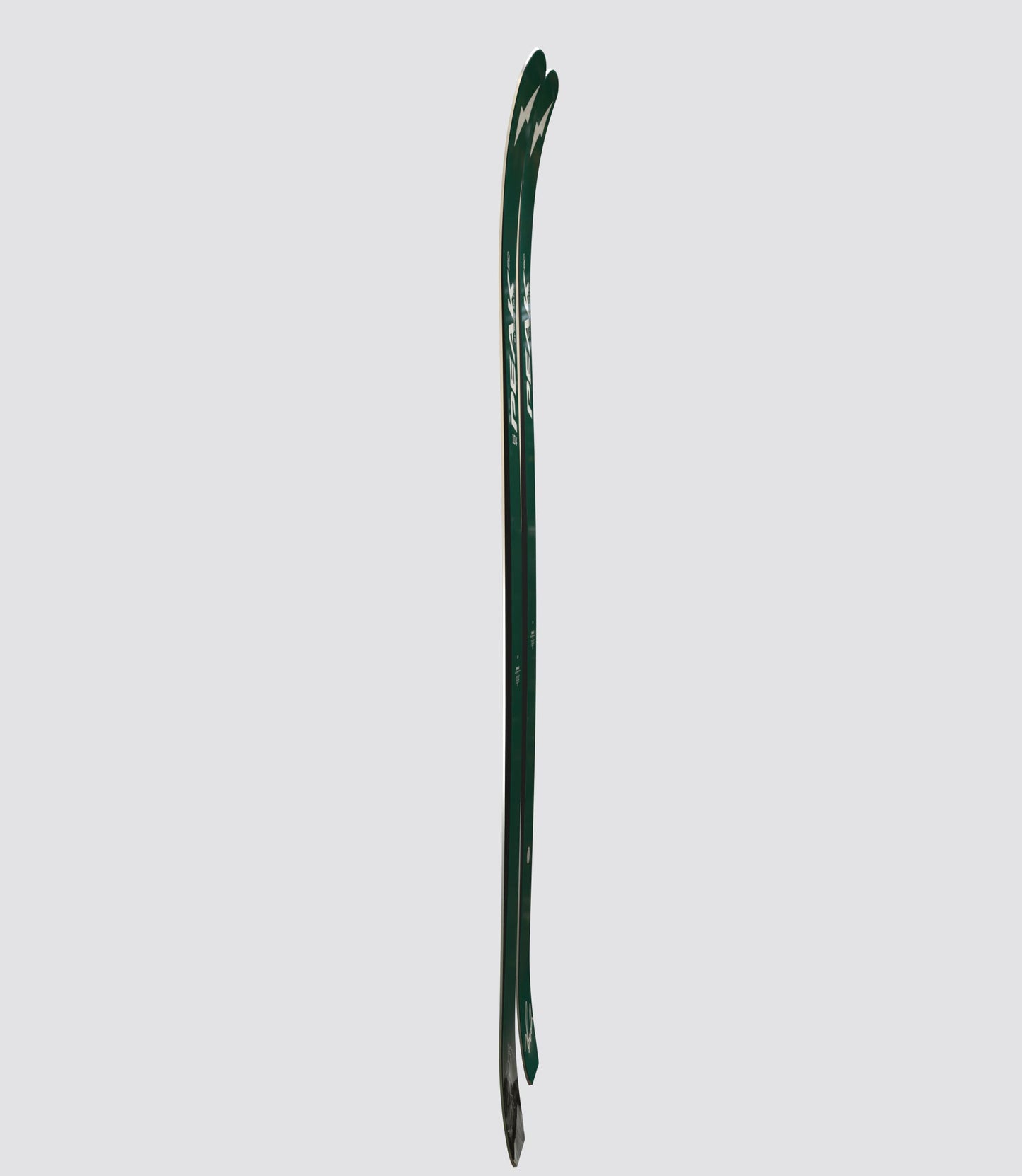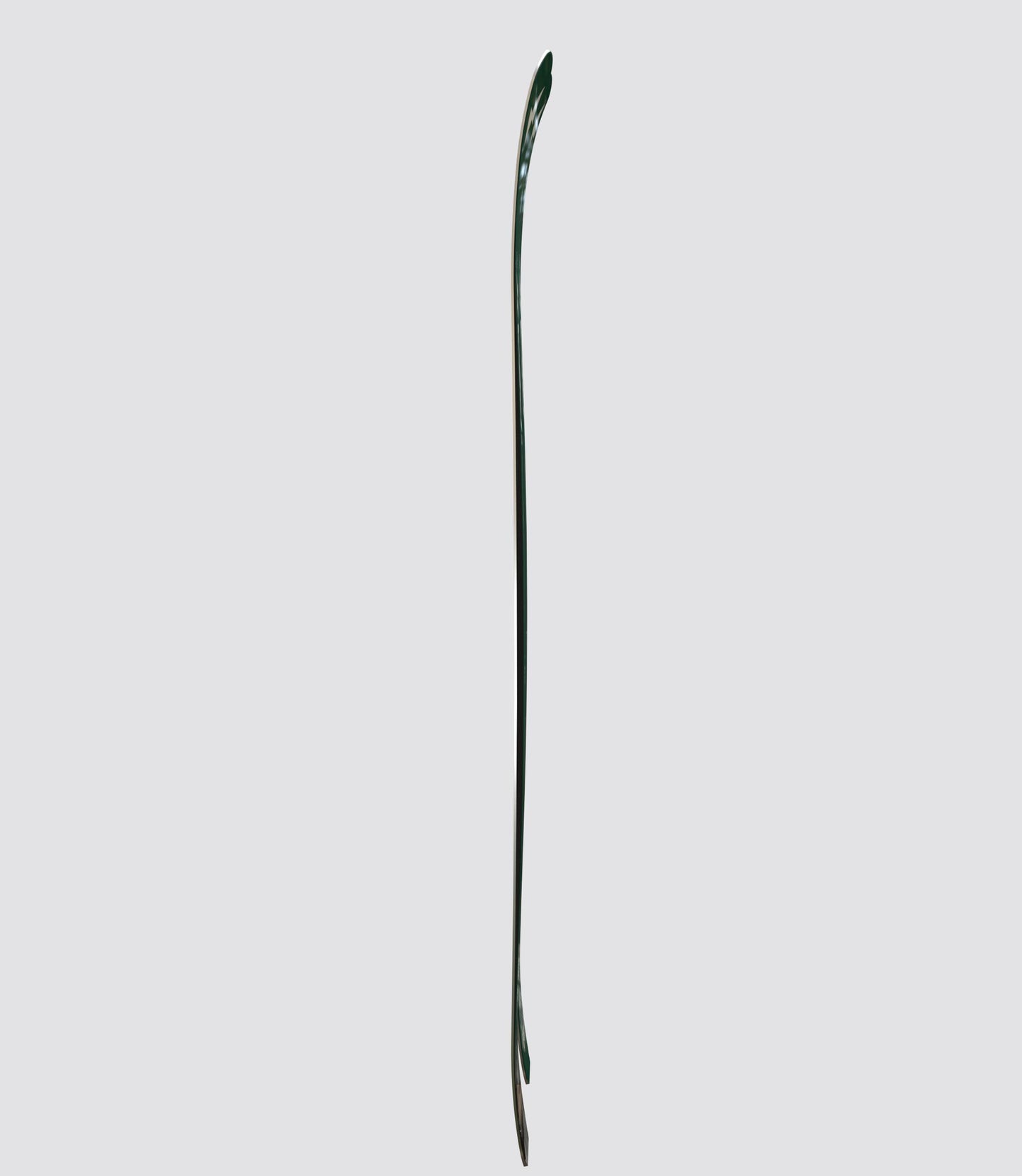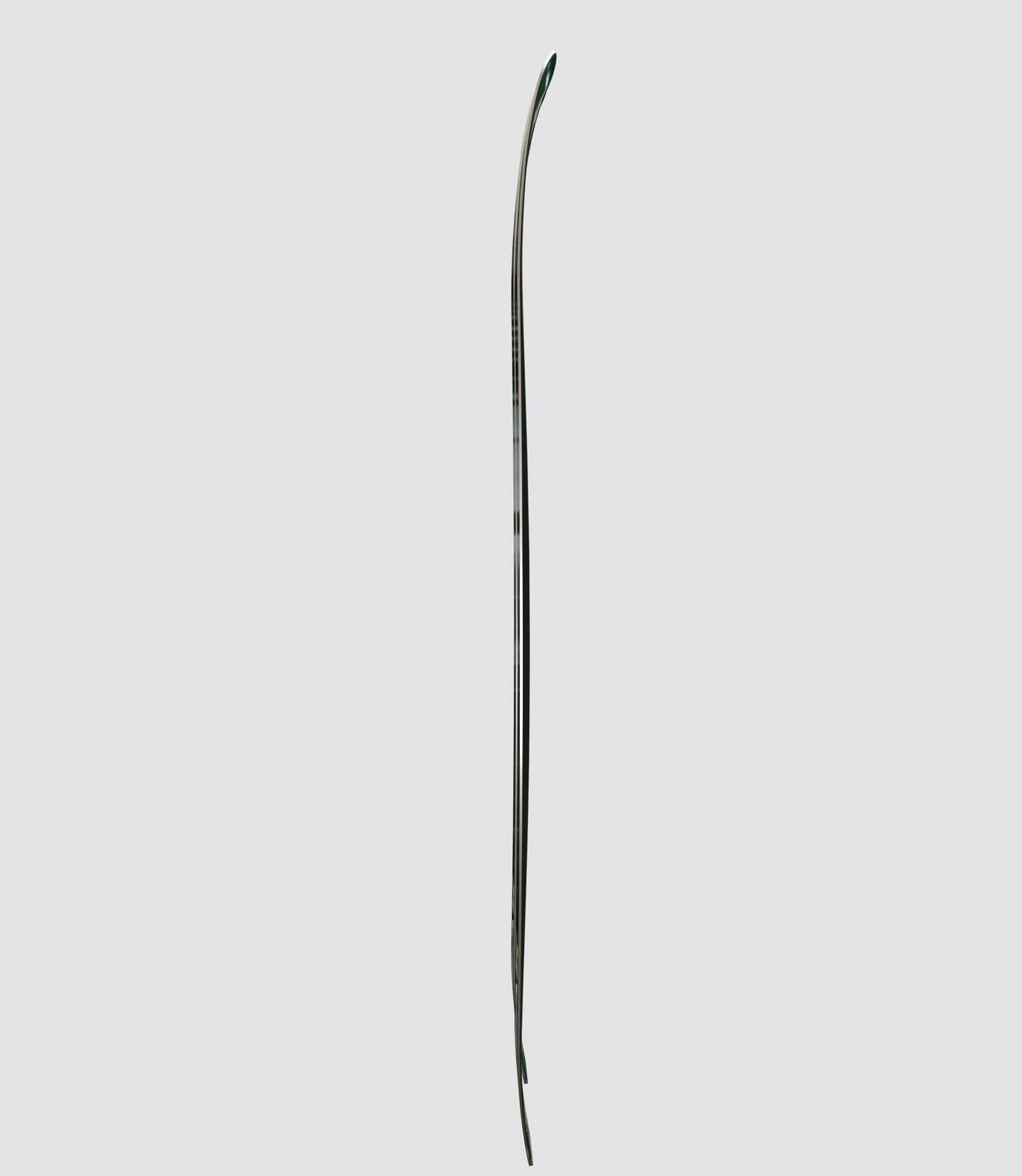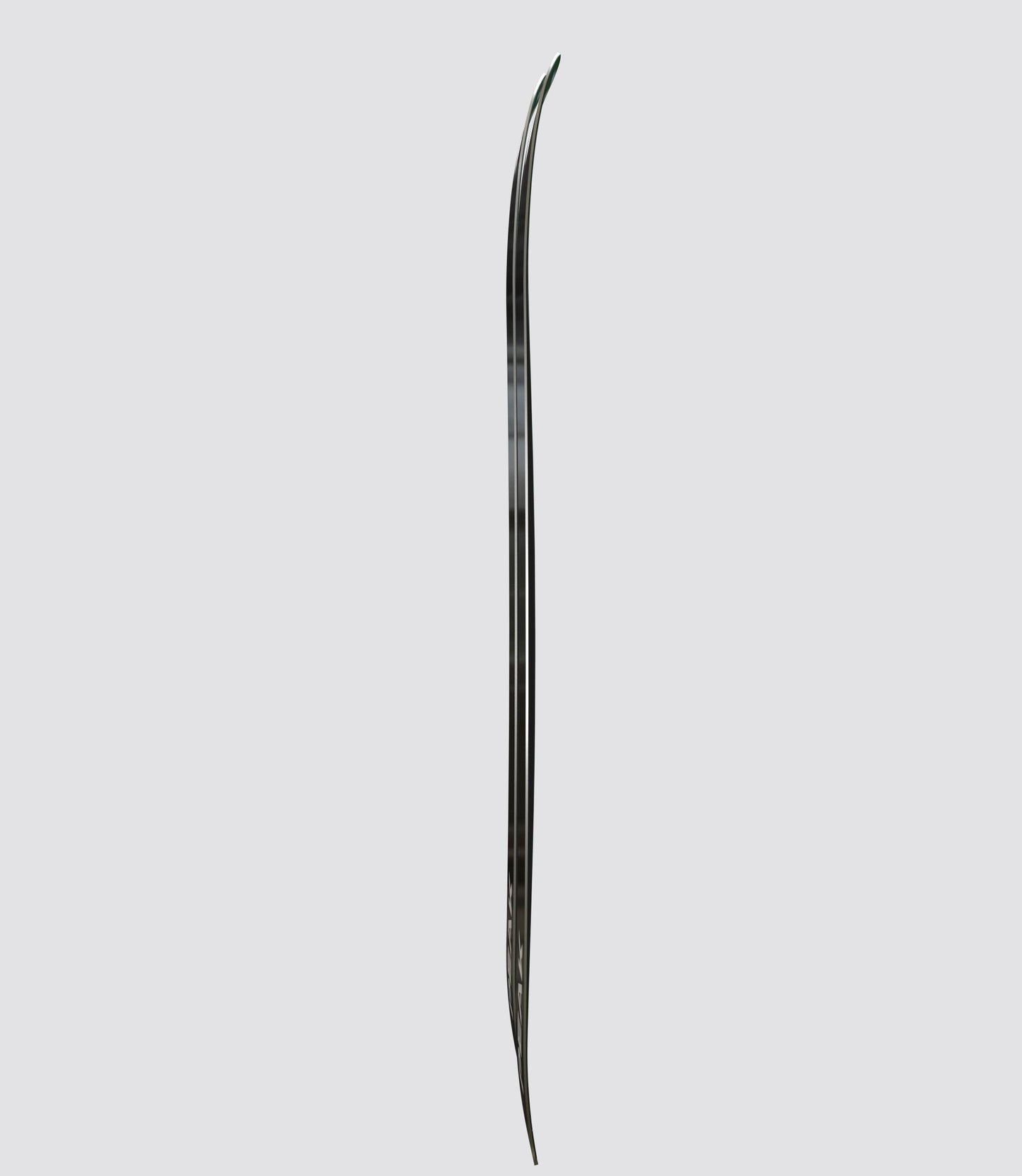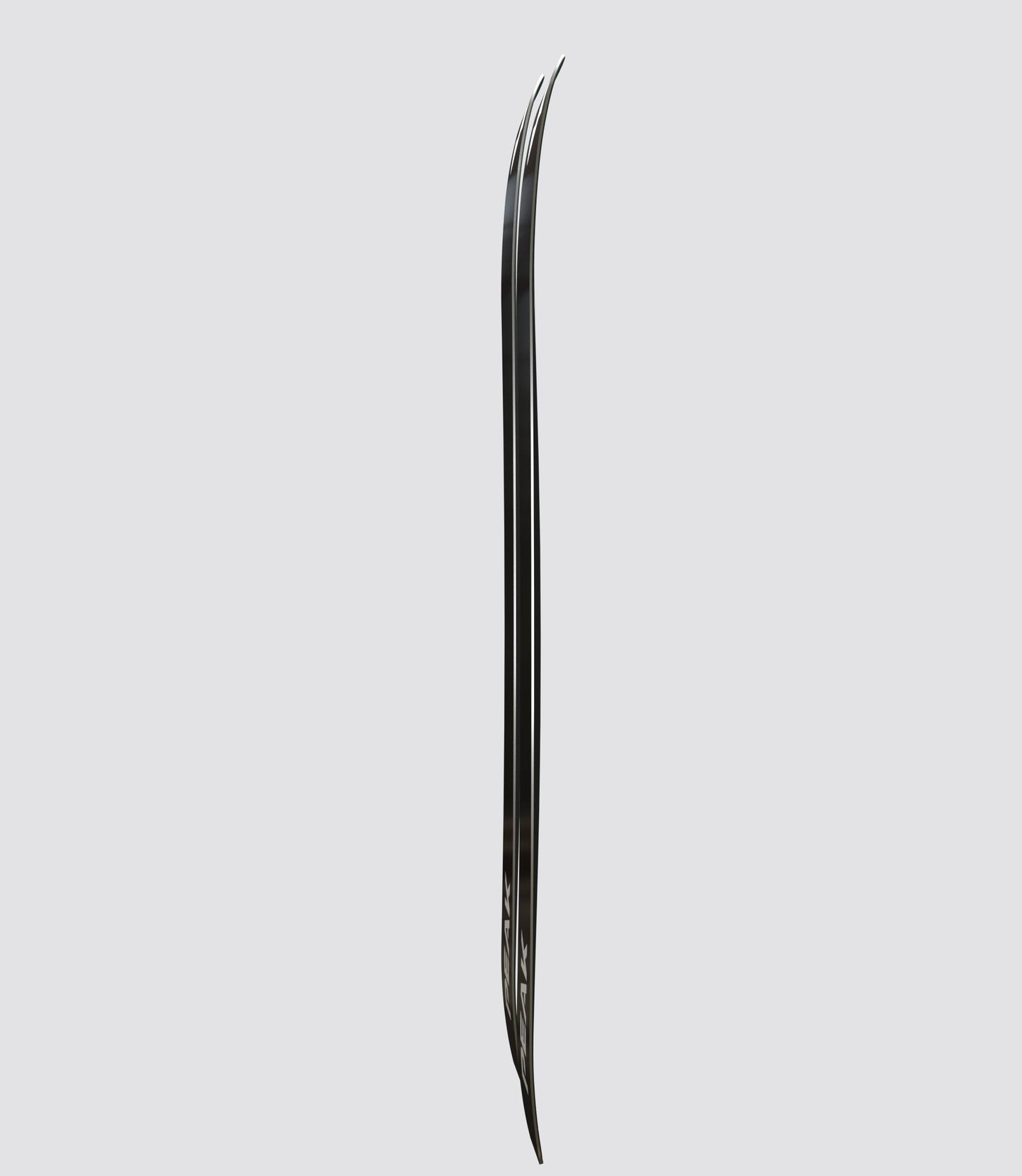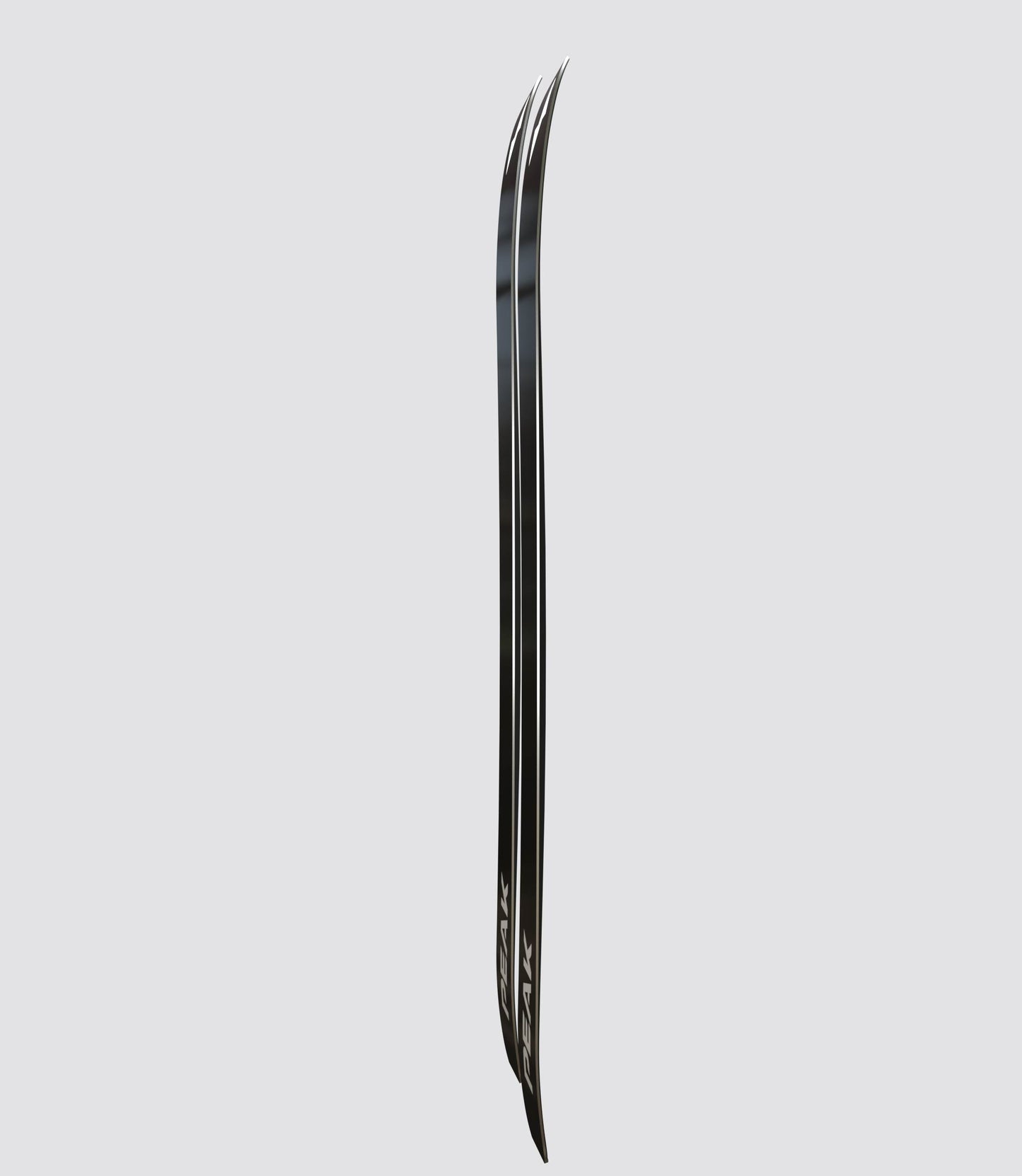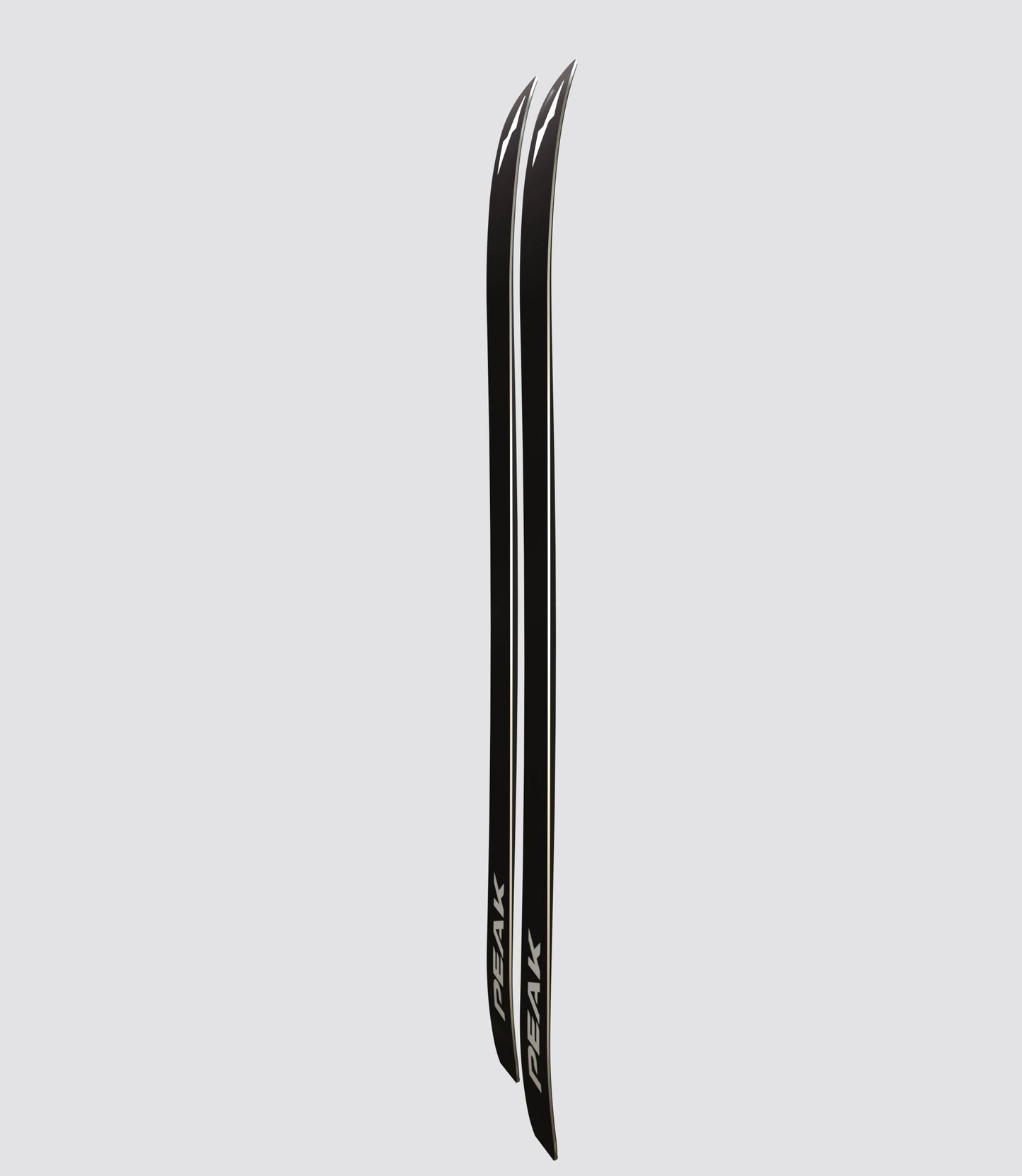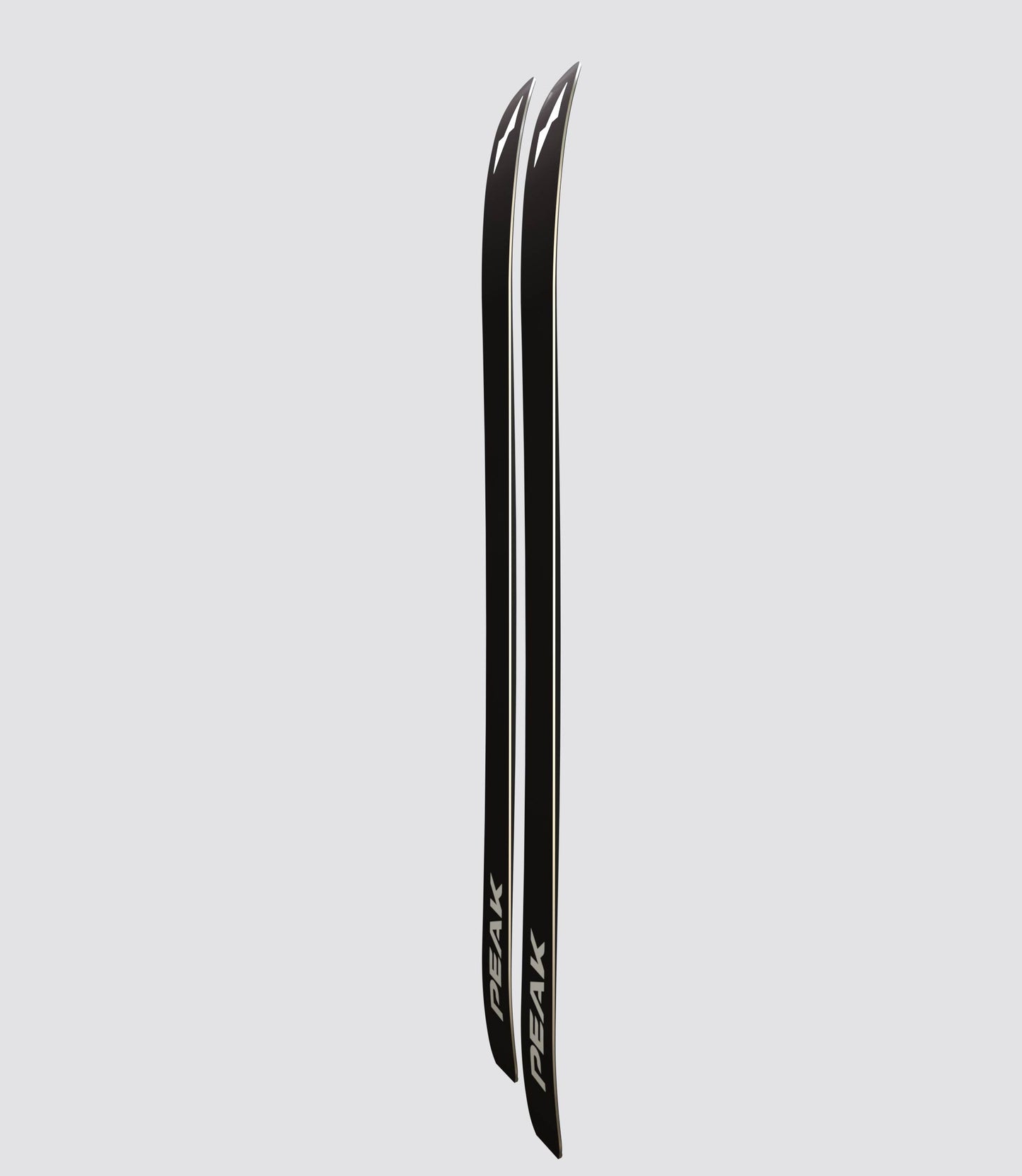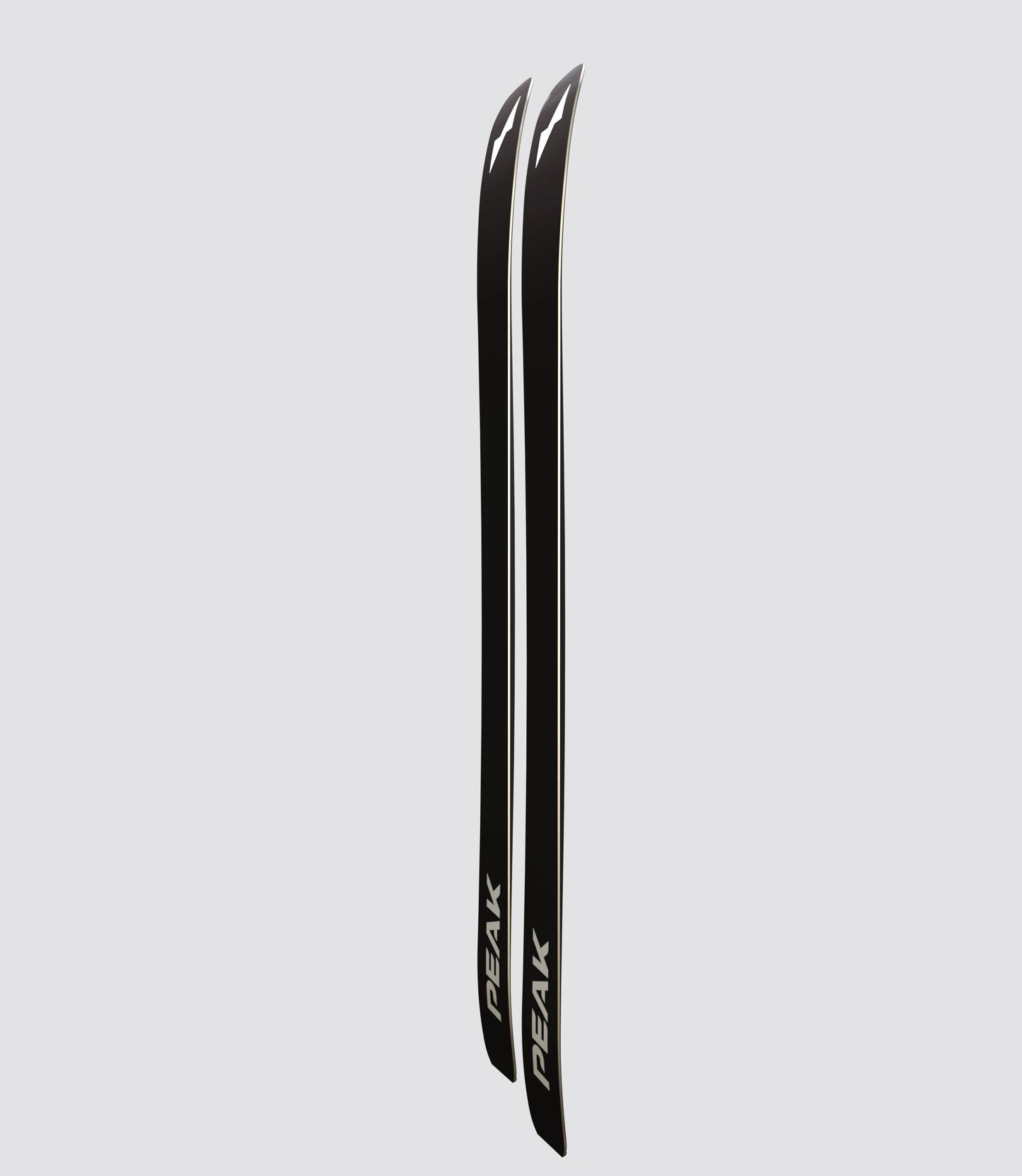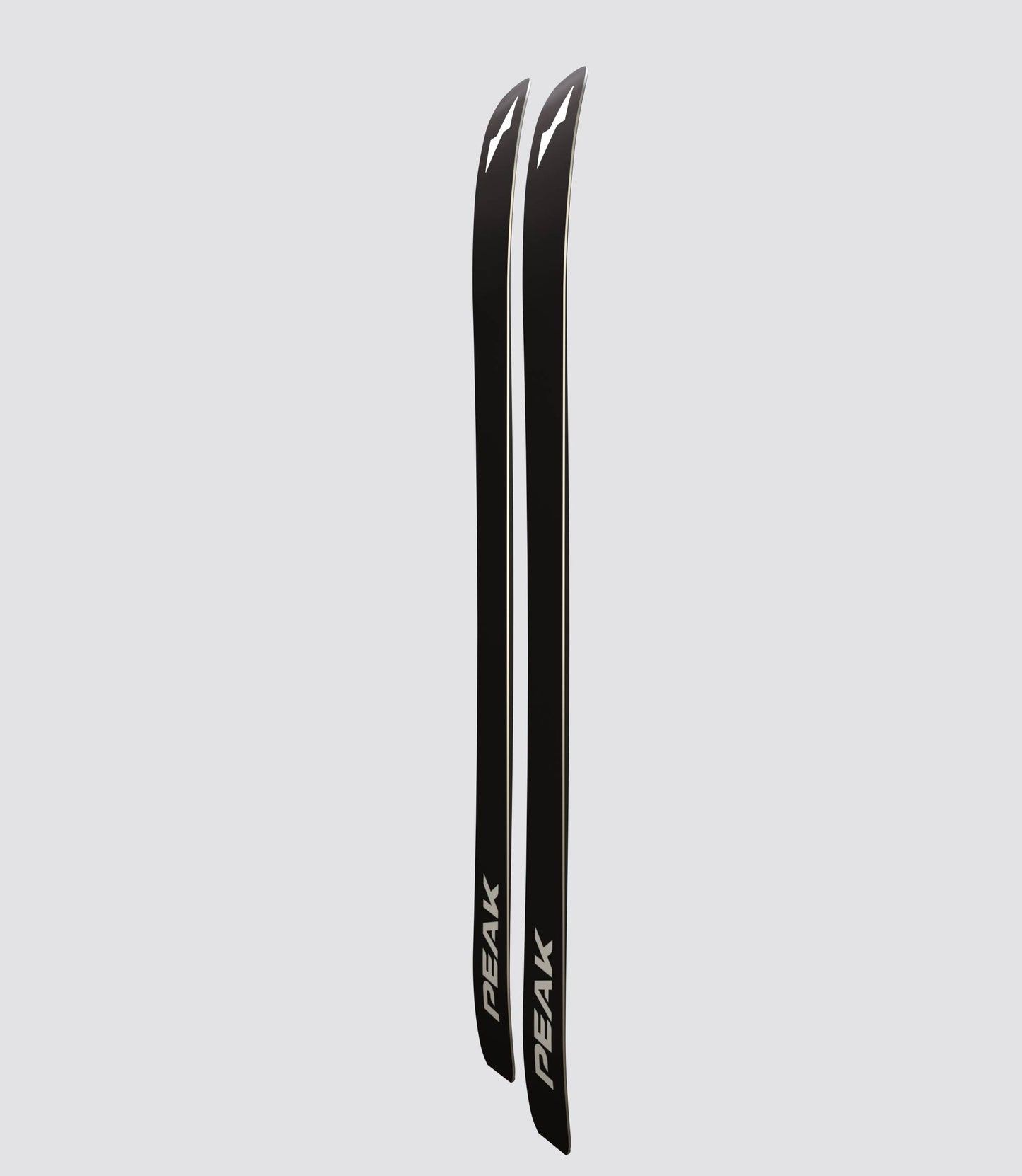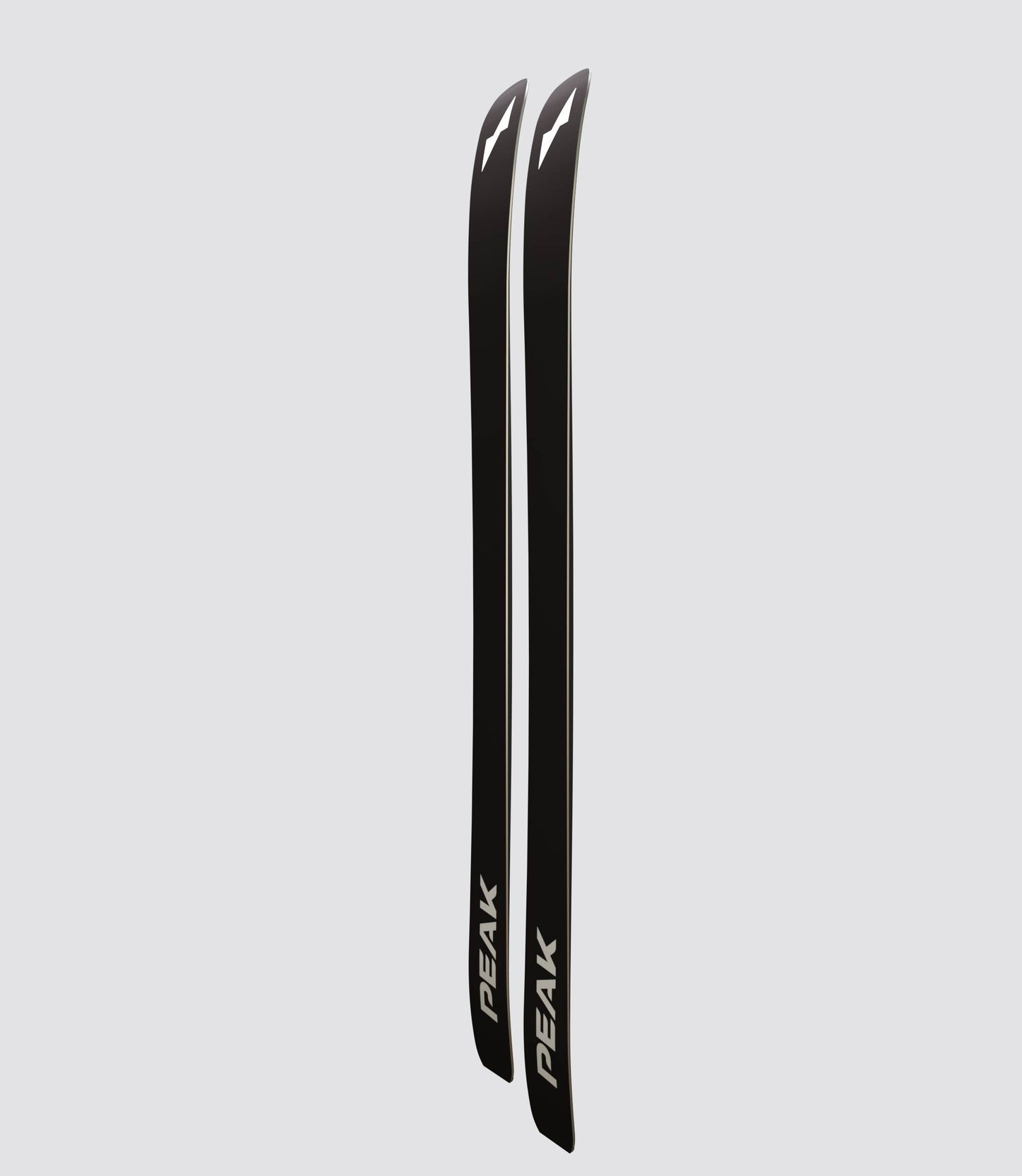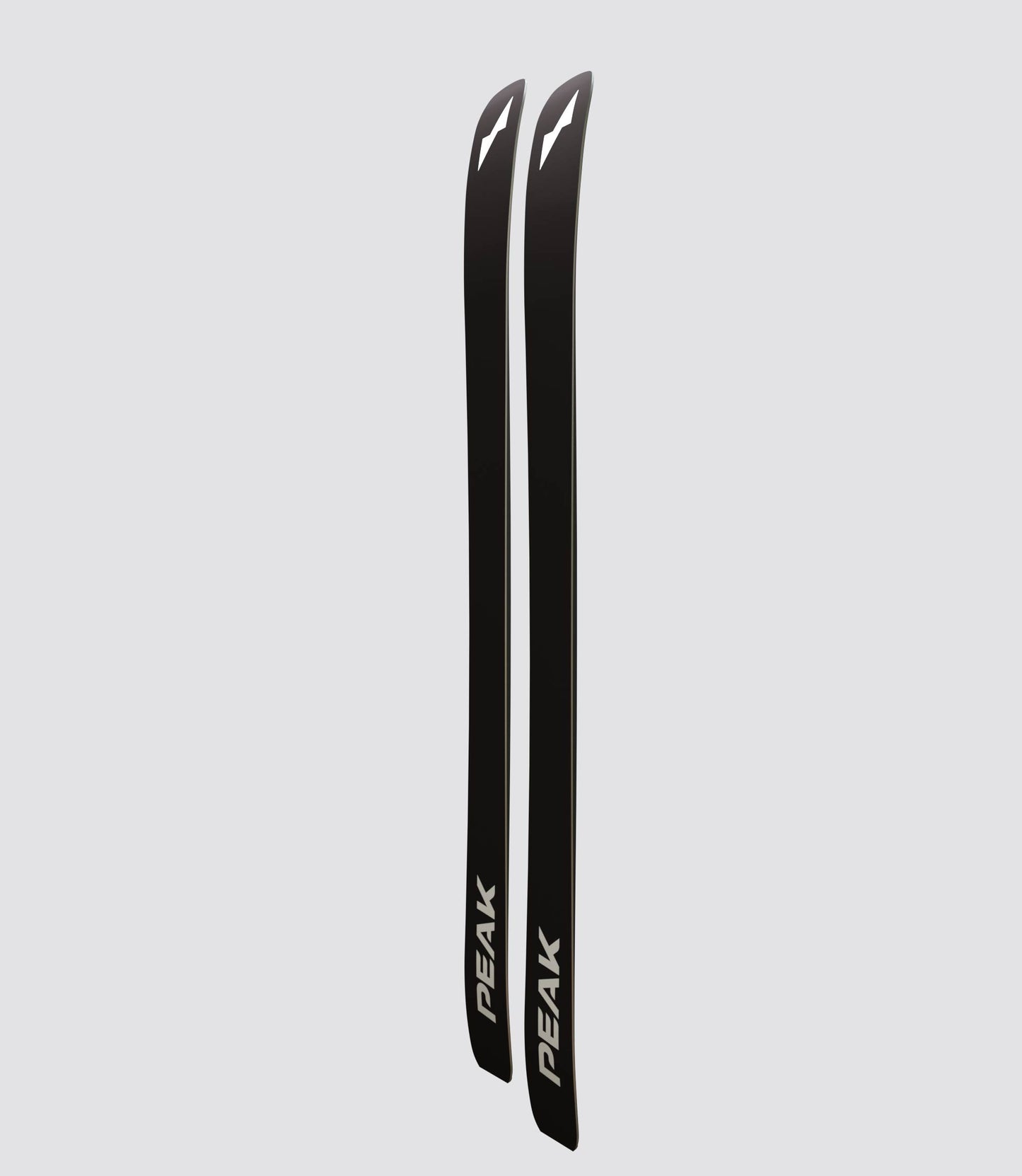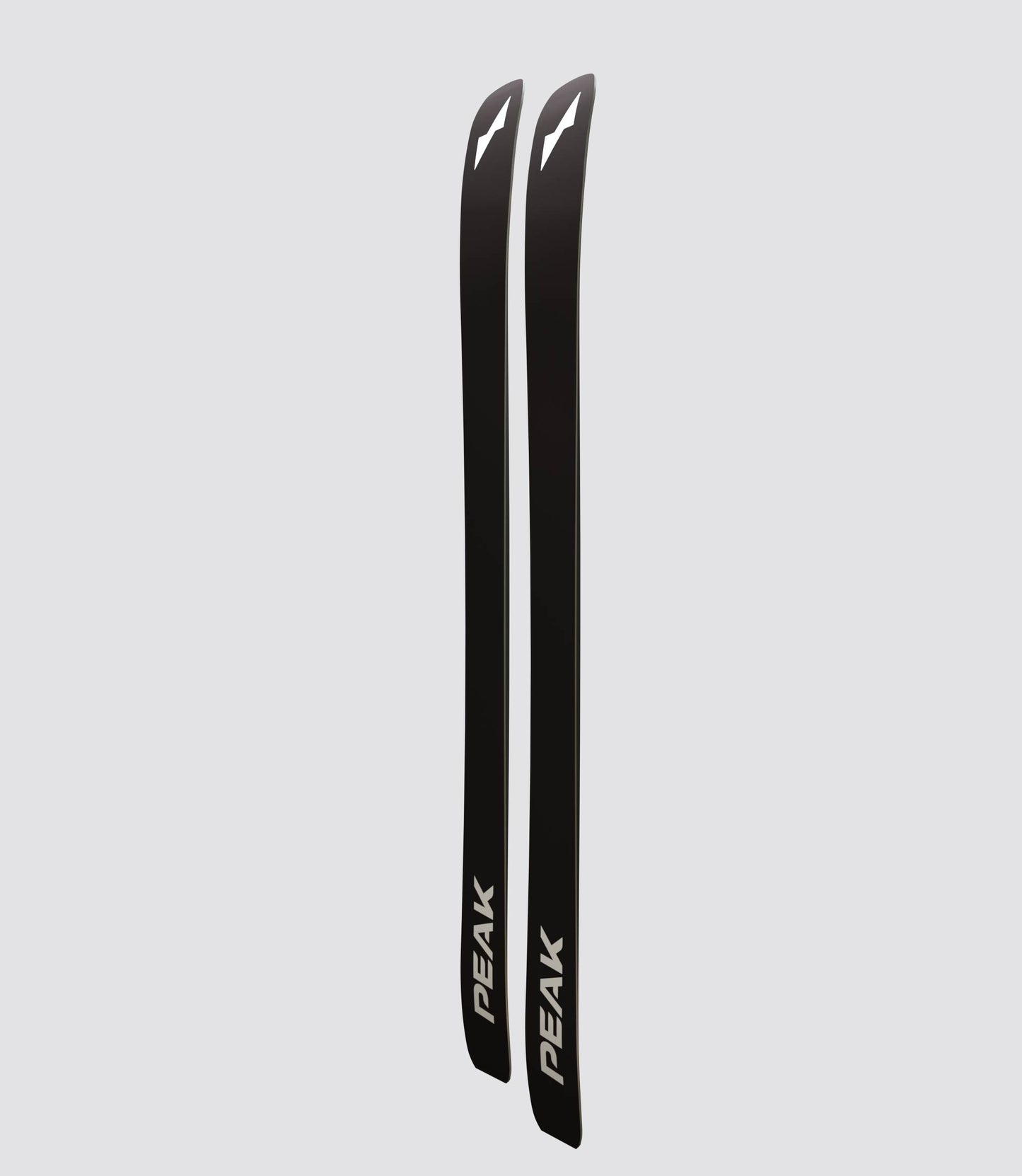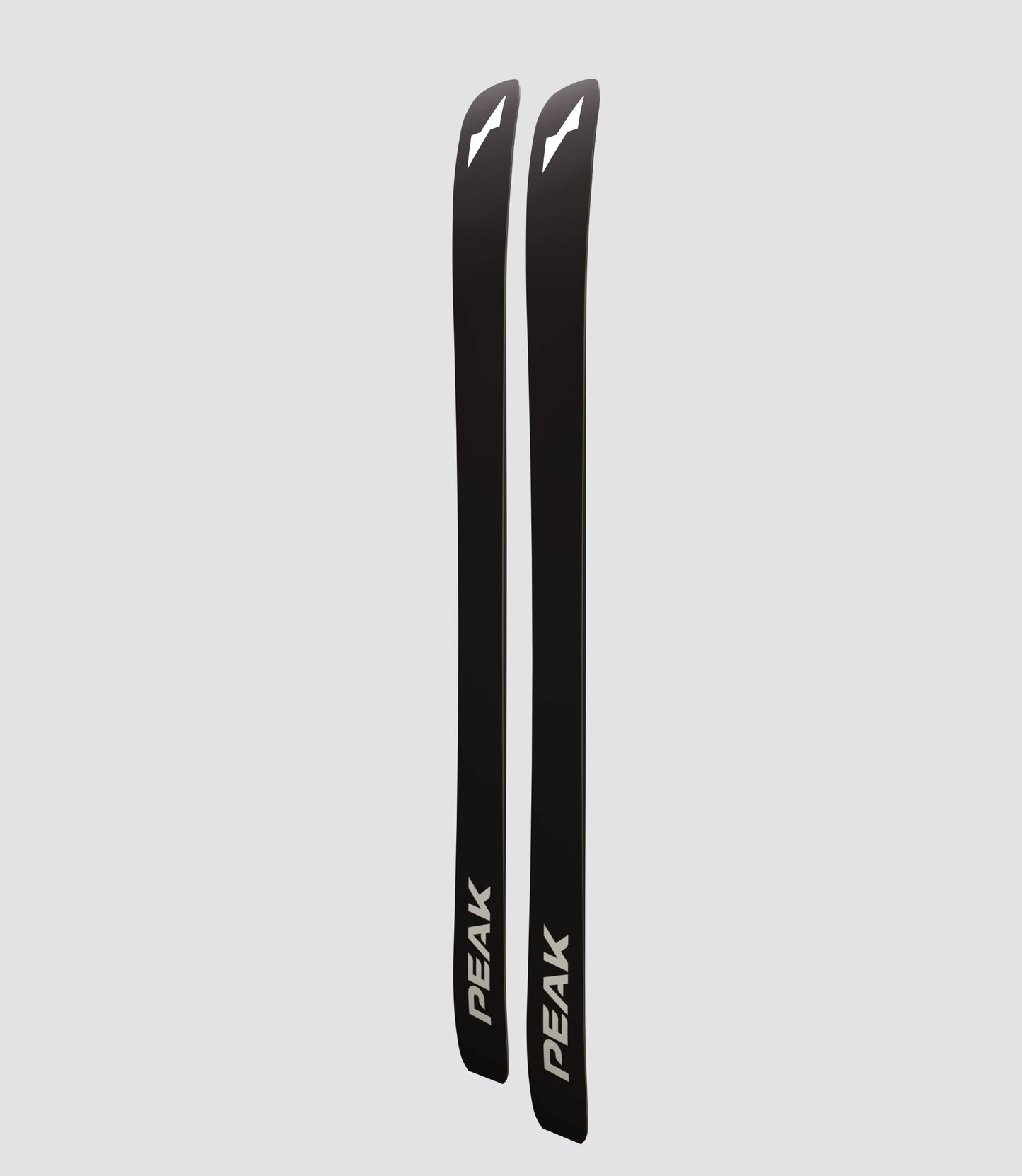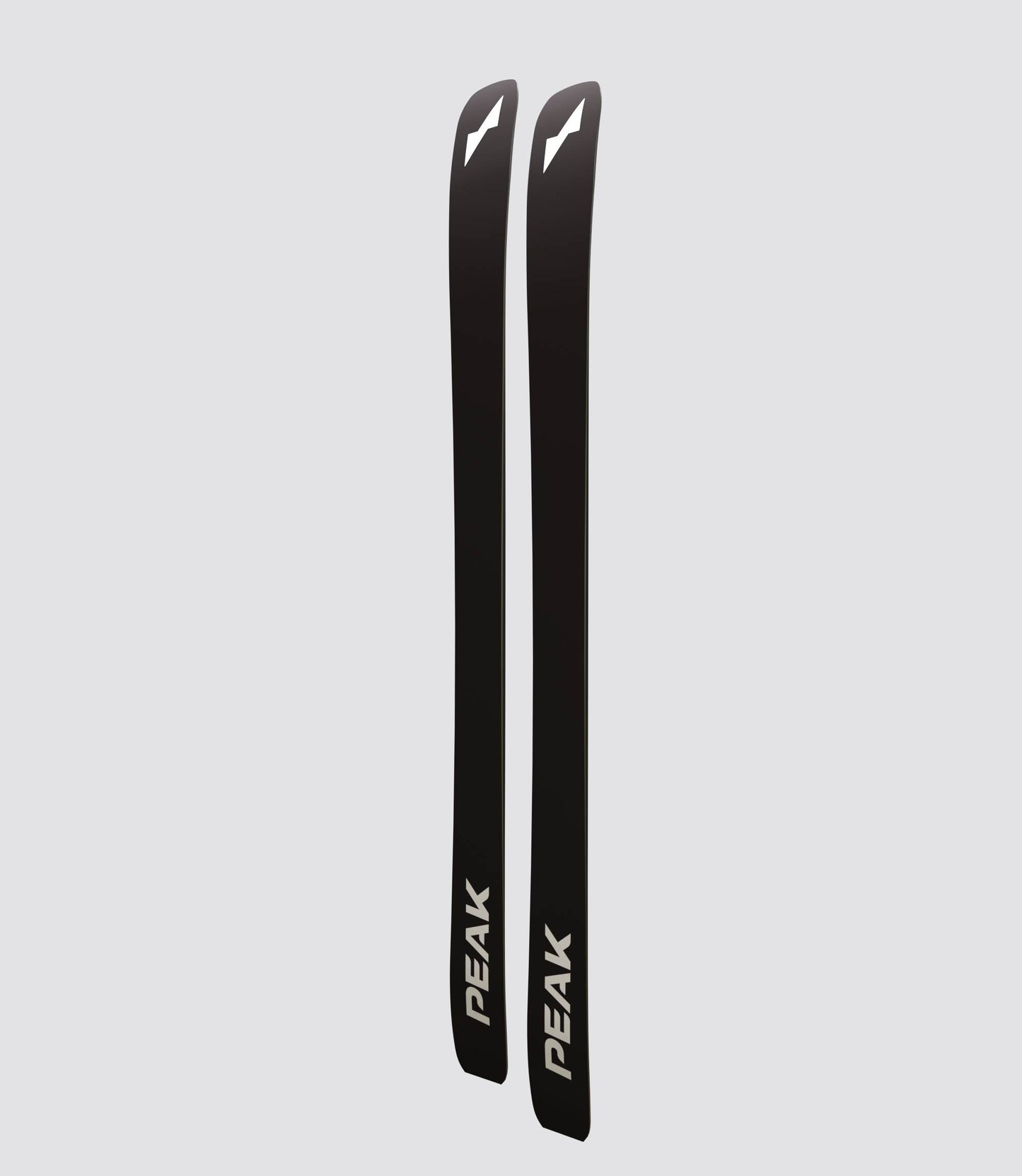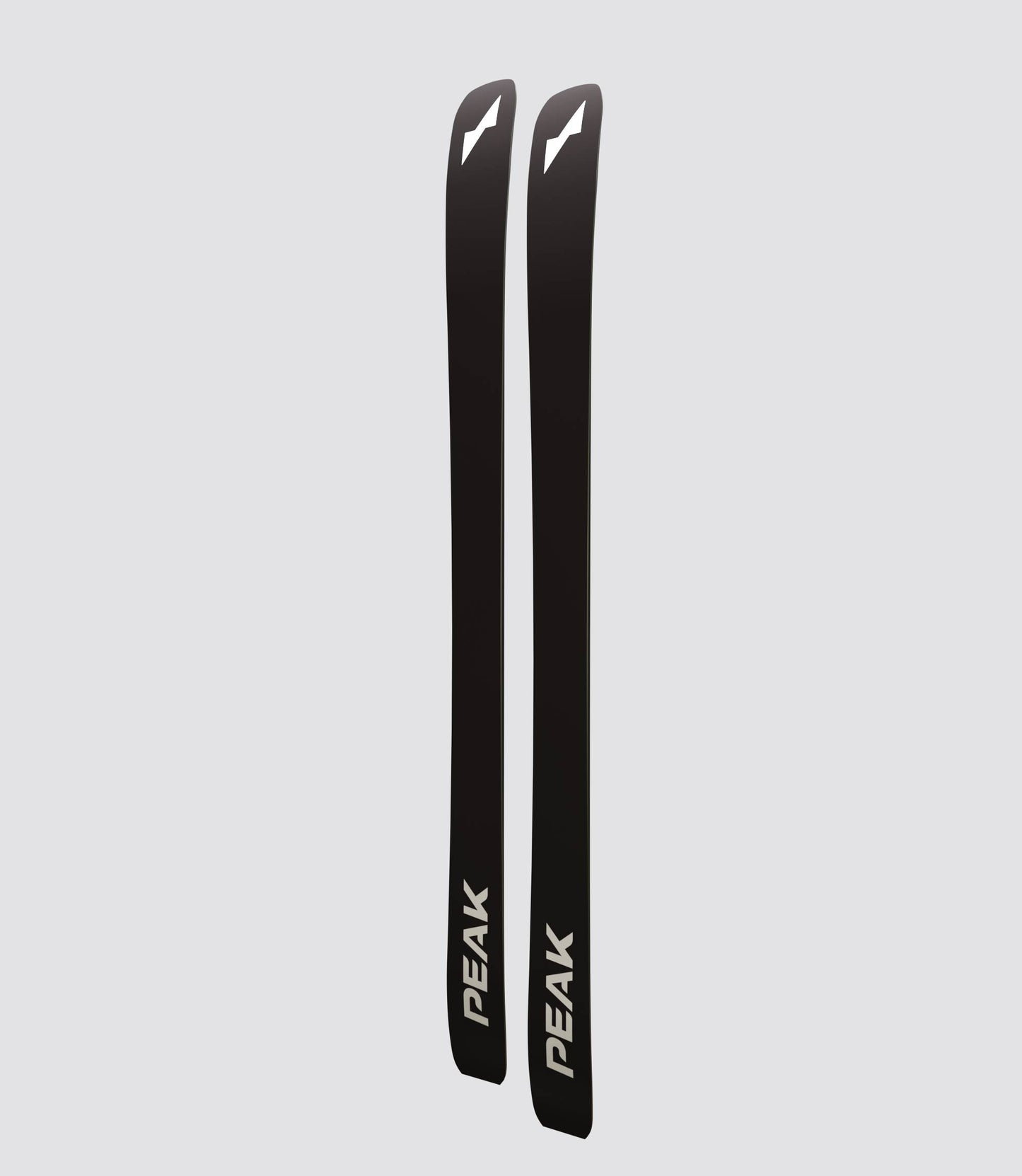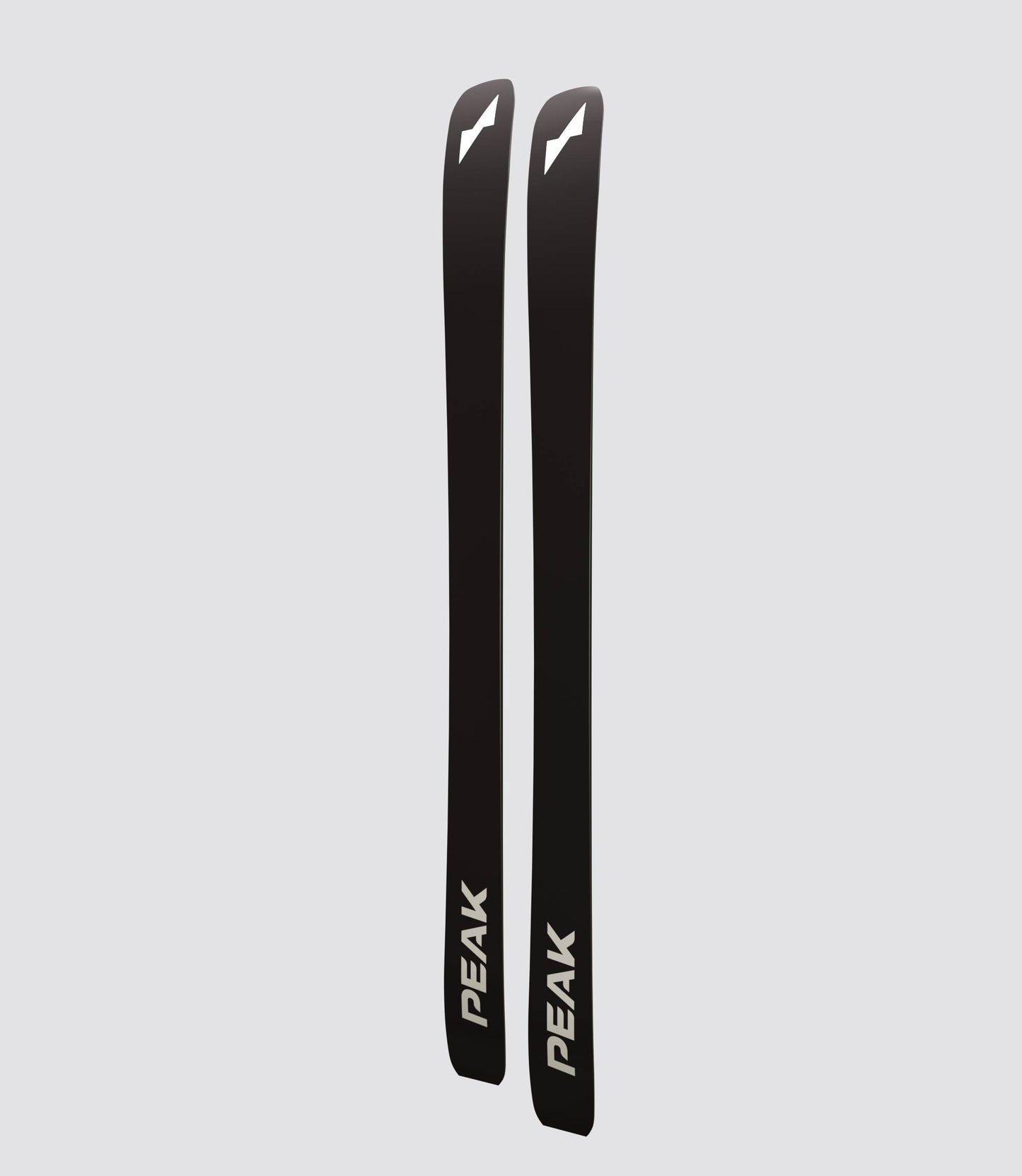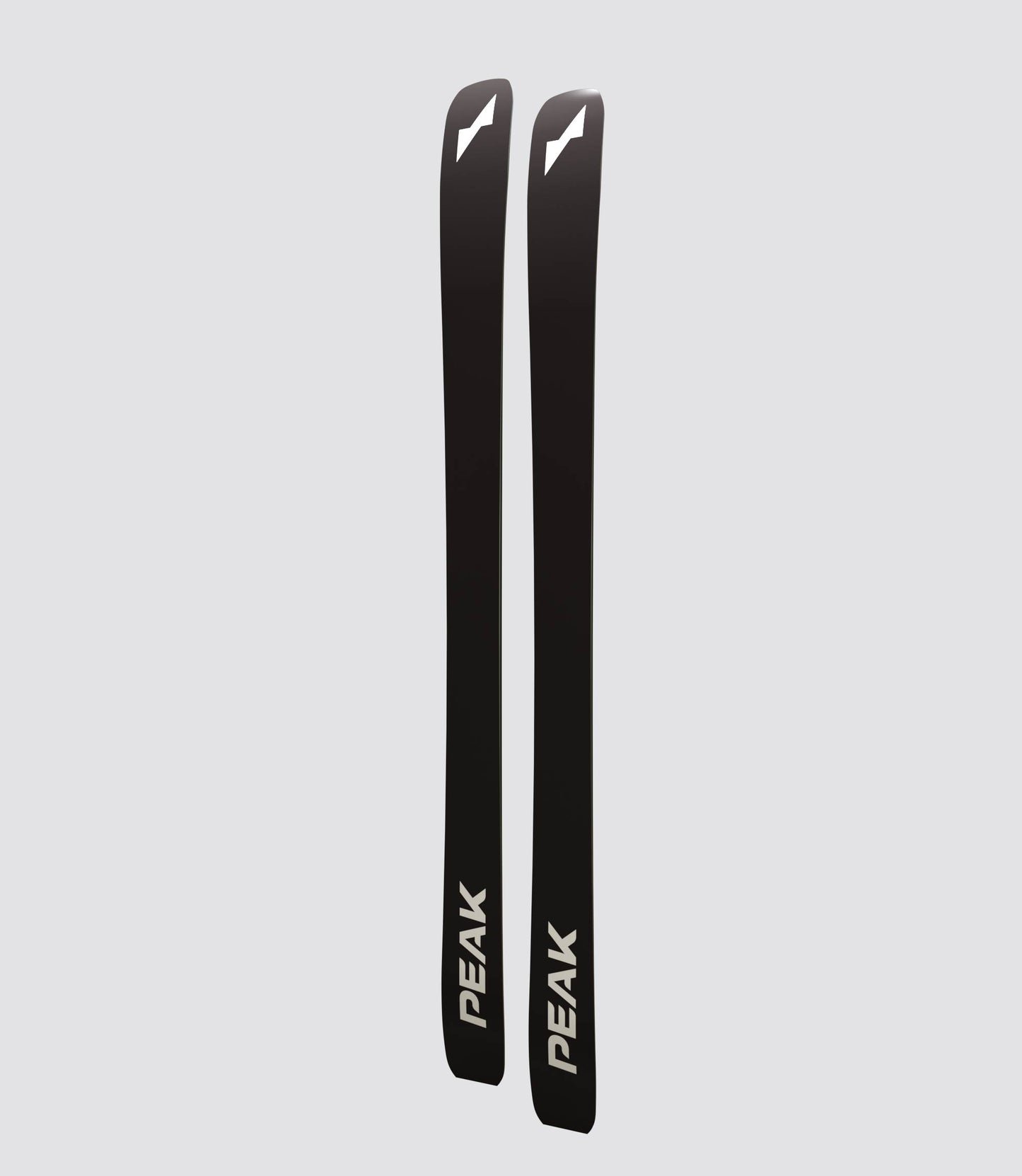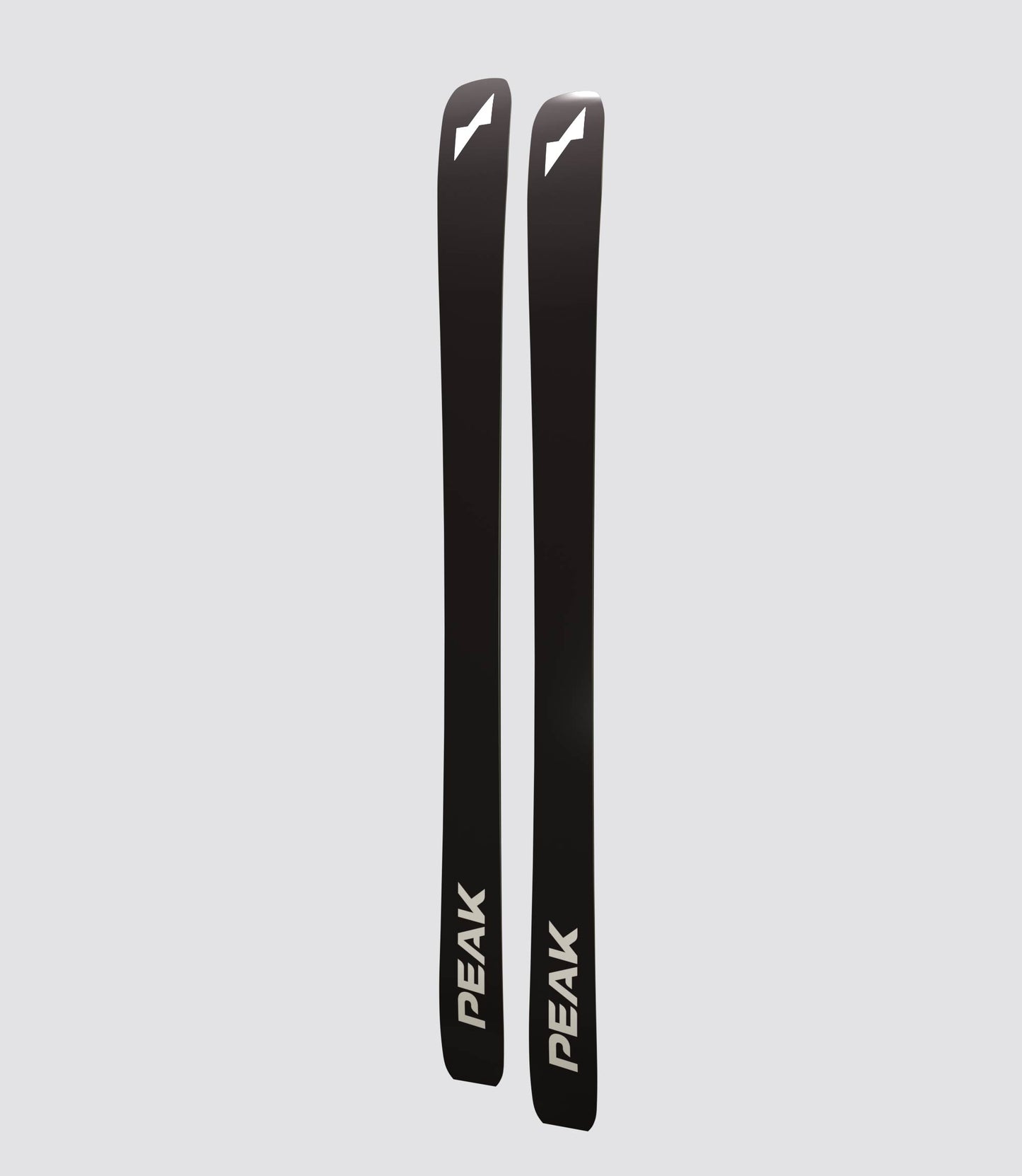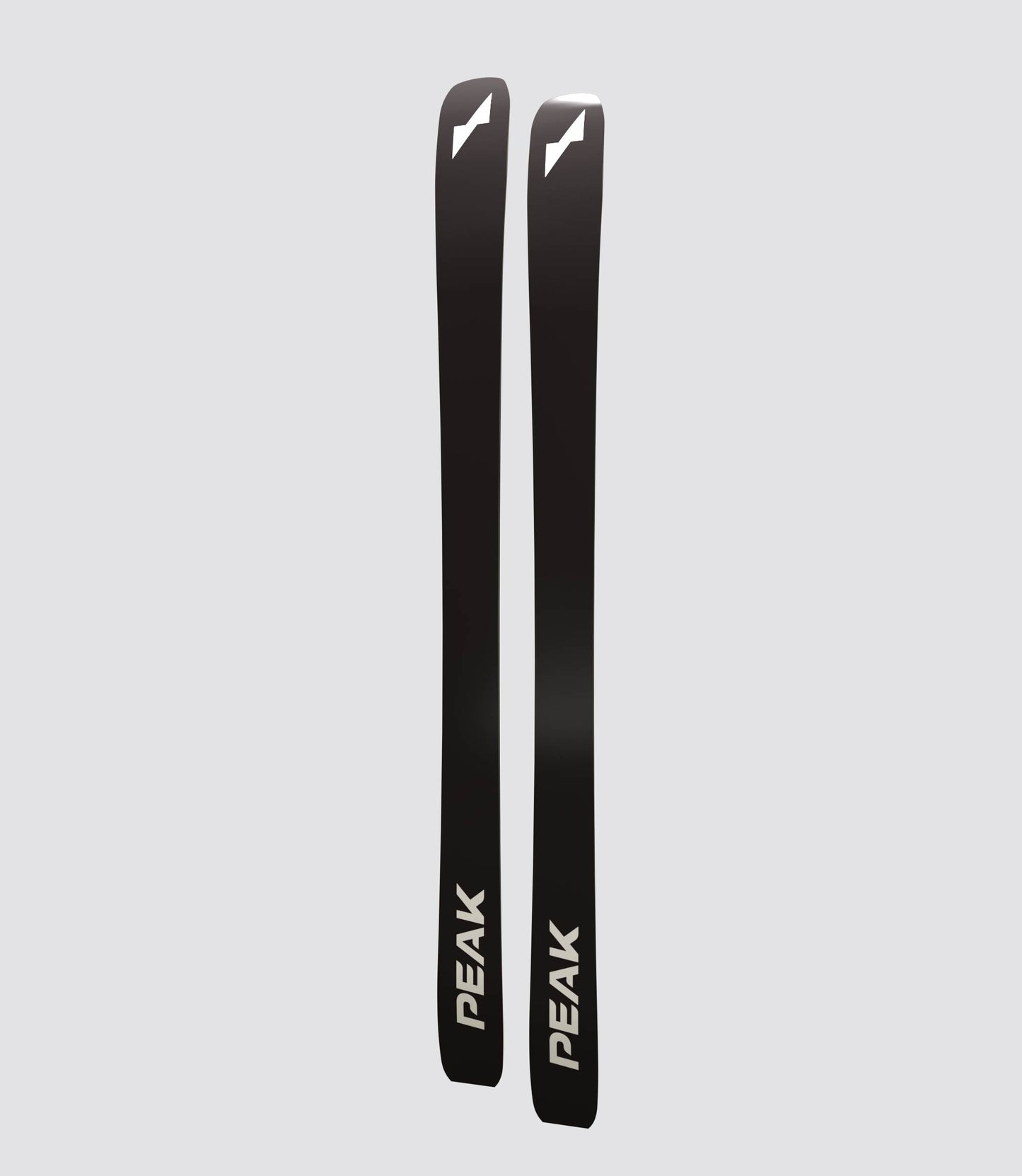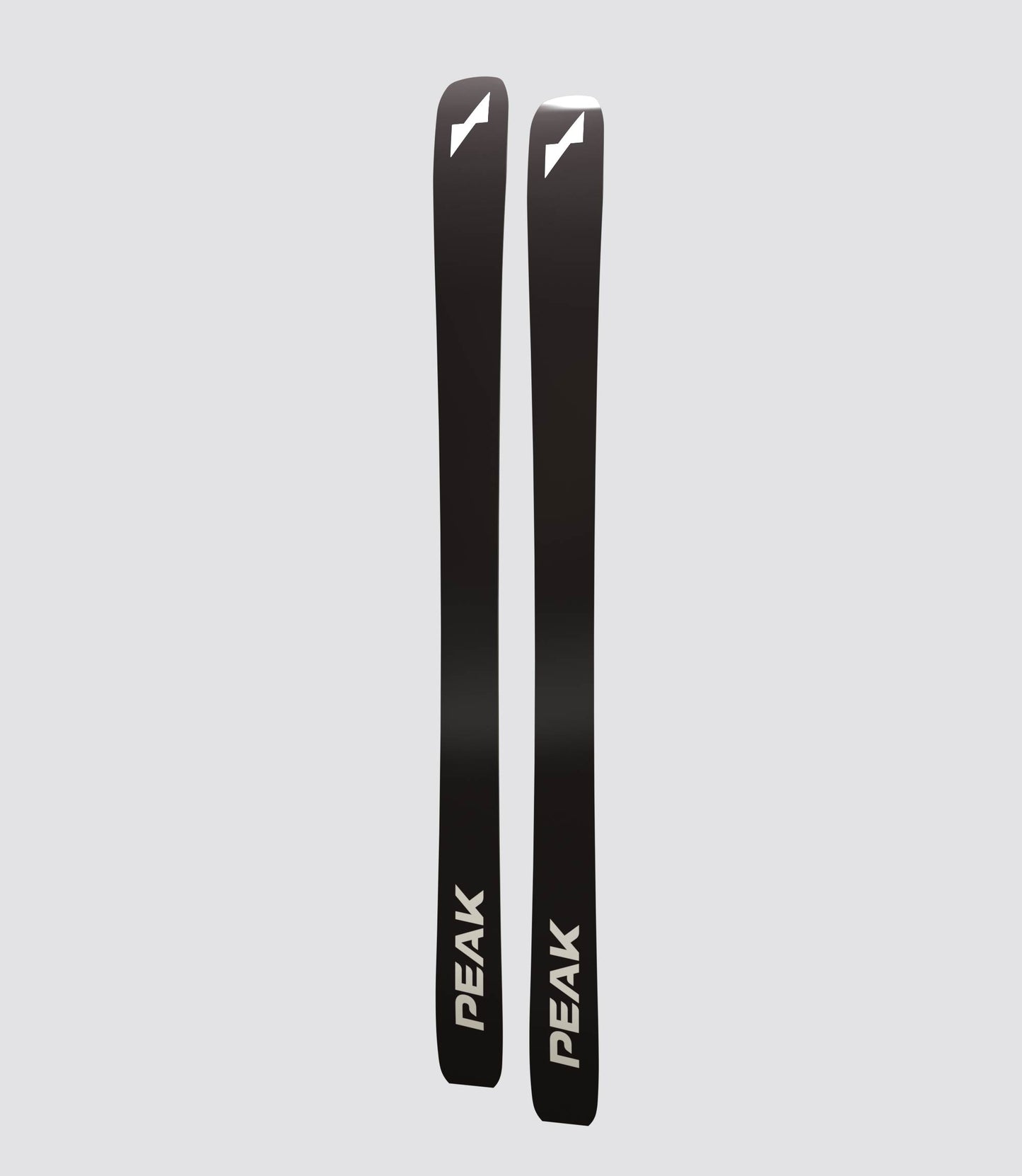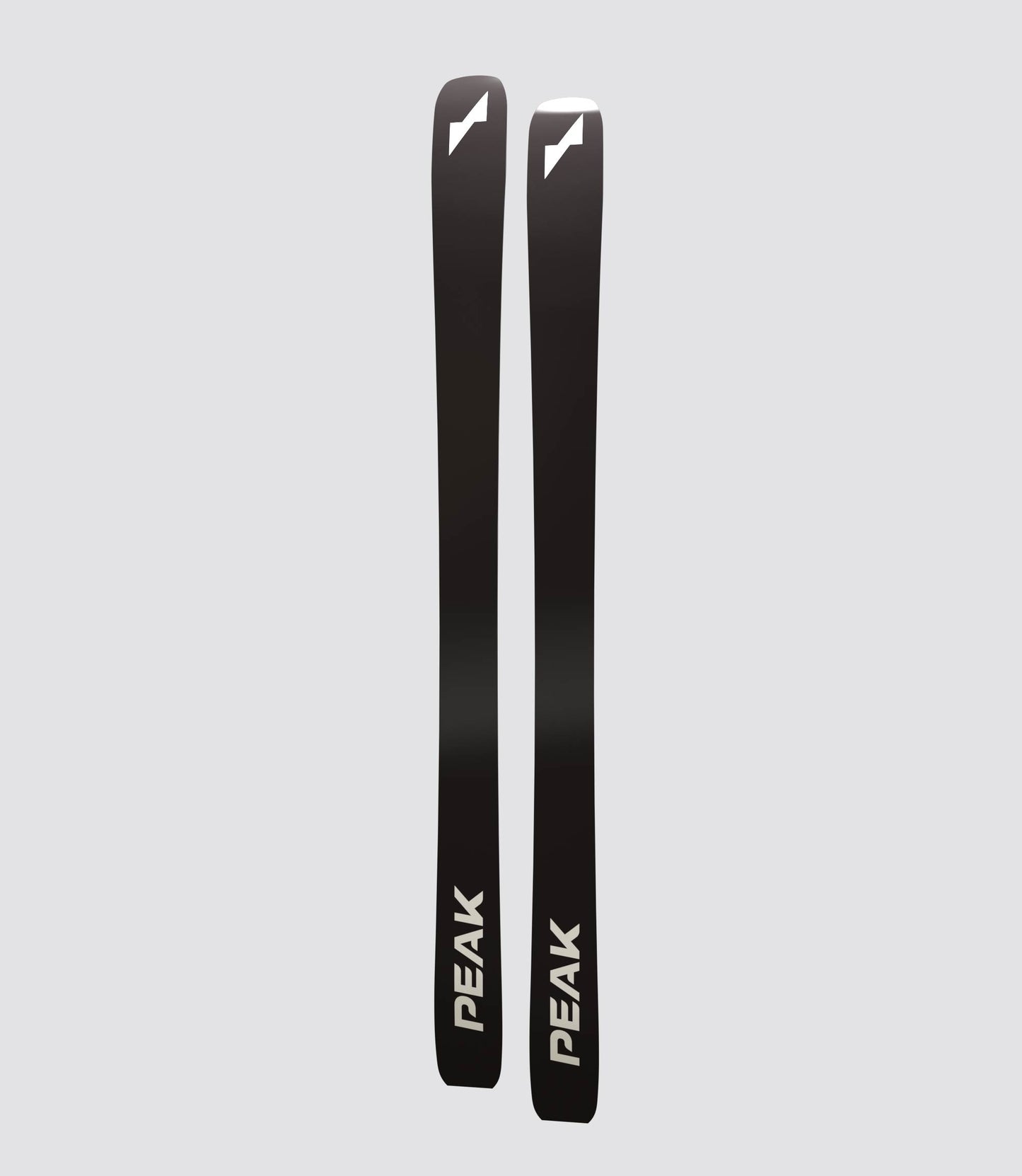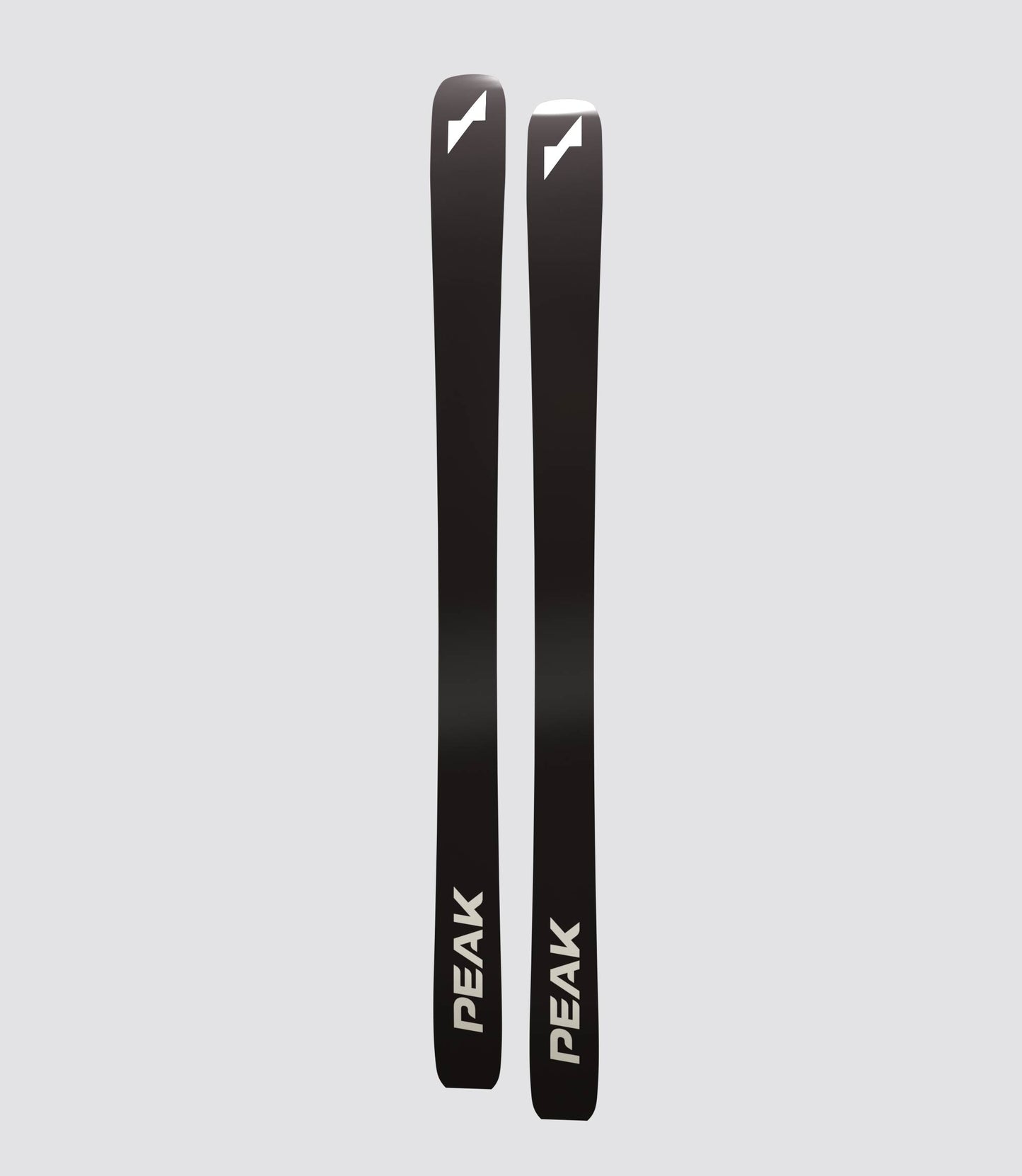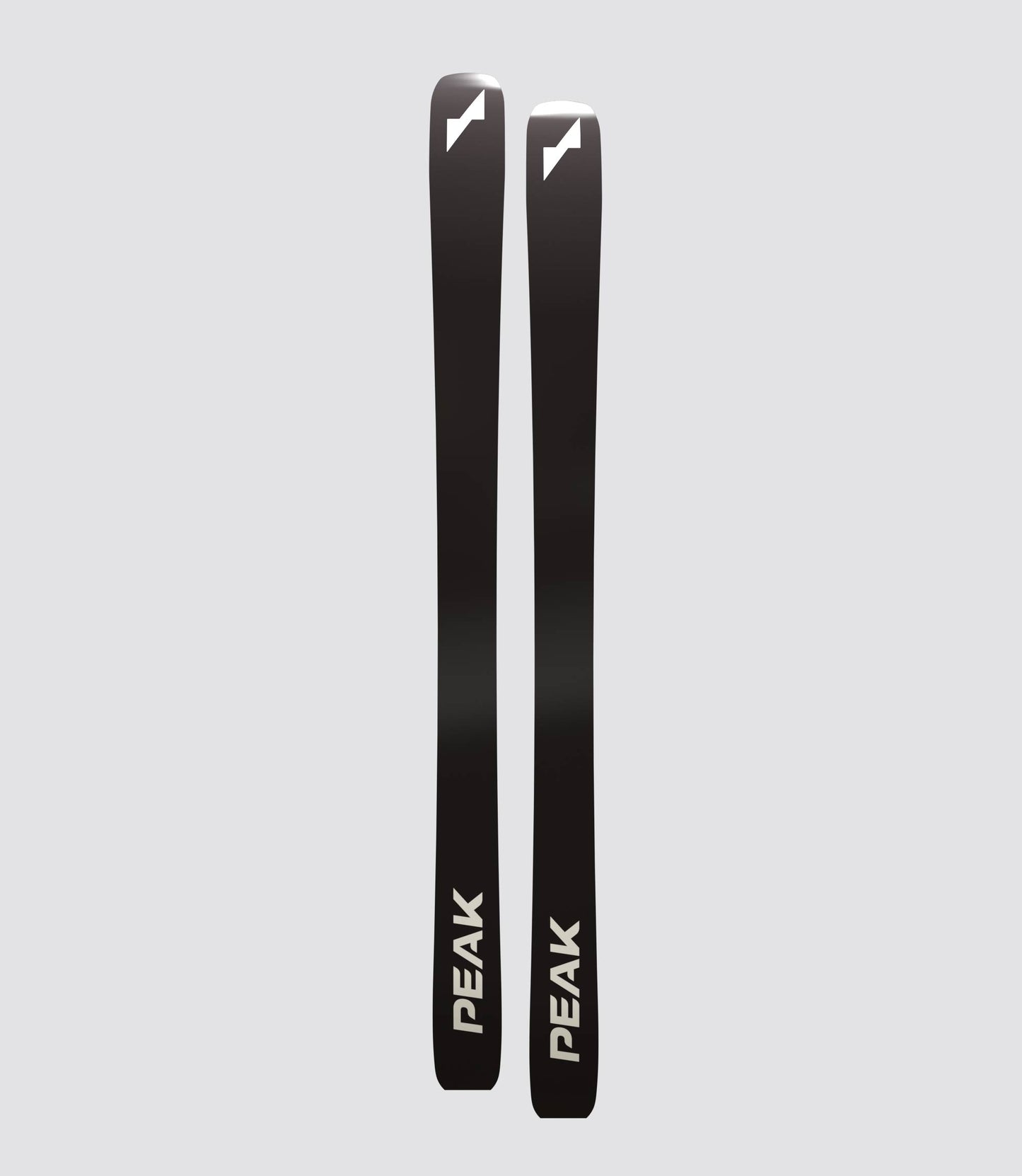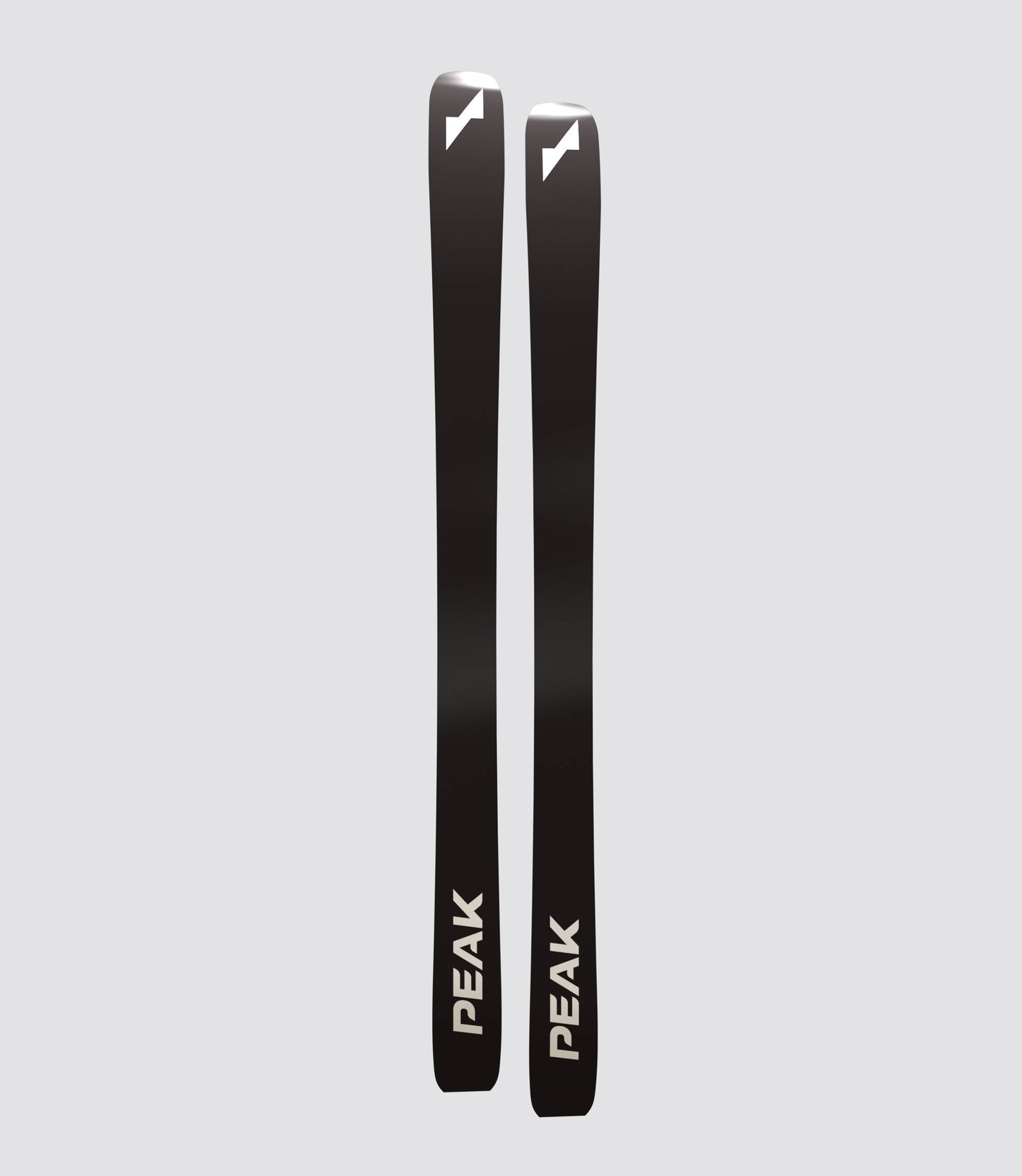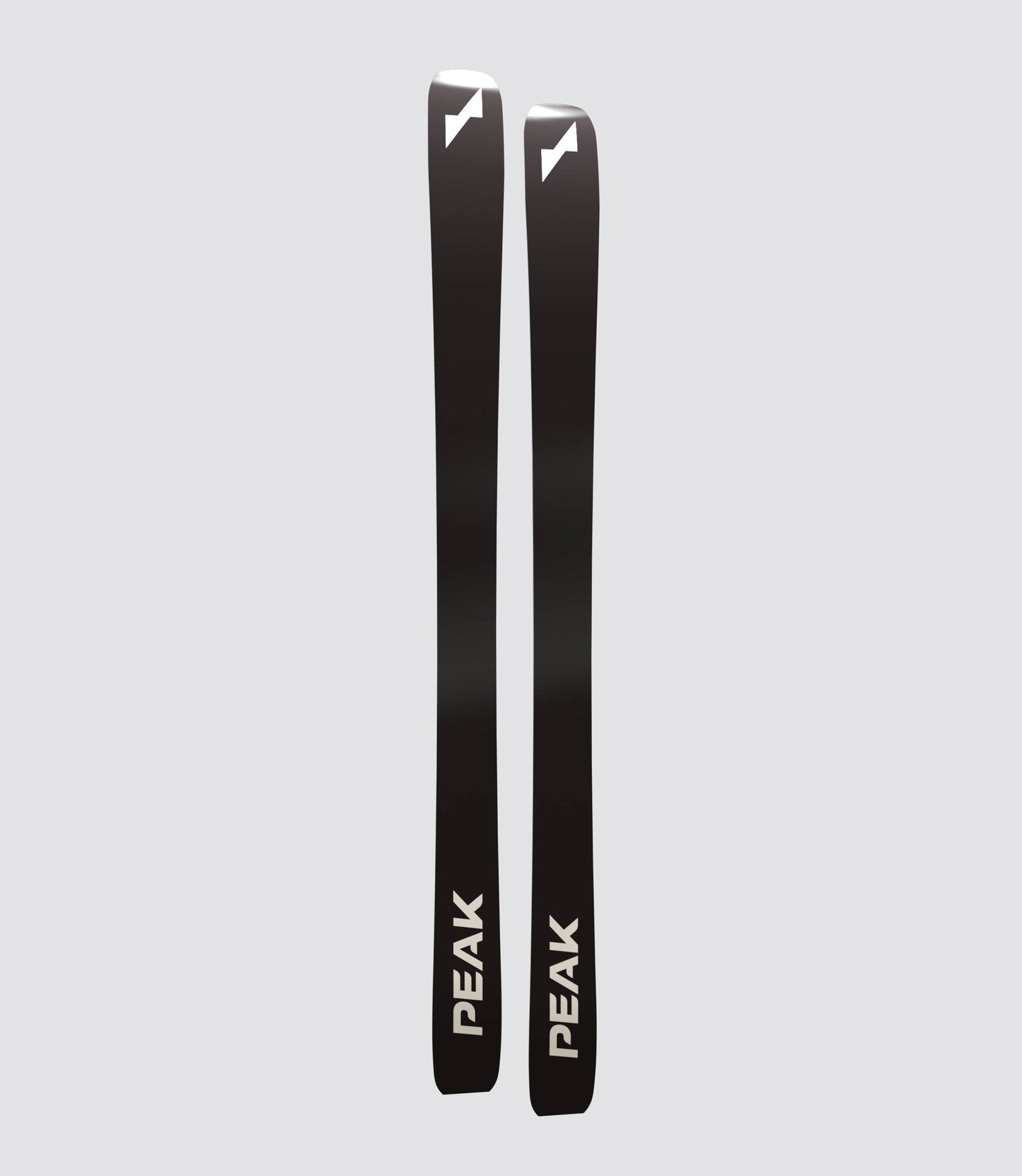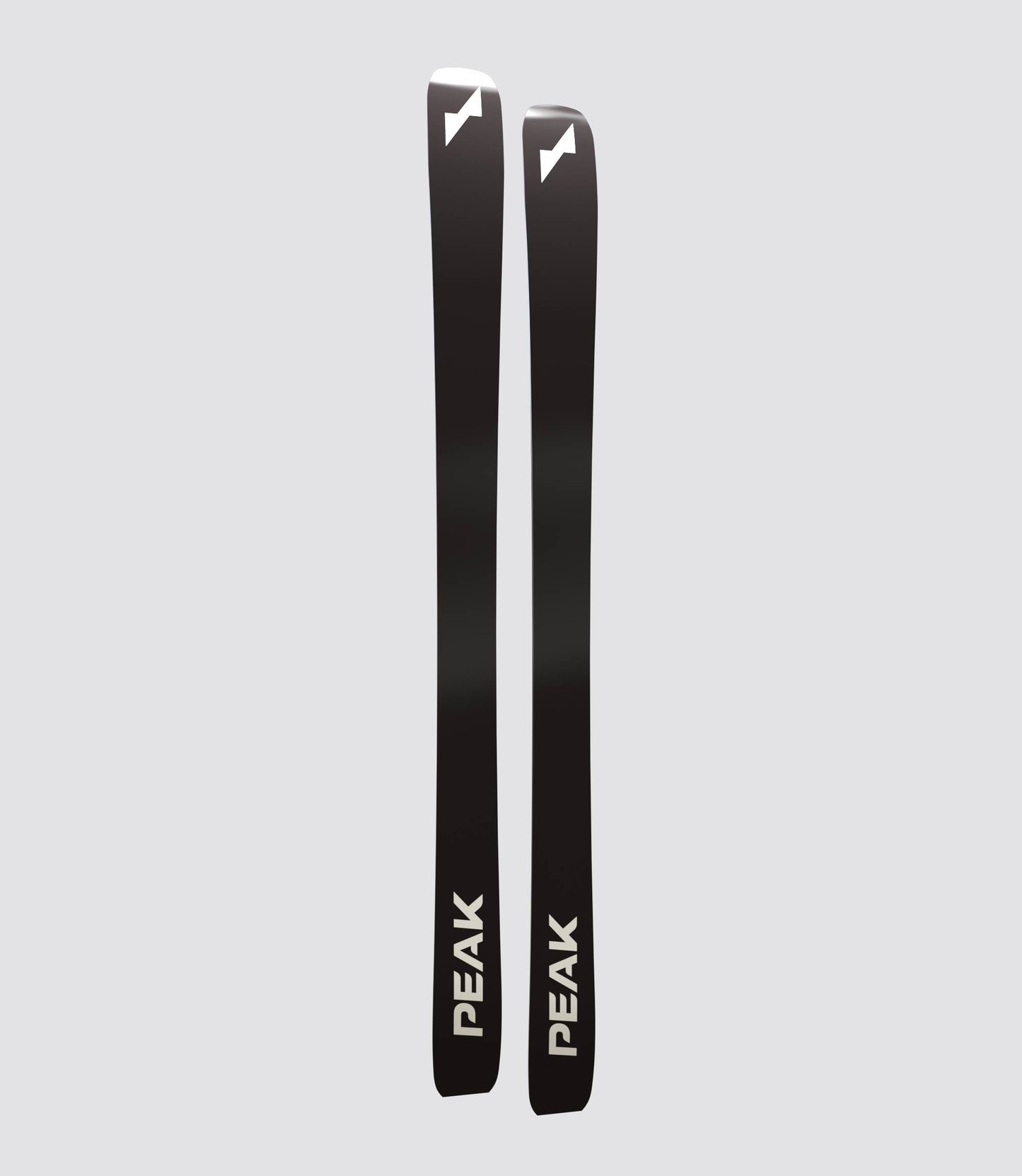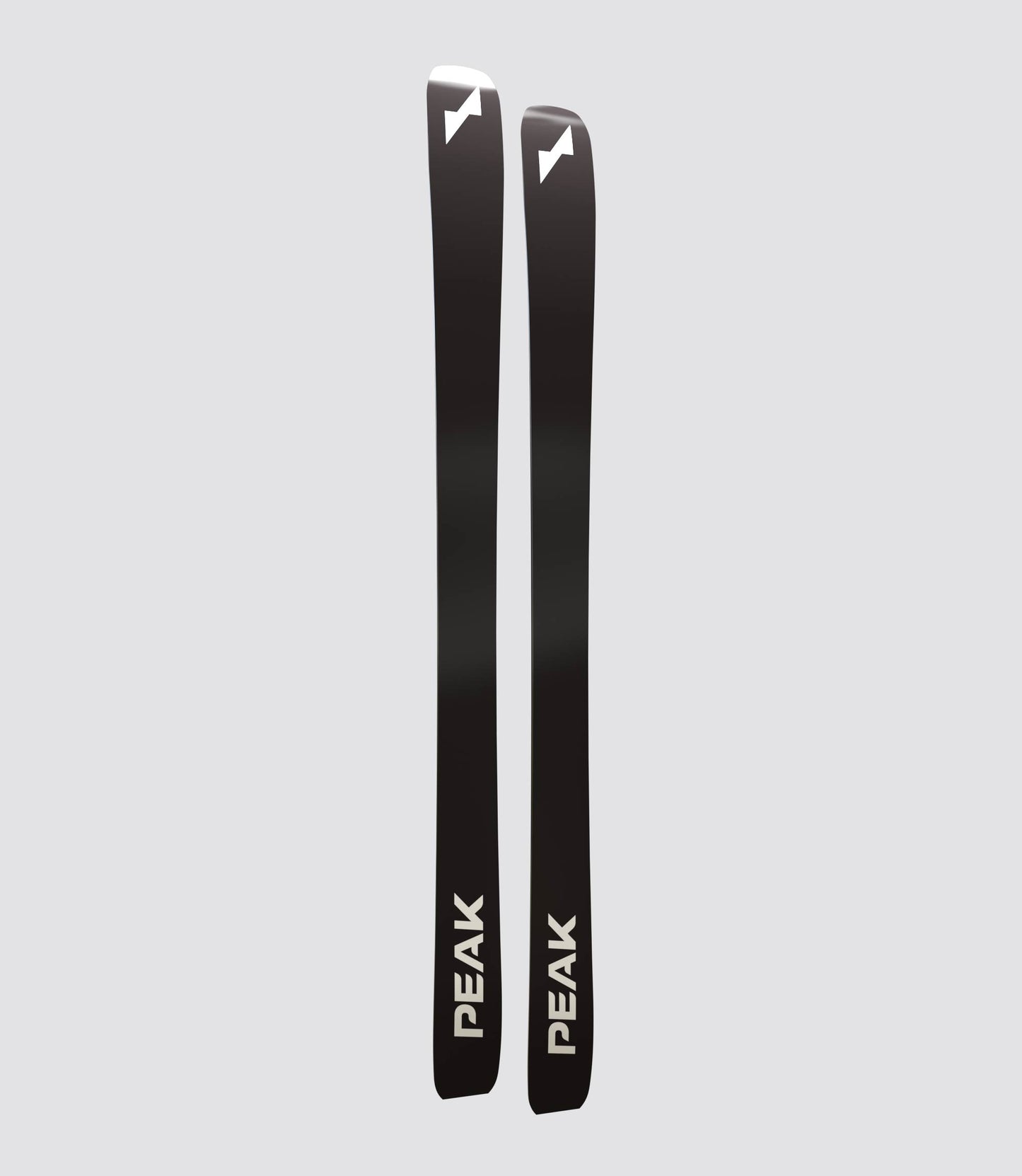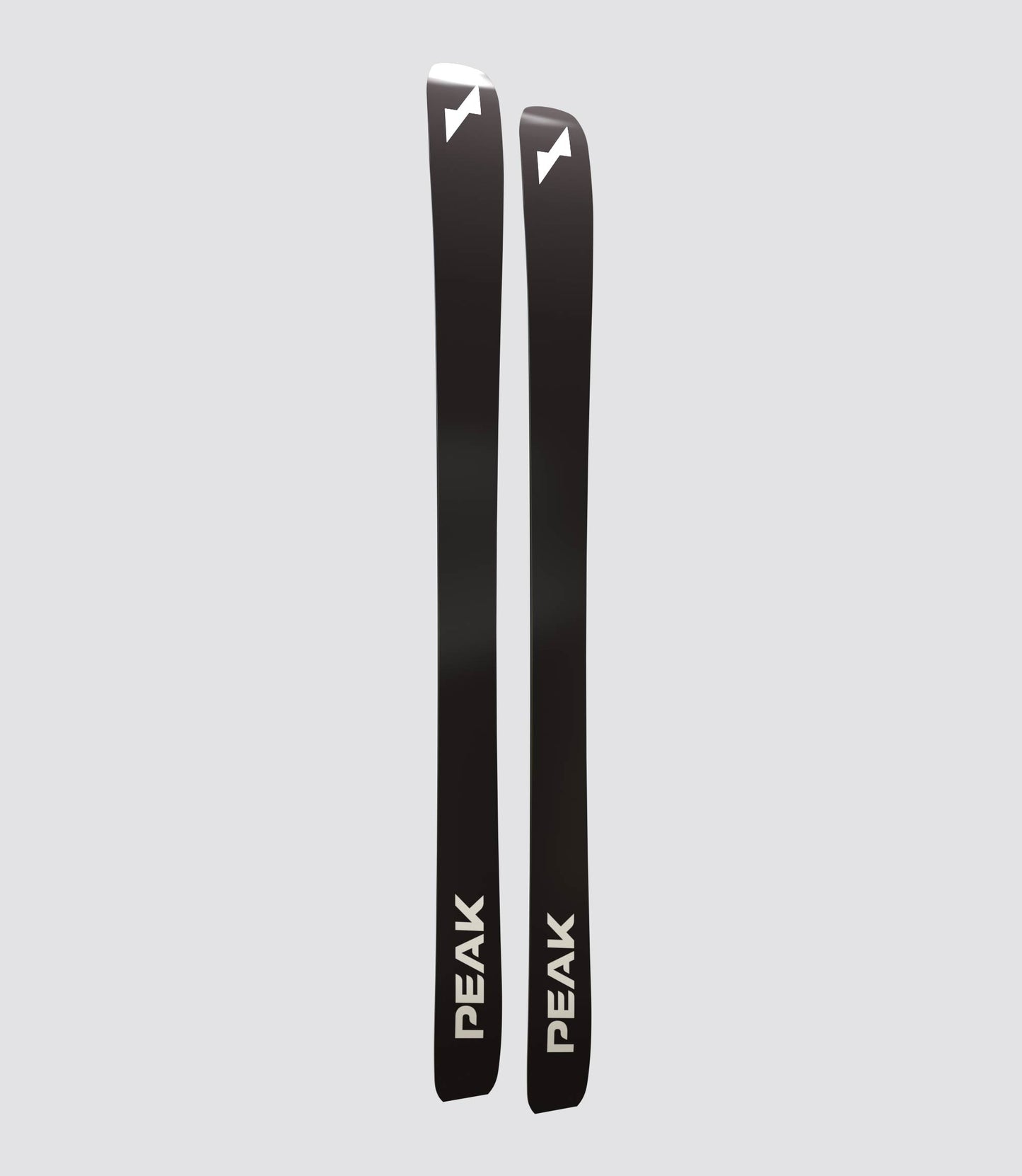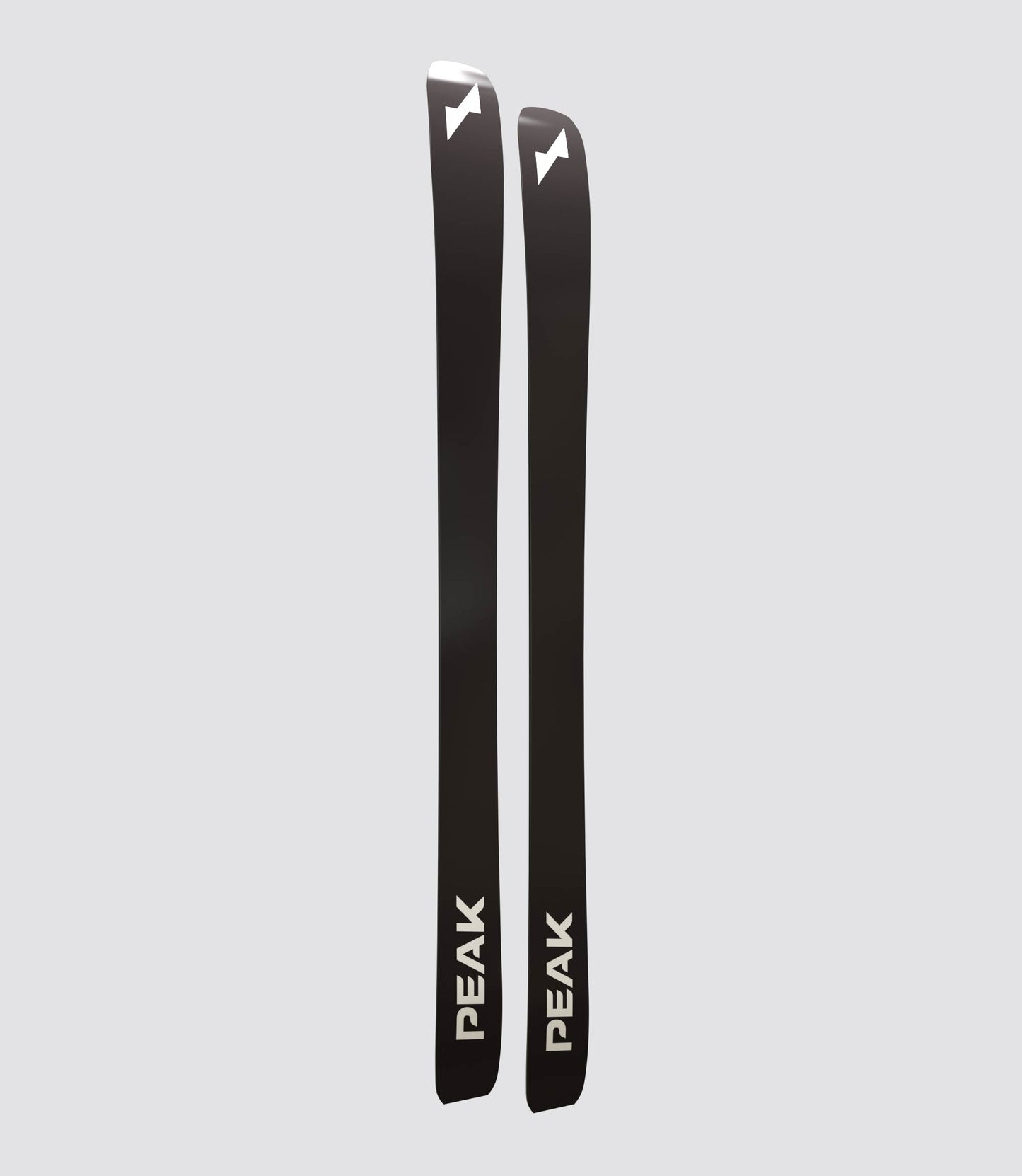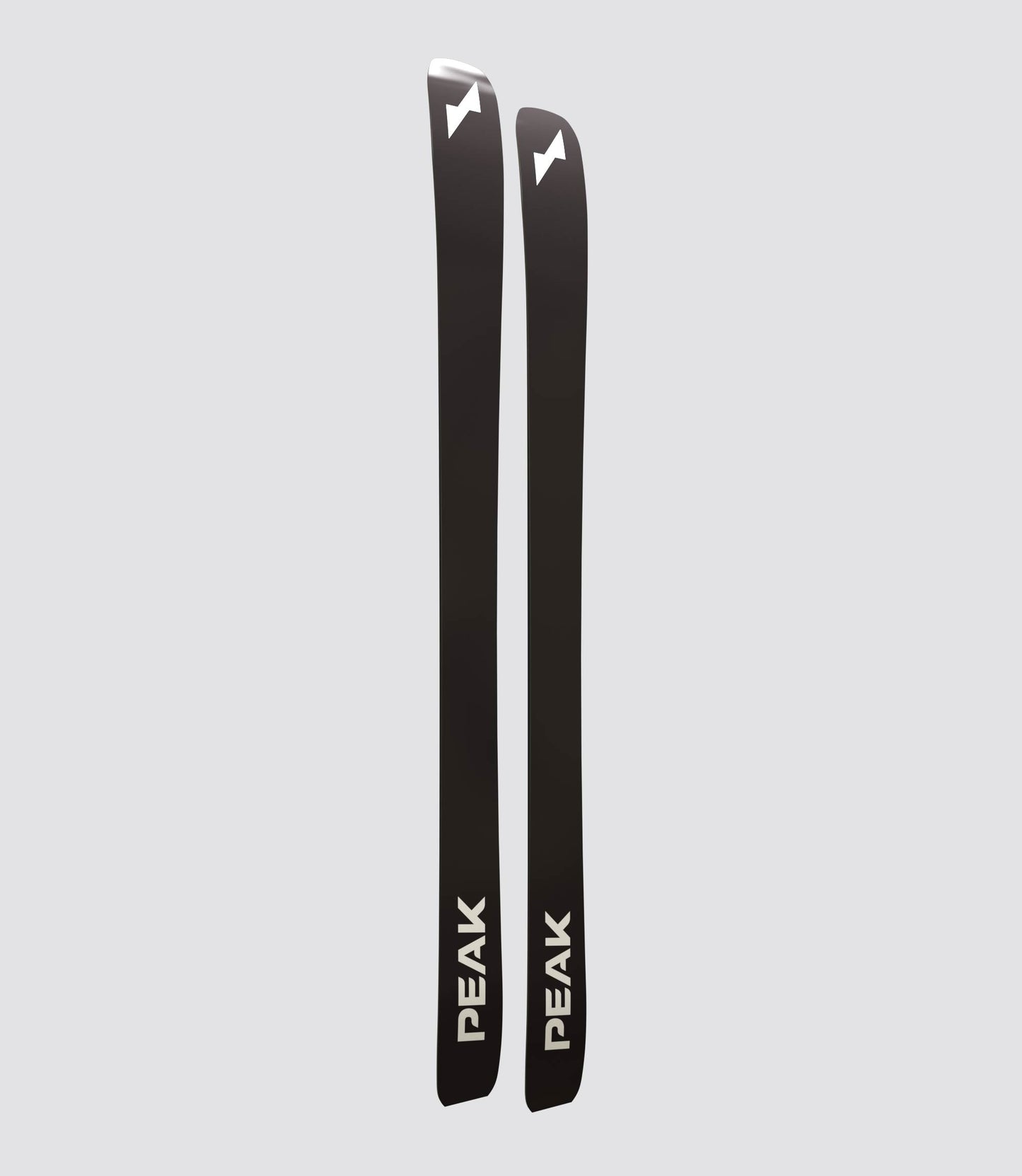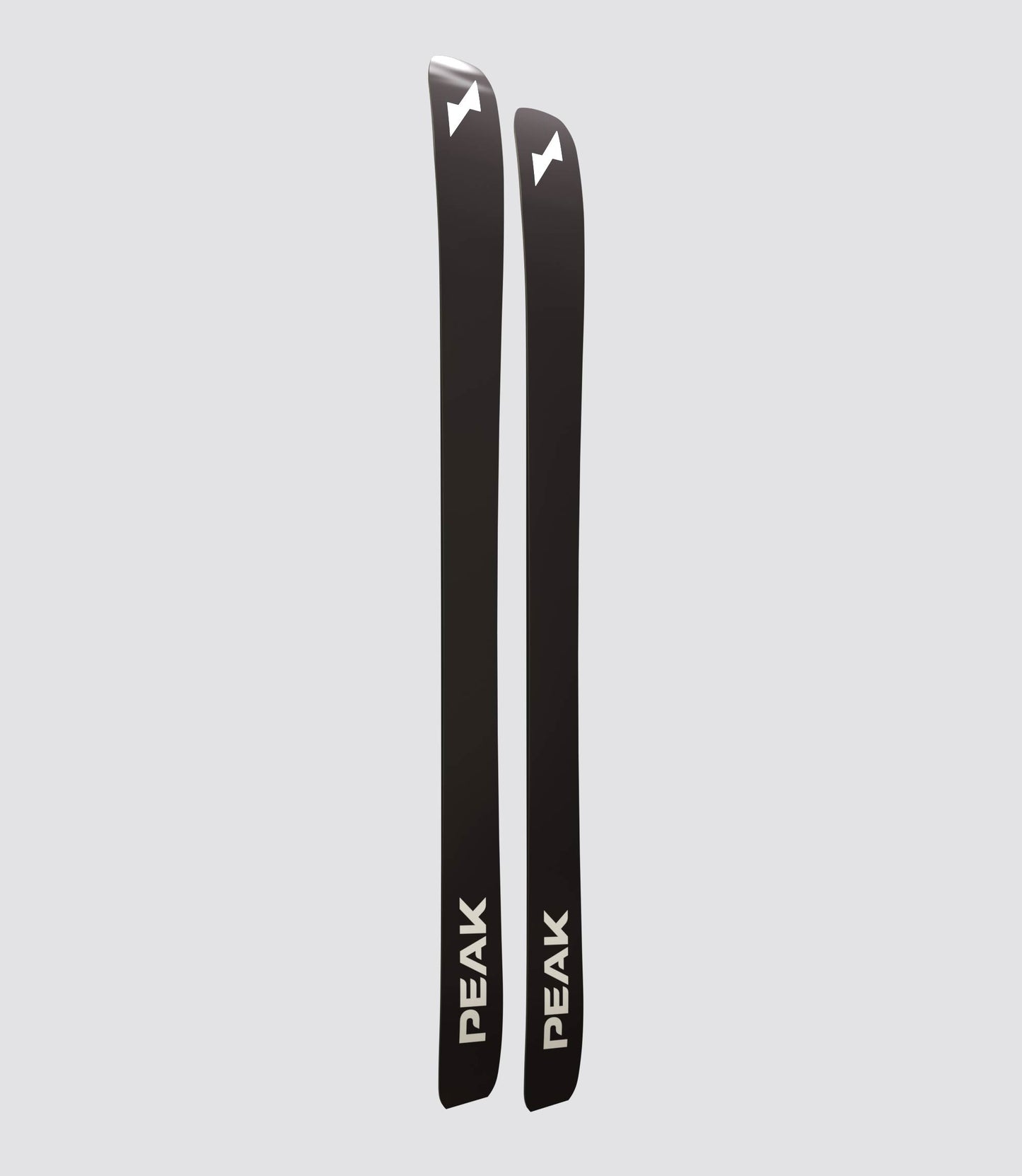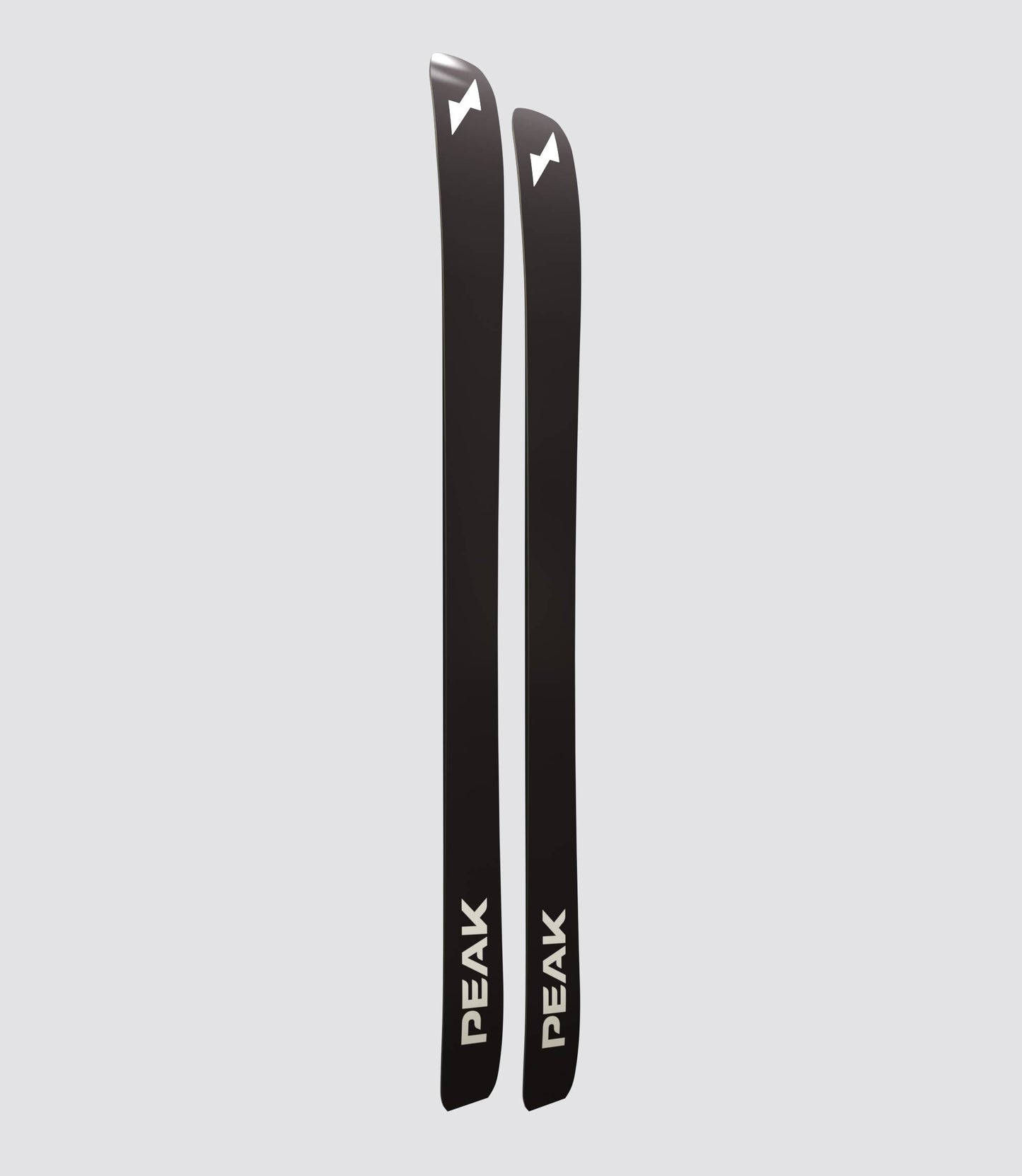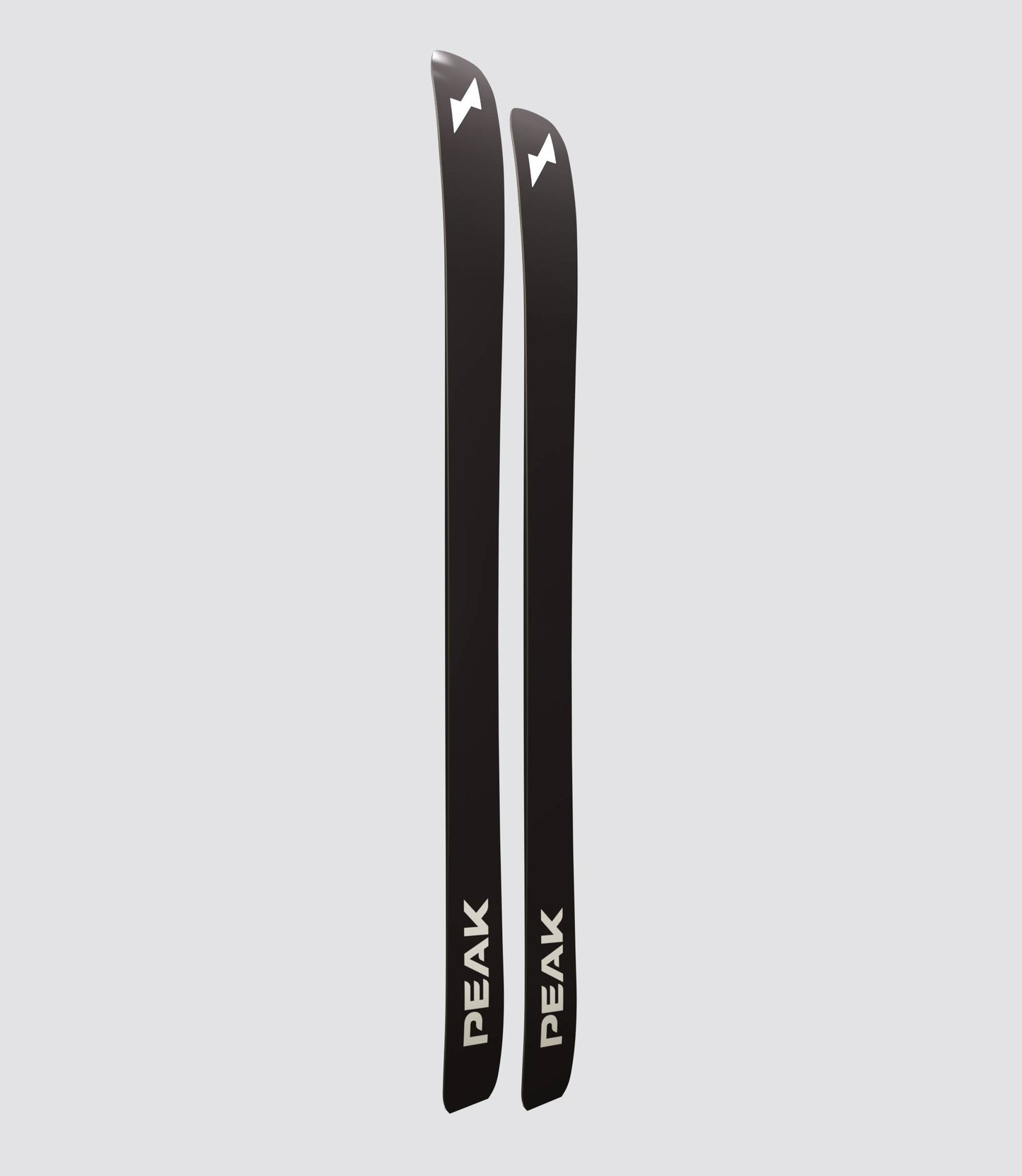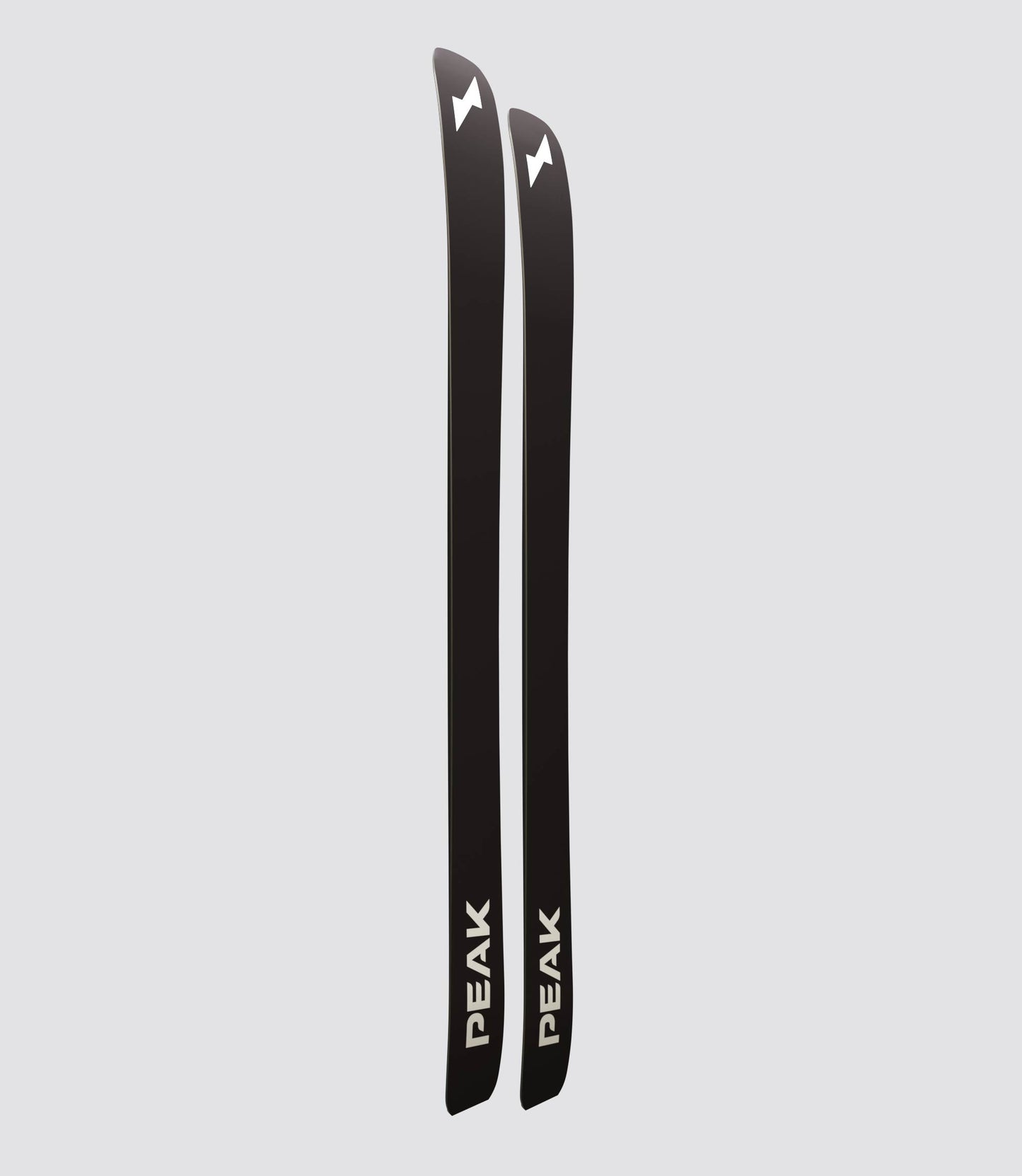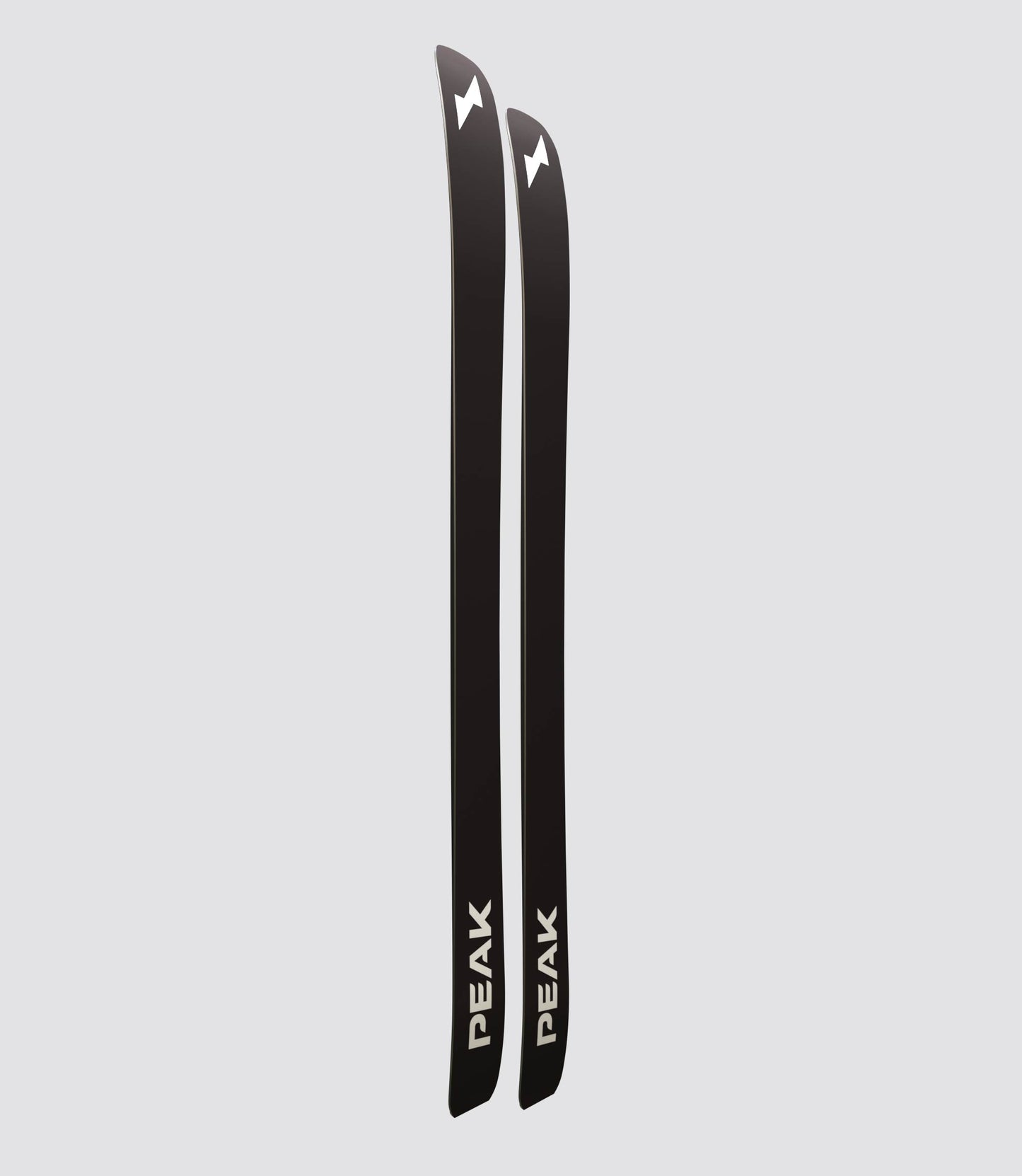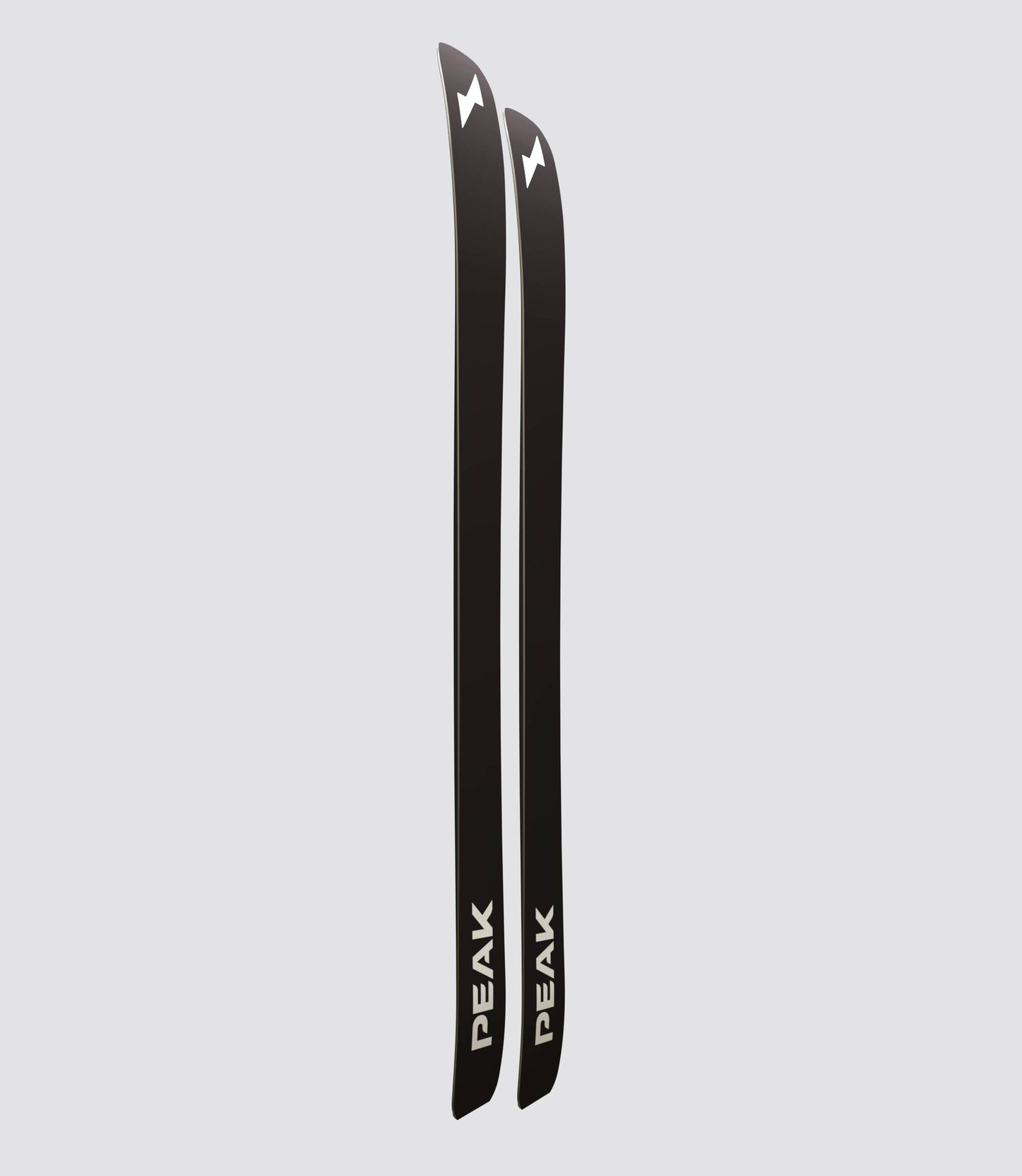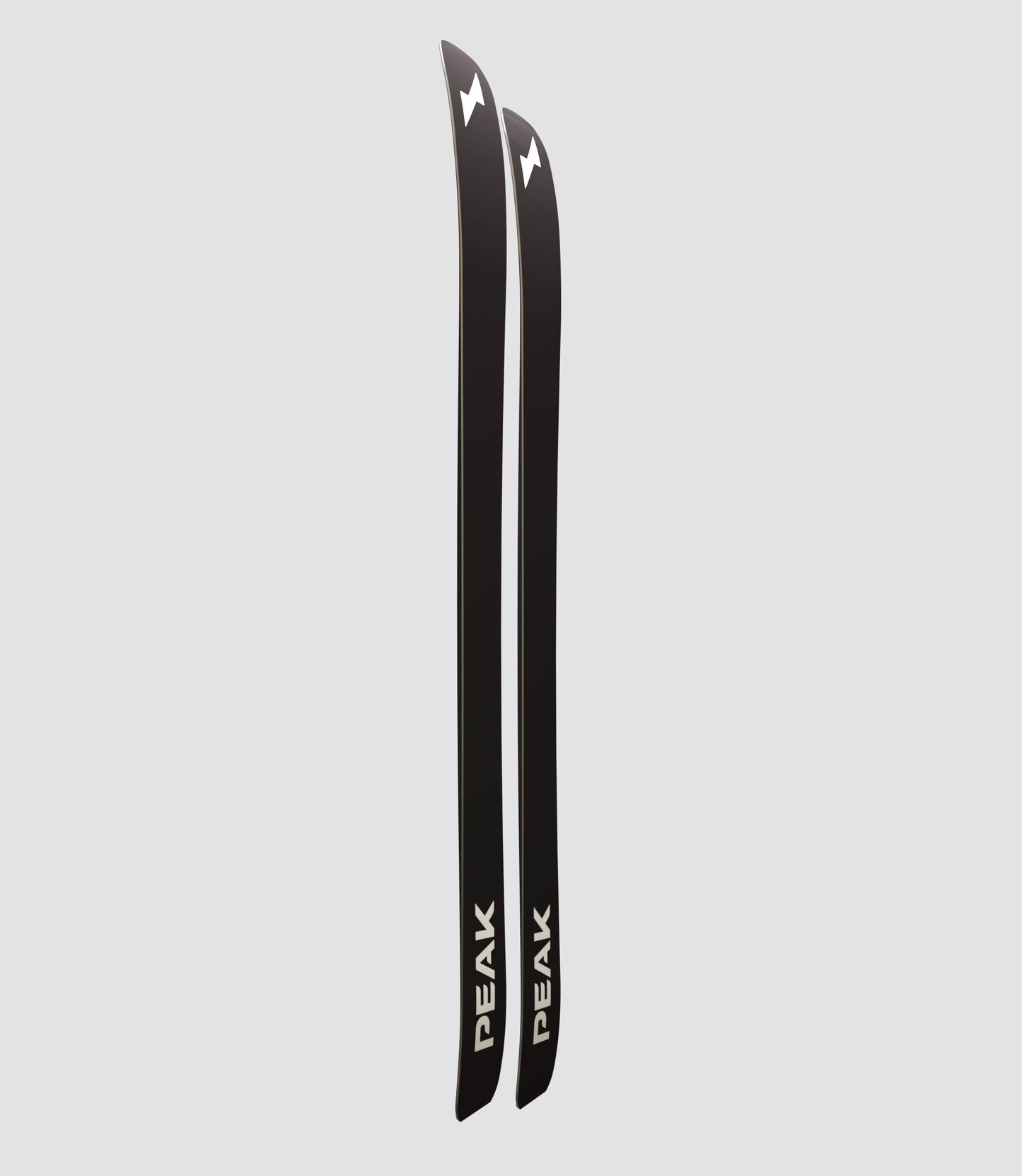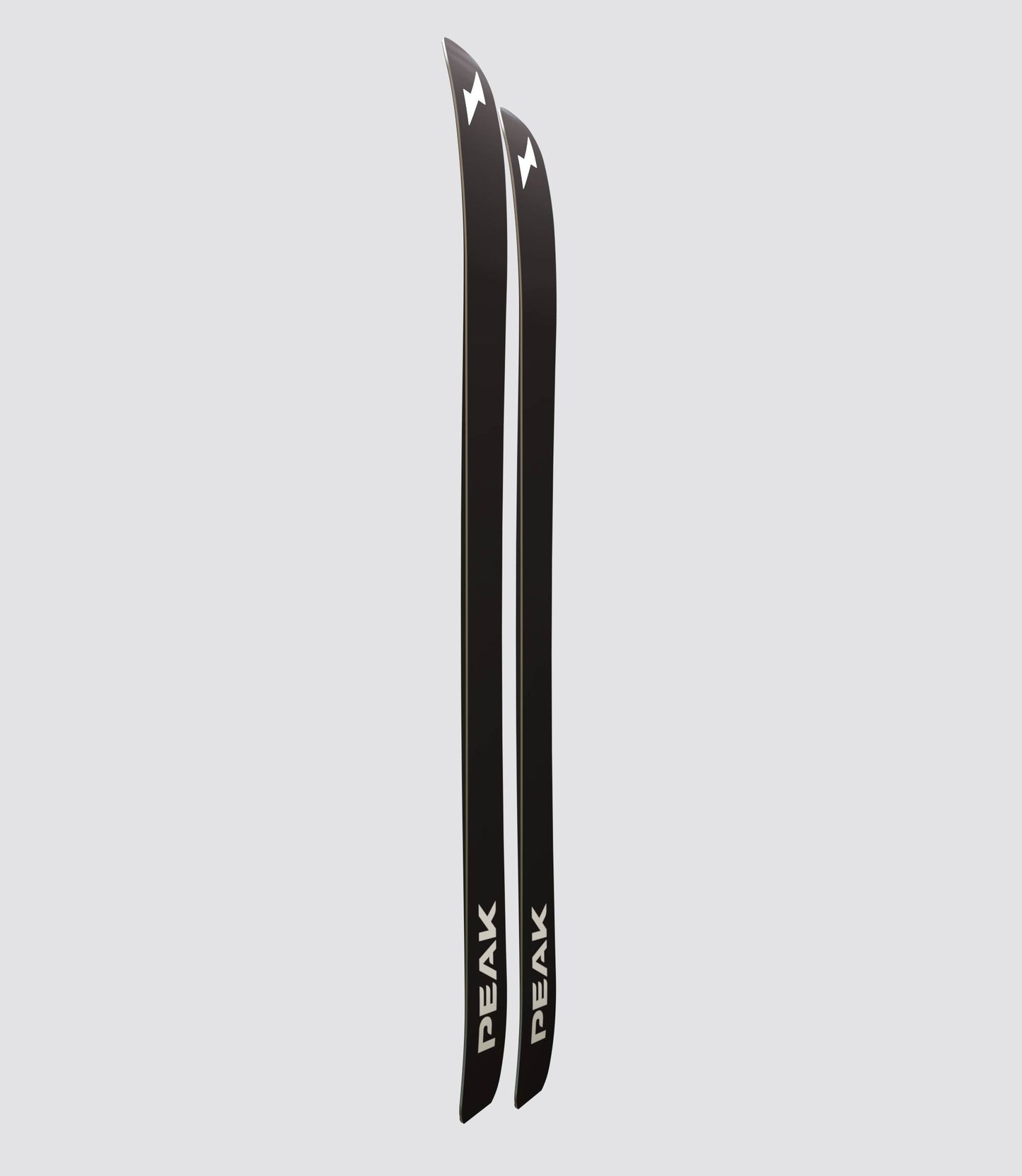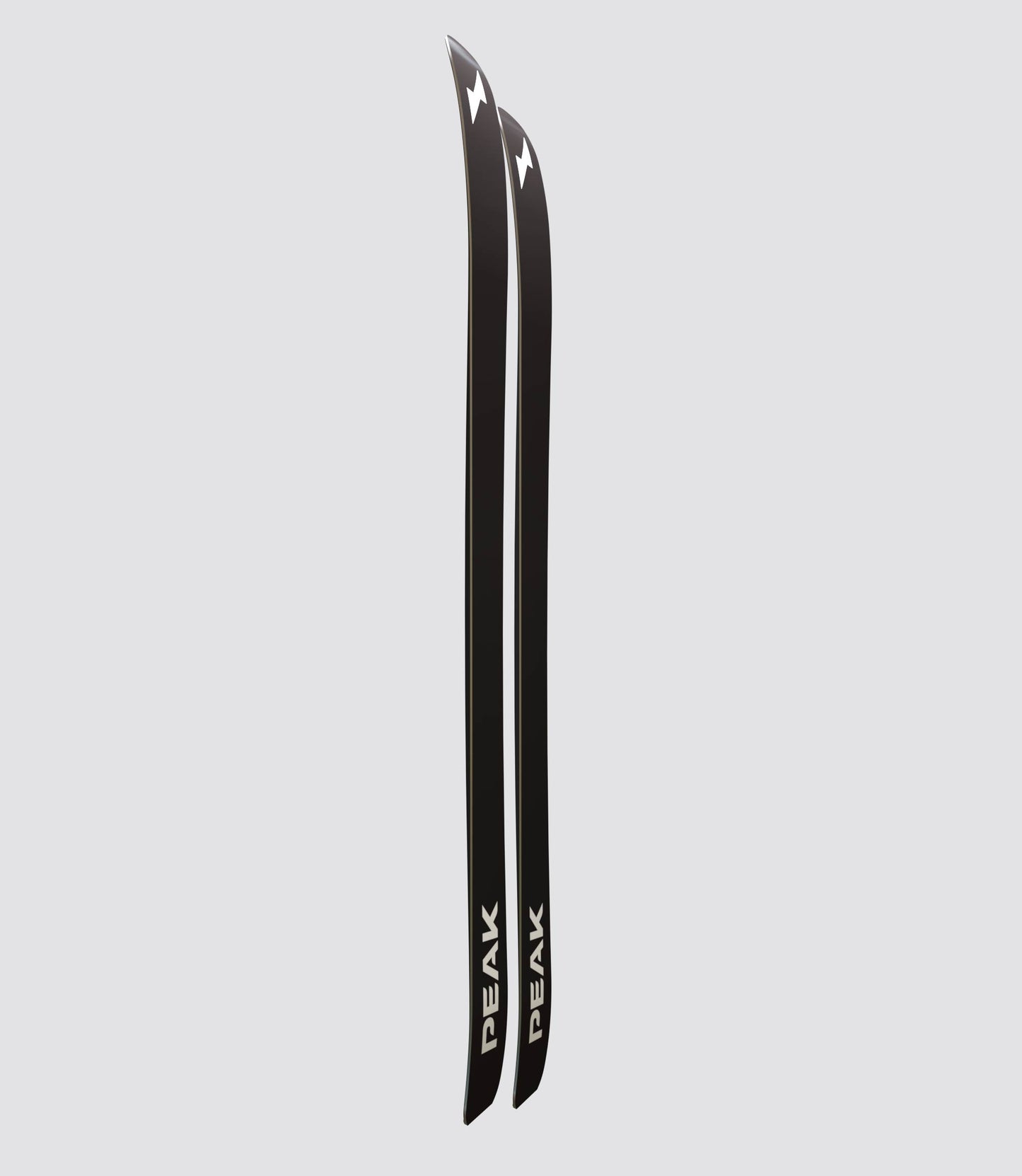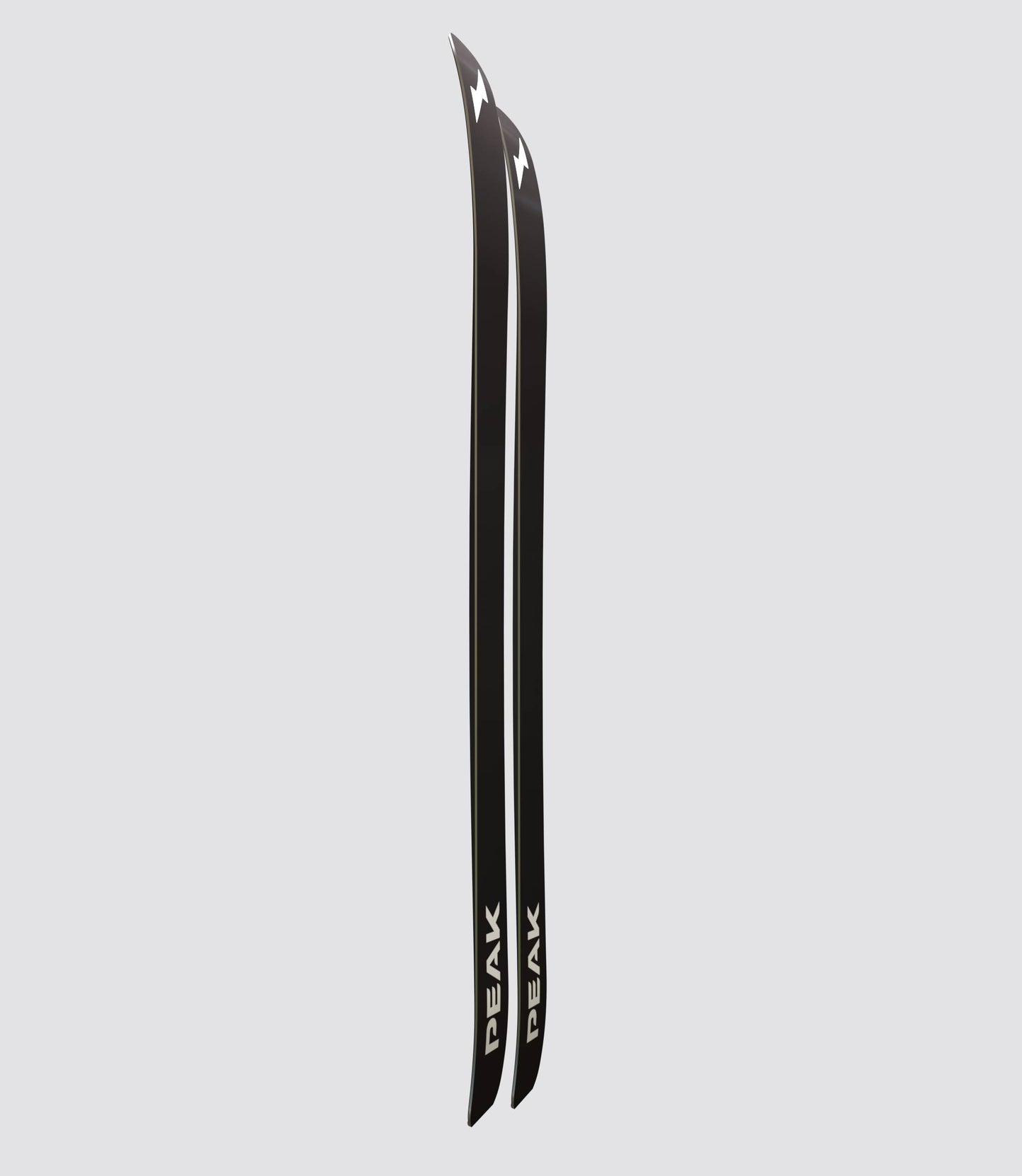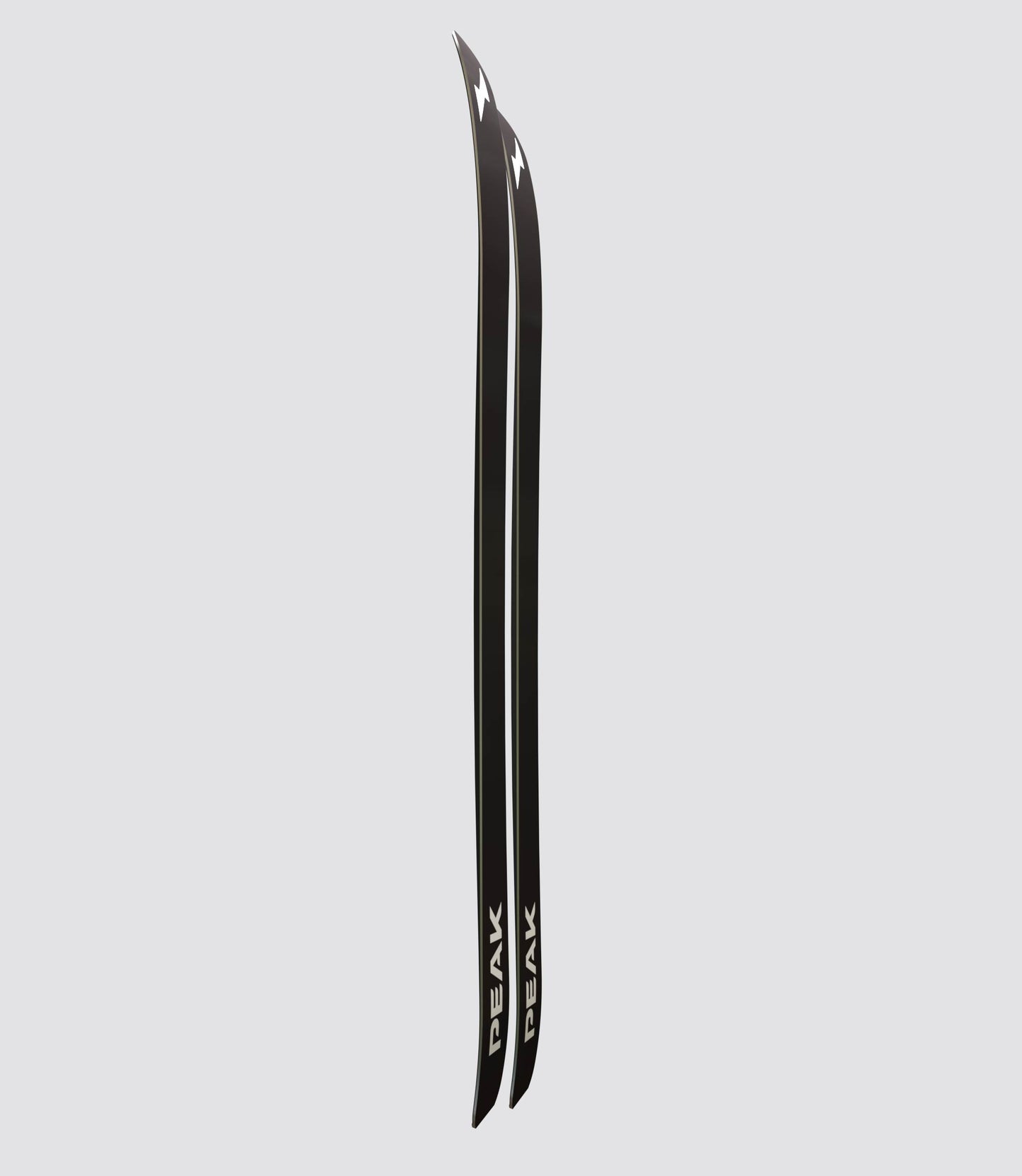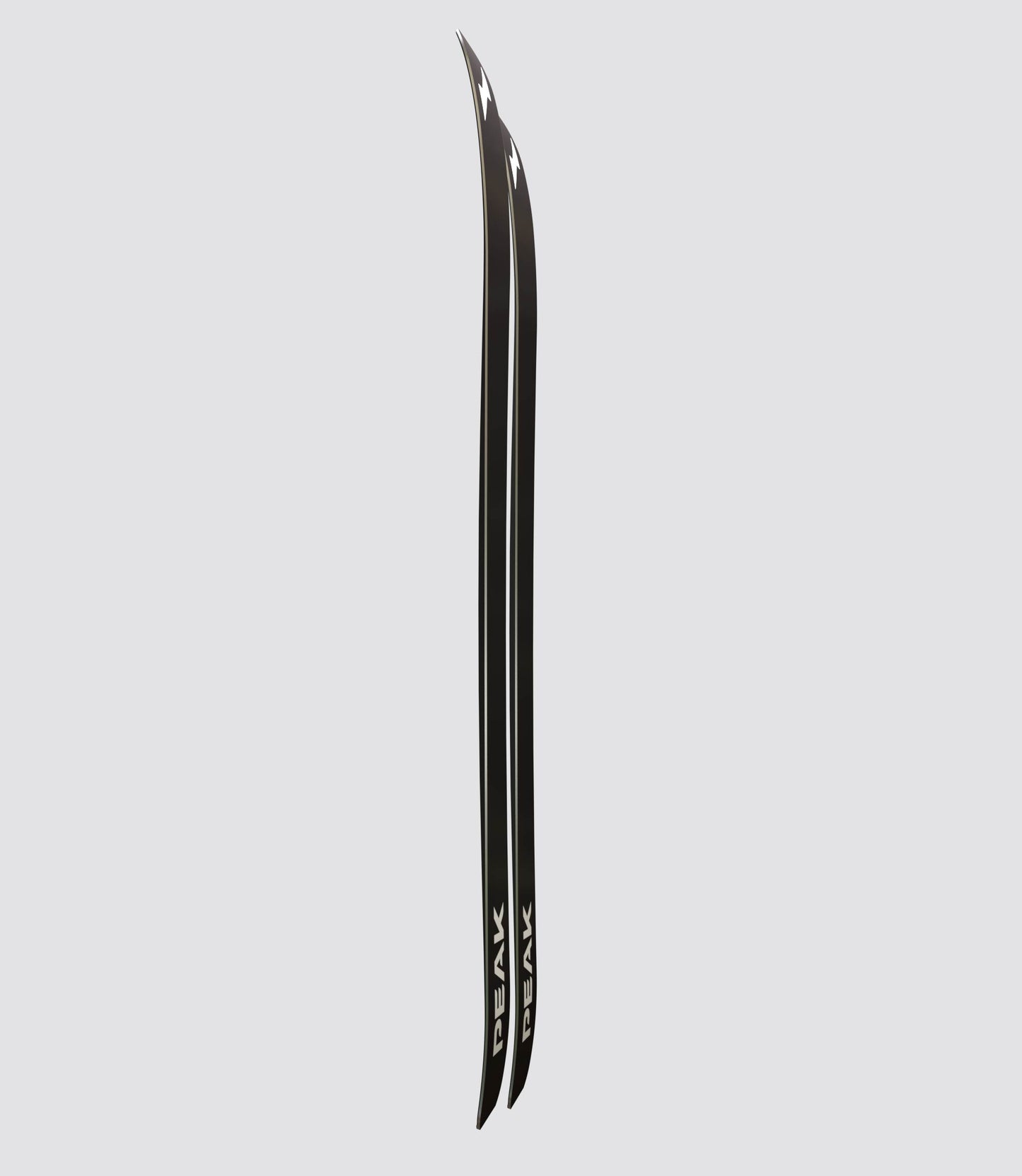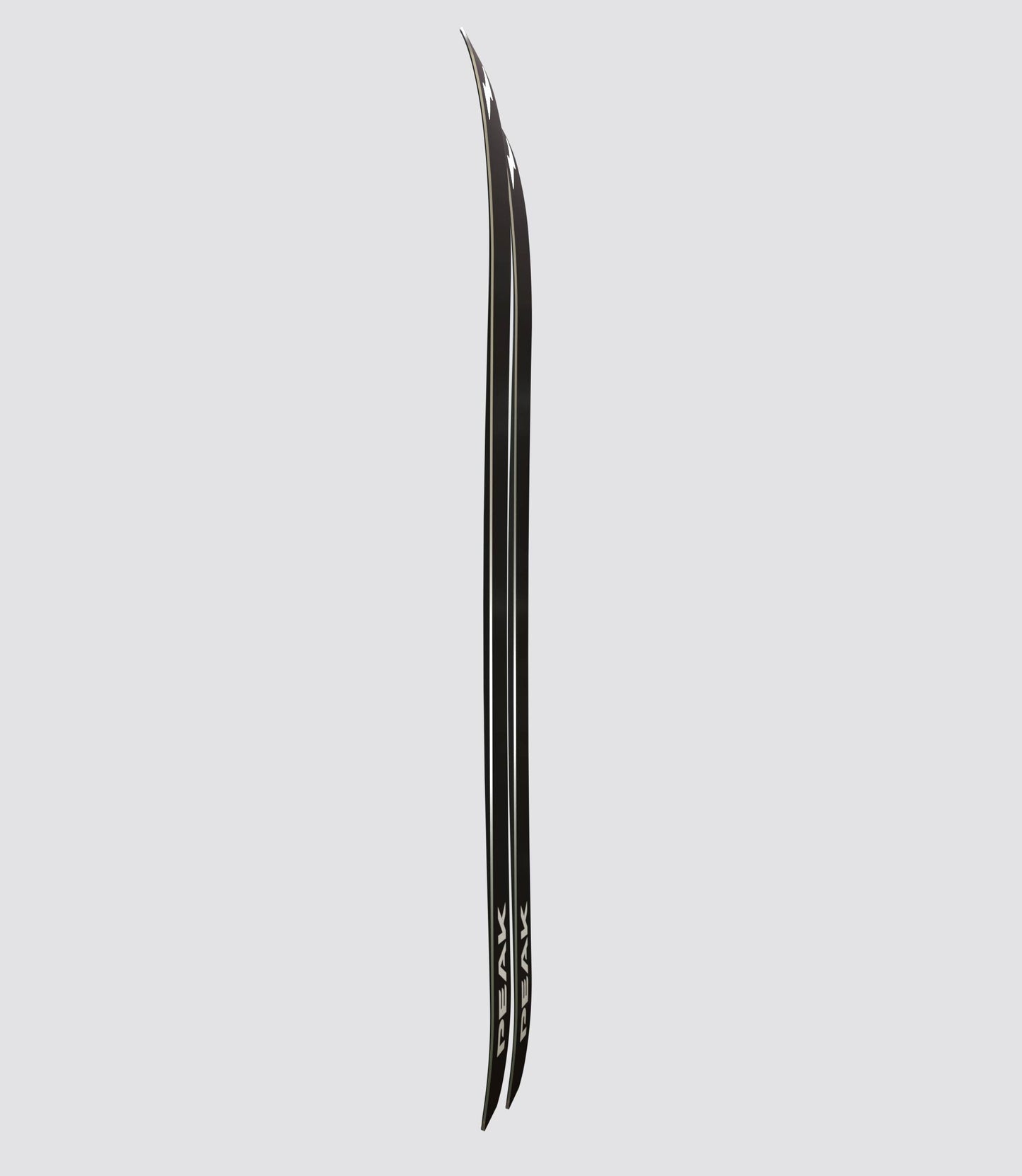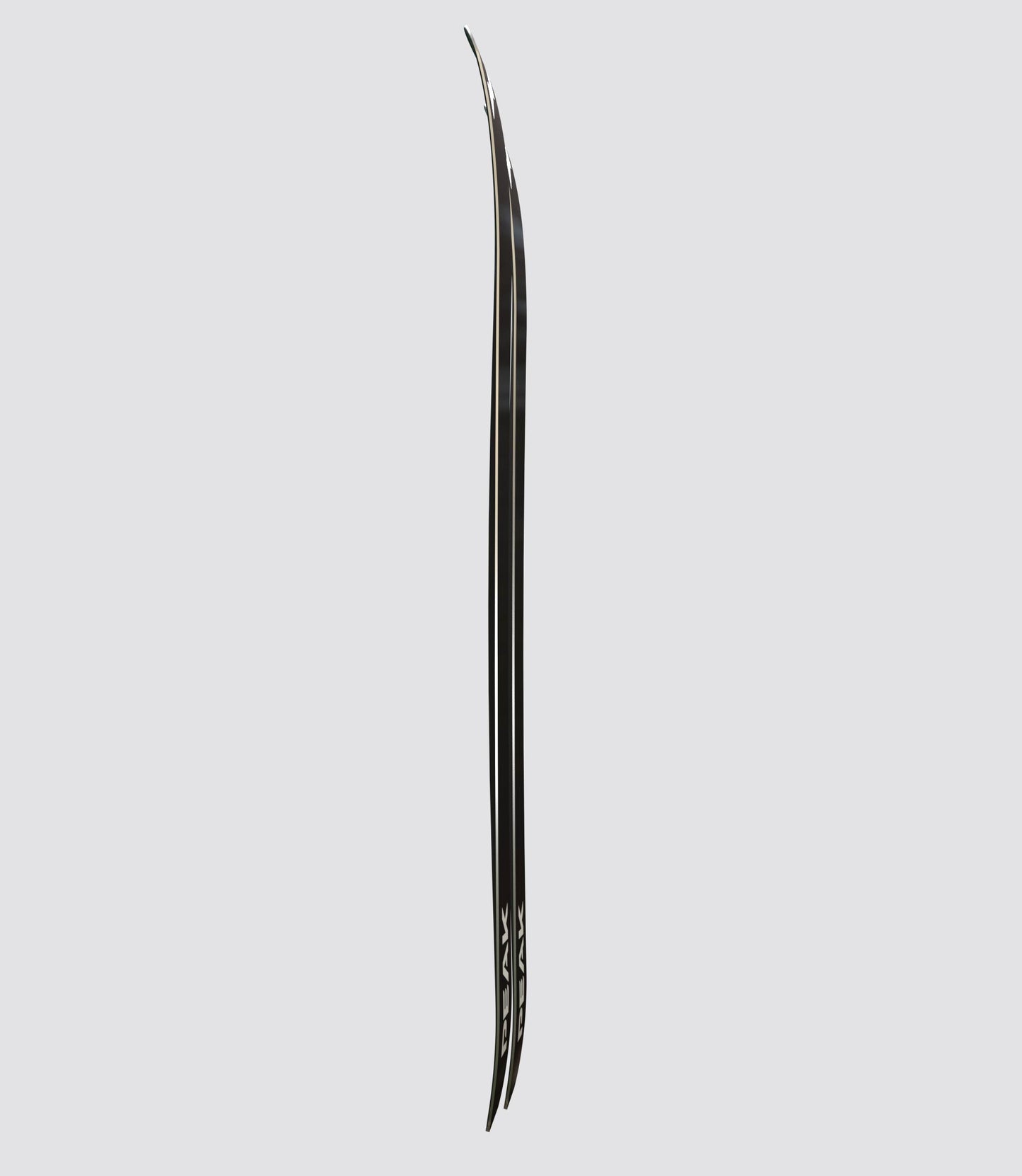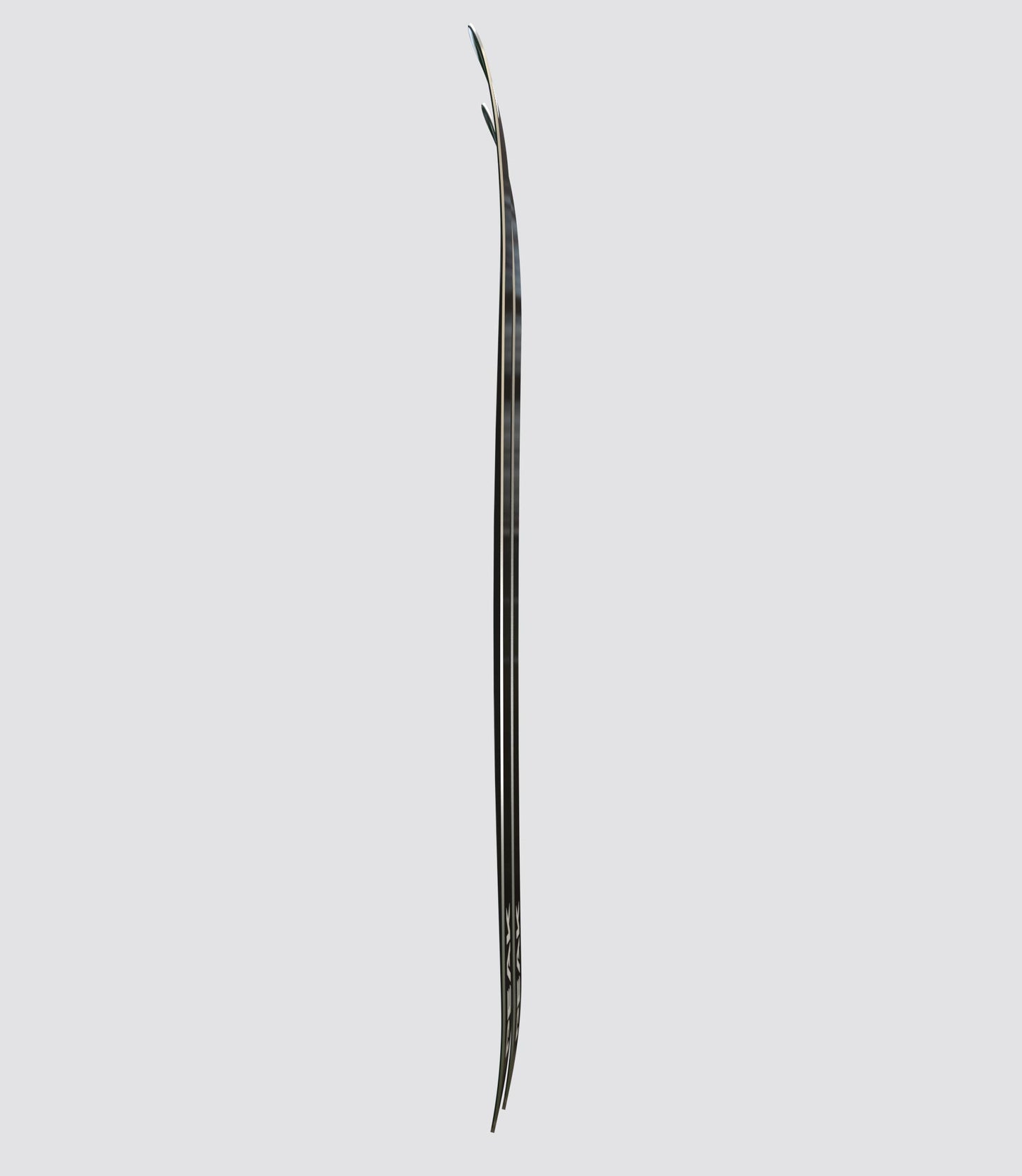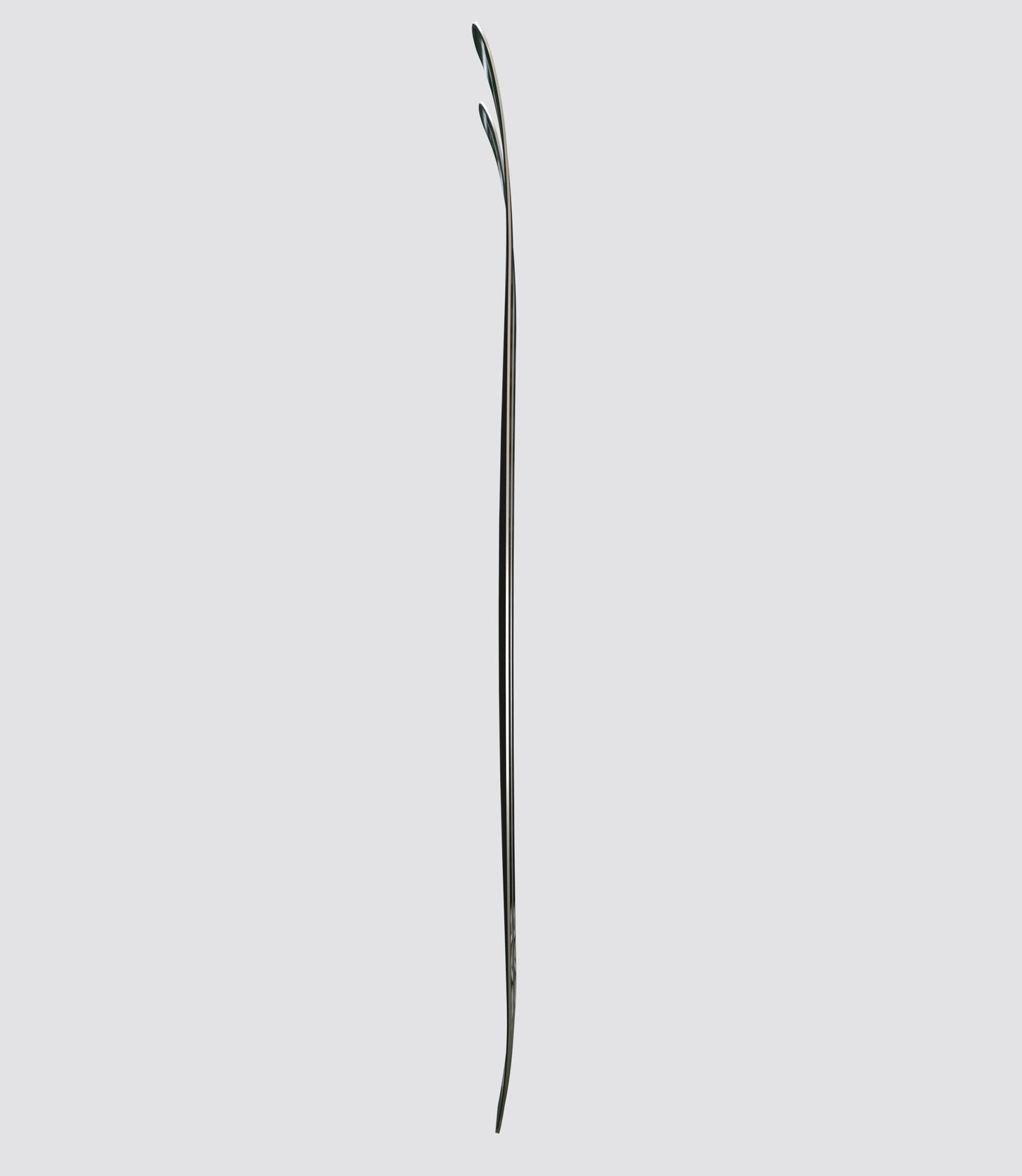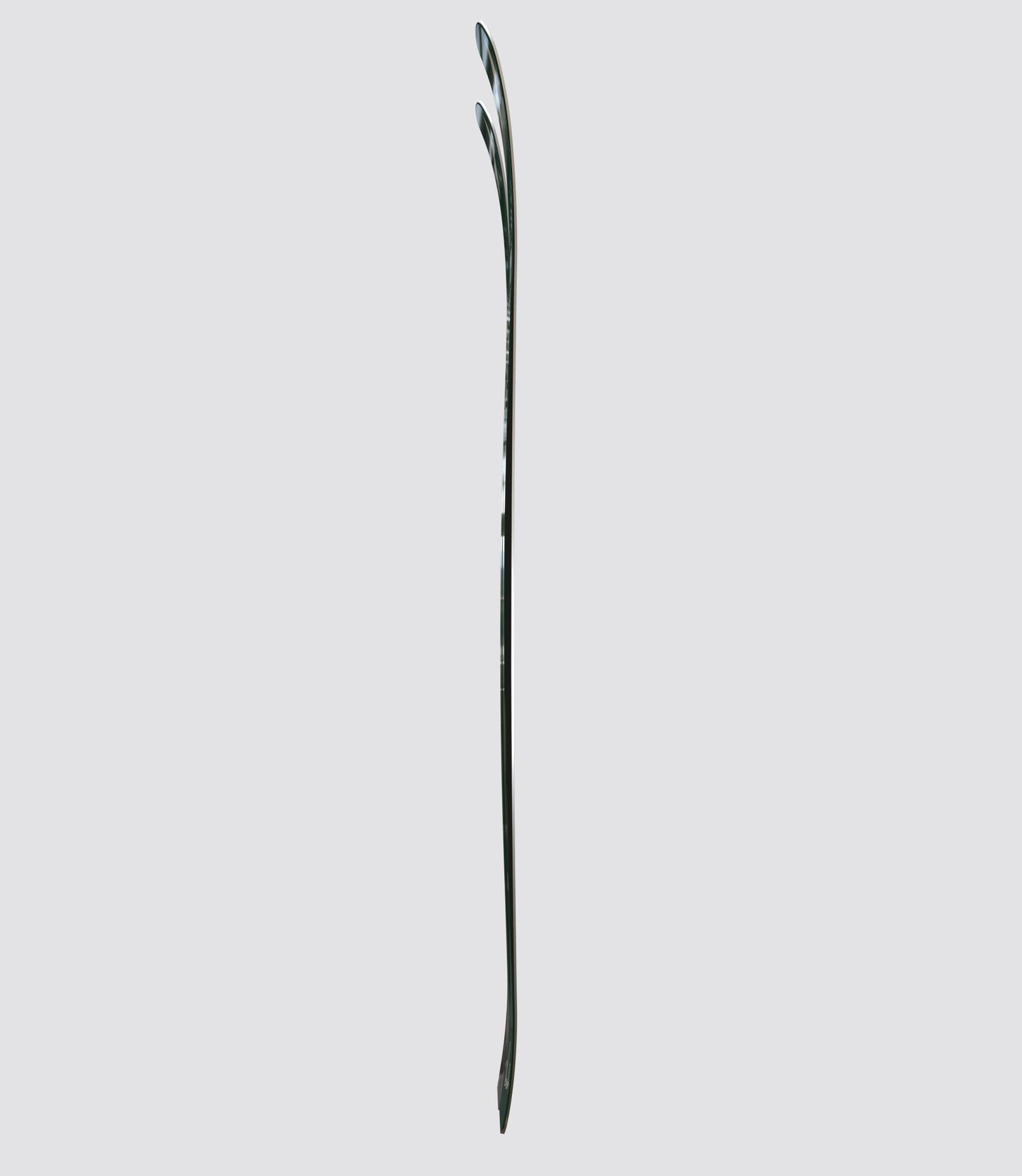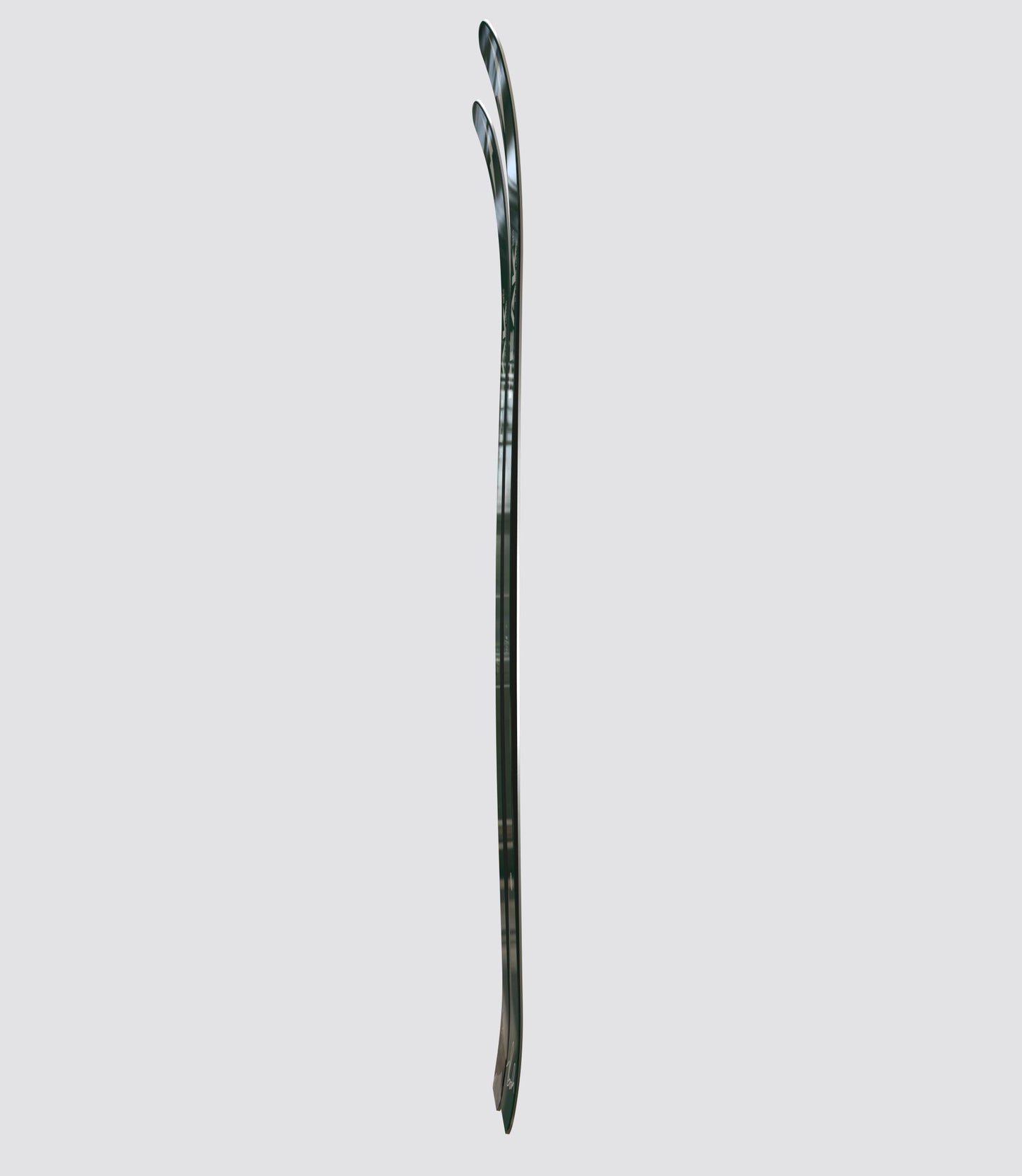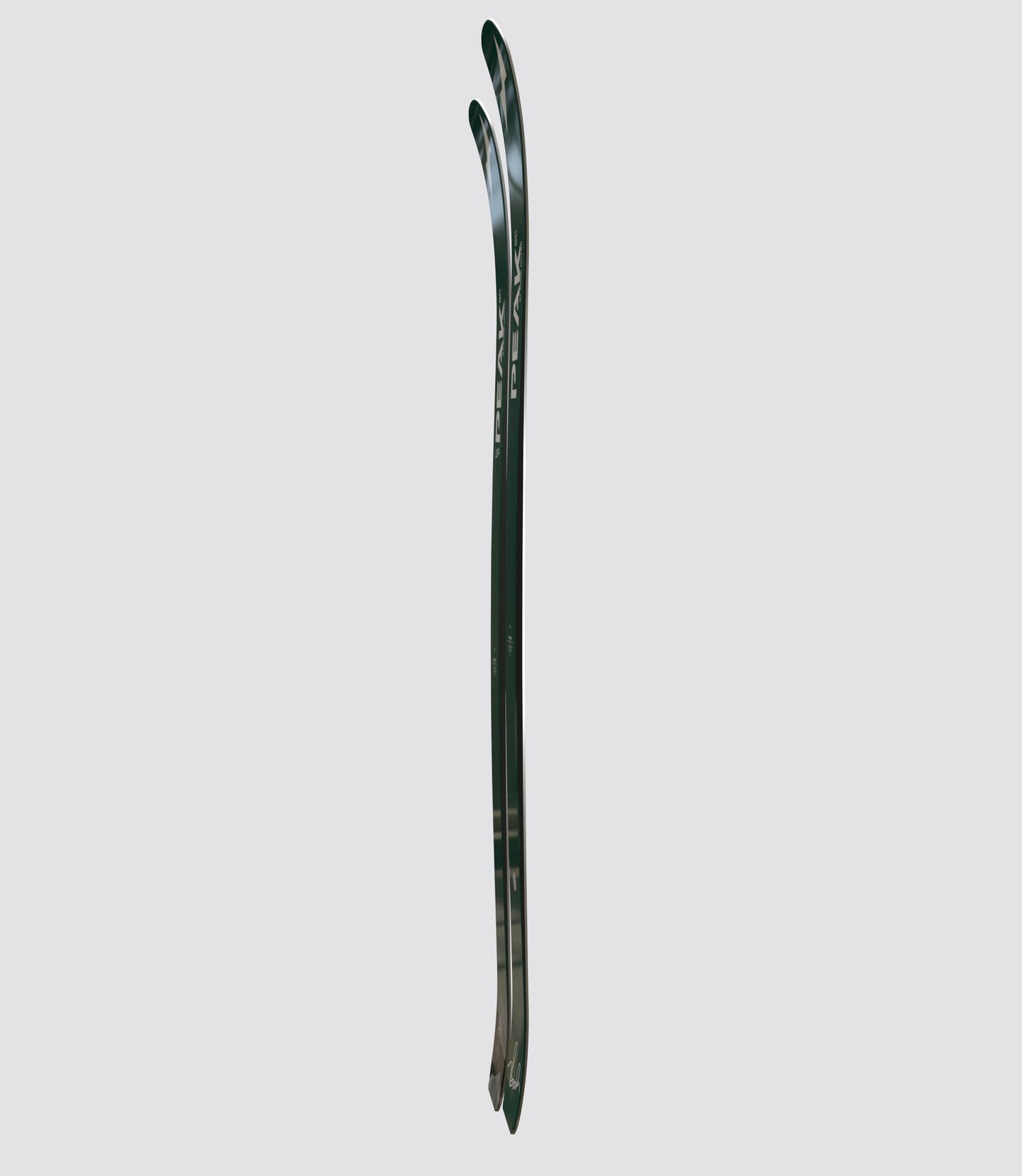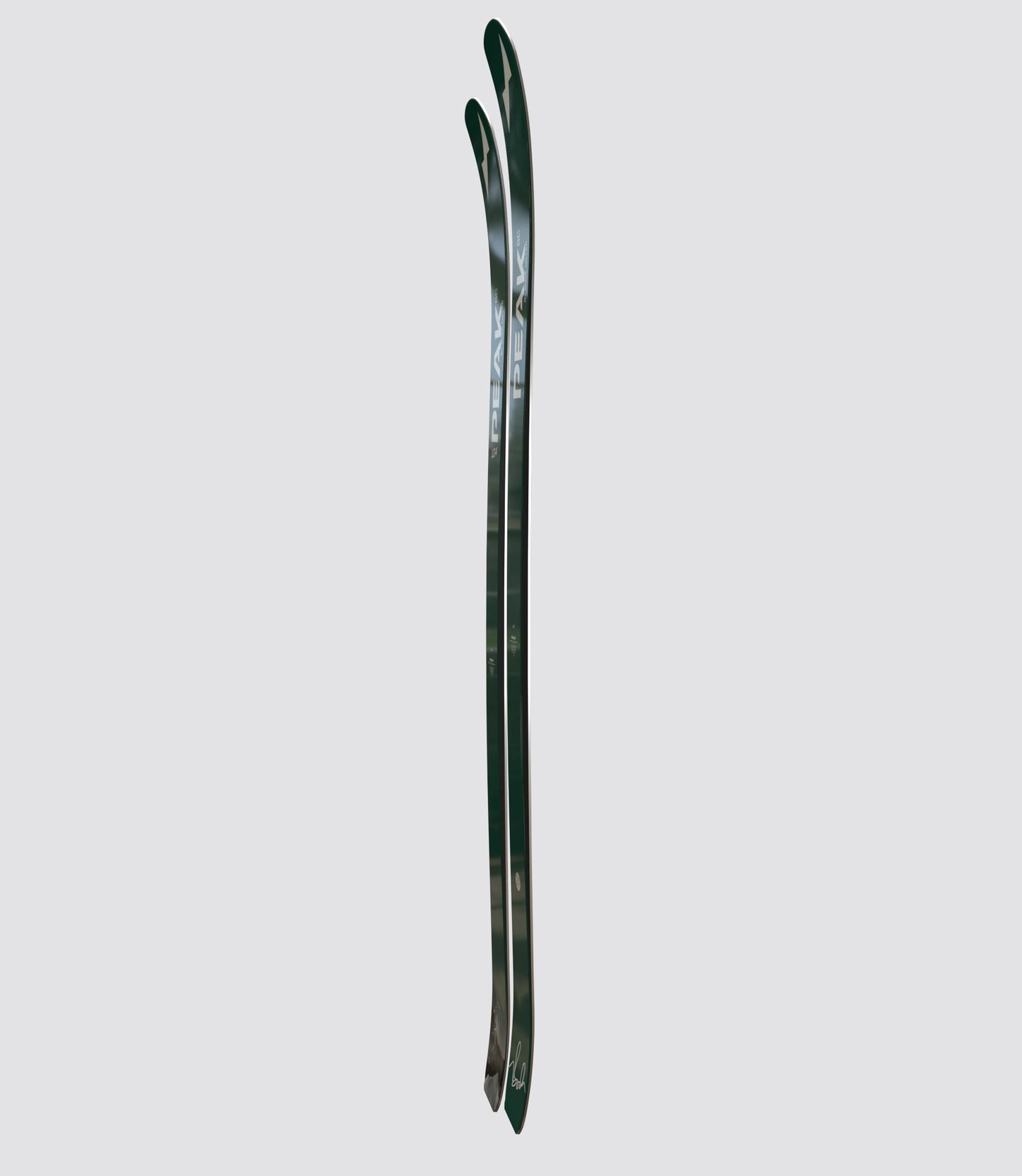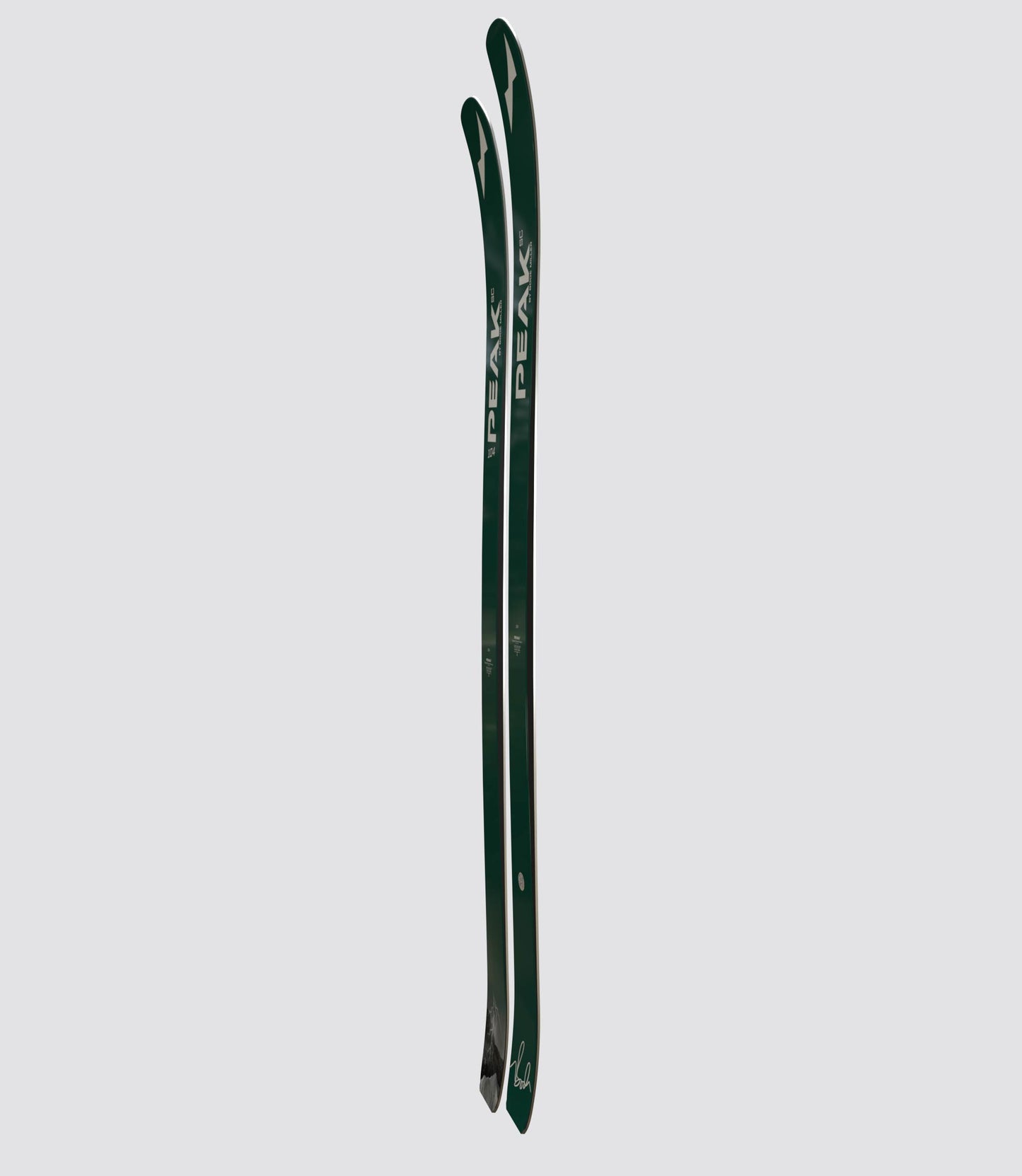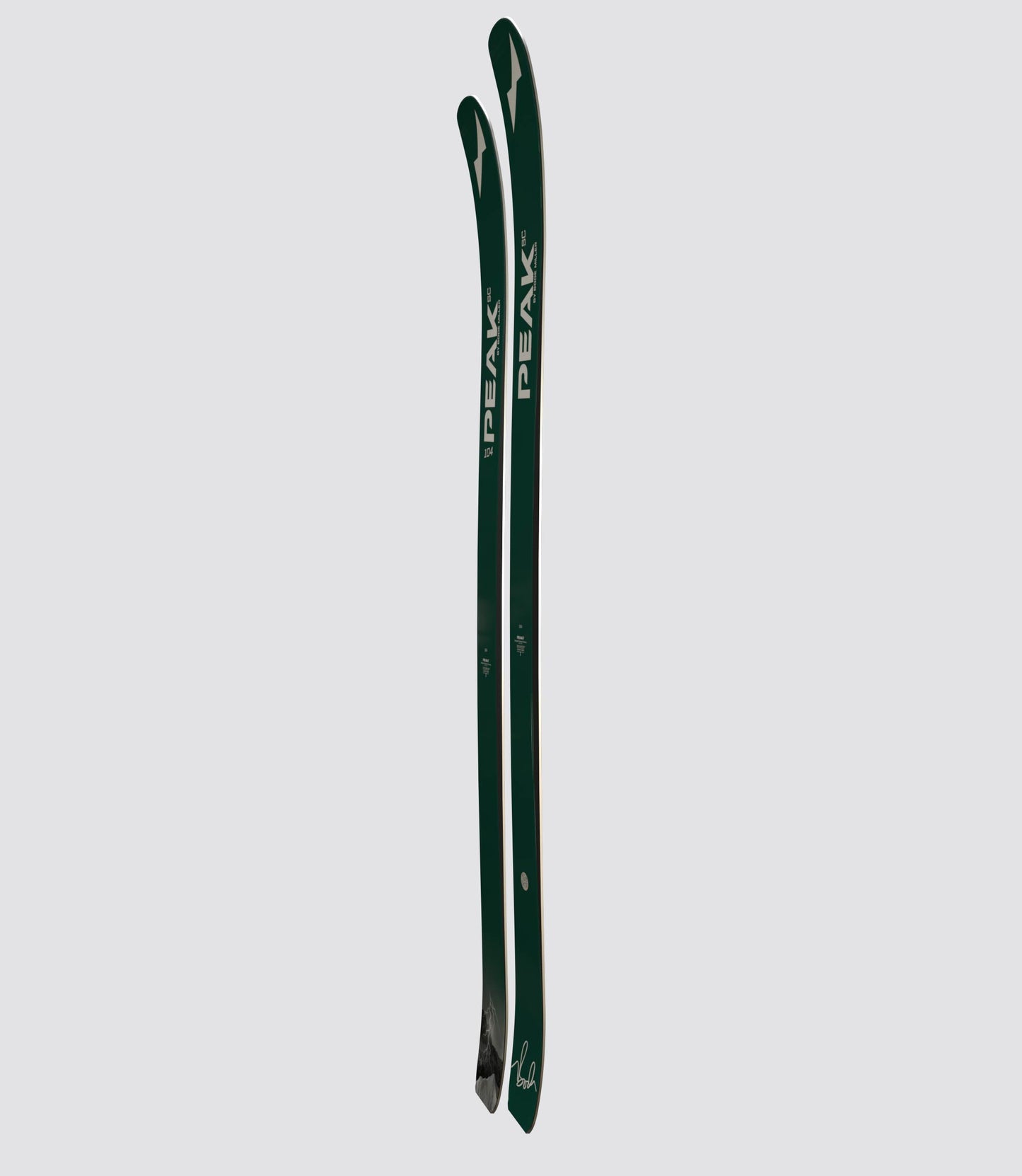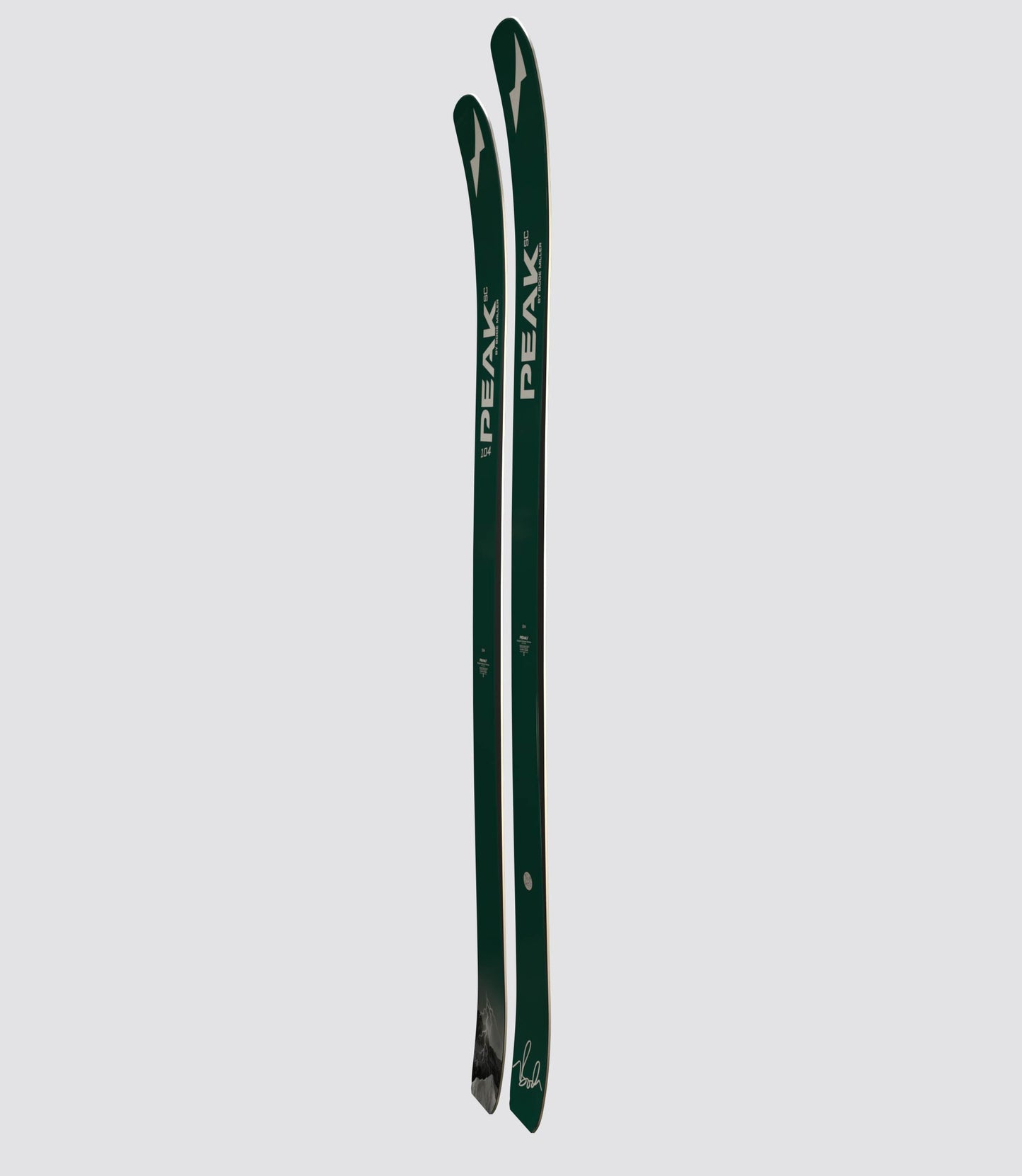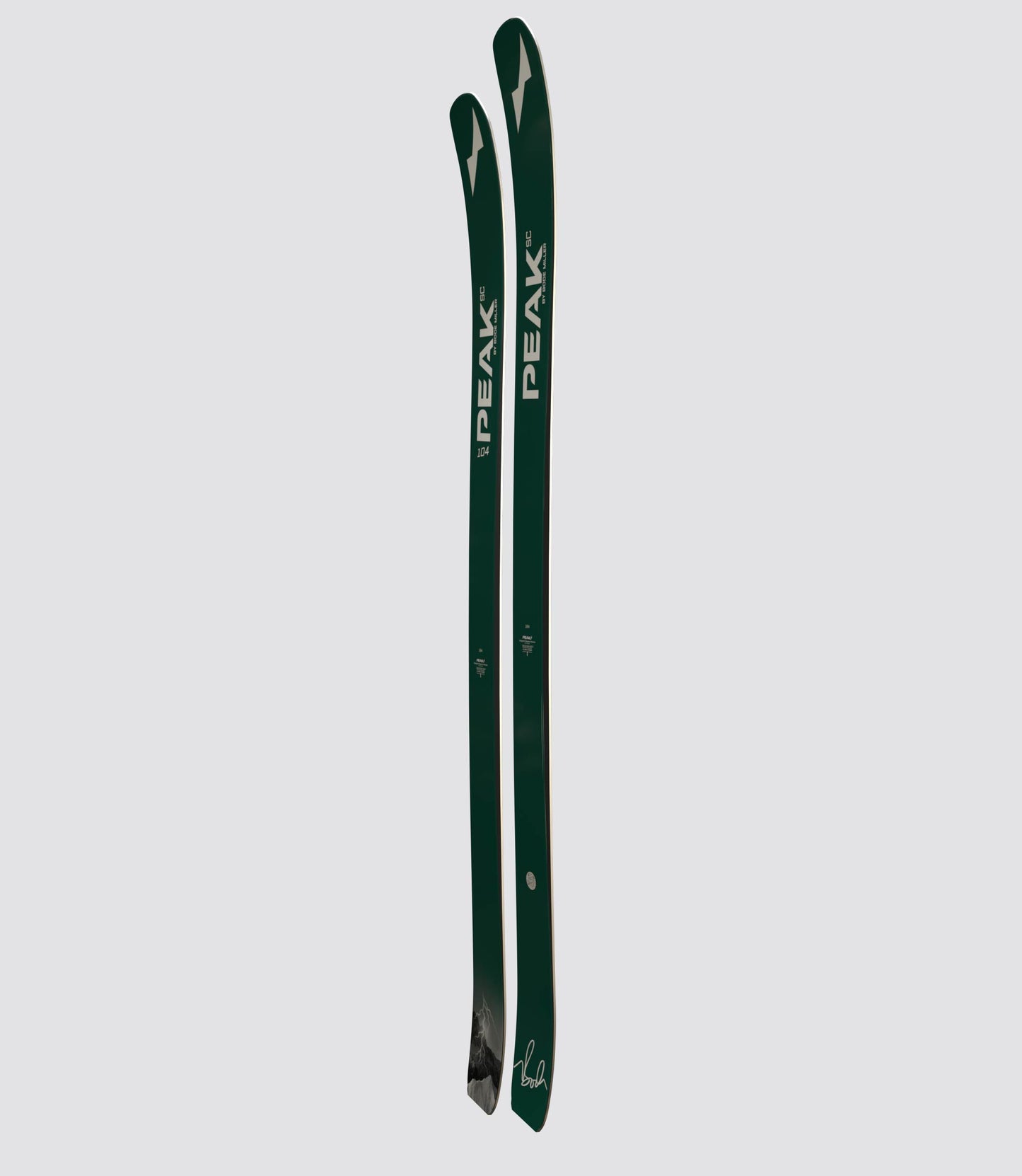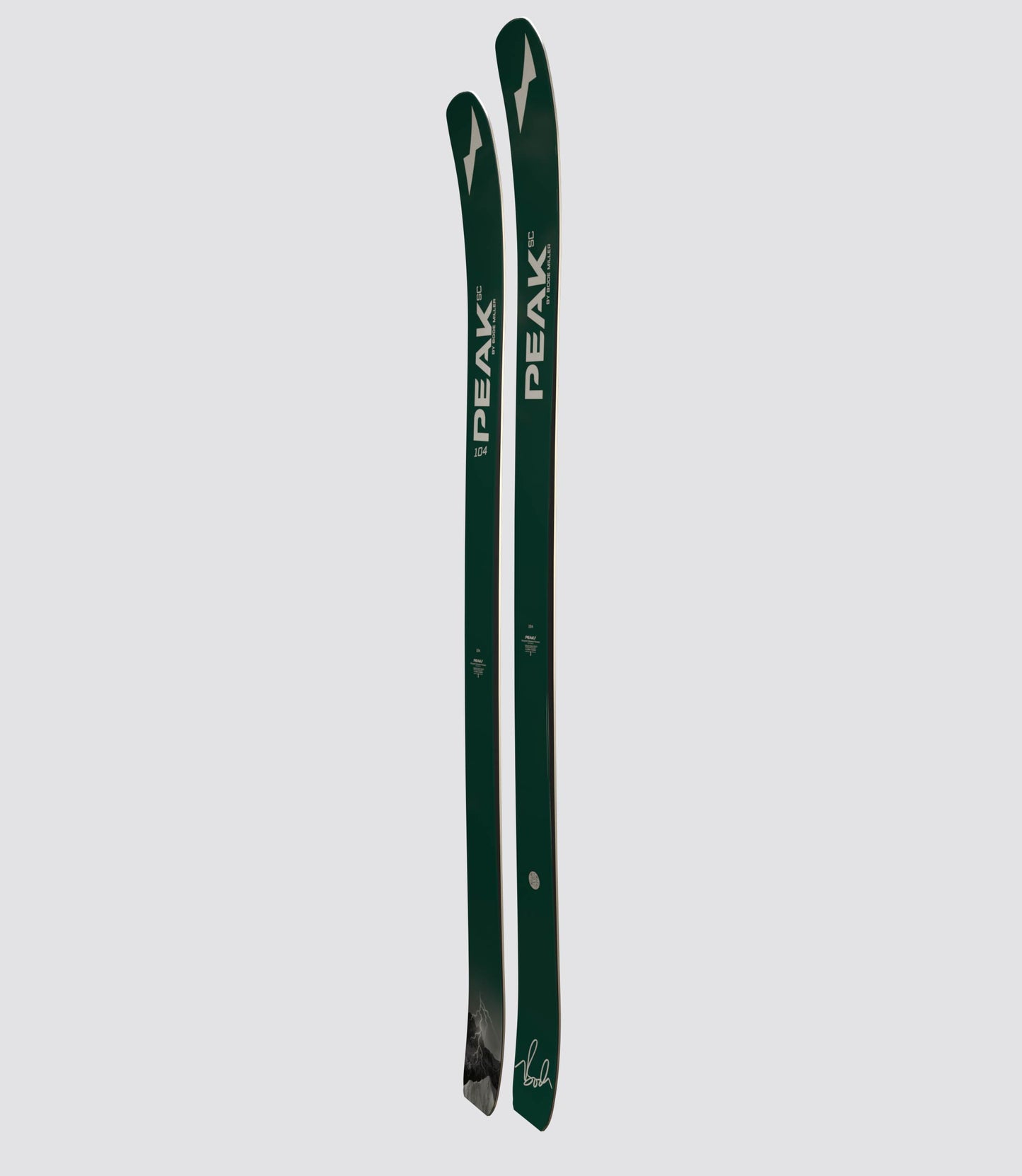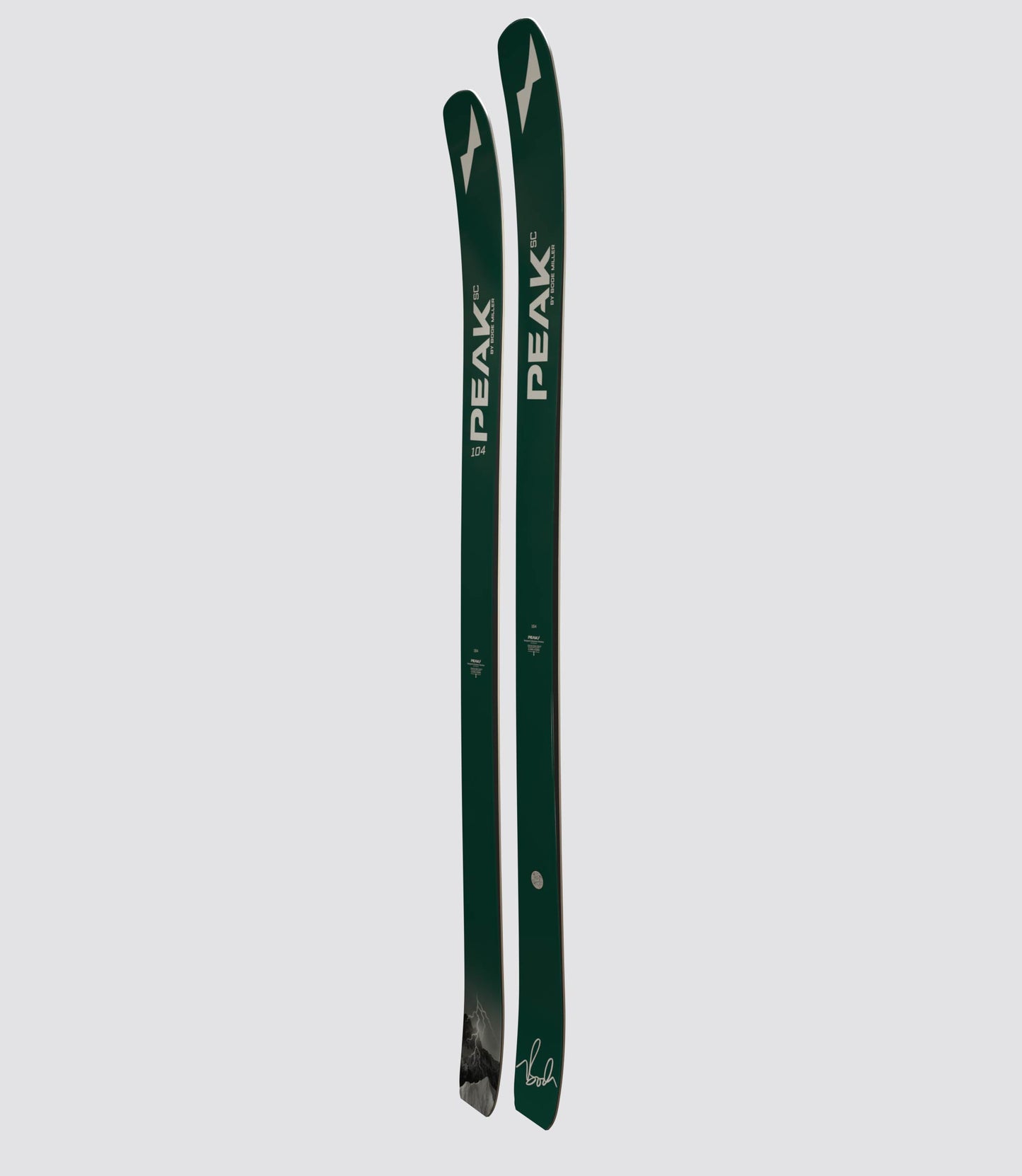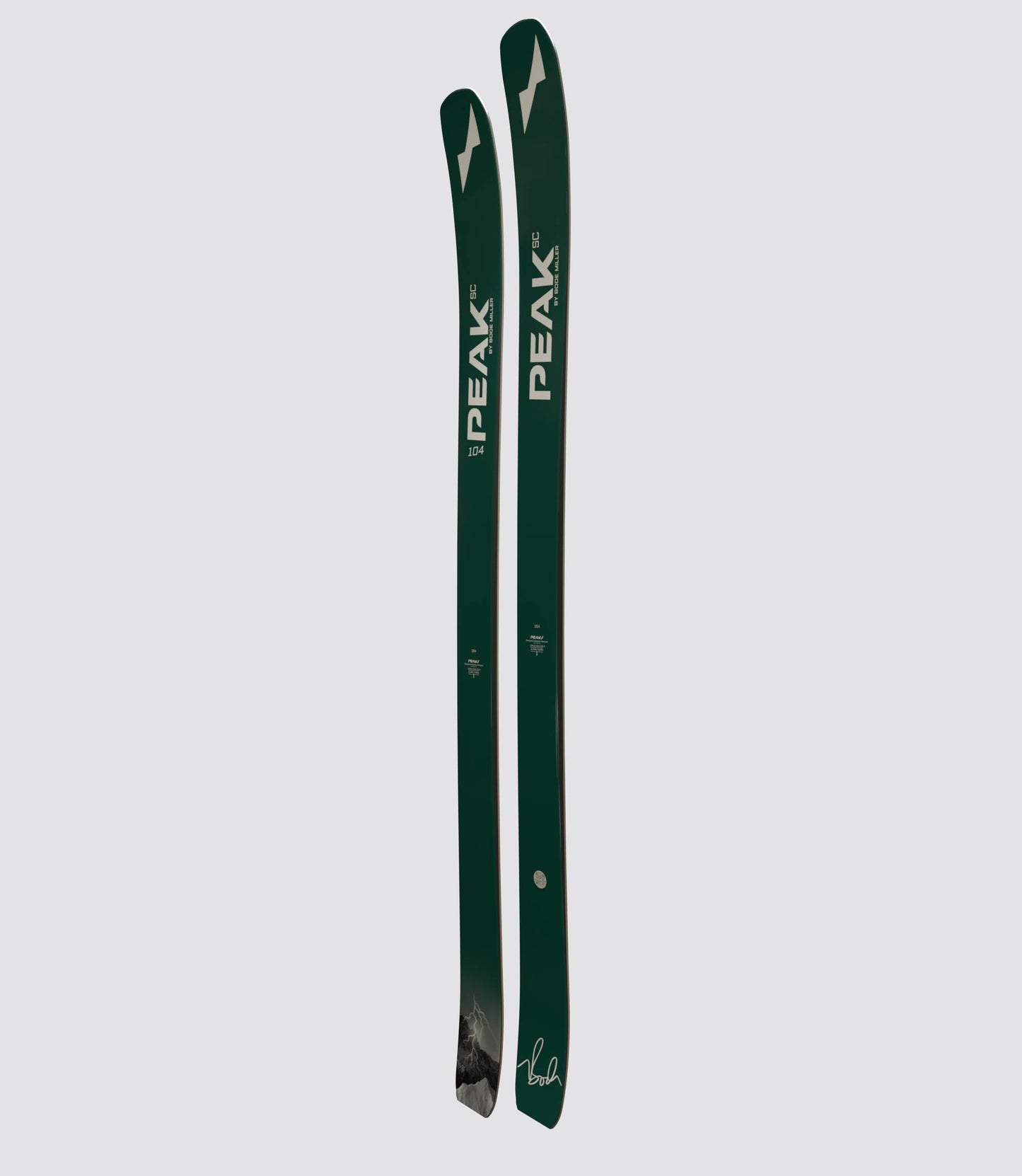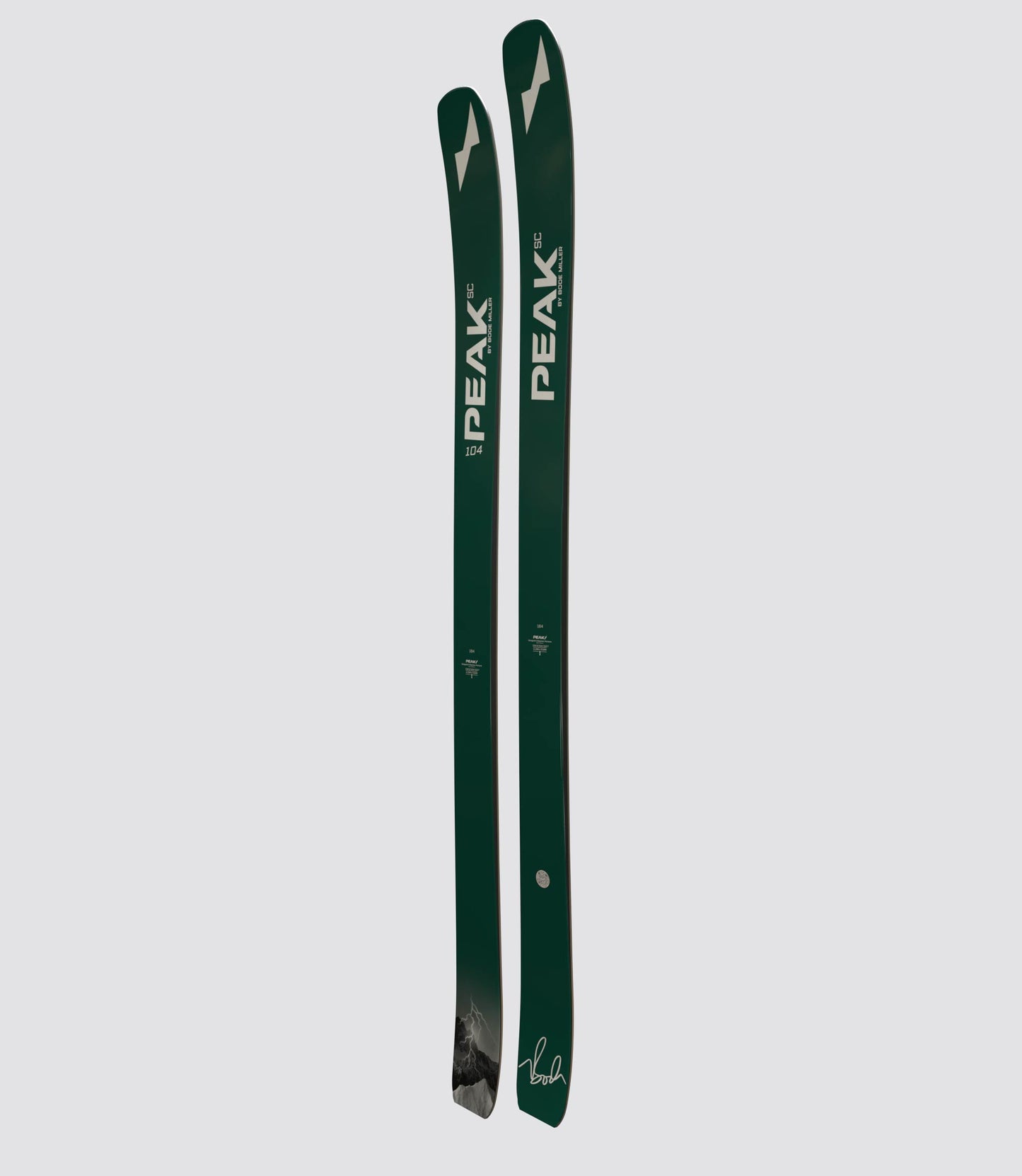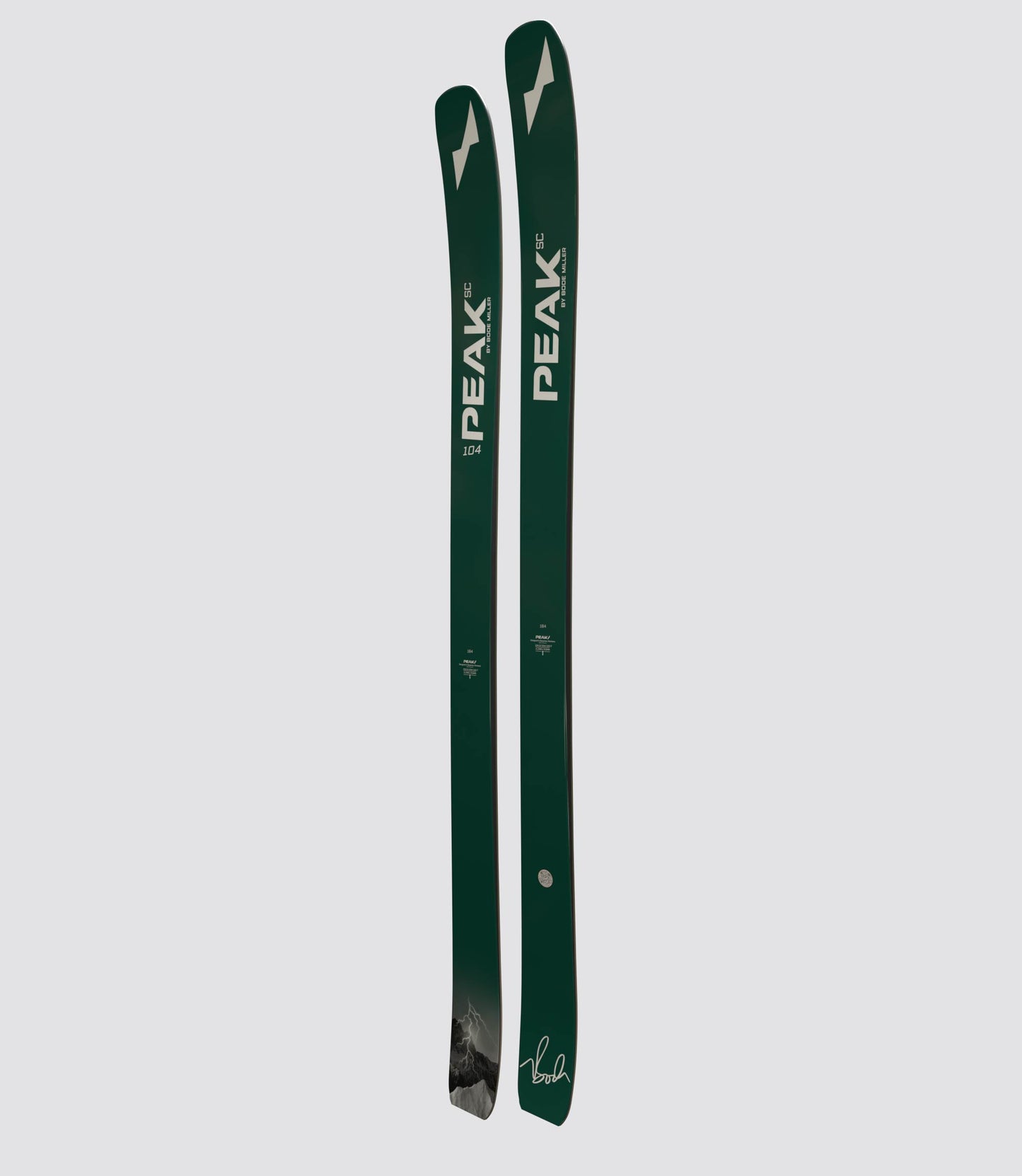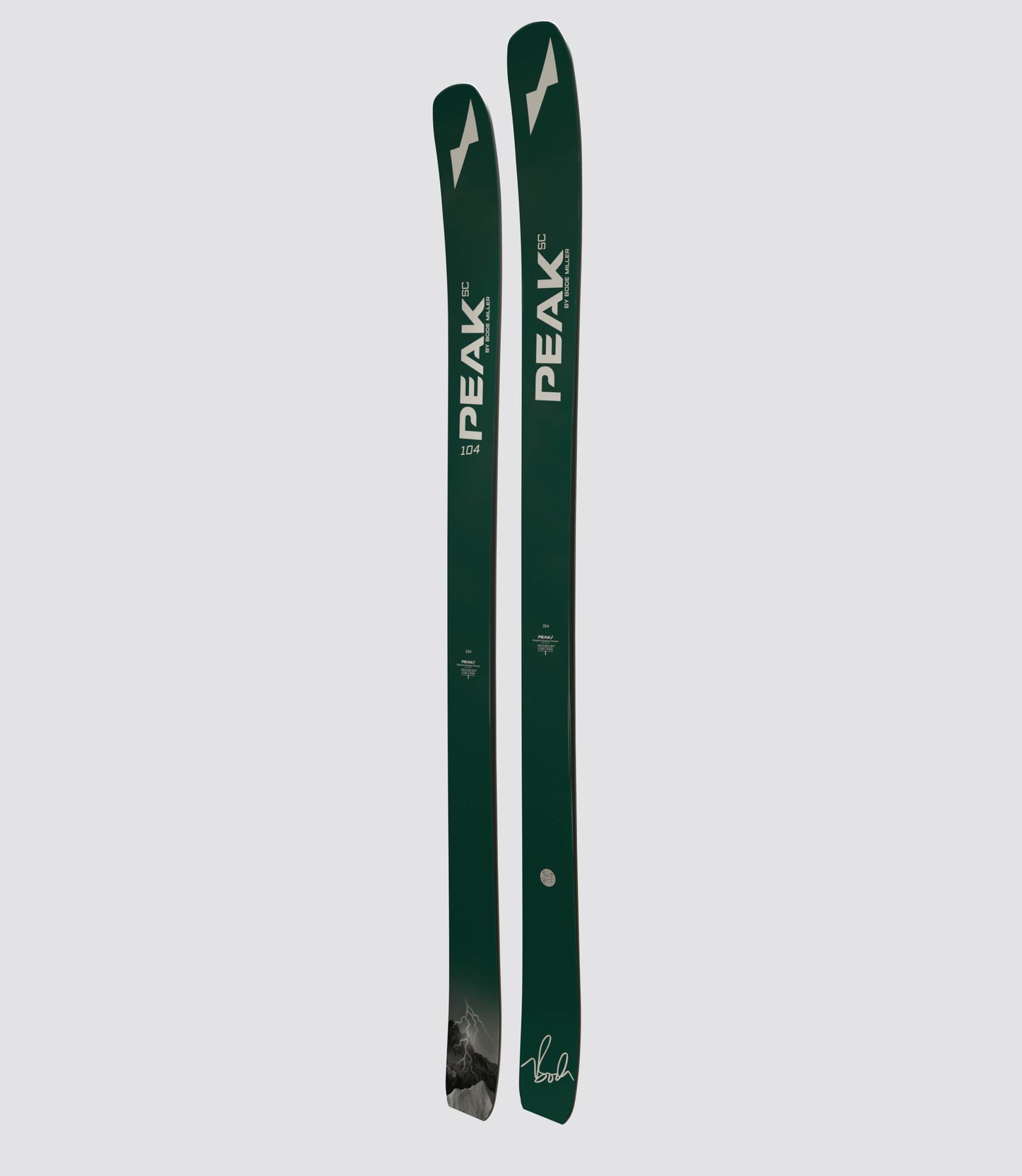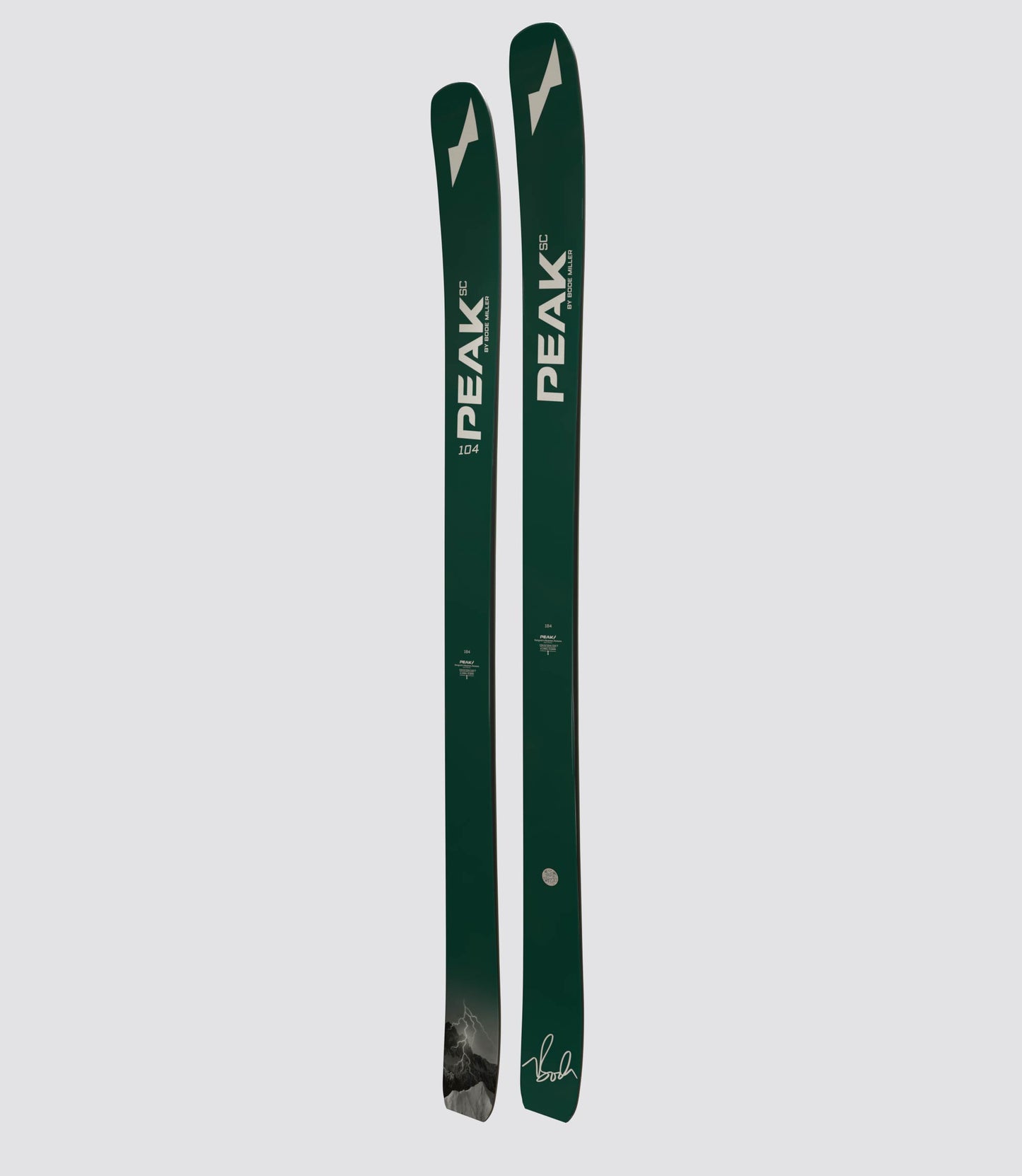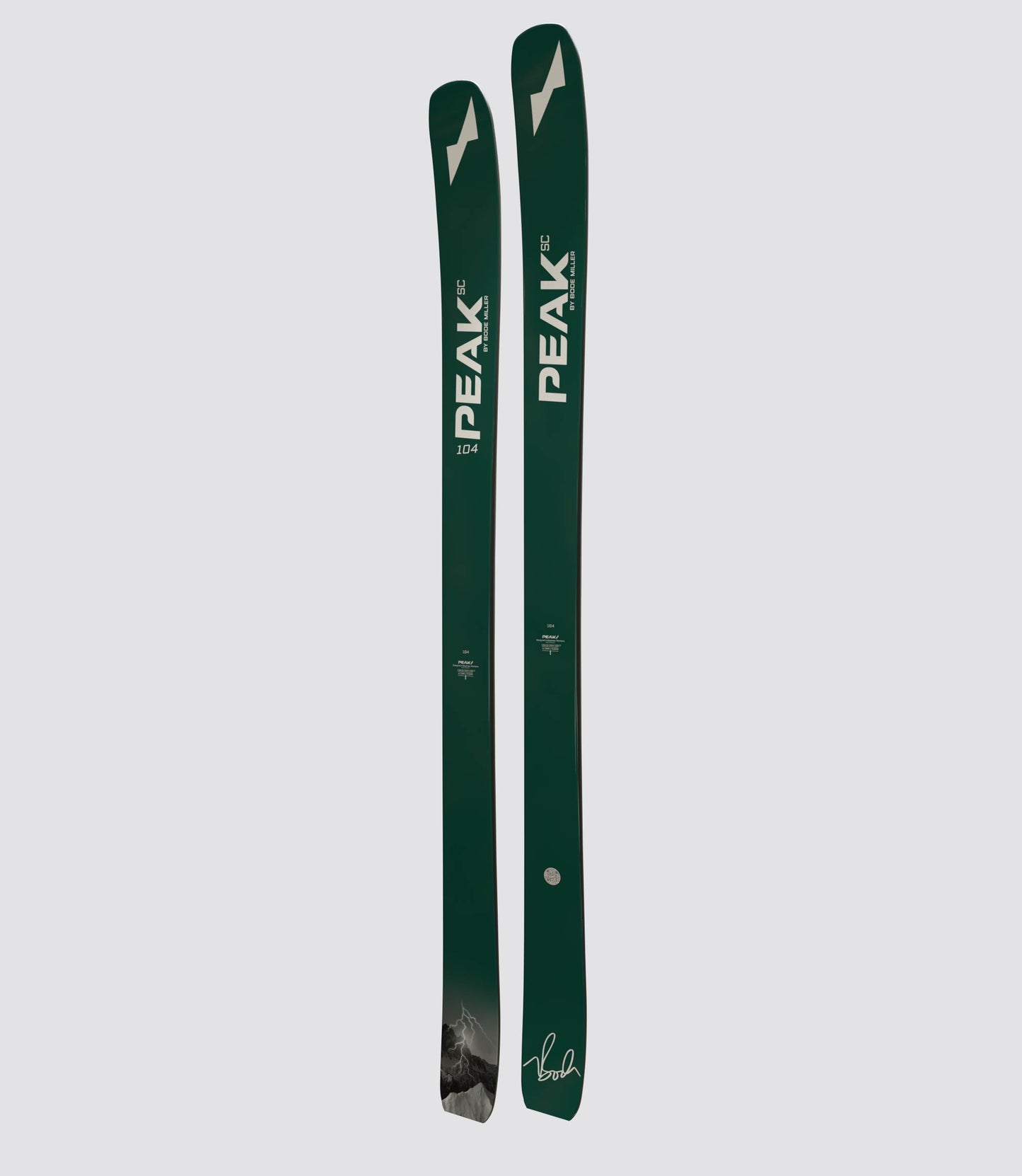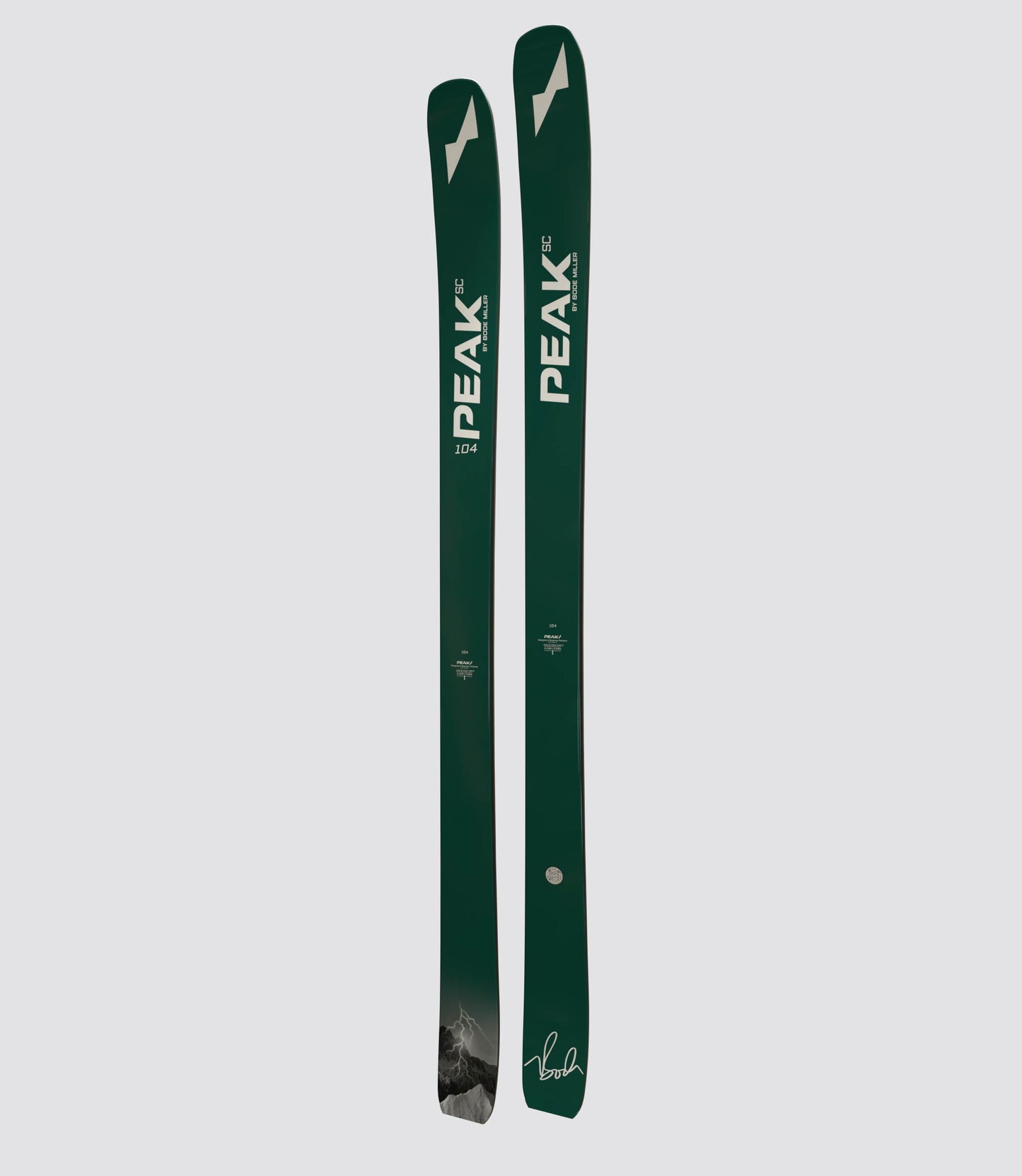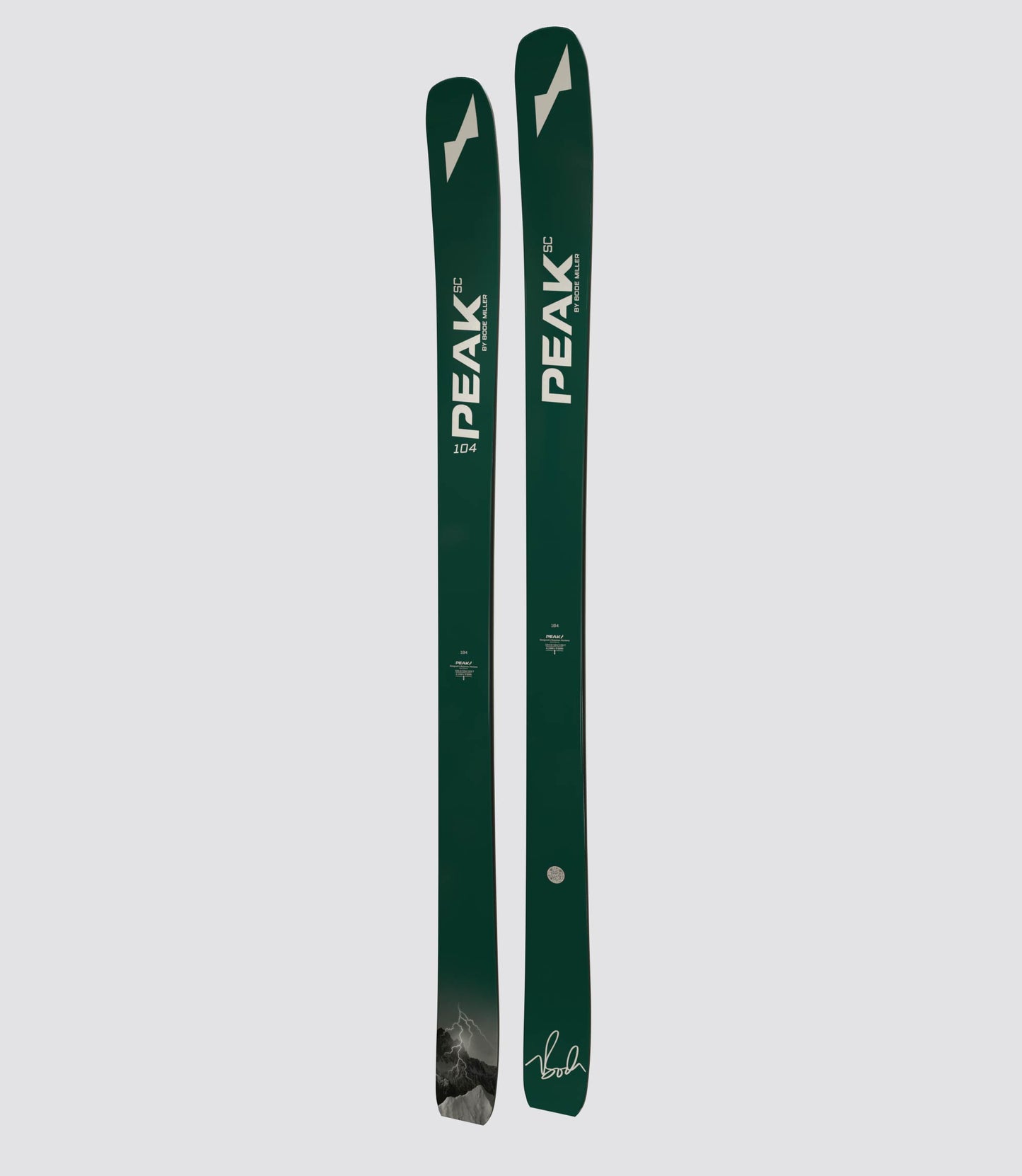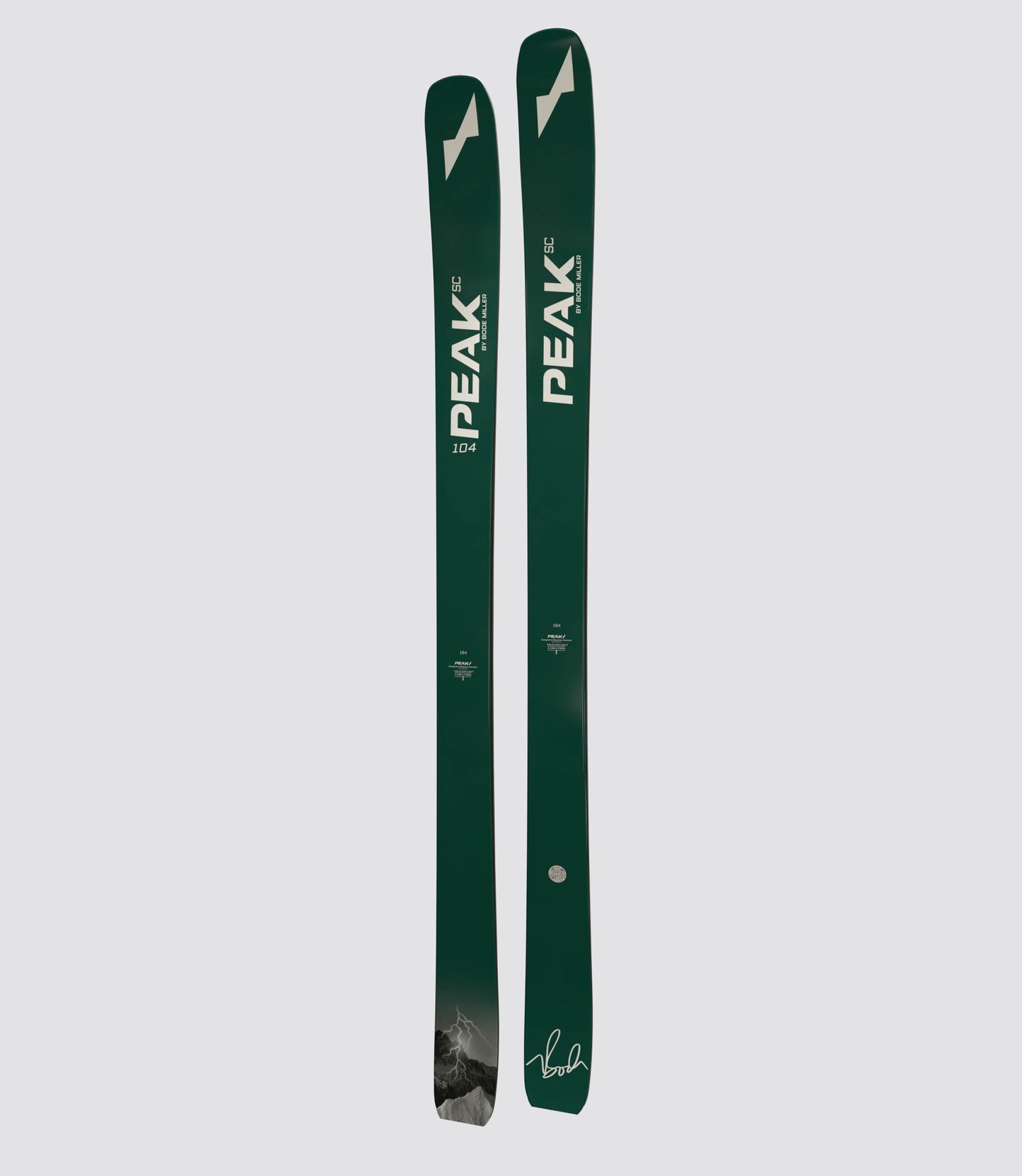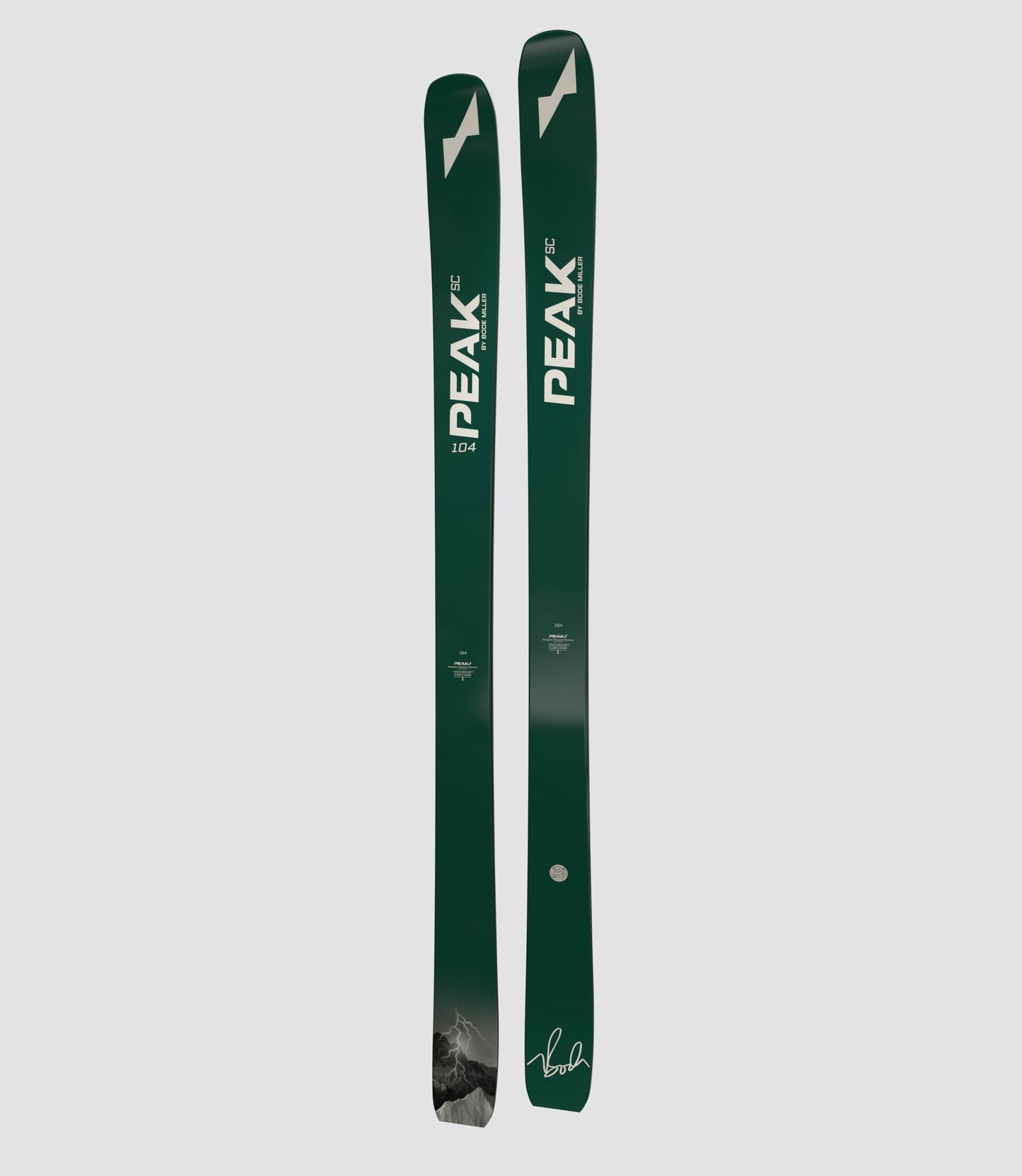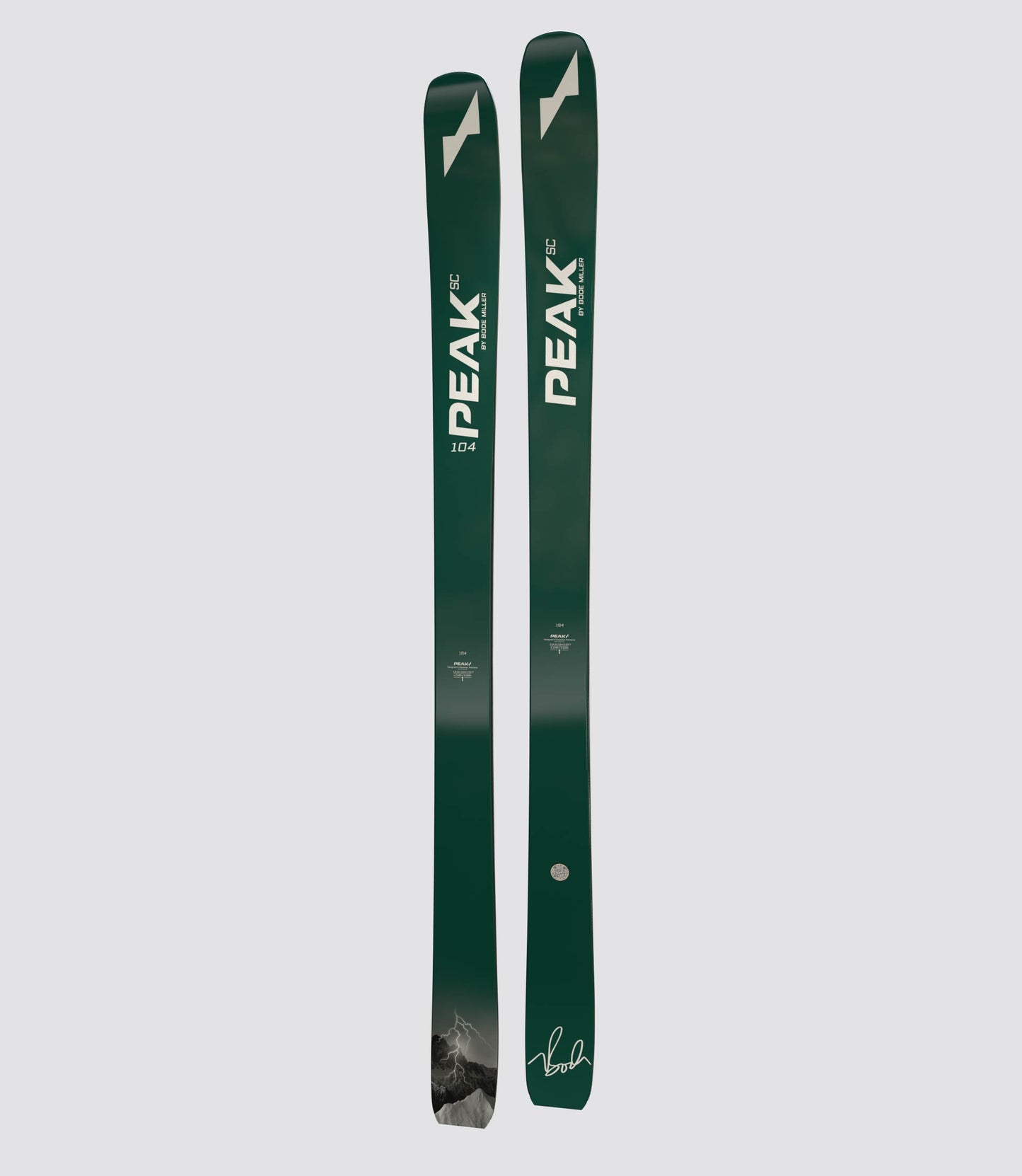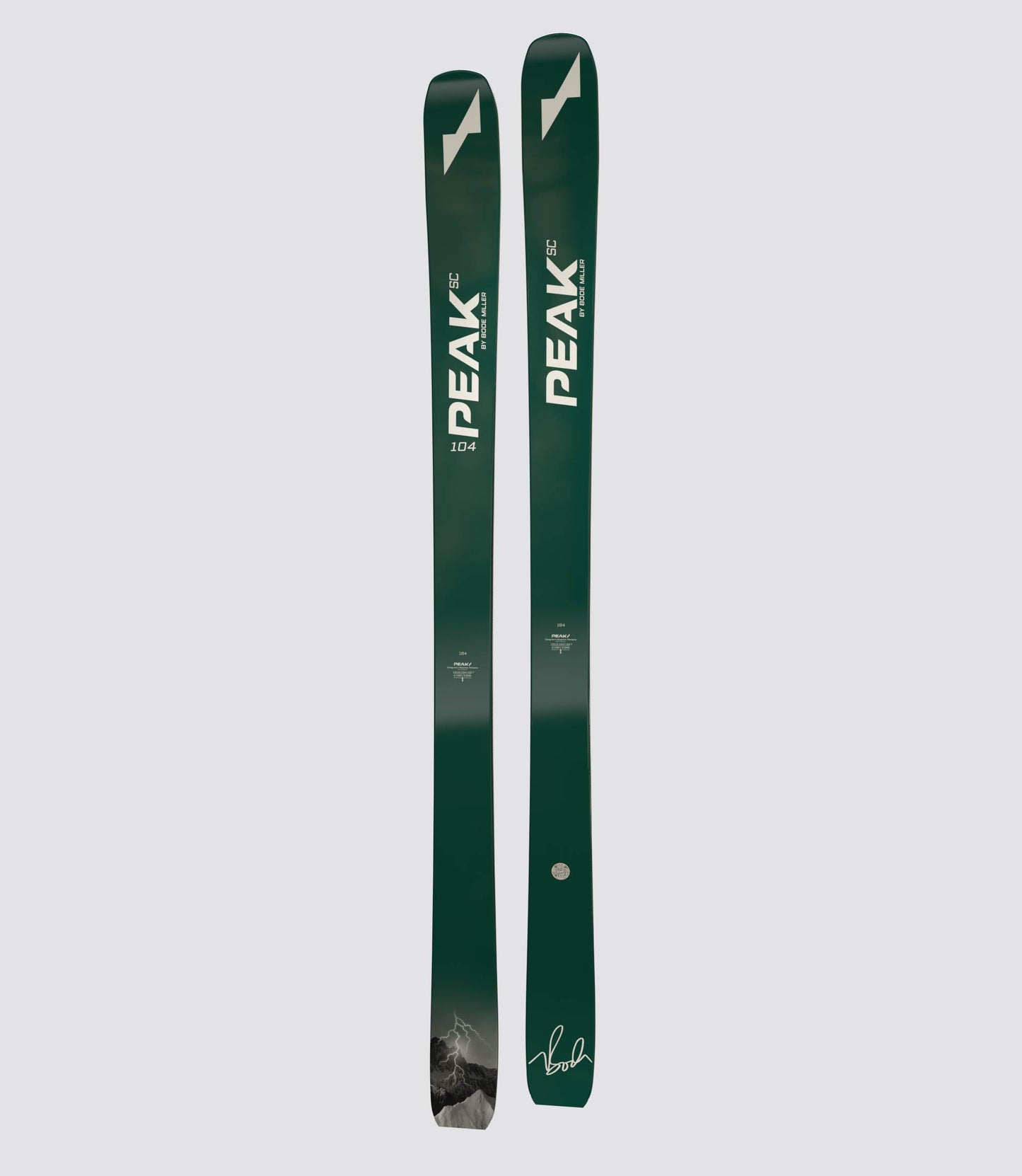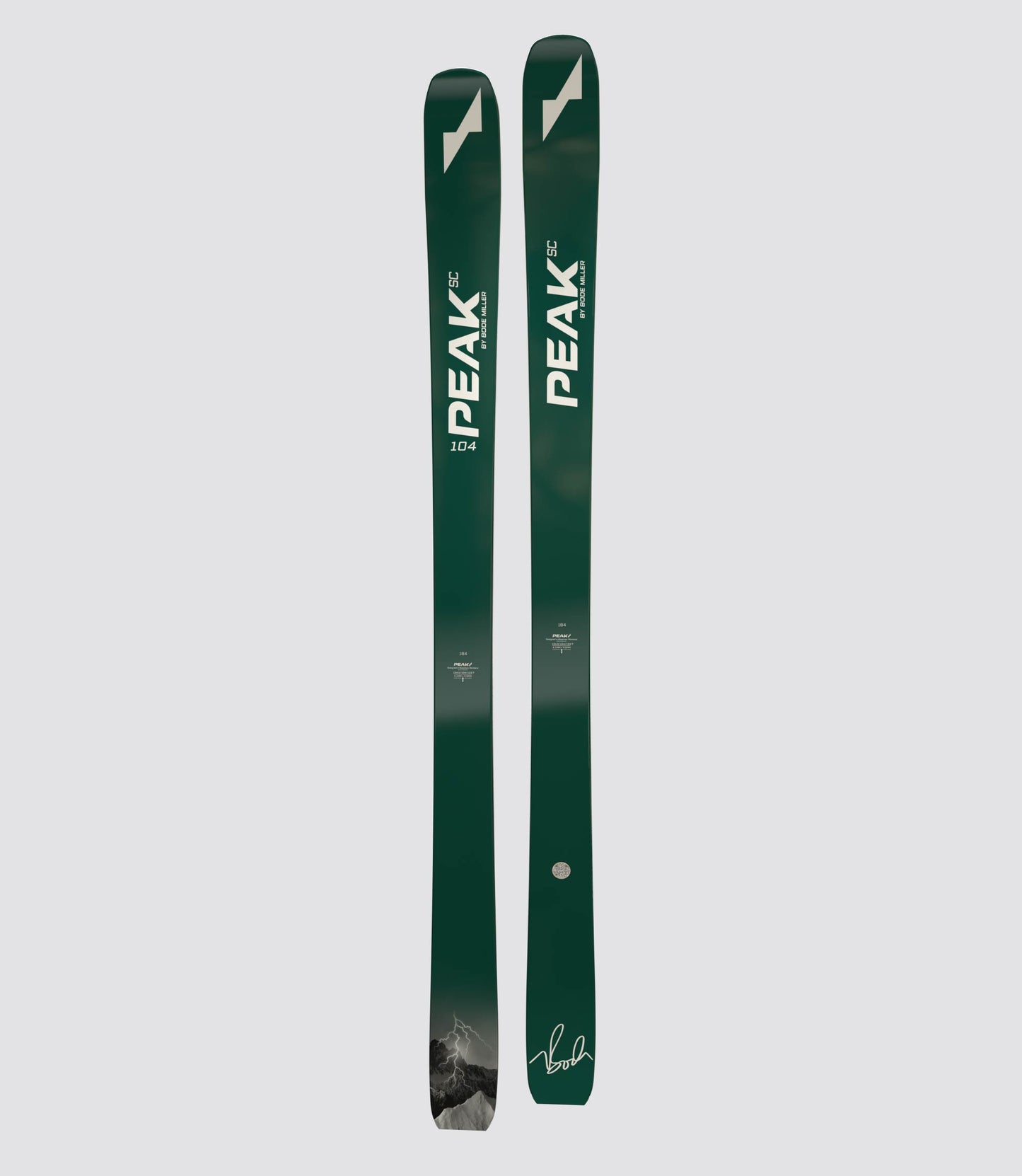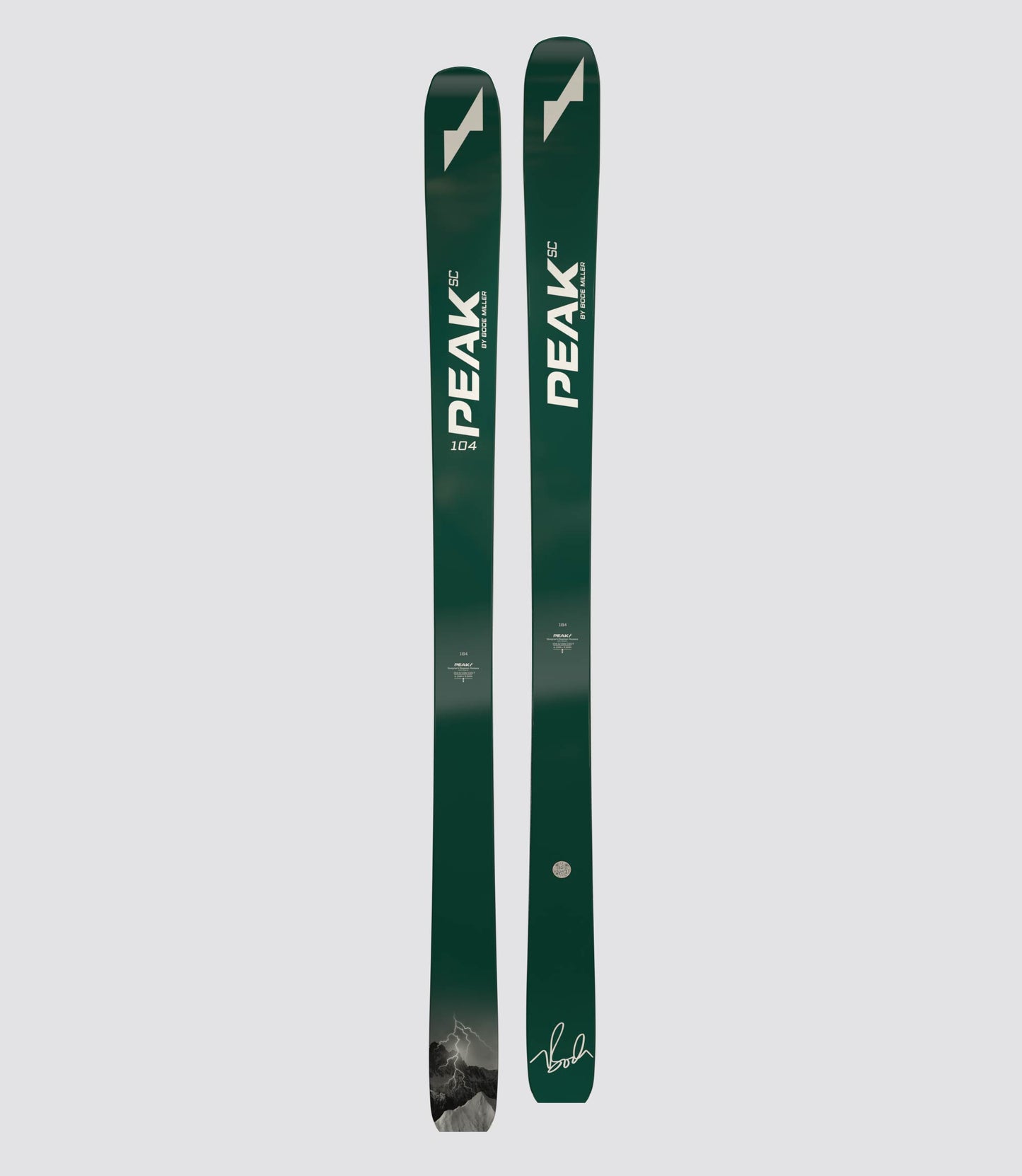 Ski Length Guide
What Skier Type are you?
A/B: Higher speeds and/or open terrain
B/C: Moderate speeds and/or higher terrain (trees/chutes)
C: Slower speeds and lower edge angles
What length skis should I buy?
| Skier Height | A | B | C |
| --- | --- | --- | --- |
| 5'4" – 5'6" | 176/178 | 168 | 160 |
| 5'7" – 5'9" | 184 | 168/176/178 | 160 |
| 5'10" – 6' | 184/188/190 | 176/178 | 168 |
| 6'1"+ | 184/188/190 | 184 | 176/178 |
Peak® 104SC
Whats Under the Hood
Because it's lighter weight and easier to pilot than some of our inbounds skis, the 104SC can be mounted with tech (pin), hybrid (resort to AT), and traditional two-piece alpine bindings. There's no KeyHole in the 104SC, but don't worry, there's metal in it—an extended mounting plate that by design delivers the underfoot grip of KeyHole. Our lightweight "powder core" of poplar, paulownia, and vibration-eating polyurethane stringers is matched with a smooth flex for an easy feel. It's loose enough for long days spent off-trail. But the 104SC is not just an off-piste ski: it's thicker core is backed by metal. Hardpack is no problem.
Great responsive ski for sure!
I purchased my skis later in the season and mounted them up with Look Pivot bindings. I had the pleasure of skiing them in variable late season snow, starting at the top of the Palmer snowfield on Mt. Hood all the way down to the bottom of the lowest lifts at Timberline Ski area. I have been skiing for 56 years, raced for many, taught lessons for many and feel like I know a bit about ski dynamics. I put my 104SC's through every kind of turn I could and they do not disappoint. I tend to charge pretty hard still and the only learning curve was figuring out the softer tips but that did not take me long and these skis rewarded me with instant feedback. They are willing to go as fast as I want. I cannot wait for next winter and some great powder turns in the big mountain side country at my home resort!
They check every box!
I regularly ski on the 88 & 98 models and couldn't be more impressed. Light and quick but carve exceedingly well without over carving. Best new ski I've tried in 40-50 years. Love the 98s in all snow conditions. Haven't been on the 104sc yet as those are for my wife but we put a demo binding on them "just in case". Keep up the great work folks>
Super fun ski!
I have the 104SC-178 mounted with a CAST system for the Pivot 15 binding. This feels like a quiver killer. Quick and responsive in bumps, stable on steep terrain, and can absolutely rail on groomers with much higher edge angles than I'm used to being able to on a ski this width. They definitely want to go fast if you want to carve them. Have not had the chance to test them on any exceptionally deep days yet, but they float on a few inches of powder easily.
The more you give them, the more they give back! They Perform
I had the chance to ski test several of the Peak skis at the Blister Event in Crested Butte in February 2023. (88 / 98 / 98 SC / 104 / 104 SC) . The conditions varied from firm to soft new snow. Over the past few years I have been lucky enough to have been able to test many skis from many companies and have found a great deal of performance variables. As an instructor of 35+ years I have seen a great deal of mismatched gear to level abilities show up for lessons. Being able to test skis has been a great educator and has given me a better insight as to what skis/gear can do for a persons skill and enjoyment levels on the hill. When I saw the Peak had come to the test I was curious to see whether or not it was just another name on a sports product to boost sales without giving "performance substance". Well…. Bode and team have put together a wonderful product line up that does a whole lot more than push some " bells and whistles" into a fluffy marketing campaign. Coming into the market in their first year, Peak skis excel above and beyond the others in the test. All of the skis are predictable and are capable of allowing your abilities to shine in a variety of conditions. The mild mannered cosmetics are deceiving as to what is under the hood that is something special. The "keyhole" concept works! The skis initiate well, hold under foot, and release nicely at the end of the turn, allowing for confidence that they will be their when you want and need them without surprises. In a nut shell the best way to describe the skis is, "the more you give them, the more they give back in a reliable and predictable way." Point blank, they perform! Peak team, keep up the great work! Note: the "SC" line up could be an nice alternative ski for someone who is lighter/smaller in stature, (ie, smaller male or female).
Stoked!
Awesome design & top sheet color (like my Peak 98SCs and Peak 88s!!!) Haven't mounted them yet (going to run AT) so will provide more update later. On another note, the box these skis came in, and how they were presented was out of this world awesome. One of the most exciting "unboxing" I've ever done. Amazing experience, very thoughtful. Well done, Peak team!