Regular price
Sale price
$1,450.00
Unit price
per
Sale
Pre-sale starts April 7
Ski Length Guide
Now is your chance to own a limited-edition Peak ski developed in partnership with Big Sky Bravery, a venerated non-profit which serves active-duty warfighters from the most elite divisions and units. These limited-edition Big Sky Bravery skis are based on Peak's "quiver killer" 98 model ski from its upcoming 23/24 line and designed with a custom winter camouflage top sheet featuring the Big Sky Bravery logo, the U.S. flag and minimal Peak Ski Company marks and logos.
Net proceeds will benefit Big Sky Bravery, a registered non-profit organization.
If you ask us, the Peak 98 is the ski that 80 percent of skiers should be piloting 80 percent of the time. It's that versatile. Looking at nothing but groomers today? You can cruise at family speeds or blast super-G turns. Off-trail in powder, crud, chalk, or corn, it's nimble and floaty enough for all but the deepest of resort days. The 98 defines the all-mountain category. 
Shipping & Returns

No Buyer's Remorse—Ever

"We test Peak Skis, so you don't have to."

That's a guiding principle here at Peak. From phase one prototyping to final production and beyond, we test our skis to make sure they offer the huge performance window we envisioned. The customer is not our guinea pig.

But we also know that every skier is looking for a specific "feel" in a ski, and we support that. If you aren't happy with the ski you selected (maybe you bought the wrong length or model) you can return it for another model/length—or a full refund.

We're tempted to call that a "no questions asked" exchange, but in fact we like to ask questions, so we get better at what we do.

Here's the deal: If you receive your new Peak skis in the summer or fall, you have until December 31st of that year to return them for another set of skis or a full refund. (That way you have time to ski on them in December.) If you buy and receive your skis after December 31st, you have 30 days to ski them and decide.

To make this easier, just hold onto that nice box the skis come in and then fill out the below form and we'll respond with a return label. 

It's a pretty easy return—for a product with the dimensions of lumber.

 

Return Form

 

The Fine Print

All Returns

We are only able to refund to the original method of payment. Please allow at least 7 days for the refund to appear on your card.  See below for other details.

Exchanges on Skis

We are happy to exchange your skis within the time frames described above for another model of the same year that we currently have in stock.  Just email support@peakskis.com and include your original order number (PS-####), which ski model and length you are sending back and which ski model and length you would like to receive. 

We'll send you a FedEX return label to put on the box.  Then drop off the box at a FedEX location and make sure to get a receipt!  We will ship out the replacements within a week of receiving the return and will send you a tracking number so you can follow their progress.

Ski Returns

Make sure you are still within the return timeframes listed above and email support@peakskis.com with your original order number (PS-####) and the model and length you are returning.  We'll then email you a FedEX return label.  Drop off the box at a FedEX location and make sure to get a receipt!  Once we receive the skis we will send you a refund. 

Returns on Non-Ski Products

Unused apparel and non-ski gear (anything that is not a ski) that is in new condition with tags and in the original box, may be returned or exchanged within 30 days of purchase. 

Binding Returns and Exchanges

Bindings must be in unmounted condition in the original packaging including all mounting hardware, labels and inserts.  The original binding box must be enclosed in another box to protect the binding box from damage. Email us at support@peakskis.com to get a FedEX return label and make sure to get a receipt when you drop them off. 

Returns on Promotions

The return policy on promotions (including bundles) varies based on the offer and is communicated in the advertisement, offer email or the page related to the promotion.  Typically, all items in the promotion must be returned in order to receive a full refund and non-ski products (bindings, goggles, etc . . . ) must be in new, unused condition, with tags in the original box.  Keep this in mind if you plan to mount bindings that were part of a promotion.  Buy-one-get-one free offers require the return of all items to receive a refund as partial refunds are not permitted.

Shipping

Shipping on purchases over $50, in U.S., is free (for returns too). Elsewhere in the world, the customer pays shipping, duties and fees, but that's all easily calculated with at checkout.

 
Warranty

While unlikely, it's possible that you will receive a pair of skis with a minor flaw. It's also possible, while out enjoying your skis, something goes wrong with them that is unrelated to the ski conditions or environment. Should a circumstance arise where you discover a flaw after putting your skis on snow, and you are the original owner, we will happily replace them for up to three years from the date of purchase. Enjoying your skis is paramount; if enjoying your skis results in damage to the skis from any number of hazards that exist in the mountain environment, we trust that you'll understand if we have a tough time replacing them due to conditions or circumstances outside of Peak's realm of influence.
View full details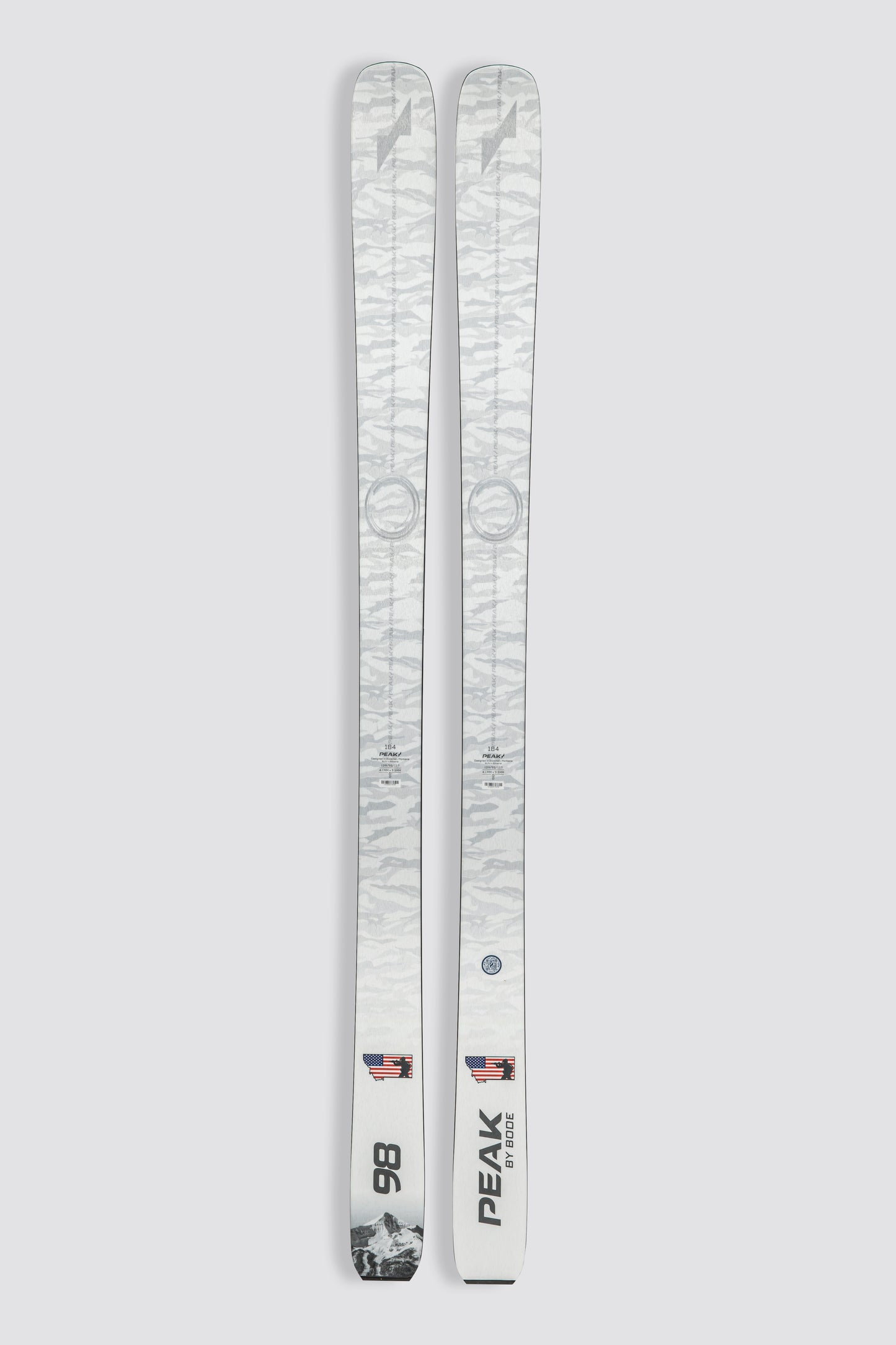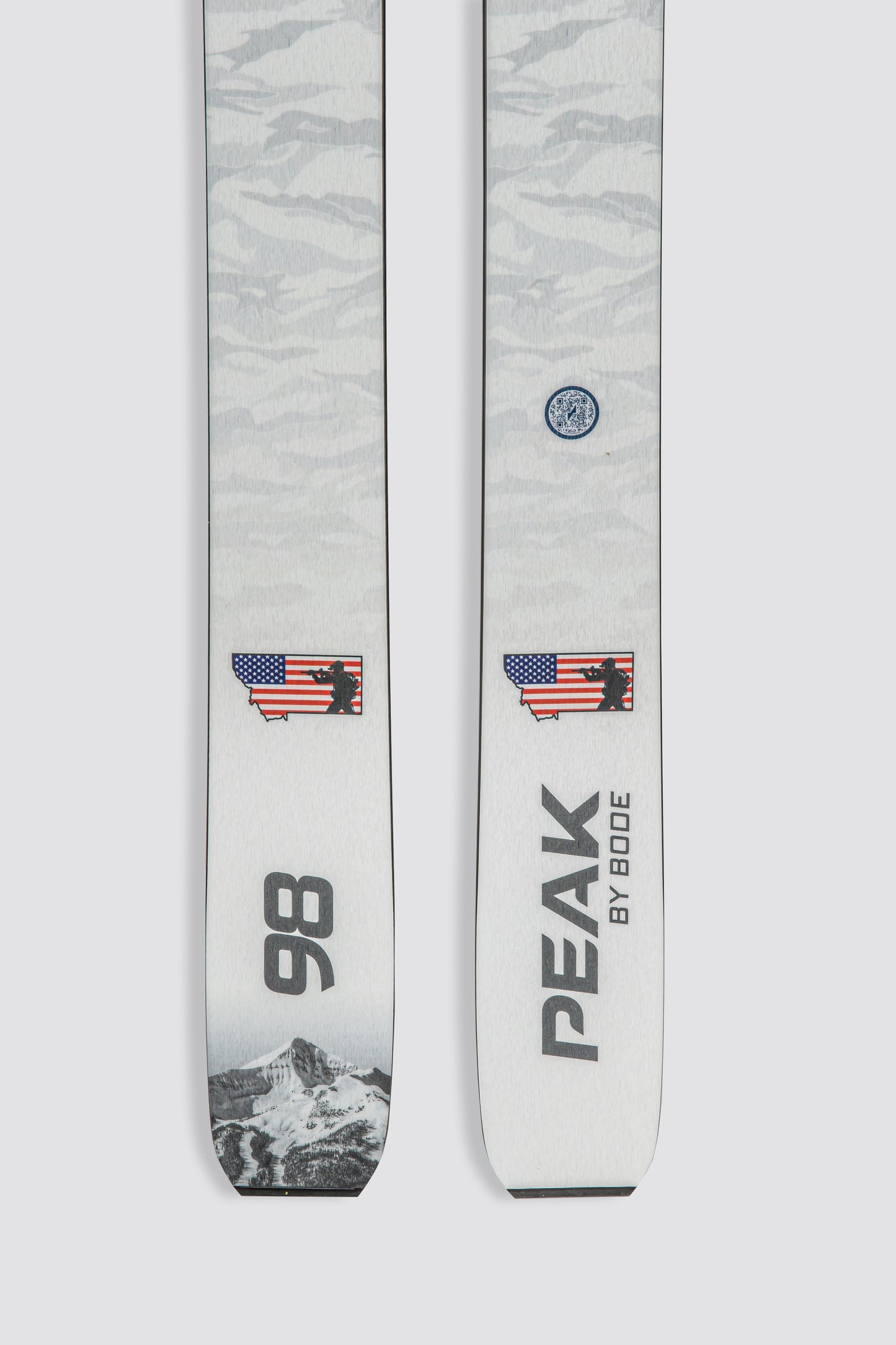 Ski Length Guide
What Skier Type are you?
A/B: Higher speeds and/or open terrain
B/C: Moderate speeds and/or higher terrain (trees/chutes)
C: Slower speeds and lower edge angles
What length skis should I buy?
| Skier Height | A | B | C |
| --- | --- | --- | --- |
| 5'4" – 5'6" | 176/178 | 168 | 160 |
| 5'7" – 5'9" | 184 | 168/176/178 | 160 |
| 5'10" – 6' | 184/188/190 | 176/178 | 168 |
| 6'1"+ | 184/188/190 | 184 | 176/178 |
Limited-edition Big Sky Bravery 98
Whats Under the Hood
The 98s were made to rip on packed snow at least 50 percent of the time, but you can still smear 'em off trail, too—it's a shapeshifter. Here, a paulownia and ash core gets sandwiched by two sheets of metal. But to detune the ski just enough for bowls and big lines, we didn't run the bottom alloy wall-to-wall. A vertical cut in the upper metal makes for buttery turn initiation.
The difference is awesome
I've been skiing since I968. I've skied on many types of skies in the North East. Buying the 98 without trying them first wasn't in my comfort zone at all. I had a feeling. So I did it. The first turns on the skies had me. I felt like the skies had springs that catapulted me to my next turn. So much so, I switched back to my old skies for a few turn and back again. What a difference. Night and day.