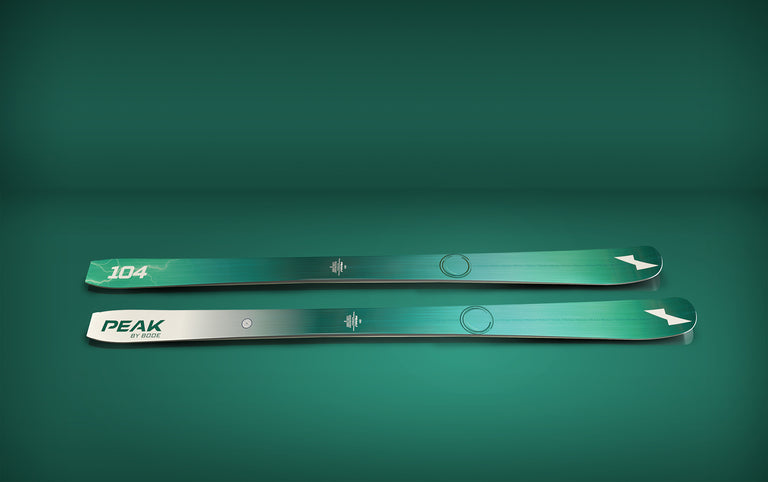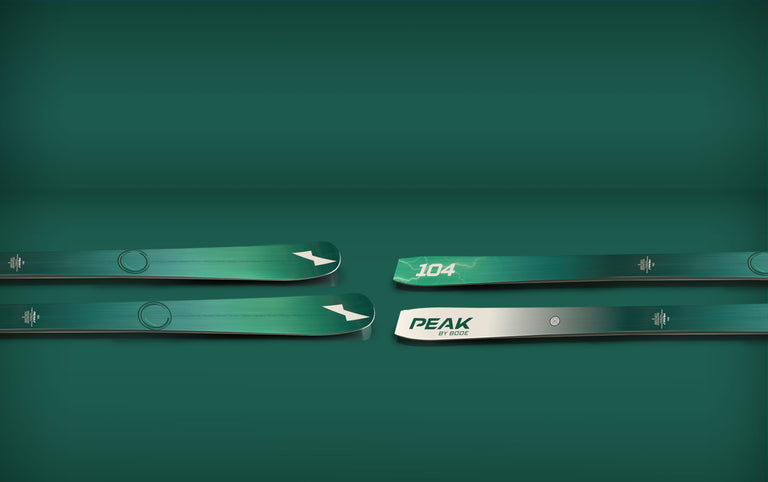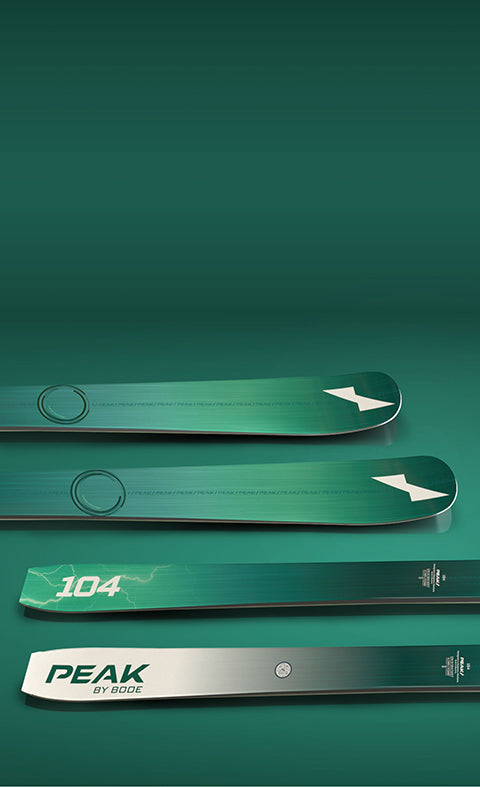 Peak® 104 by Bode
Rocky Mountain Daily Driver
It's plump enough for the deepest inbounds days, but thanks to KeyHole Technology™ it rips corduroy and hardpack, too. We'd ski it 80% of the time here in the Intermountain West.
Regular price
Sale price
$1,090.00
Unit price
per
Sale
Coming Soon
Ski Length Guide
Our 104 is only a wee six millimeters fatter than the 98, but it's an entirely different animal with more emphasis on a surfy feel. Back East, it's a pure powder ski. Out West it's a surprisingly powered up all mountain ski. It slashes in trees, but you can take it all the way to Trenchtown, too. Back off the gas and scrub speed at will when it's time to get mellow.

Want a similar feel in a lighter-weight package? Check out the Peak 104 by Dav. It shares the same shape and rocker profile as the Peak 104 by Bode, but we stripped away most of the metal to shave many grams. You'll notice the weight savings if you ever hike for your turns. Lighter-weight skiers who don't want to muscle a stouter ski will also see the benefit.
Shipping at the end of September 2023.
Free Shipping

We offer free shipping on any purchases over $50 in U.S. That applies to returns too.

Elsewhere else in the world, the customer pays shipping, duties and fees, which is all easily calculated with our FedEx app at checkout.
Free Returns

Don't love your skis? Exchange or return for a full refund. If you receive your new Peak skis in the summer or fall, you have until December 31st of that year to return them for another set of skis or a full refund. (That way you have time to ski on them in December.) If you buy and receive your skis after December 31st, you have 30 days to ski them and decide.
Warranty

While unlikely, it's possible that you will receive a pair of skis with a minor flaw. It's also possible, while out enjoying your skis, something goes wrong with them that is unrelated to the ski conditions or environment. Should a circumstance arise where you discover a flaw after putting your skis on snow, and you are the original owner, we will happily replace them for up to three years from the date of purchase. Enjoying your skis is paramount; if enjoying your skis results in damage to the skis from any number of hazards that exist in the mountain environment, we trust that you'll understand if we have a tough time replacing them due to conditions or circumstances outside of Peak's realm of influence.
View full details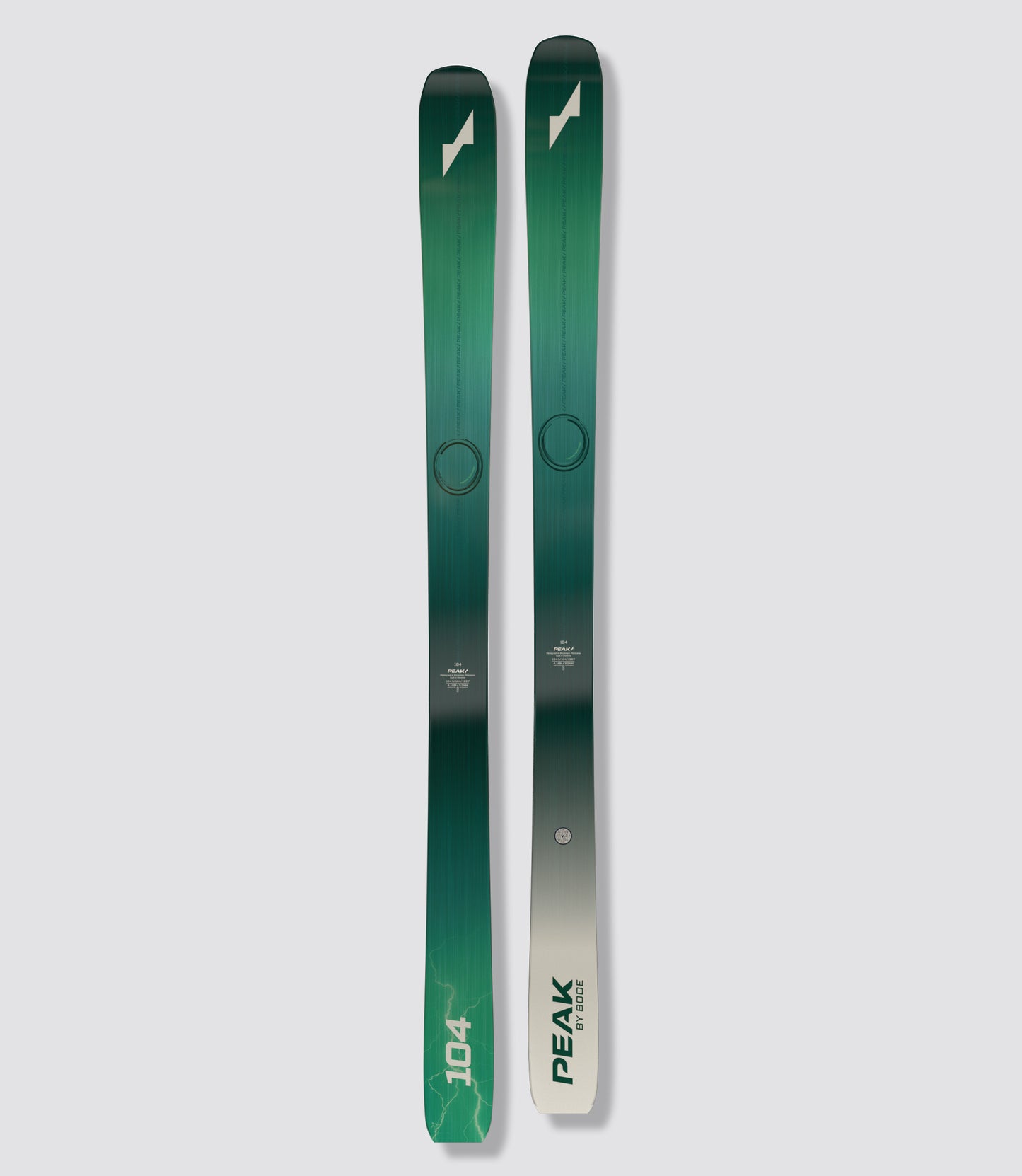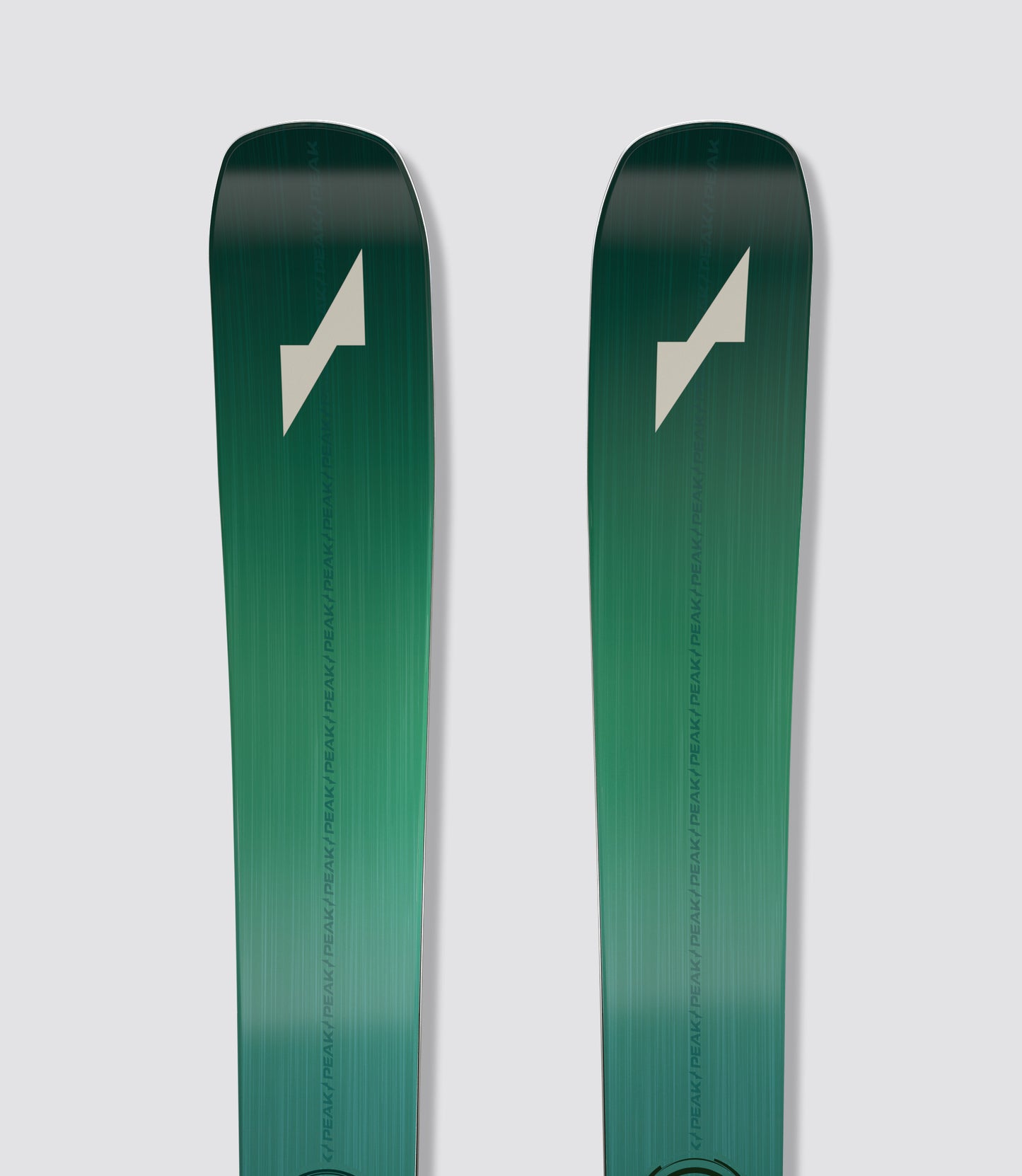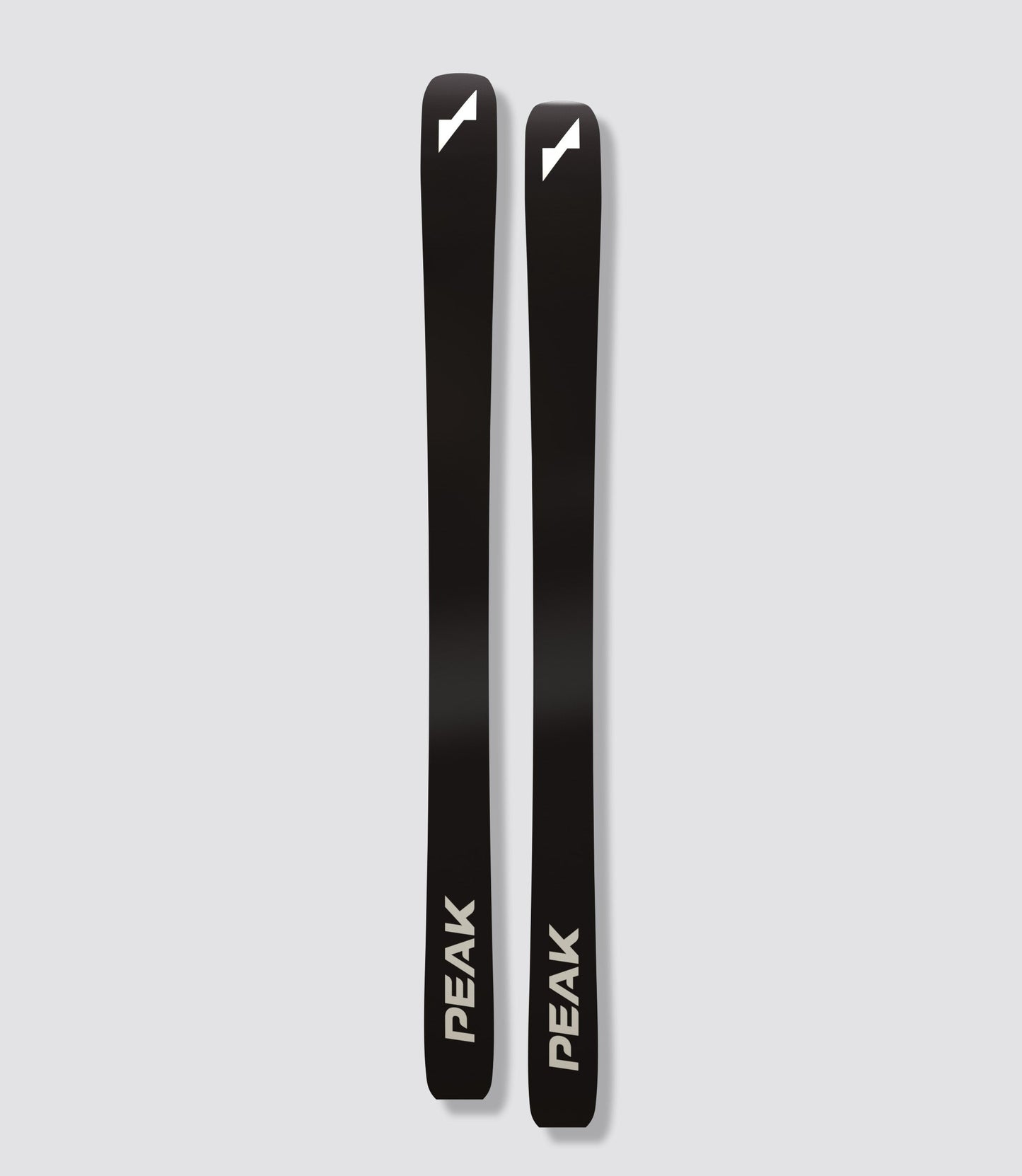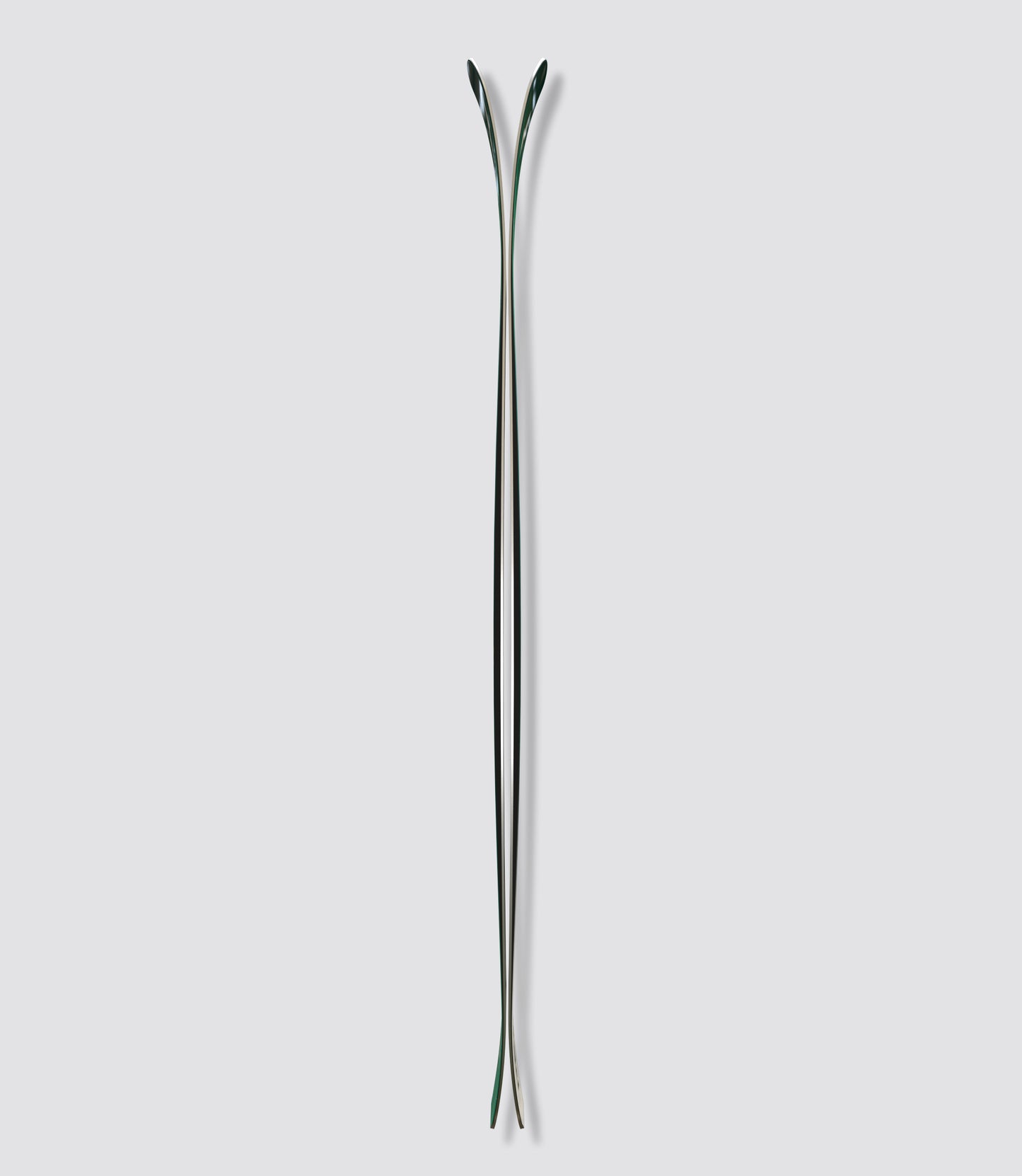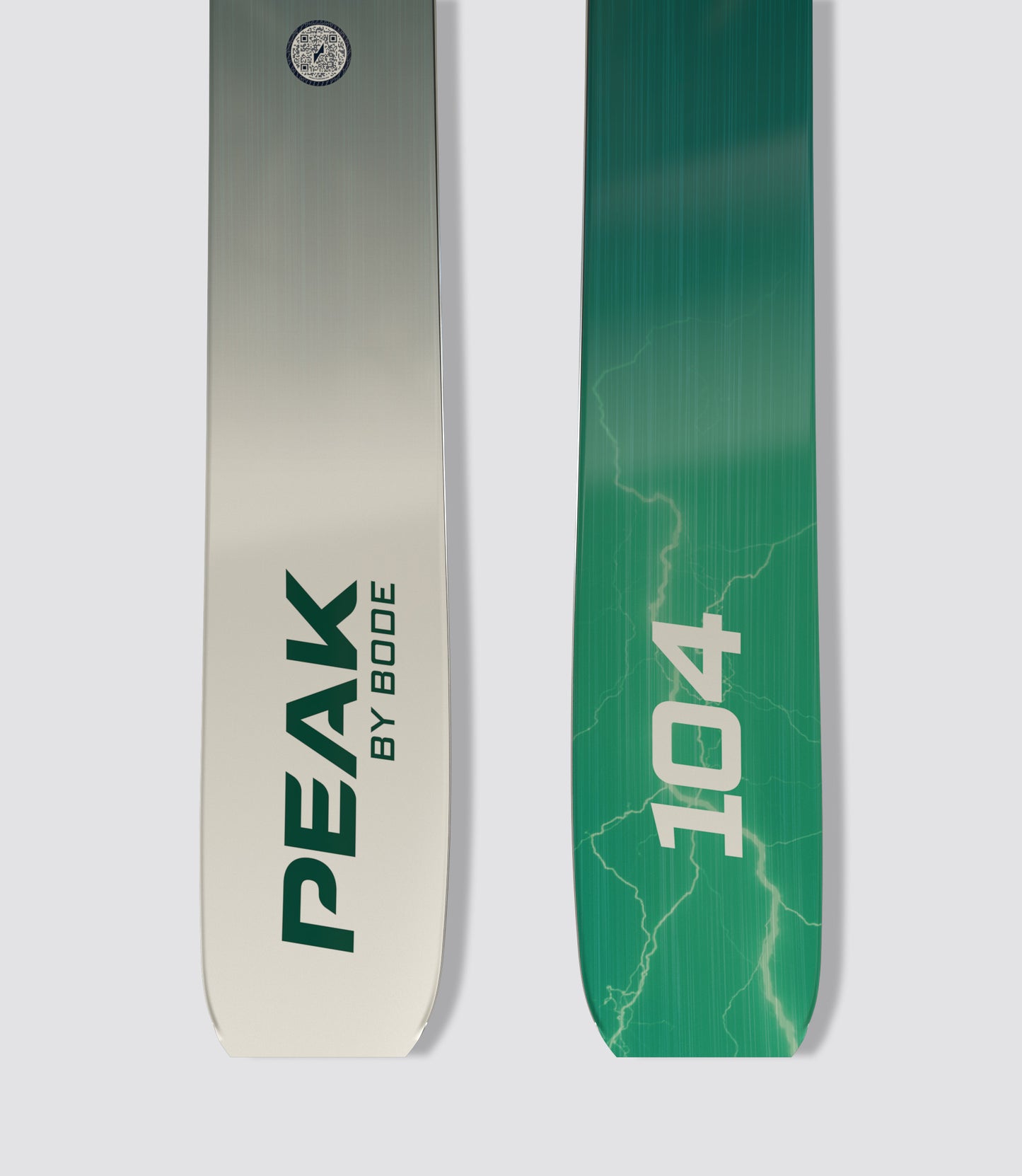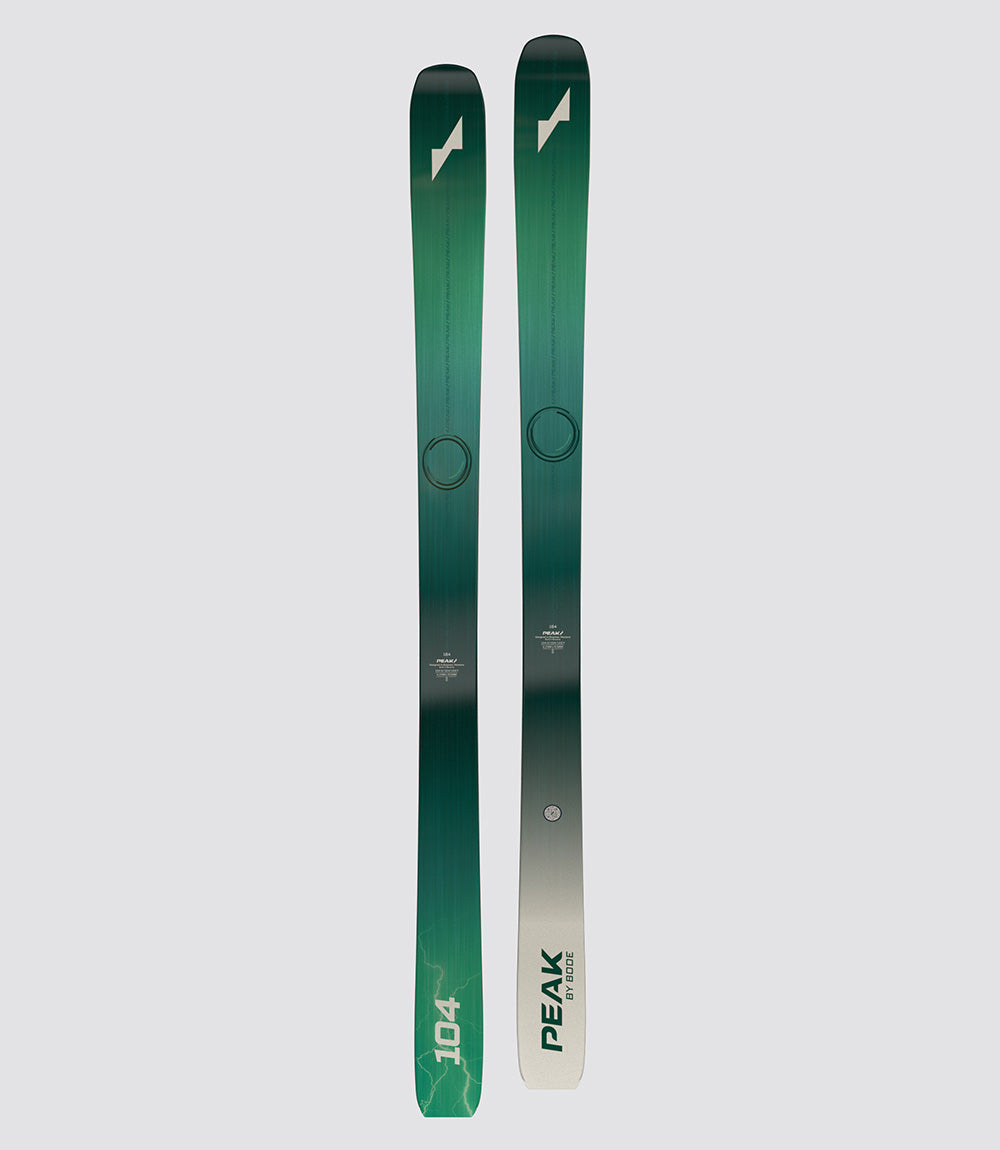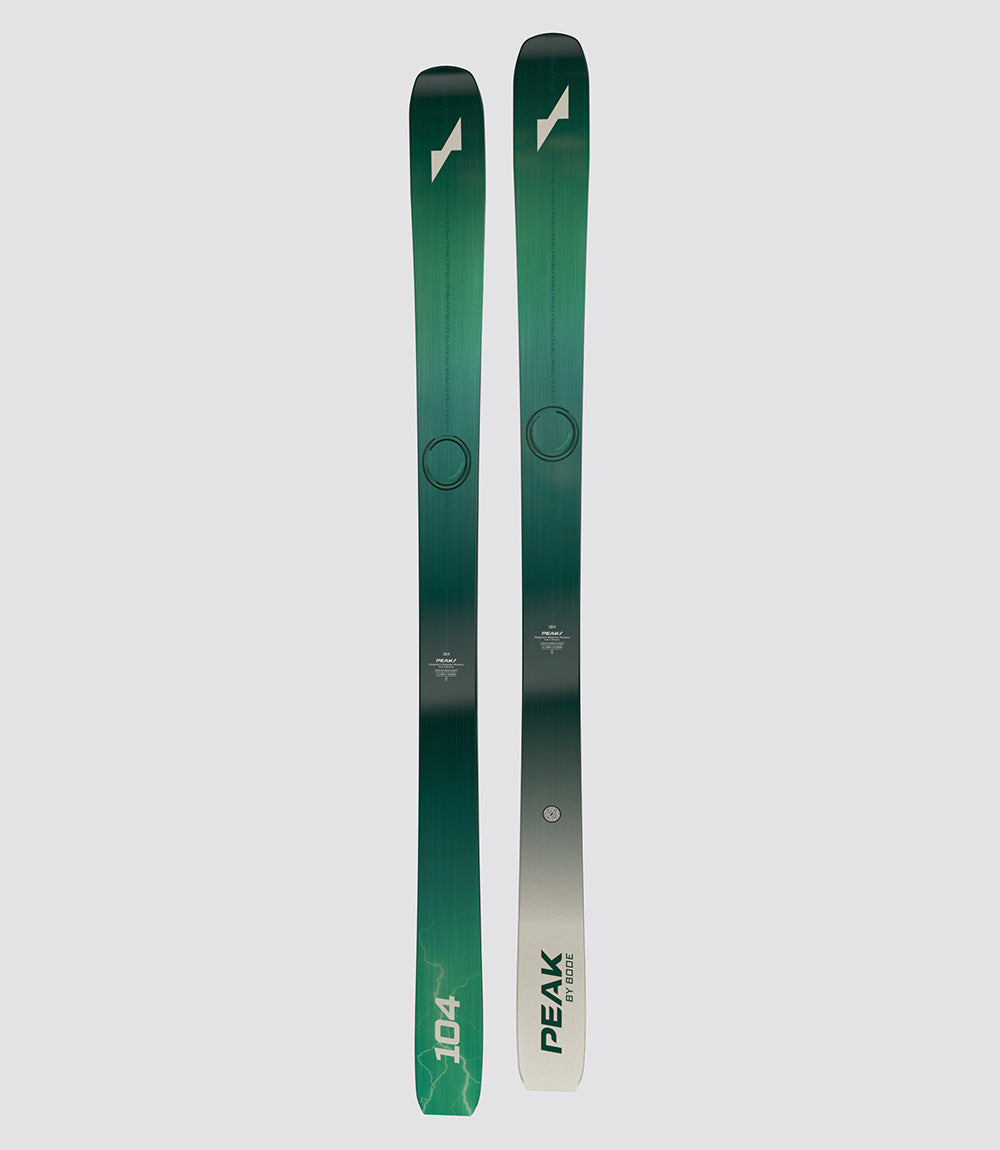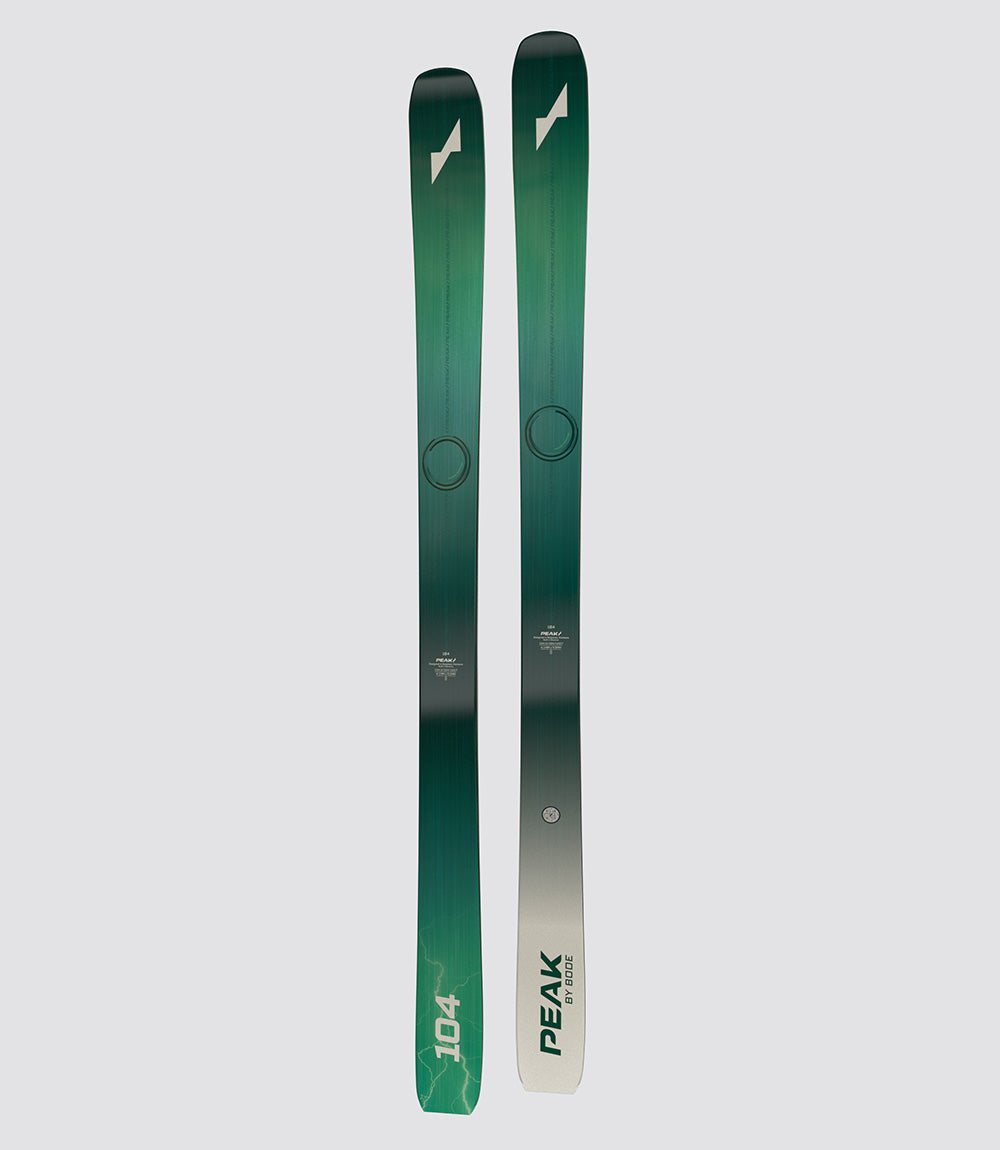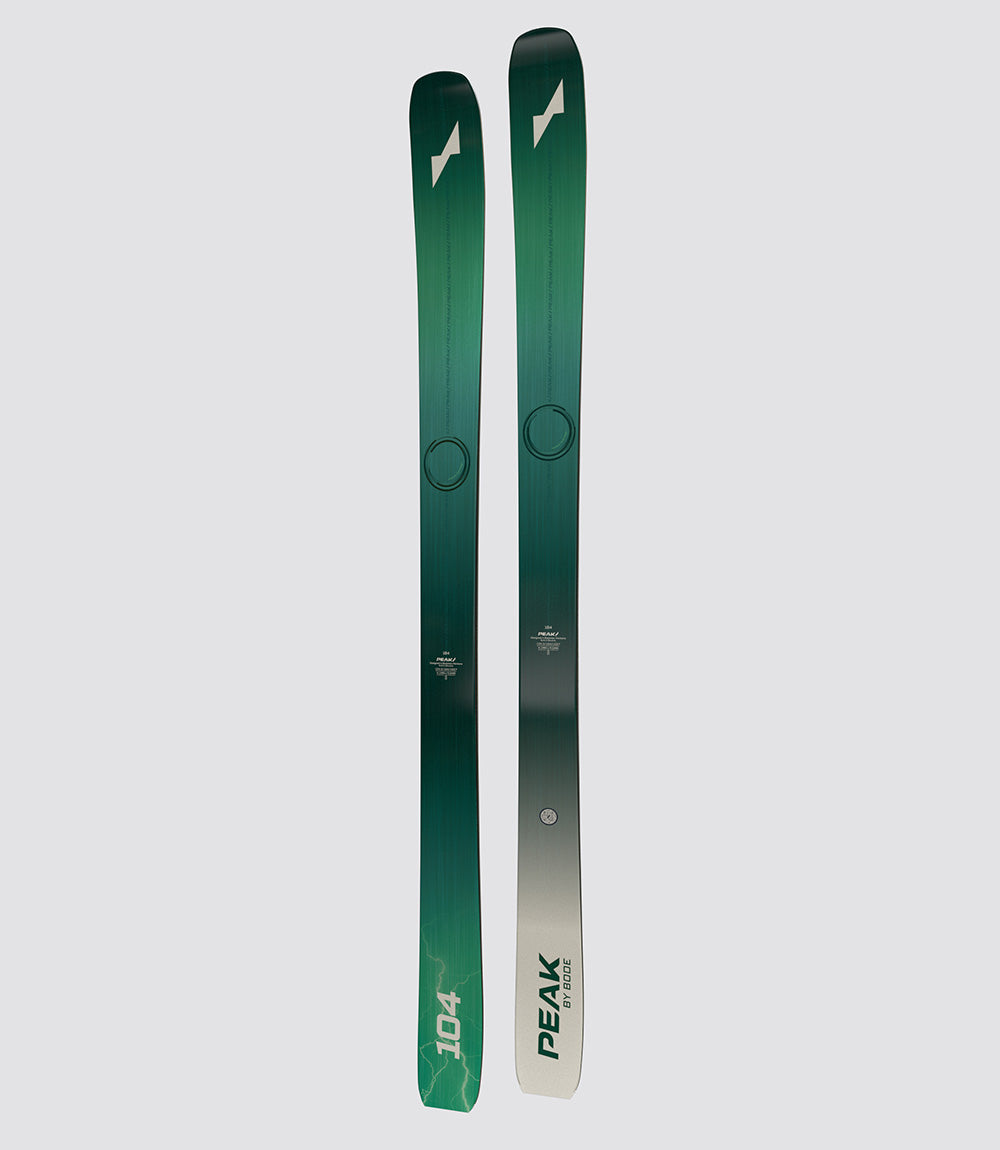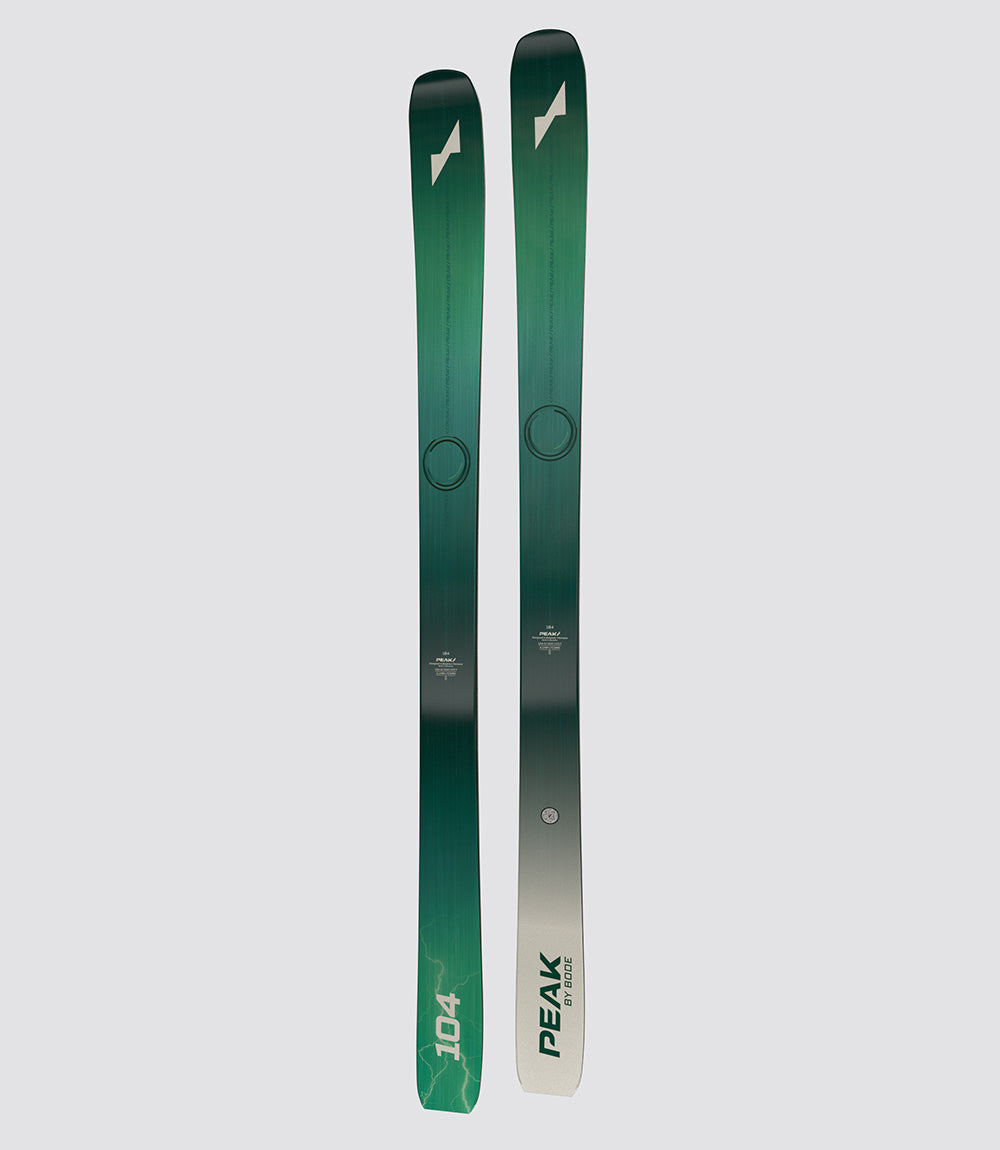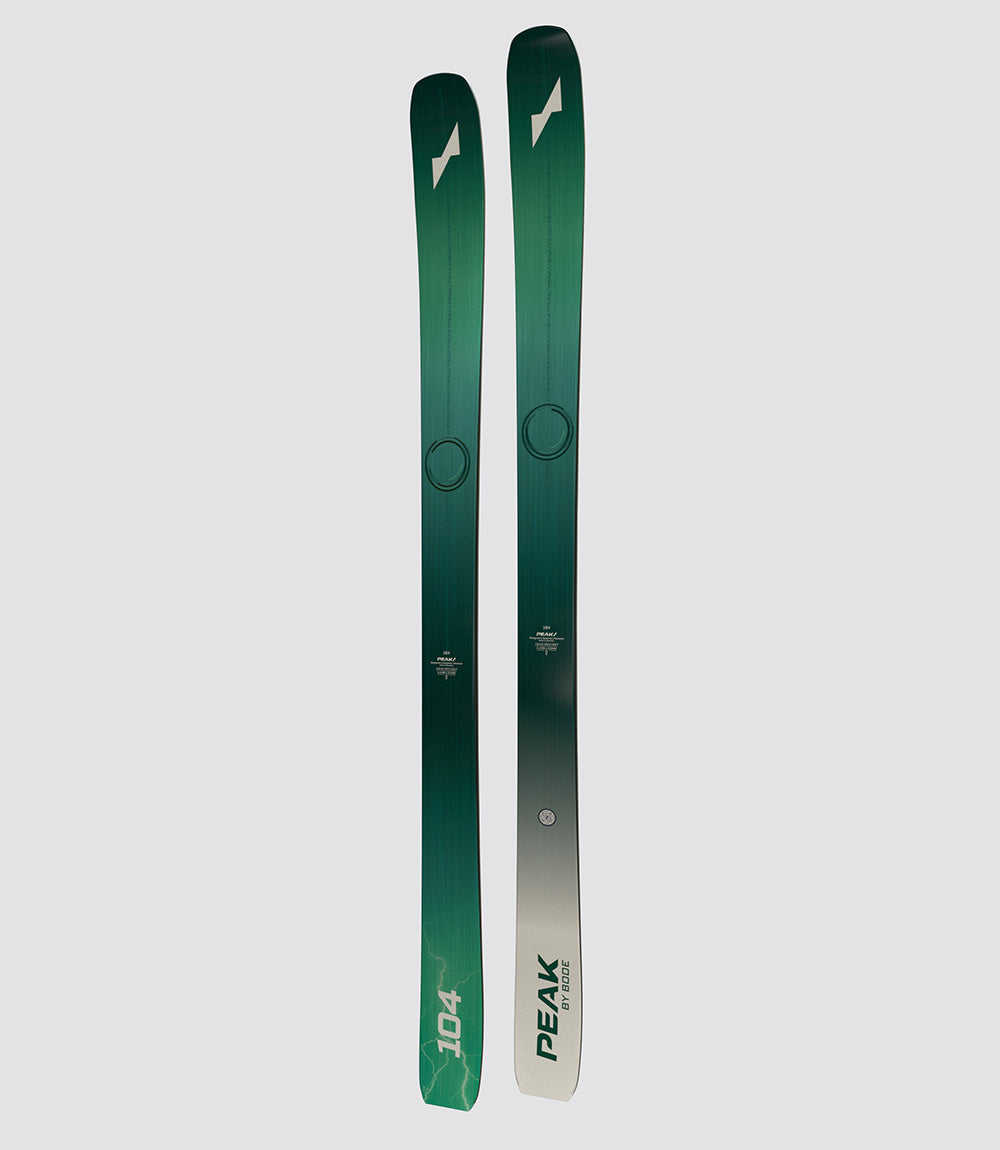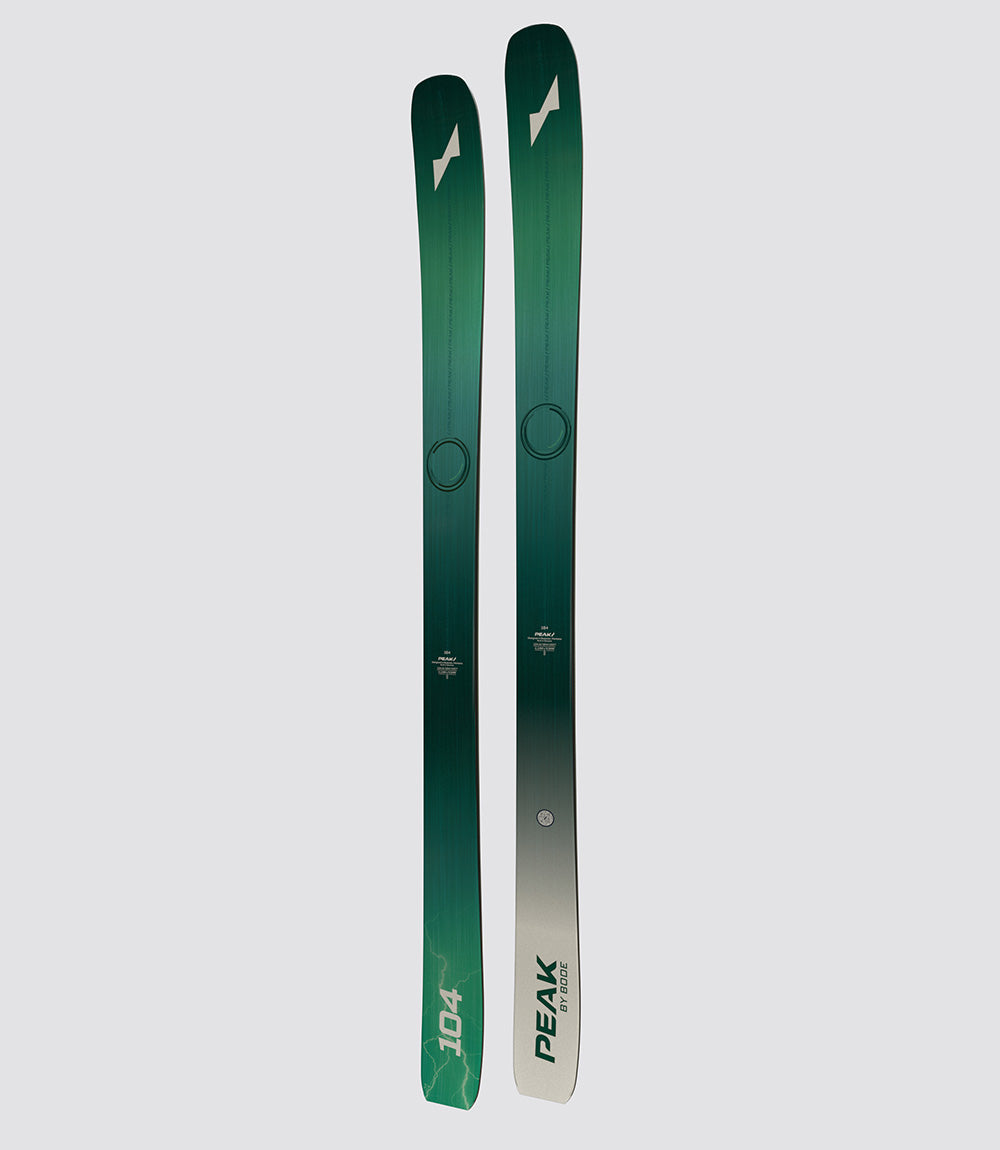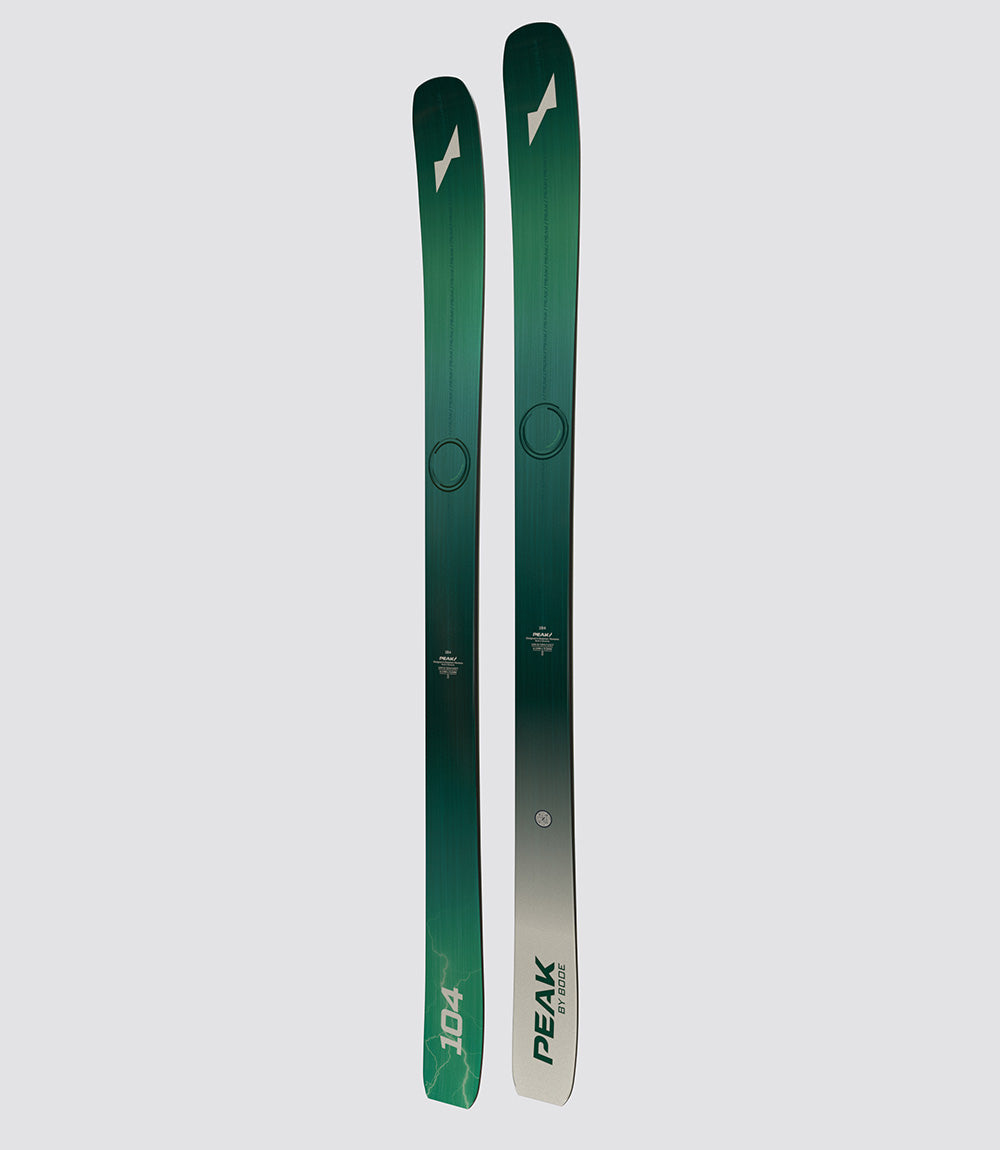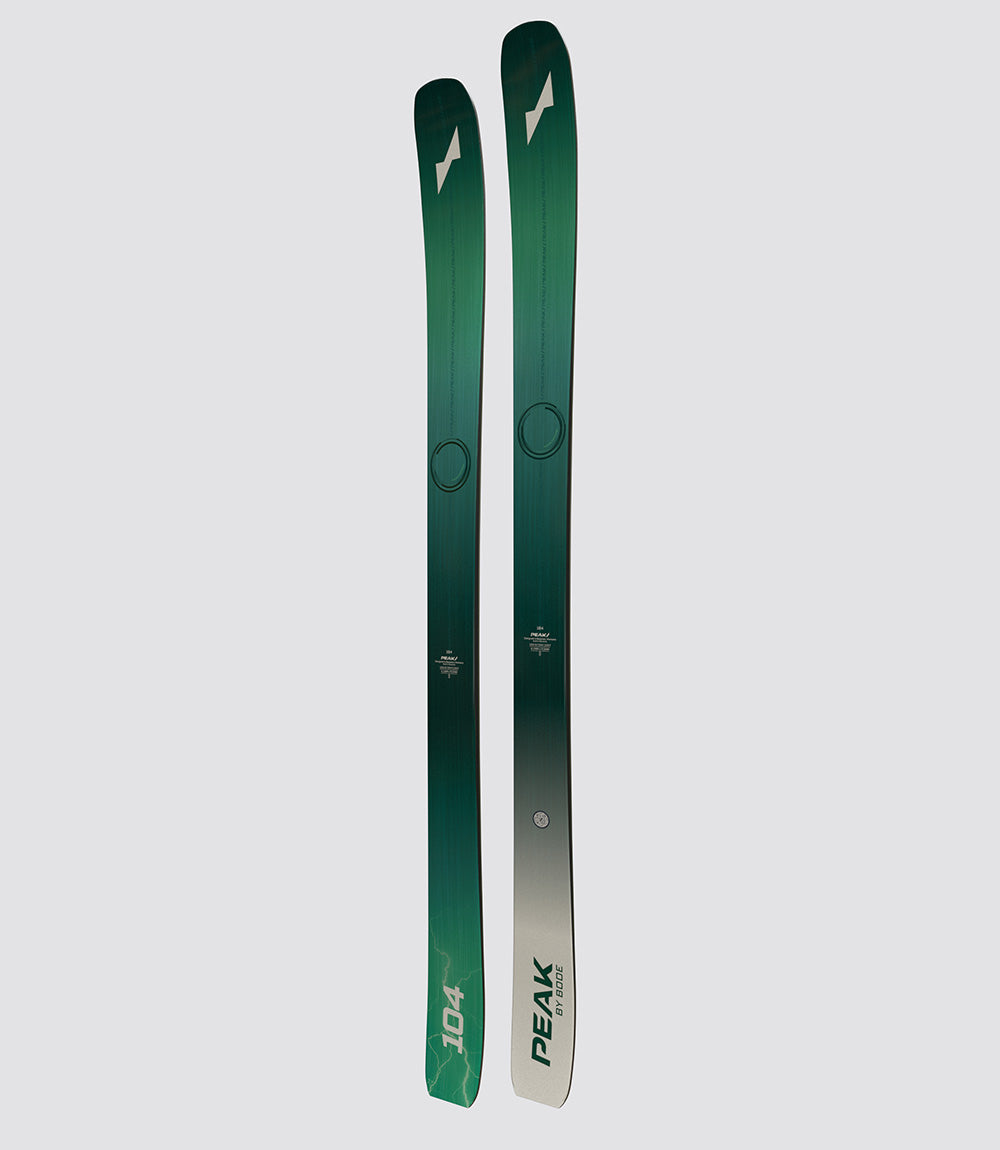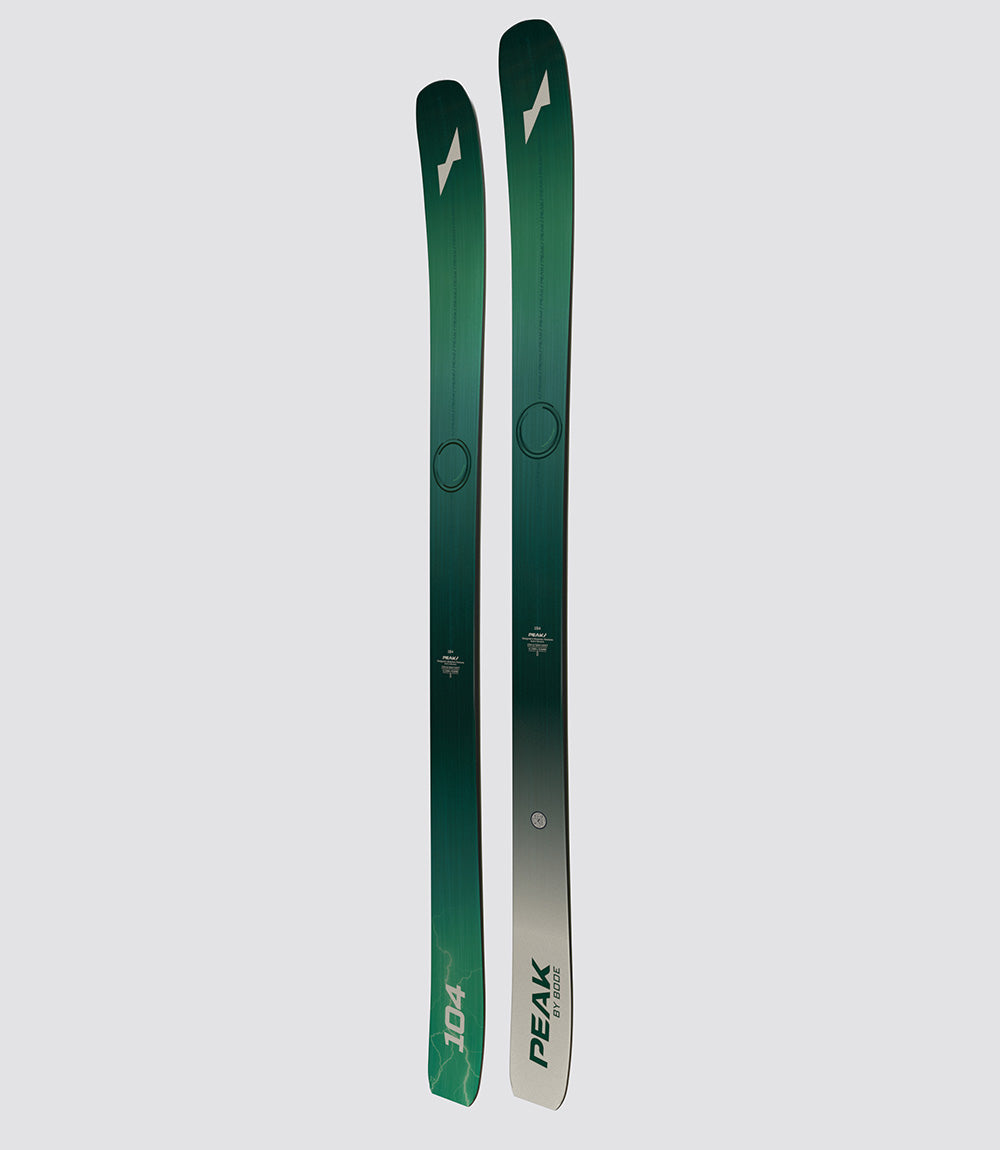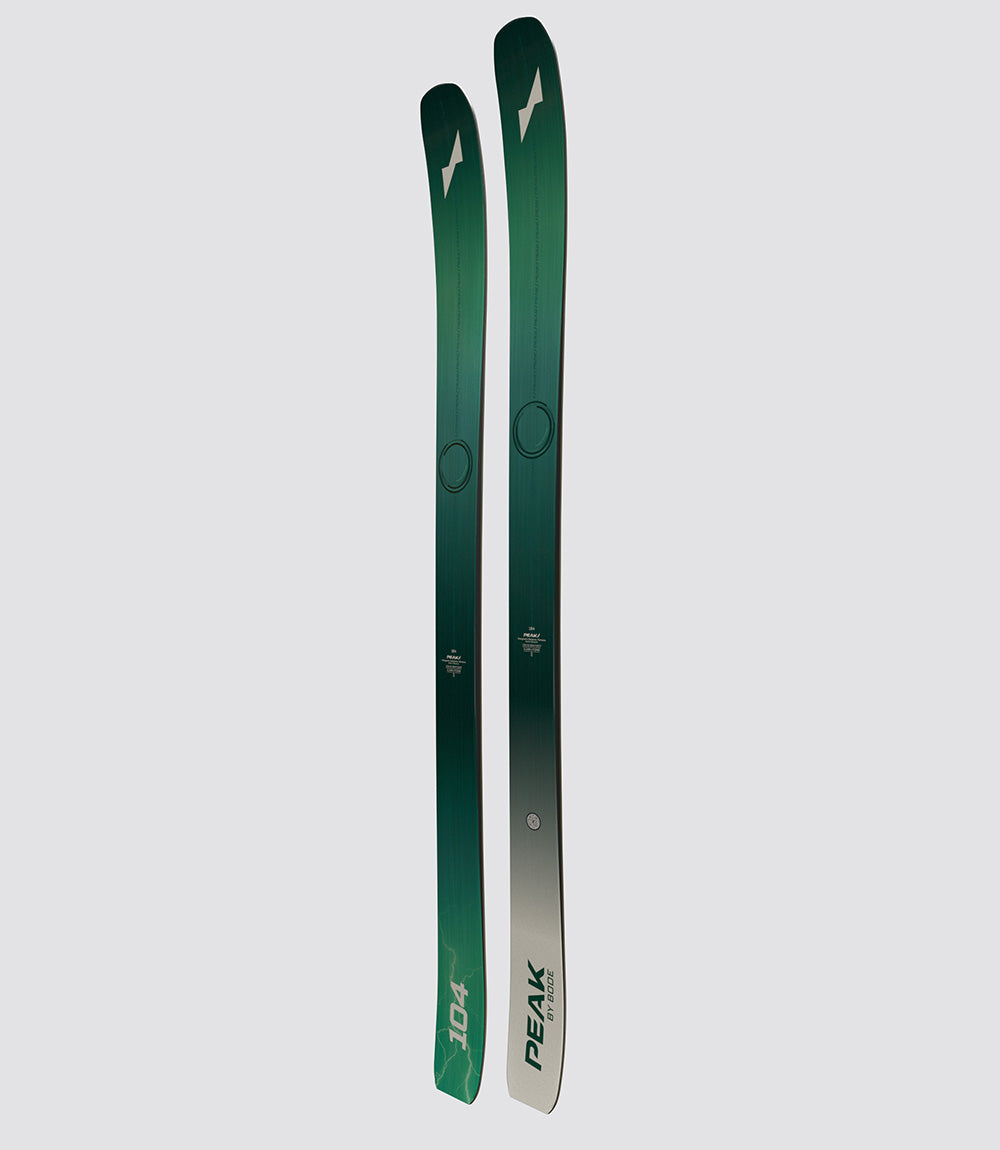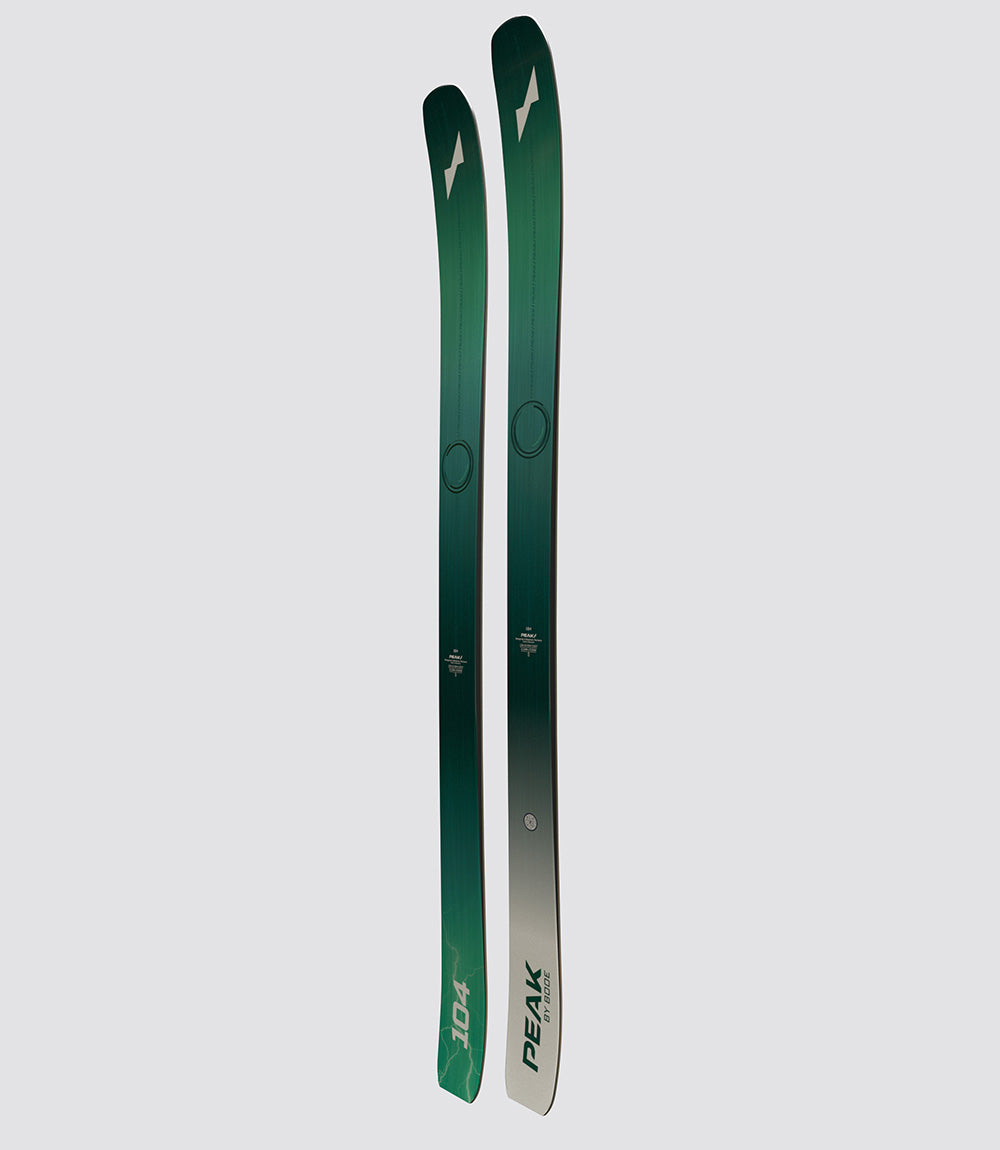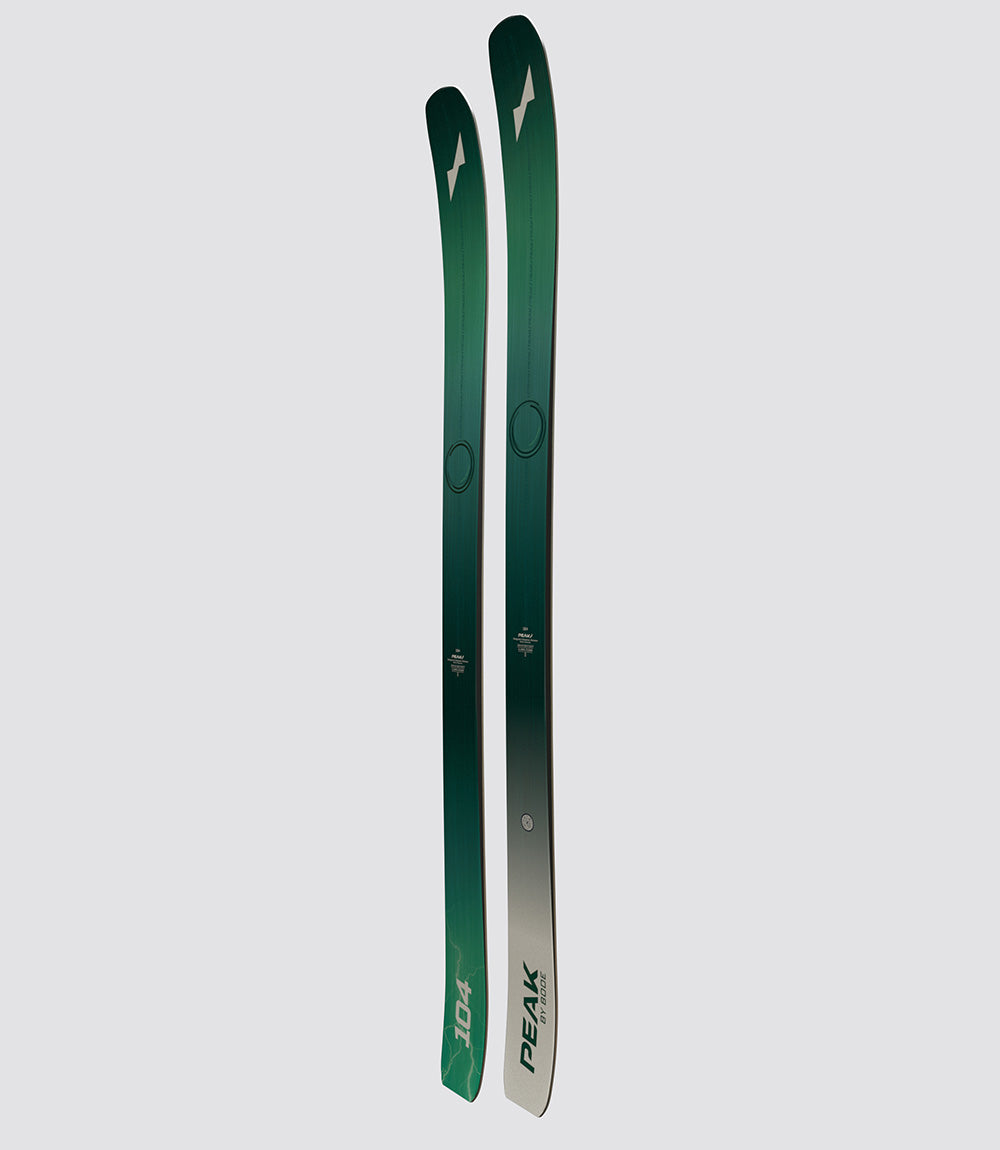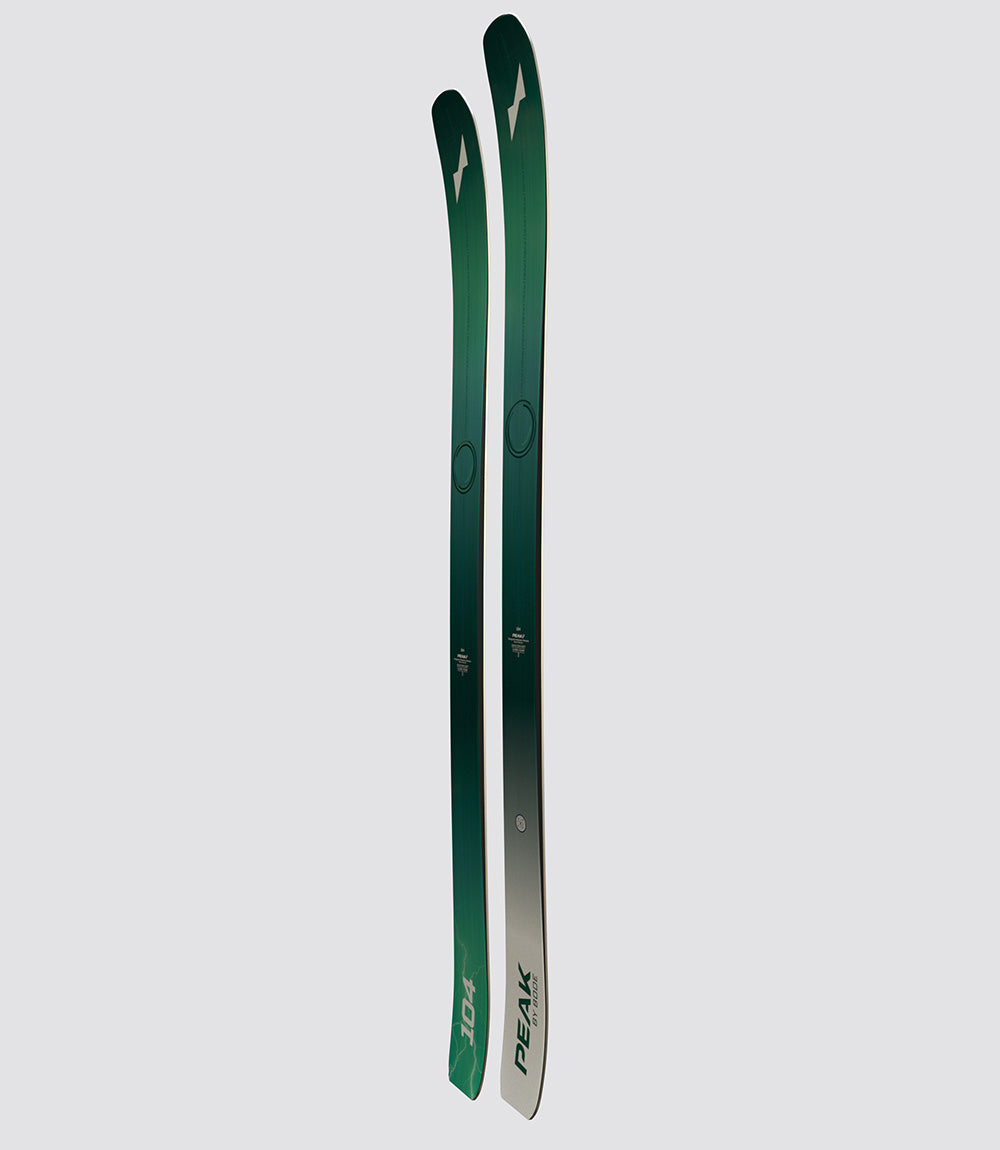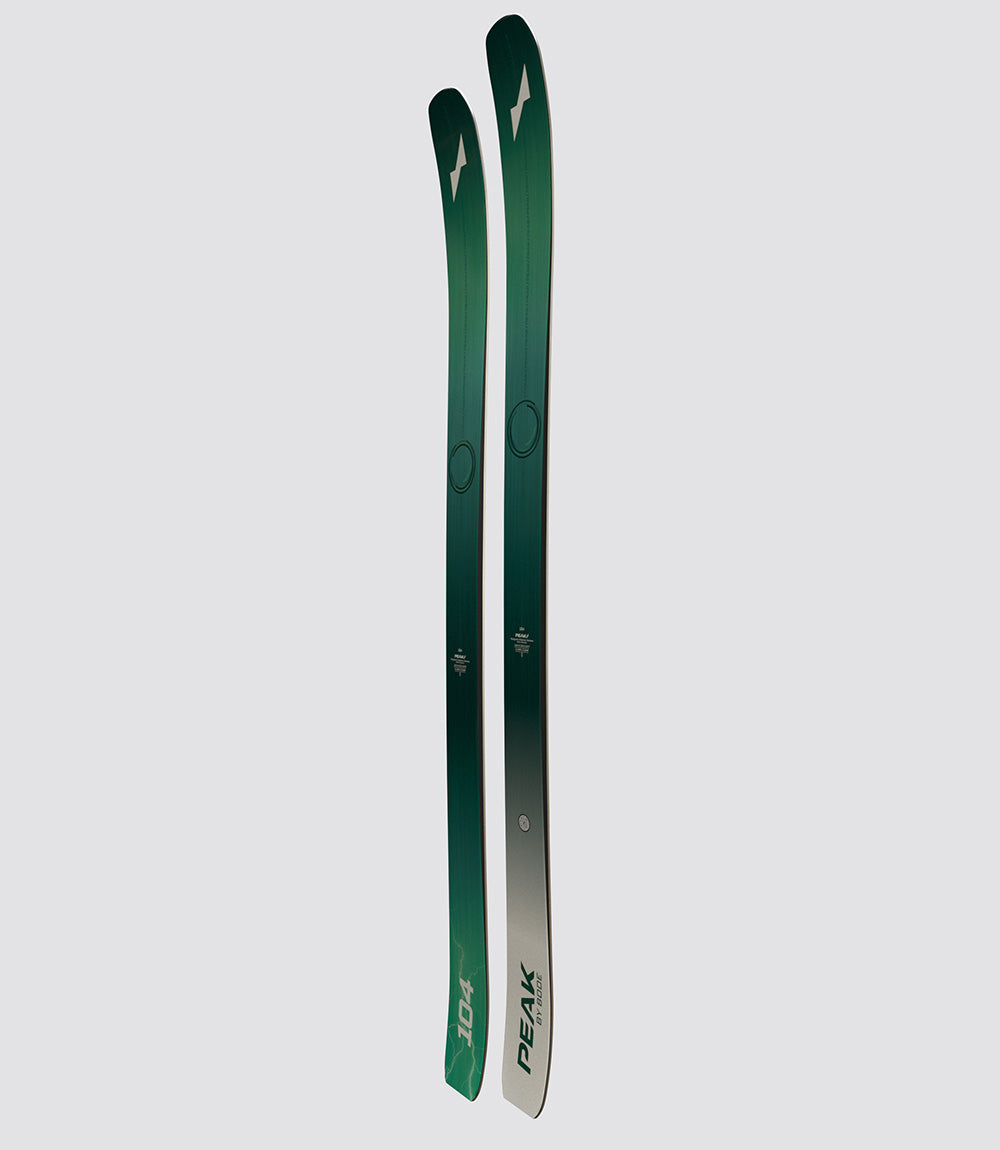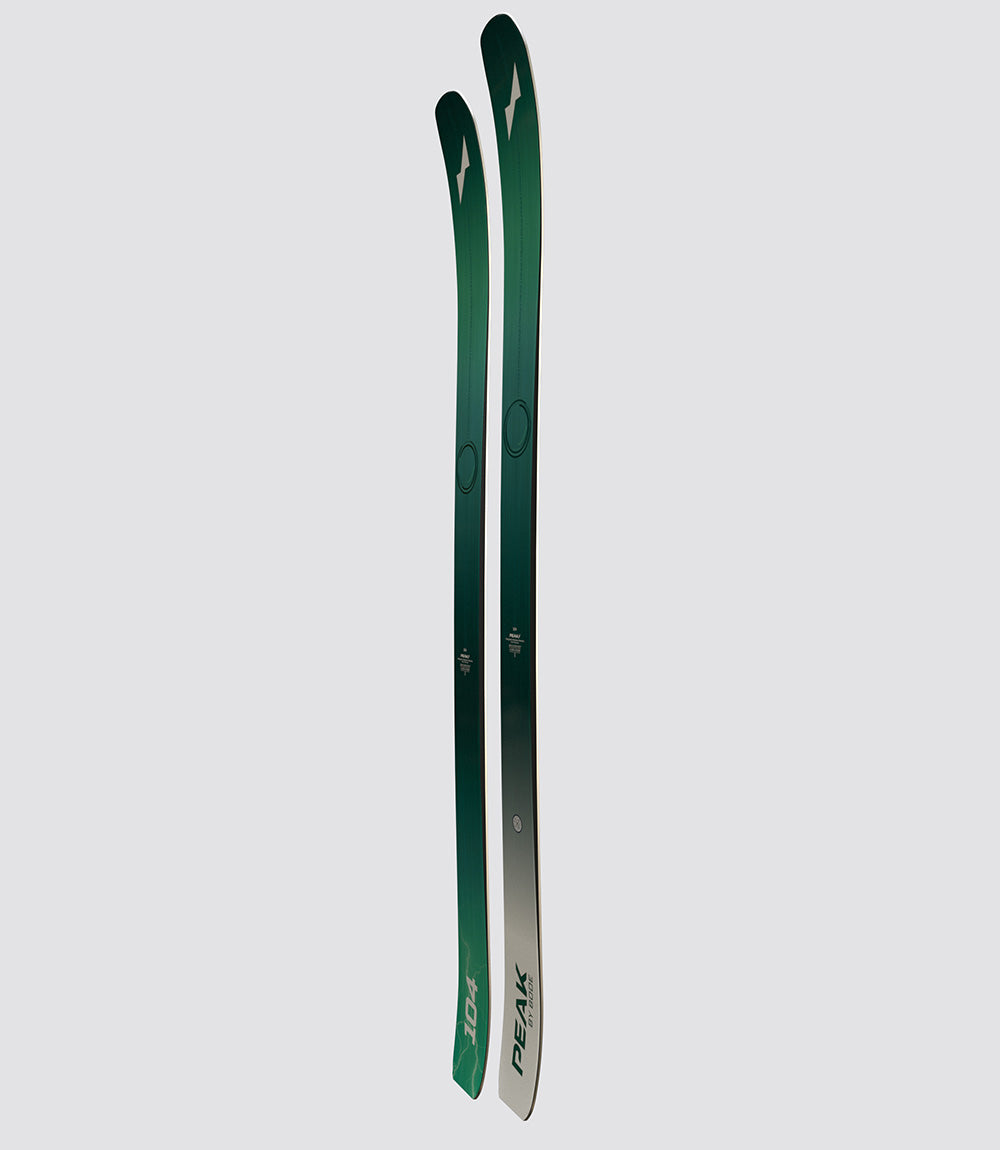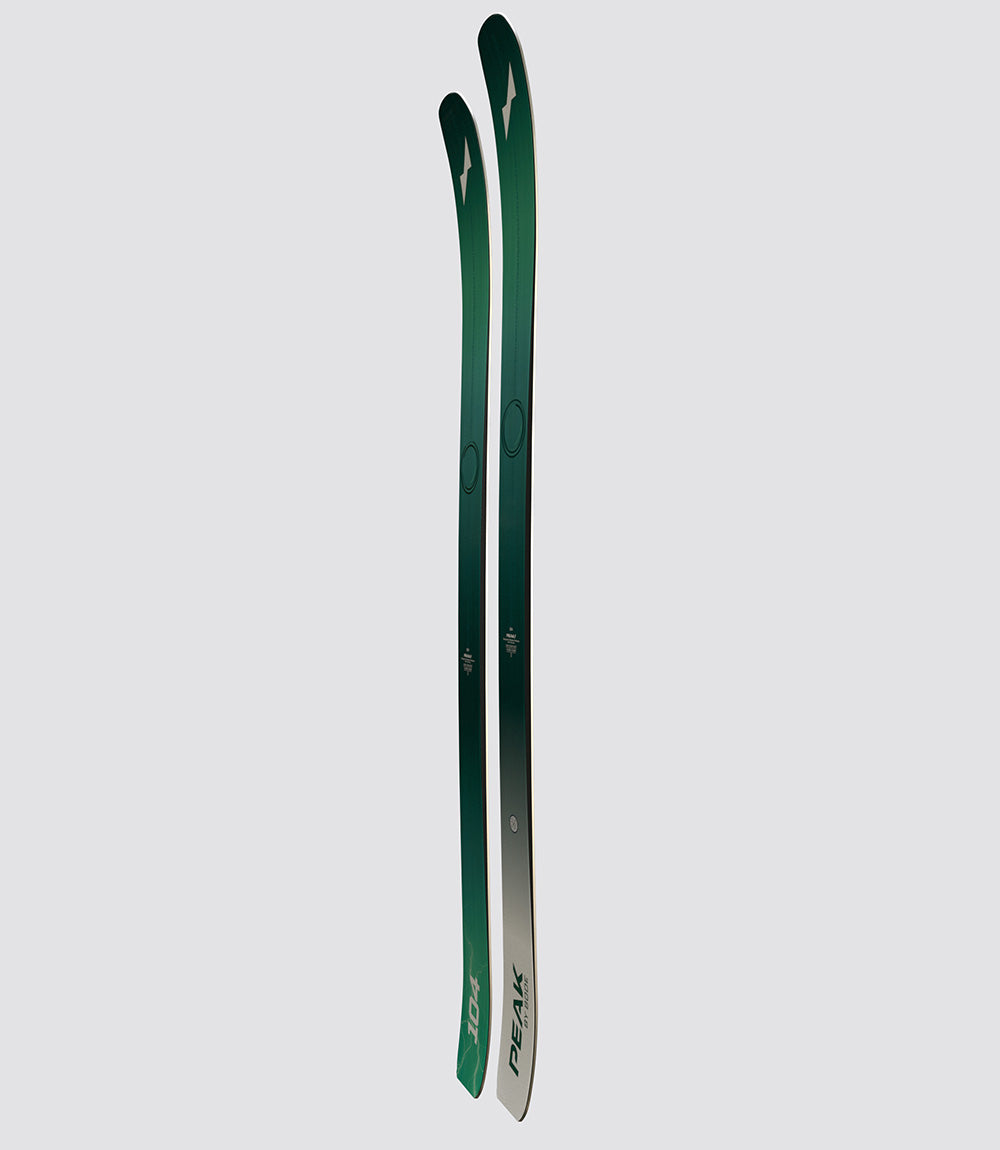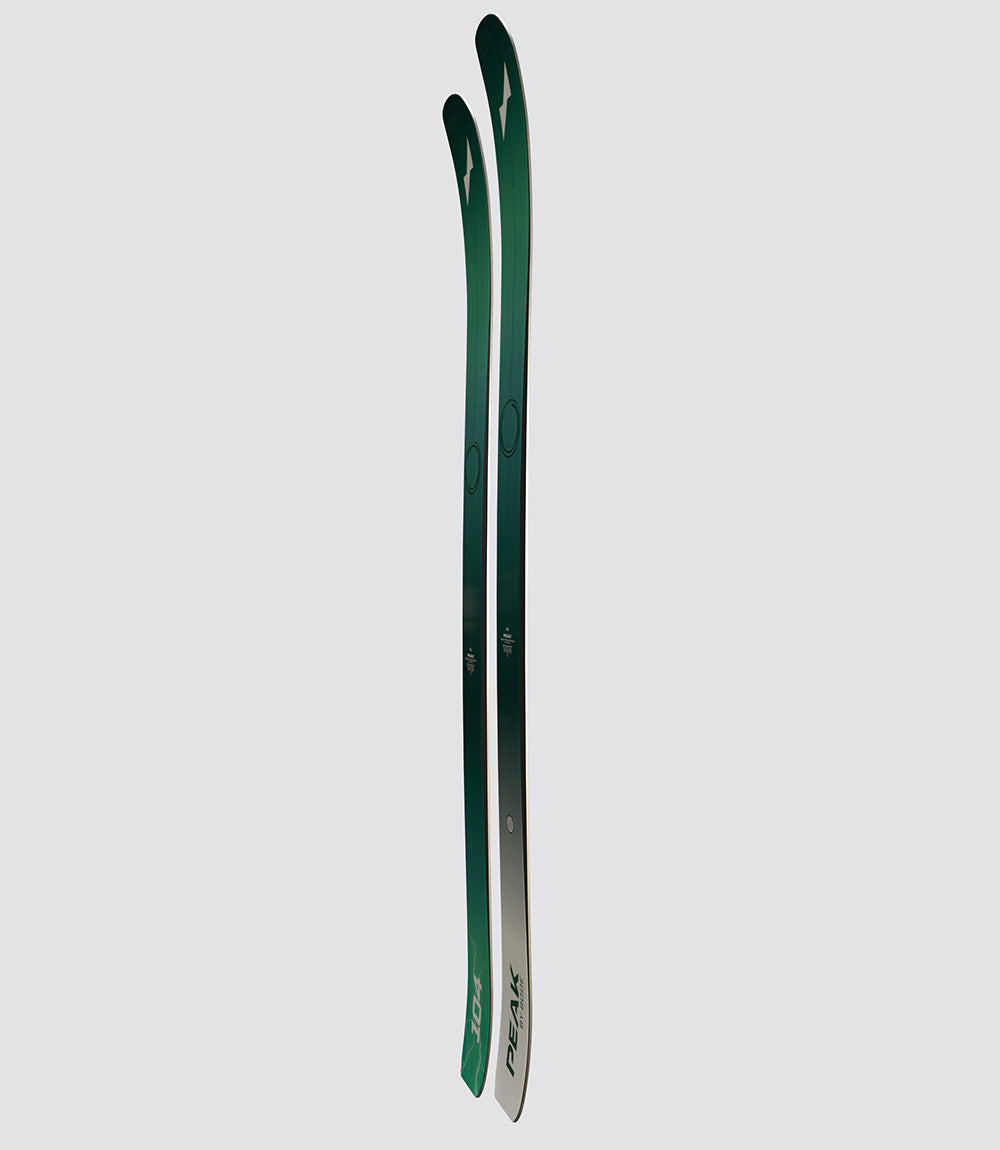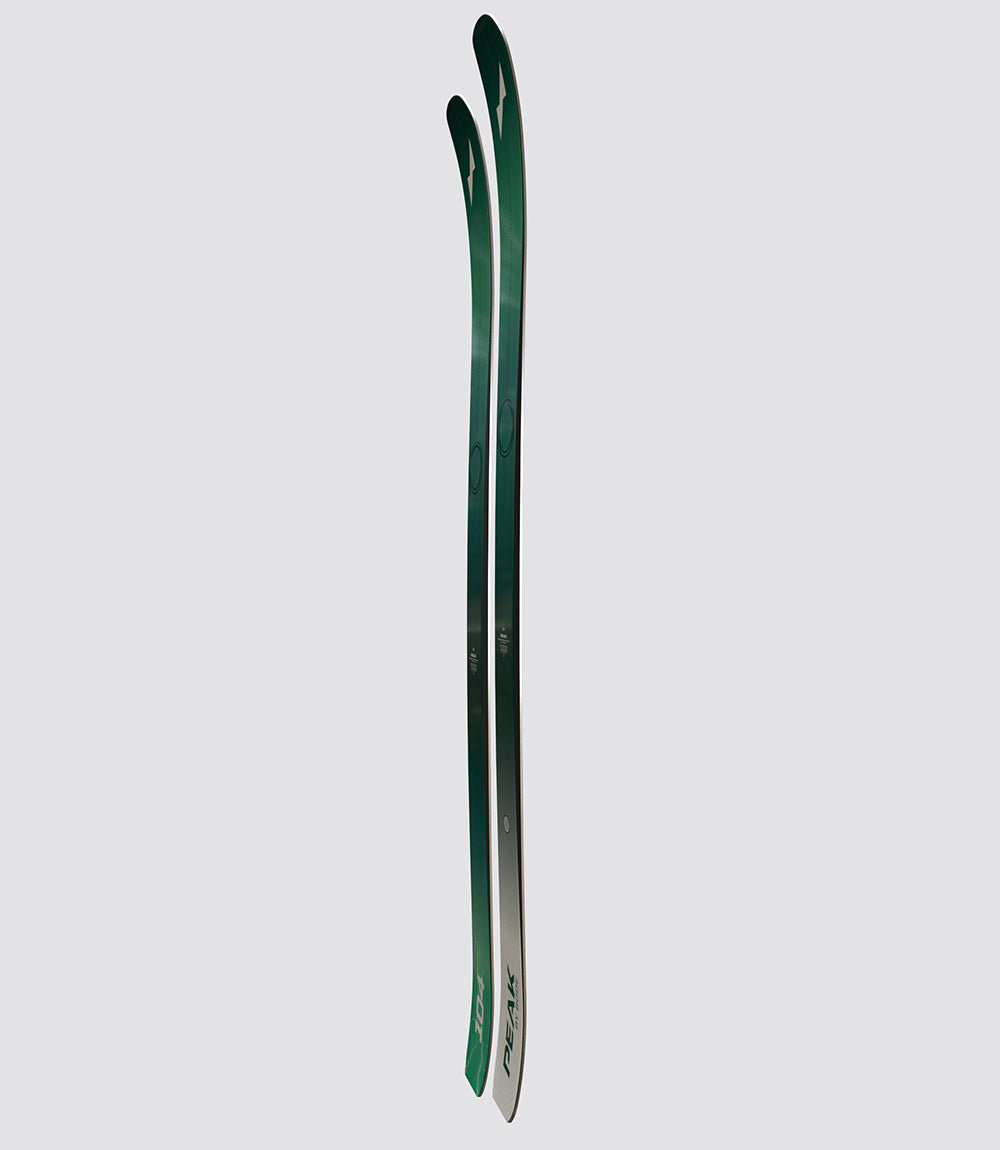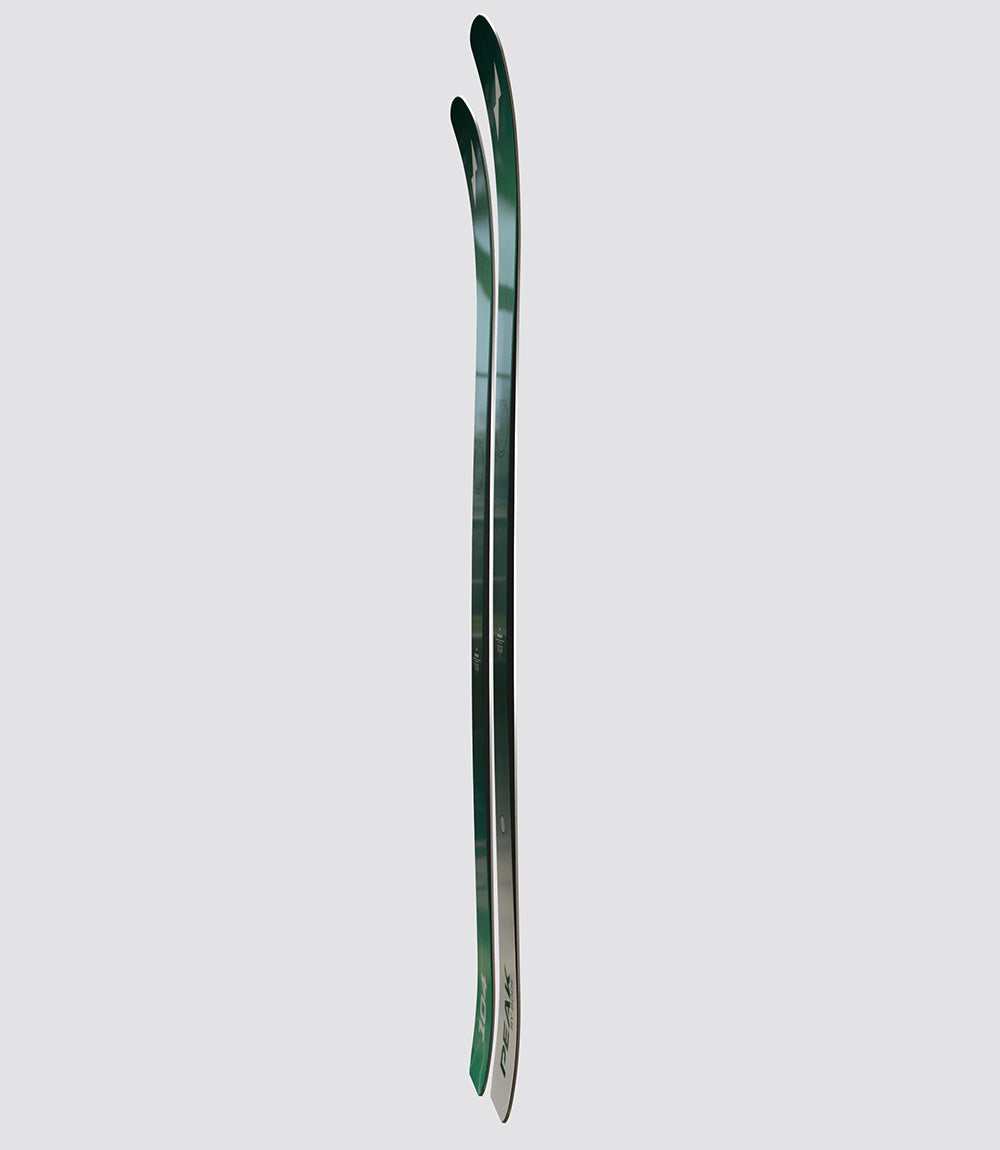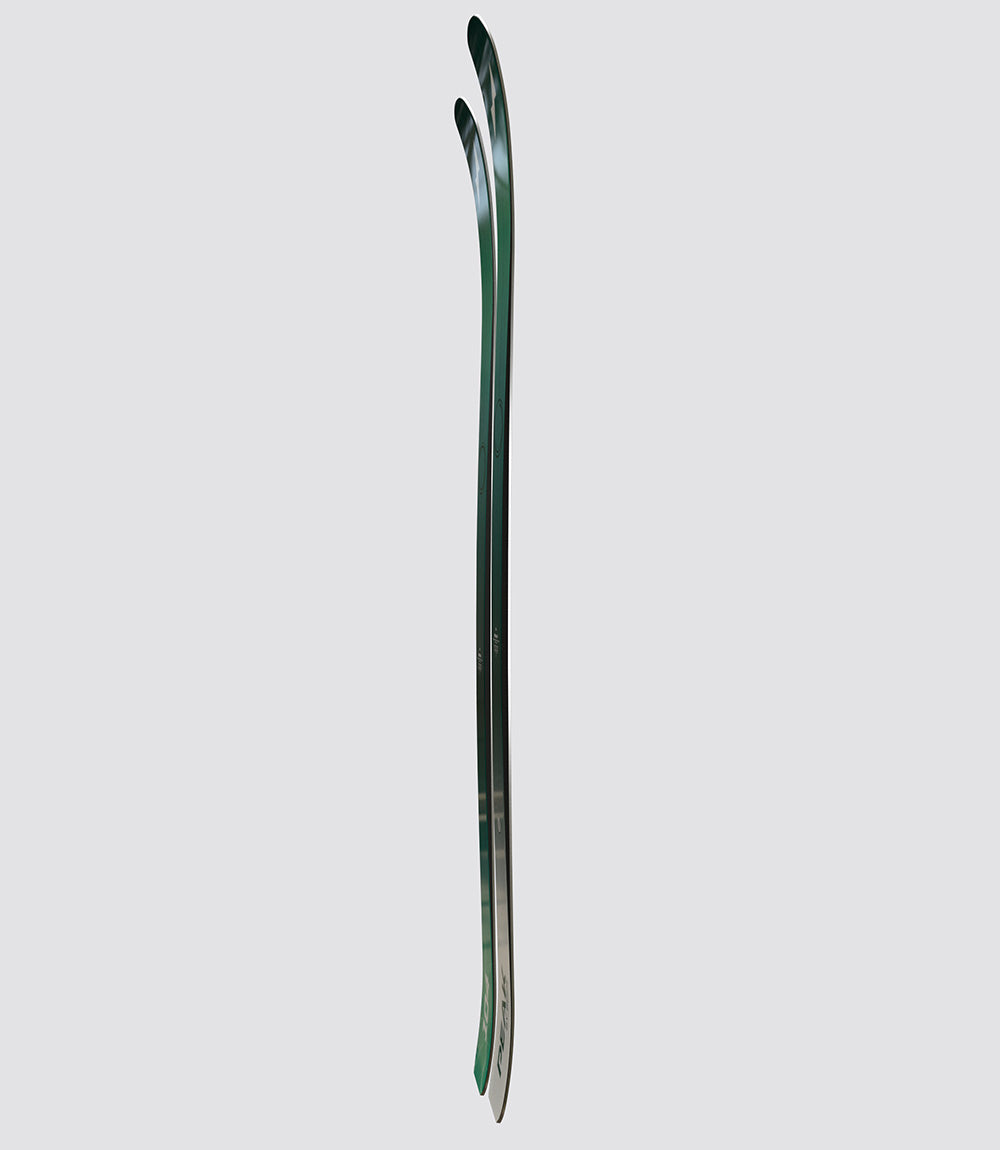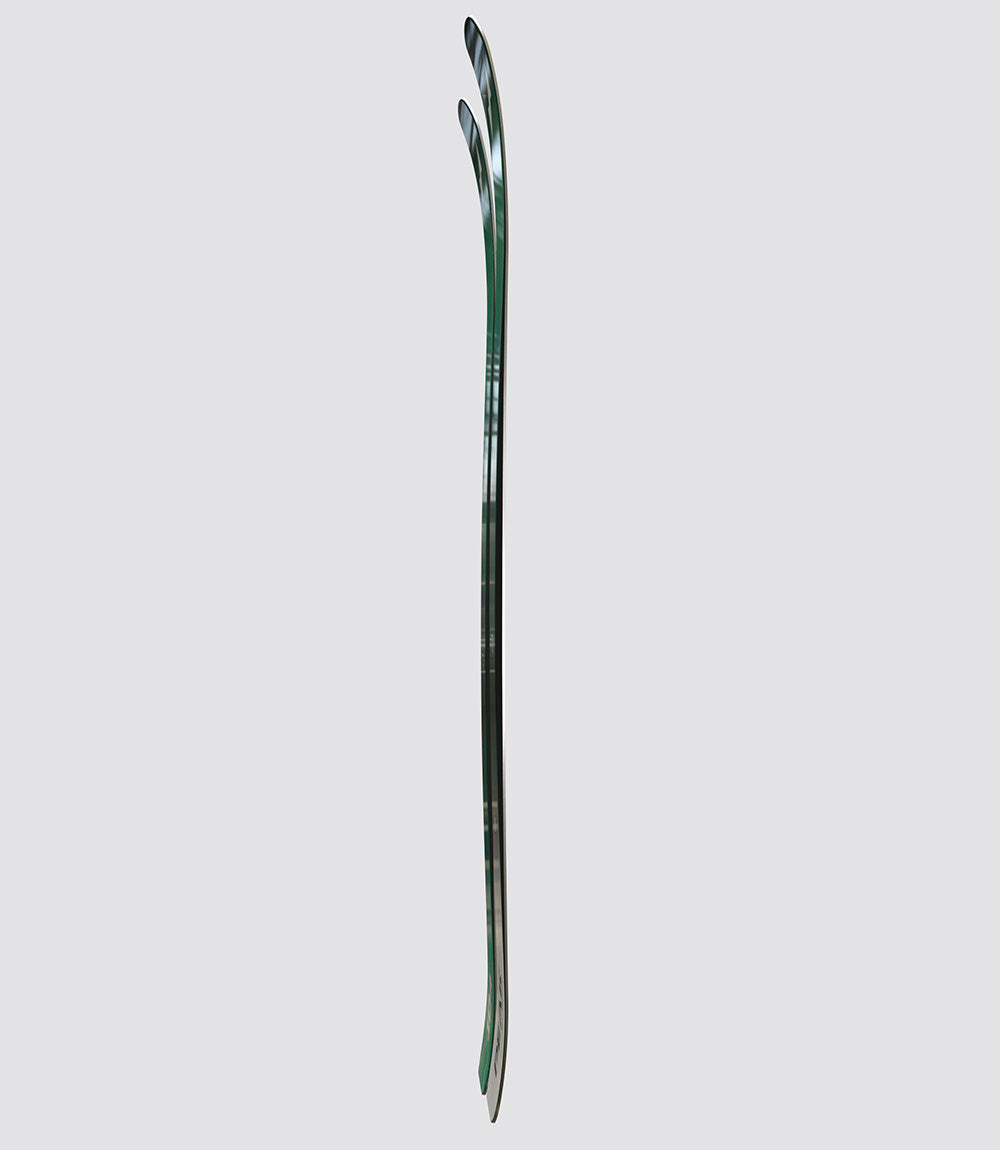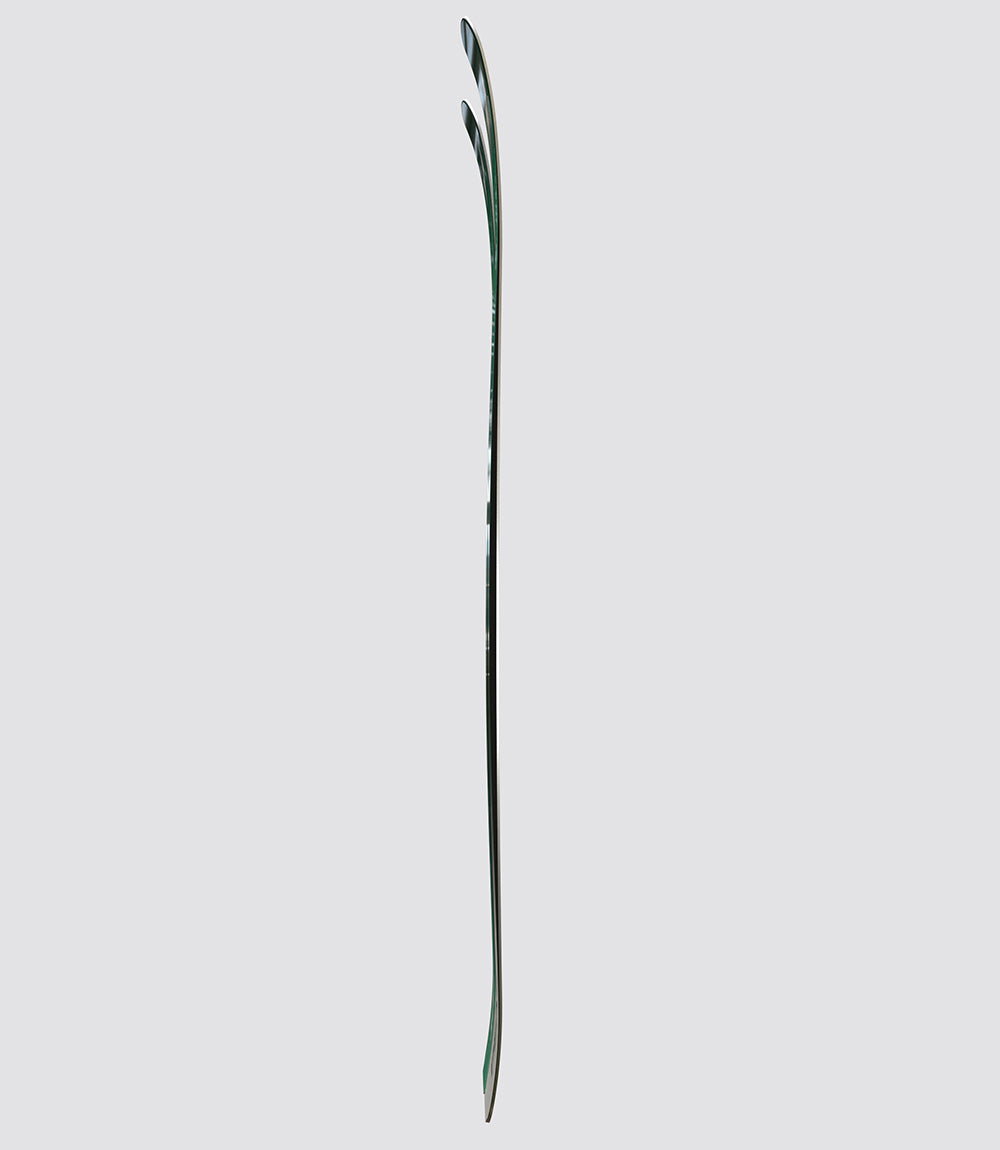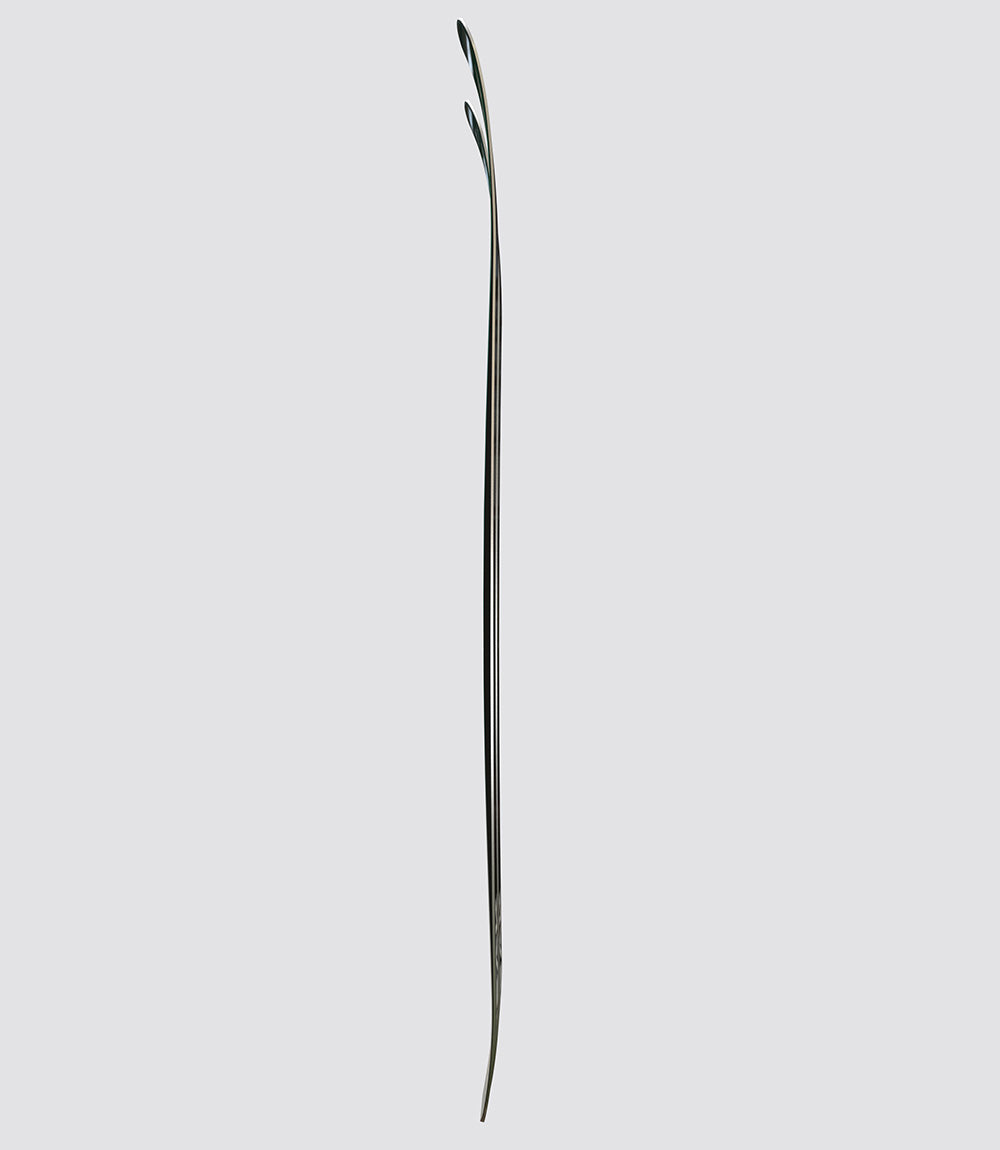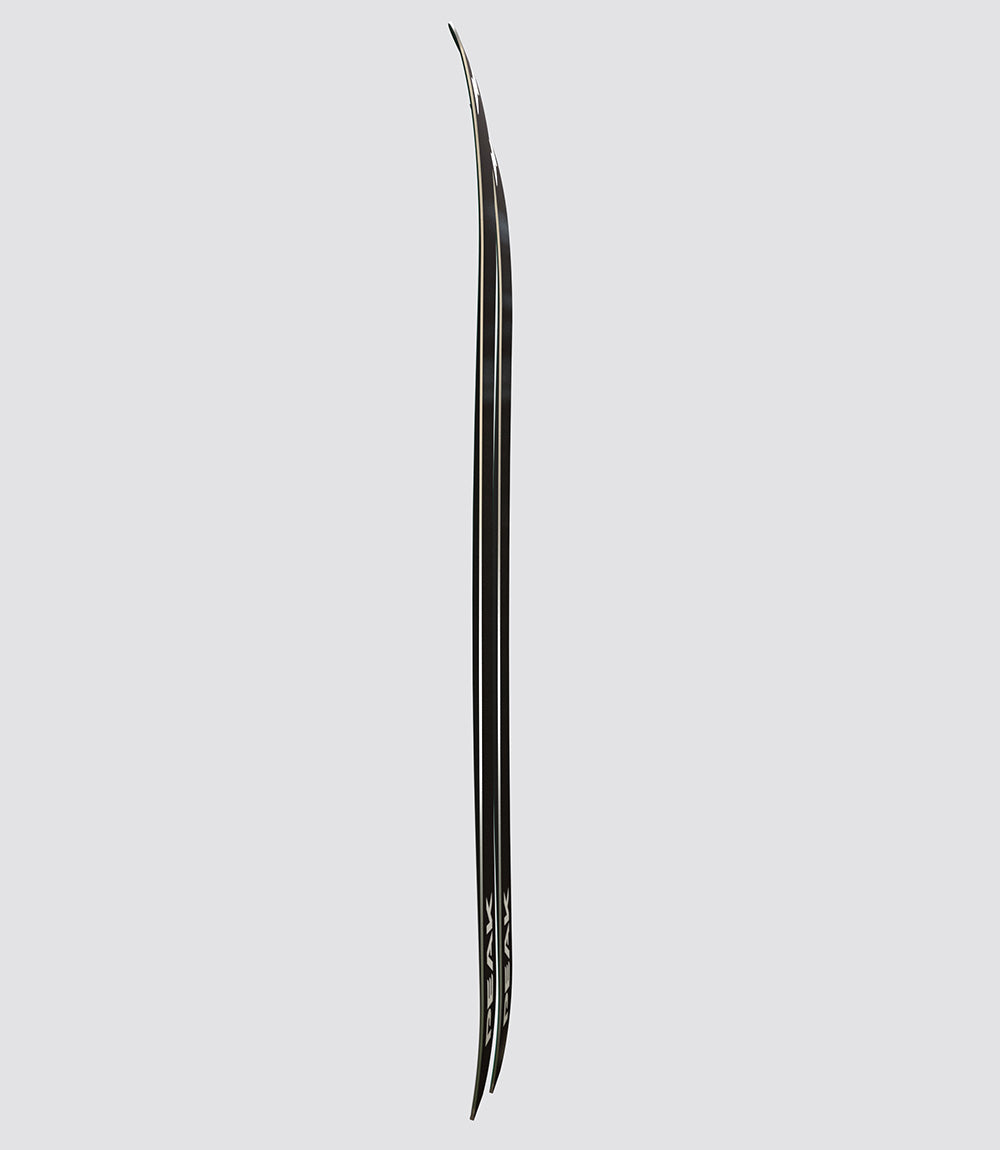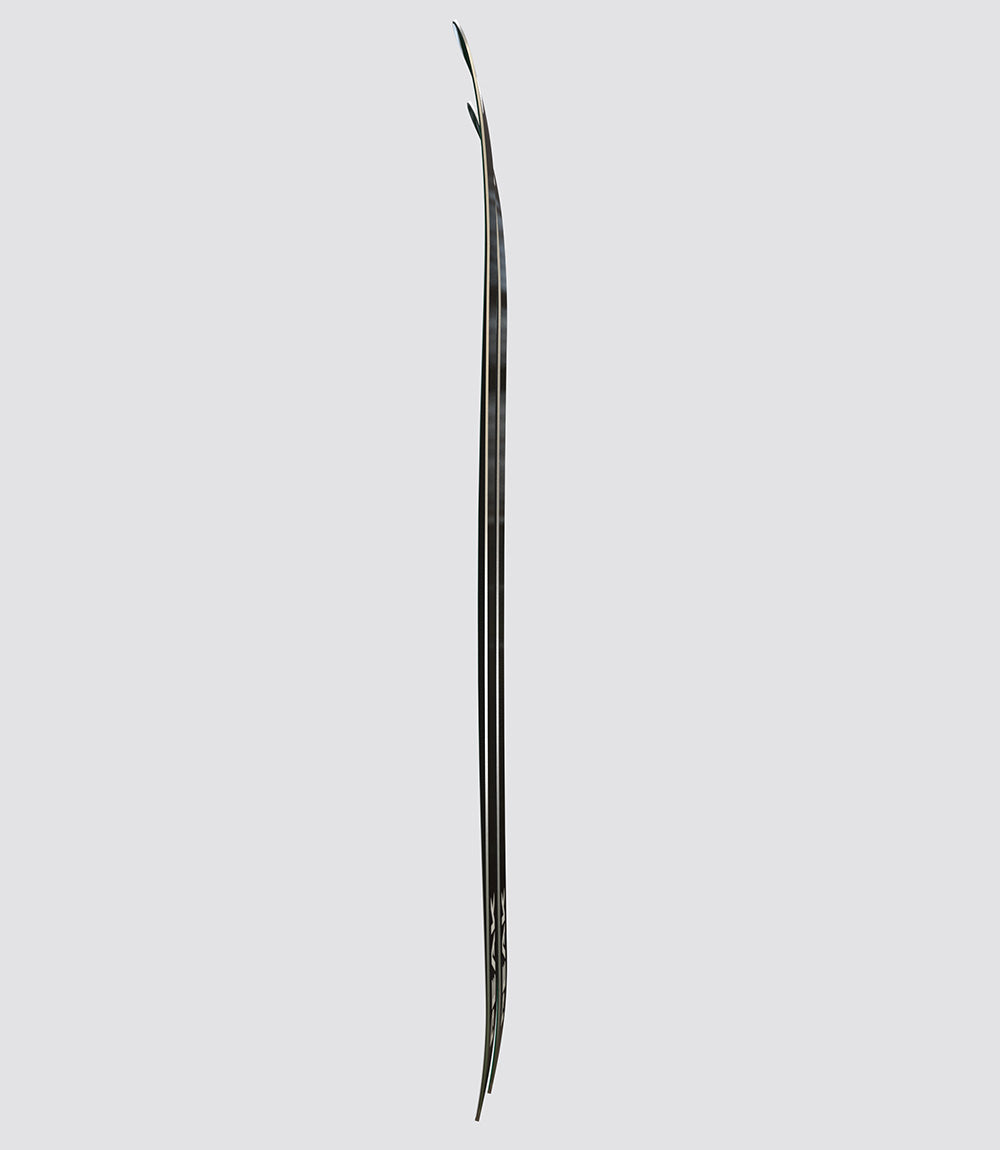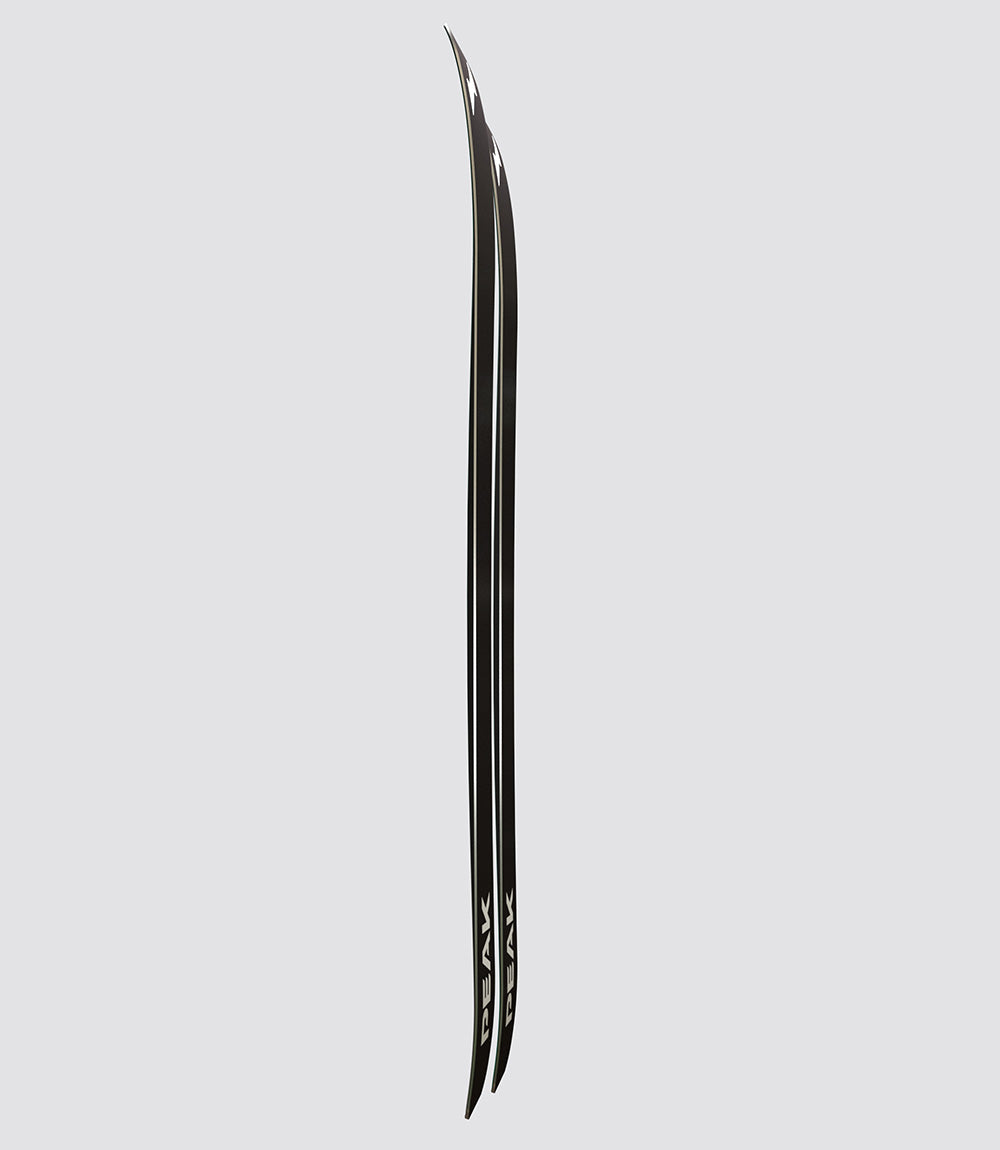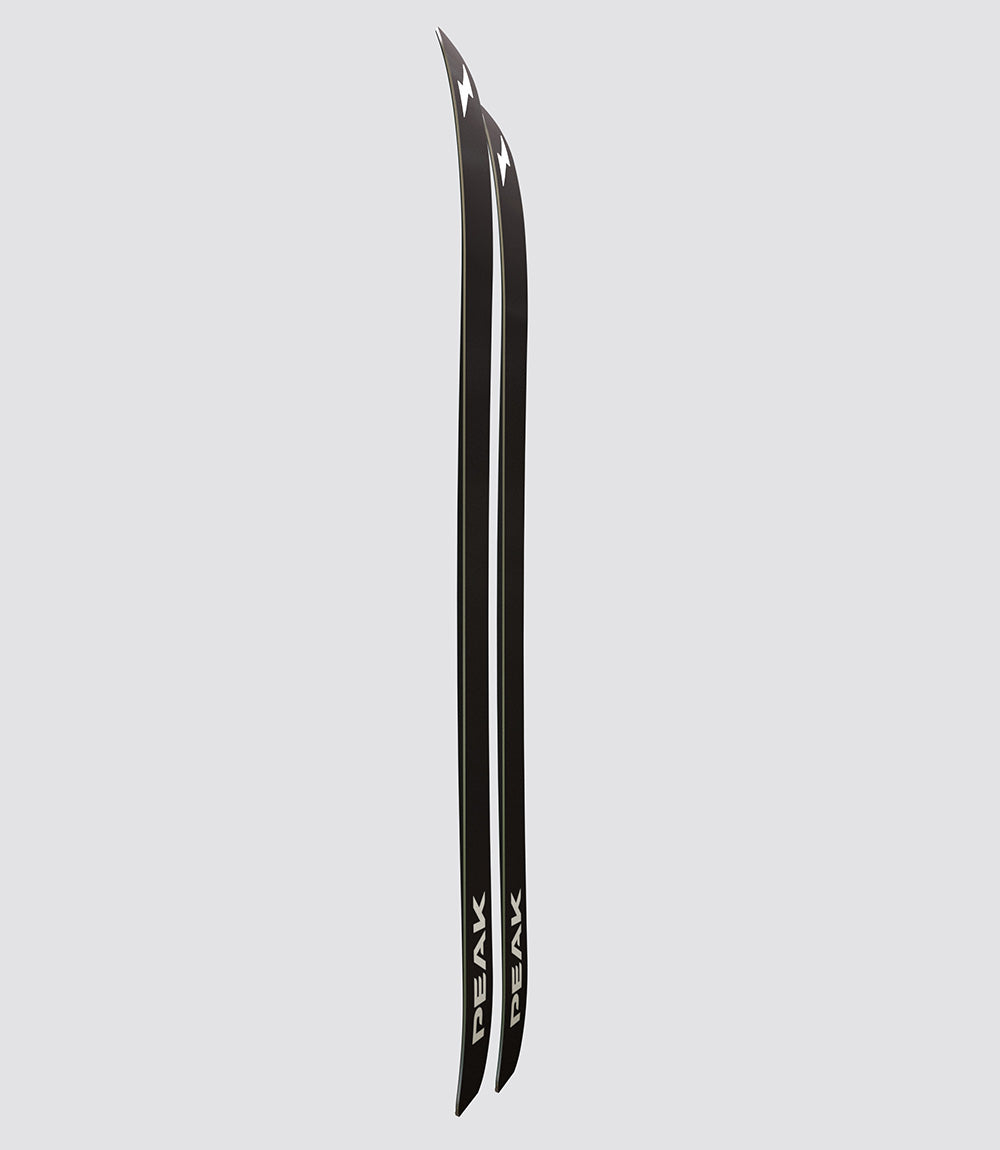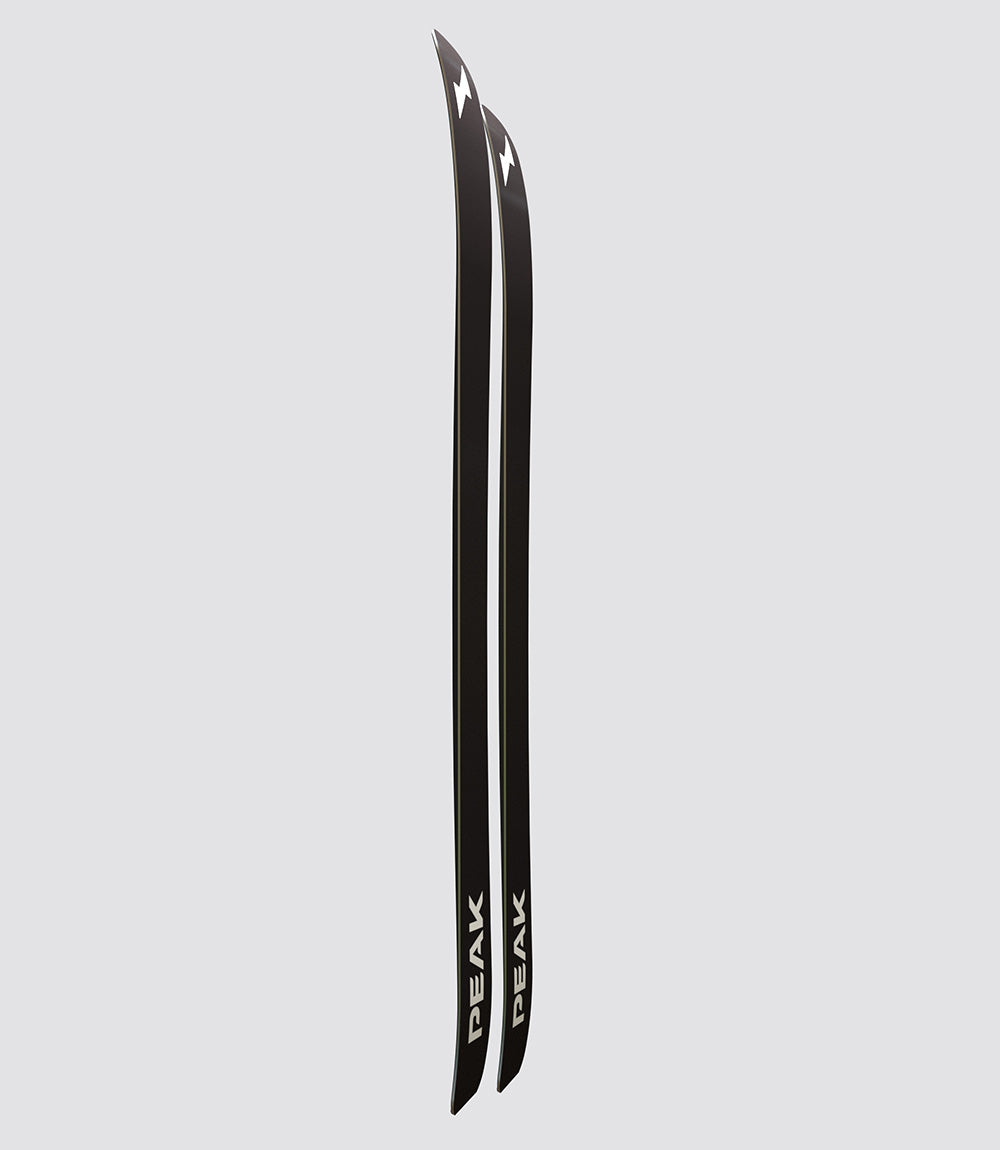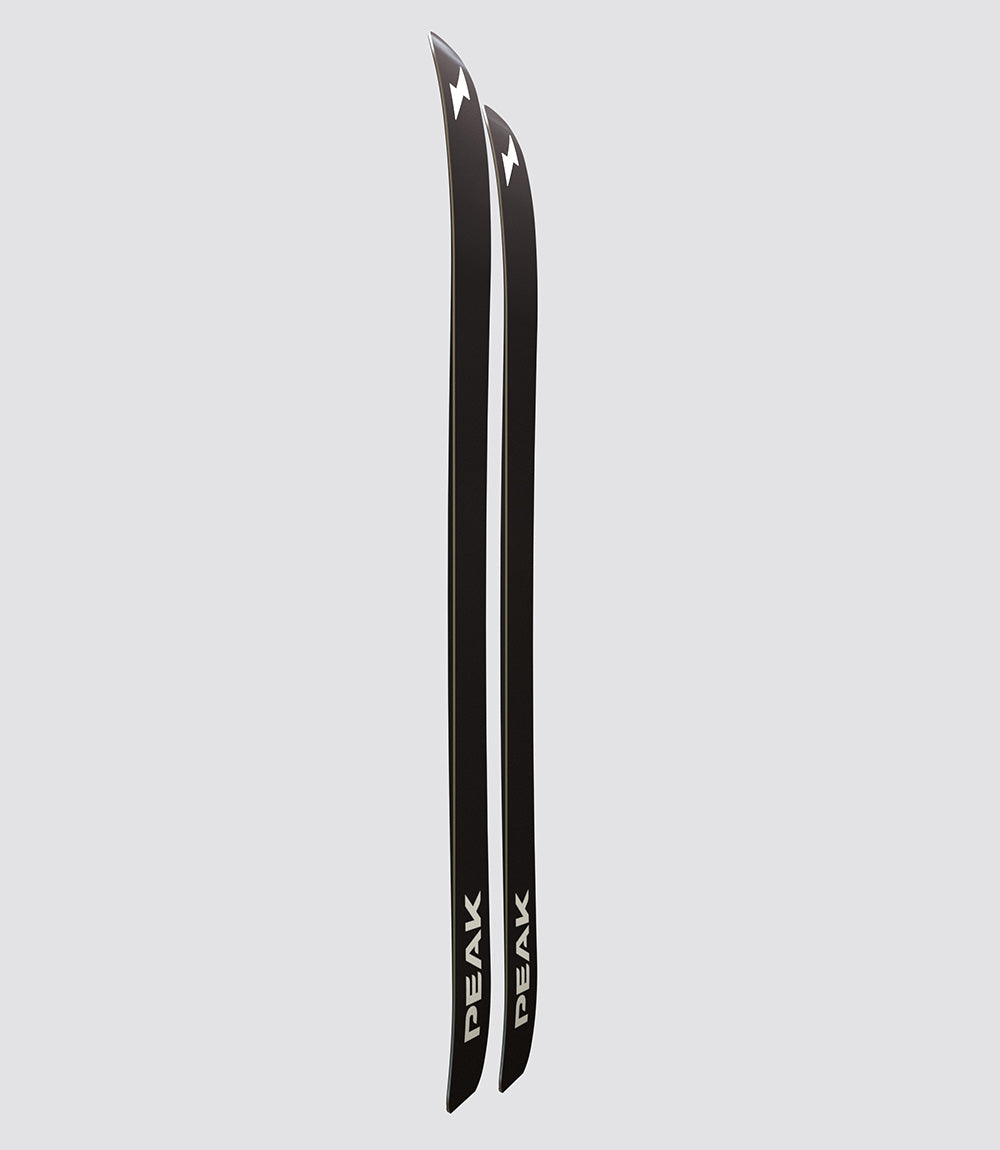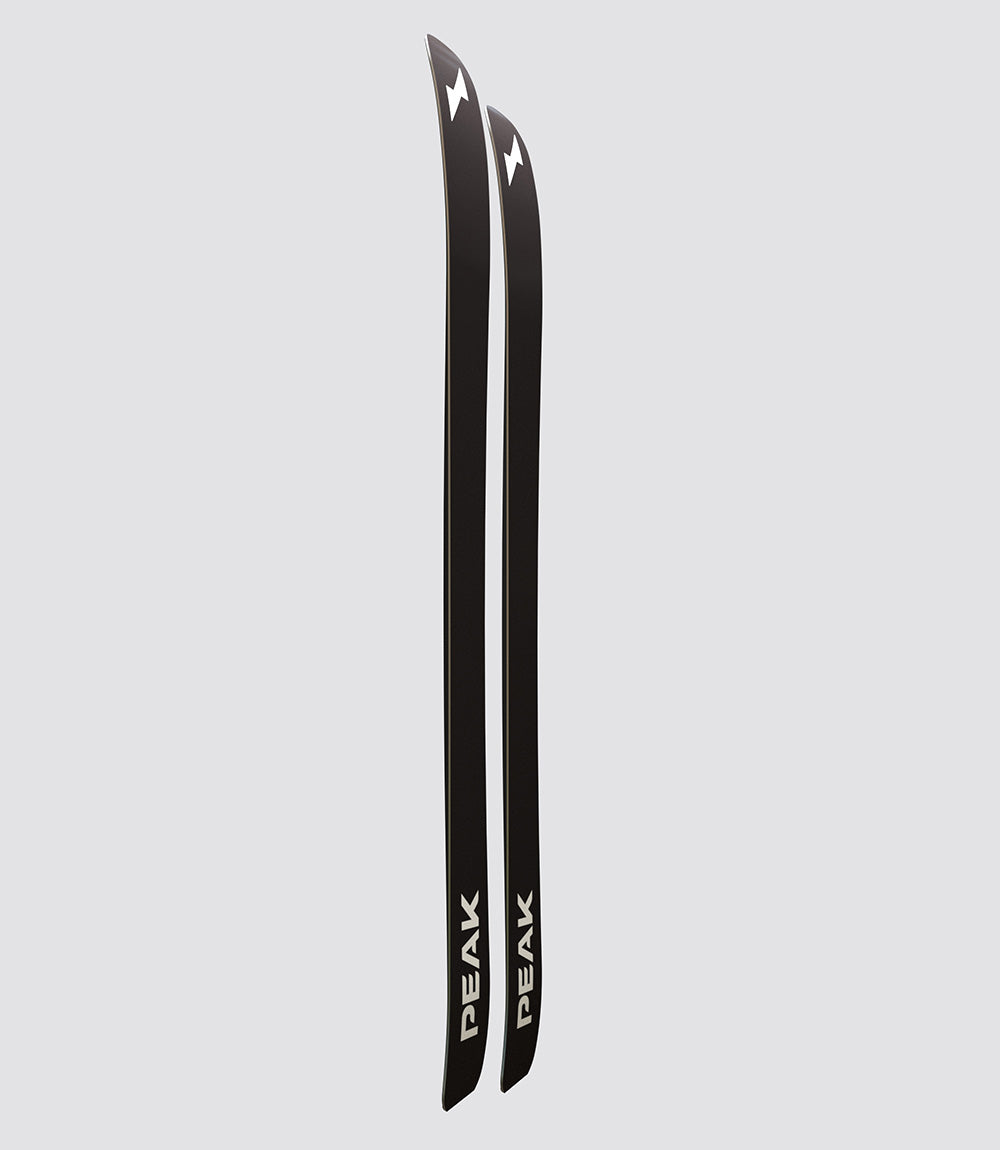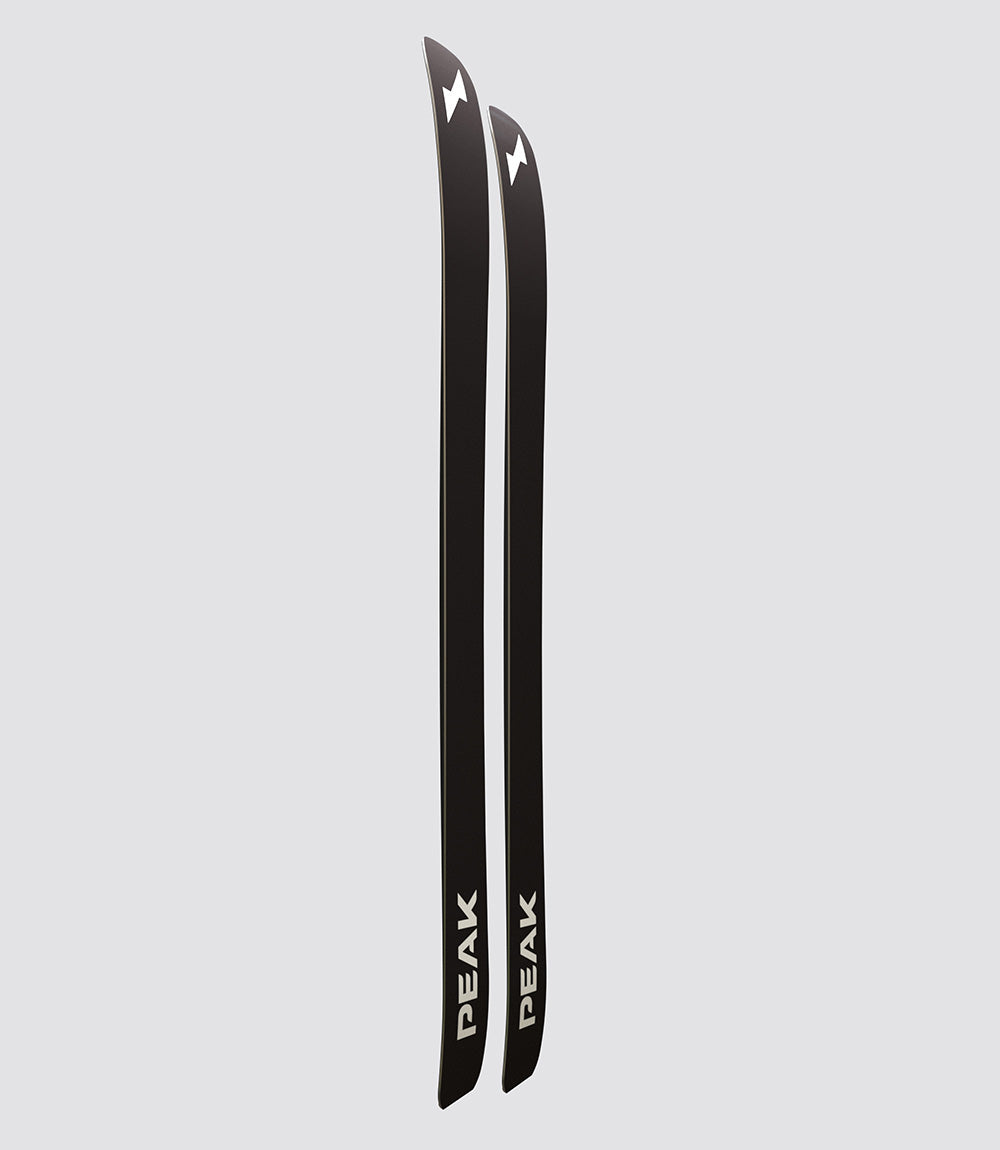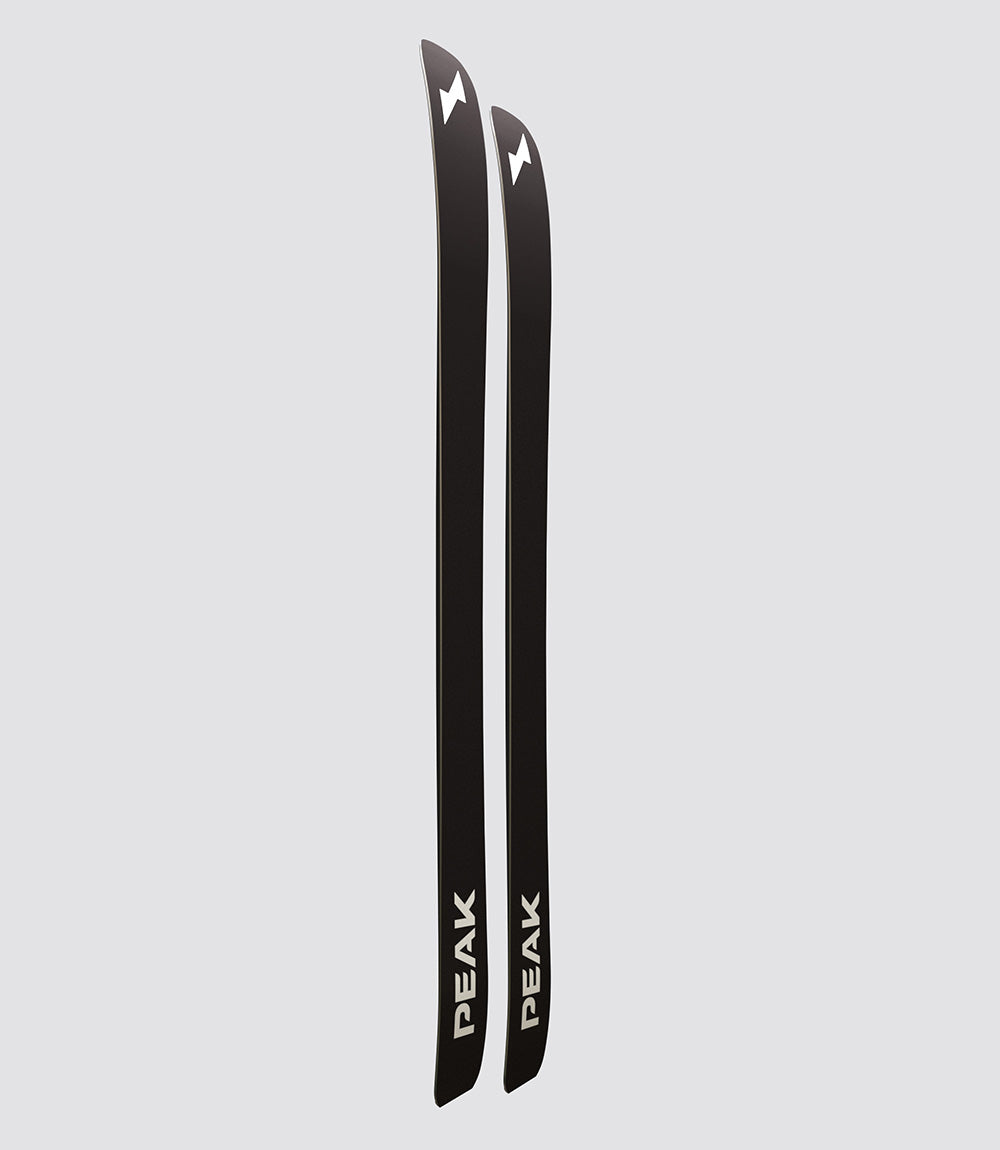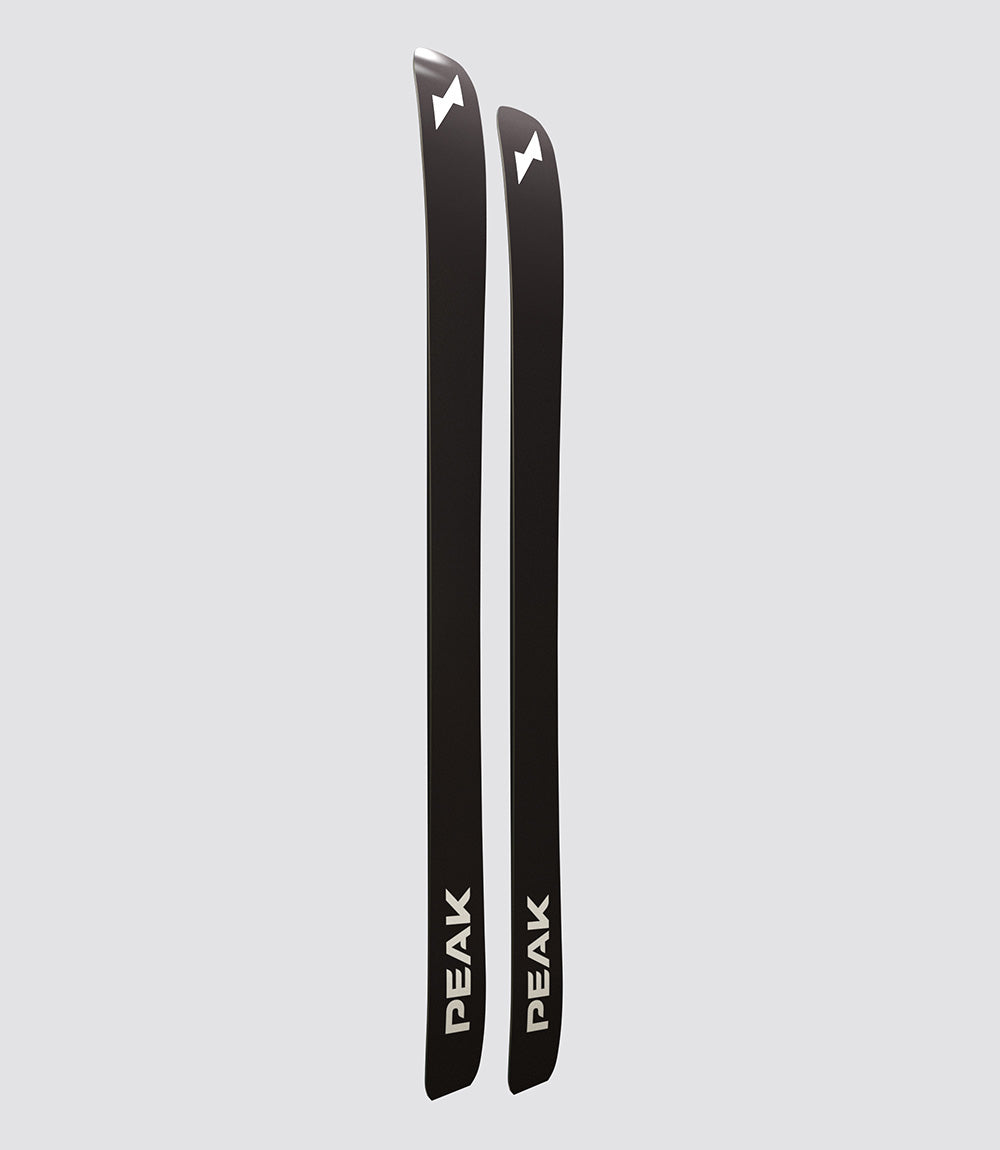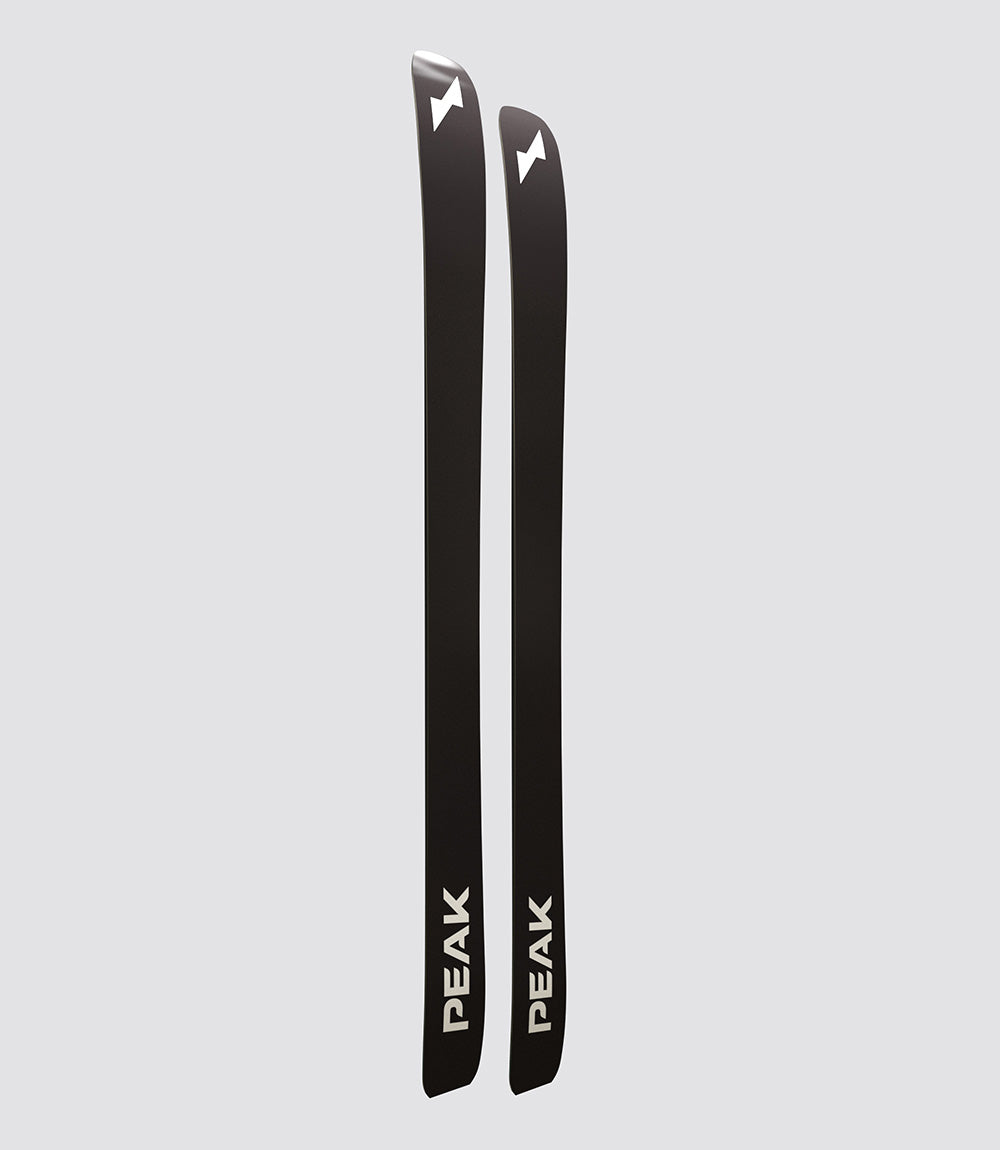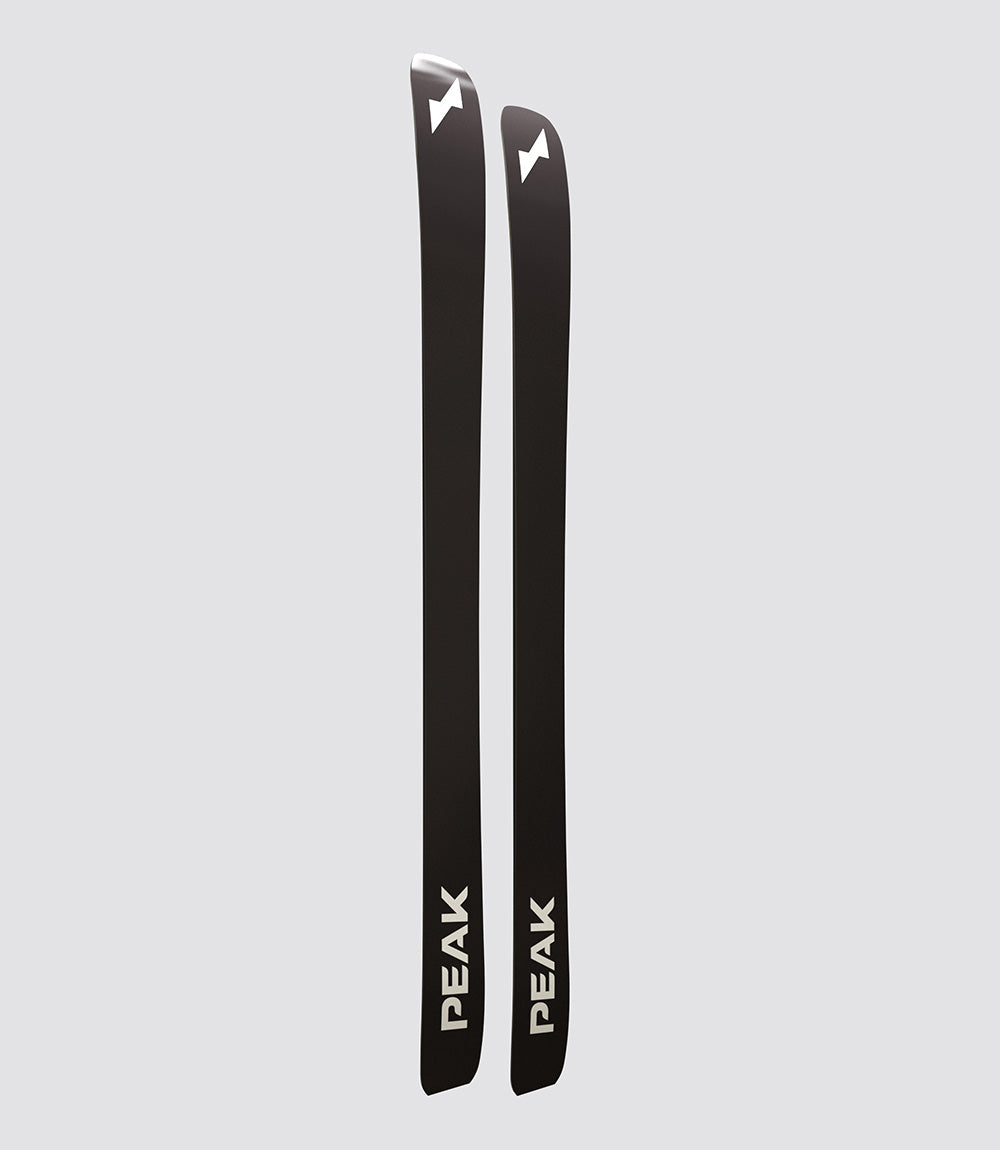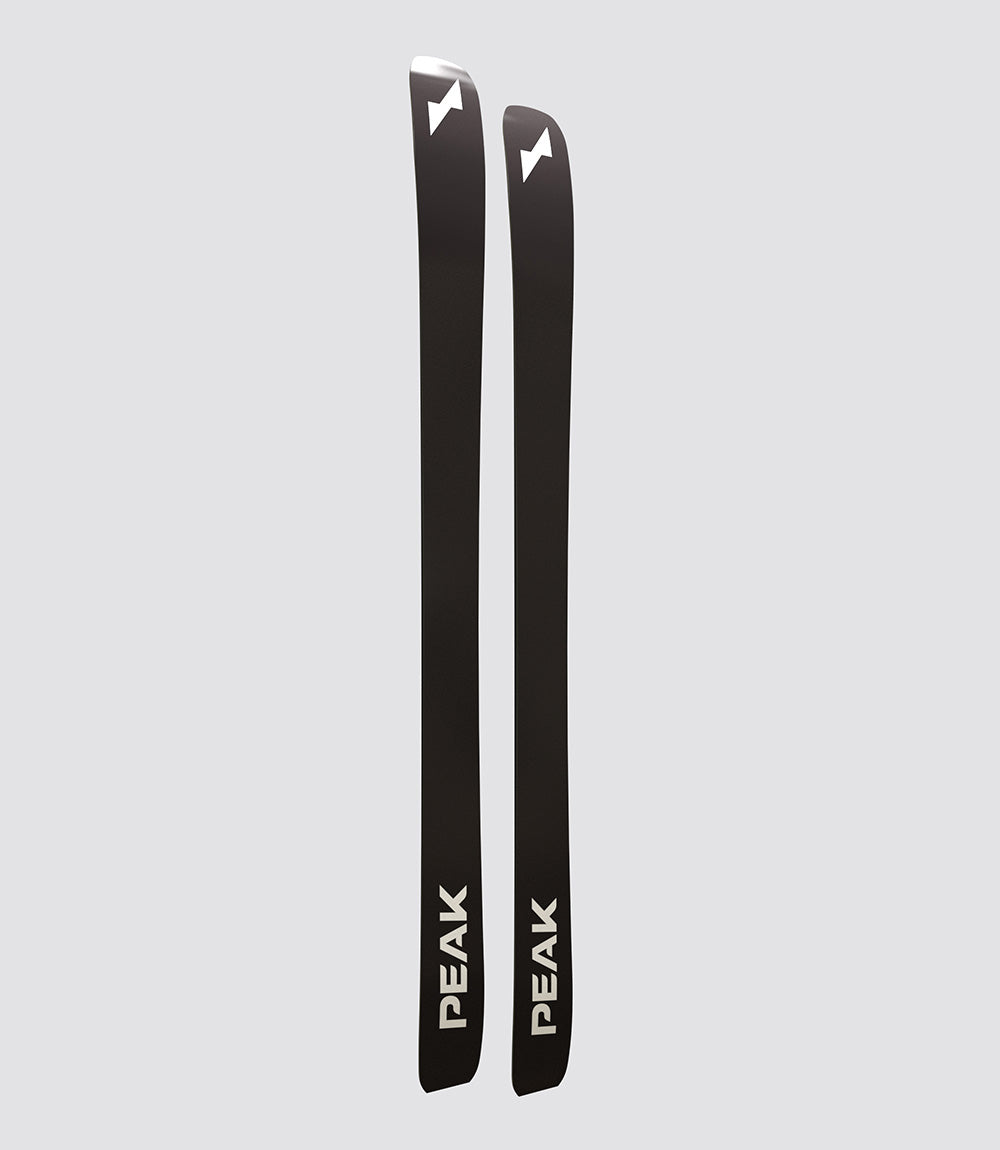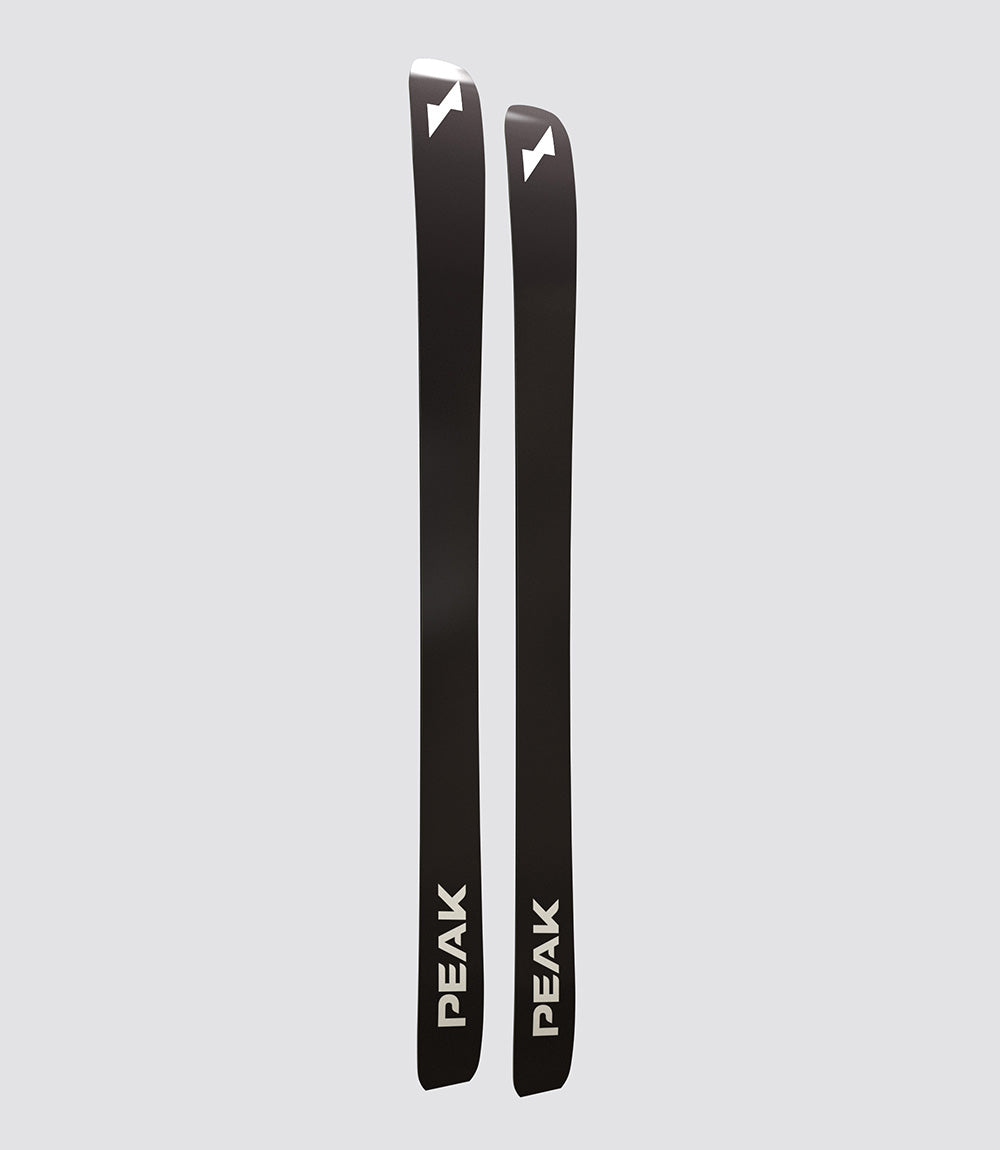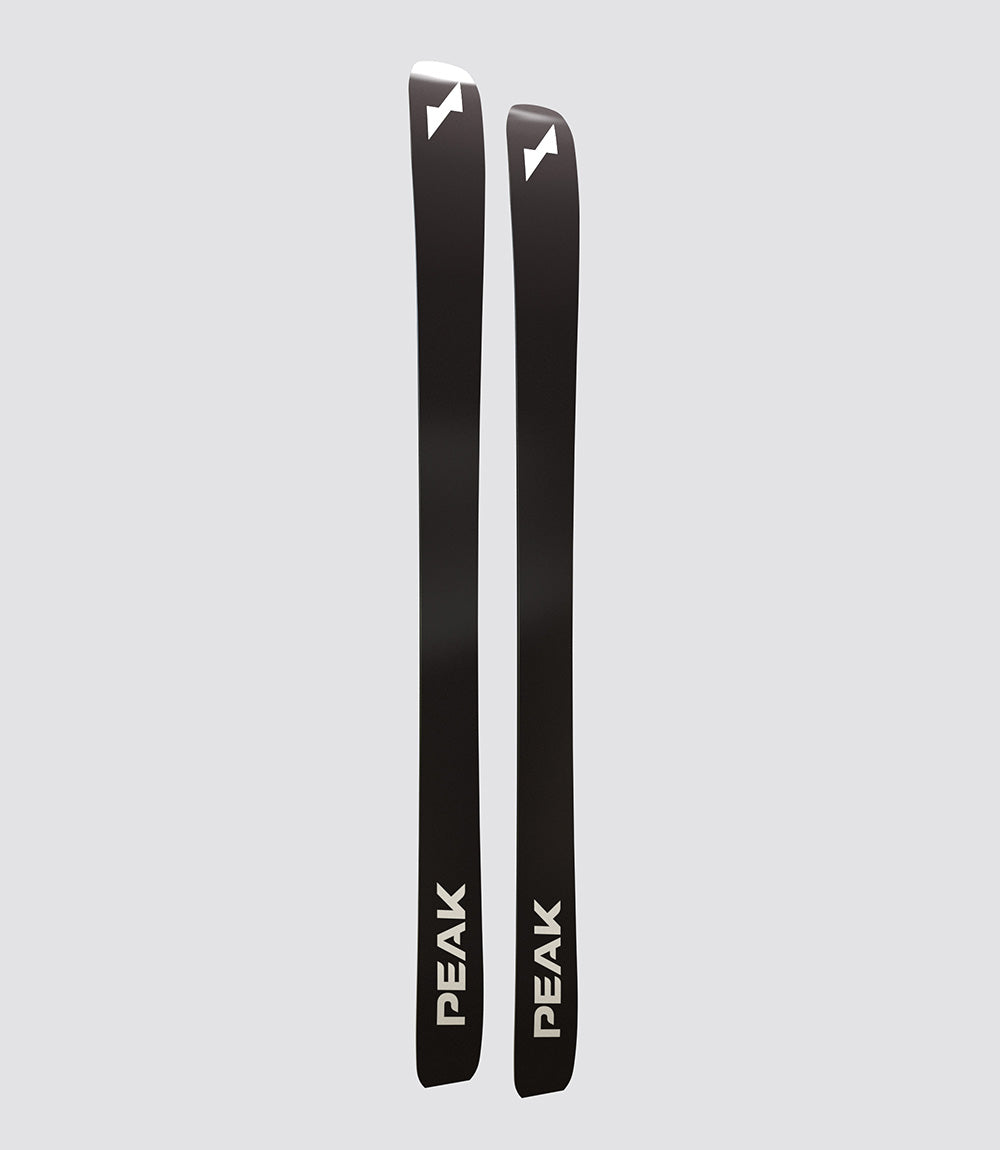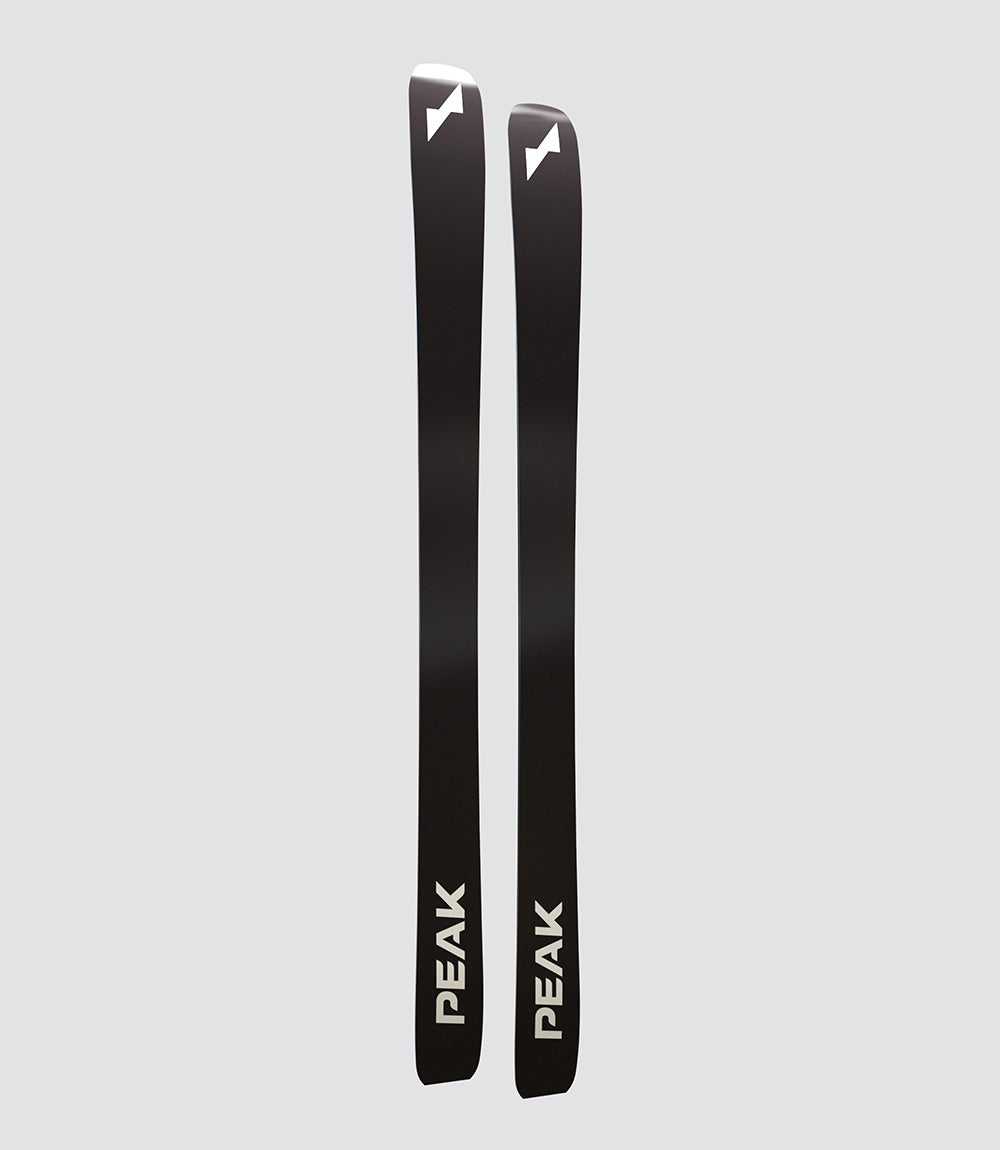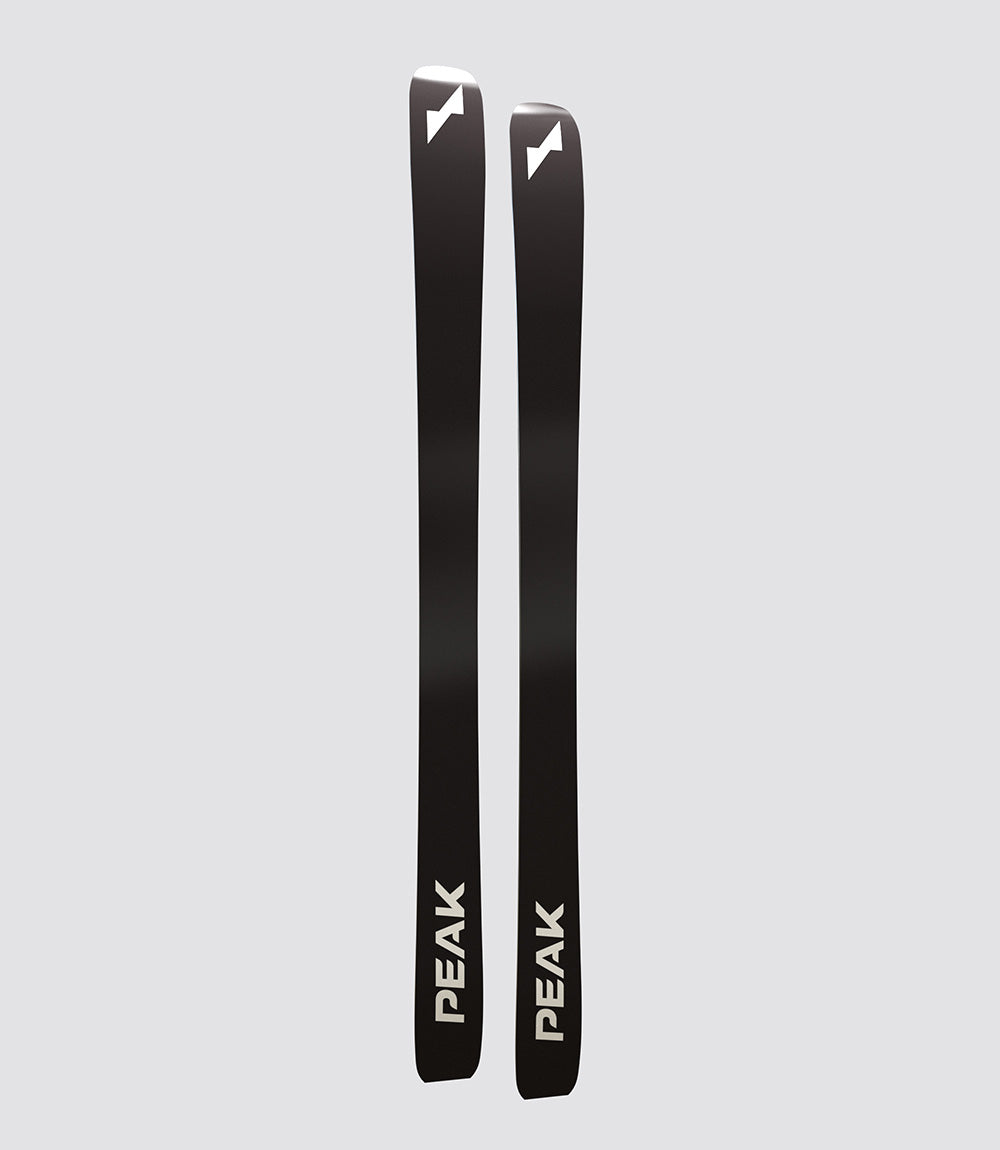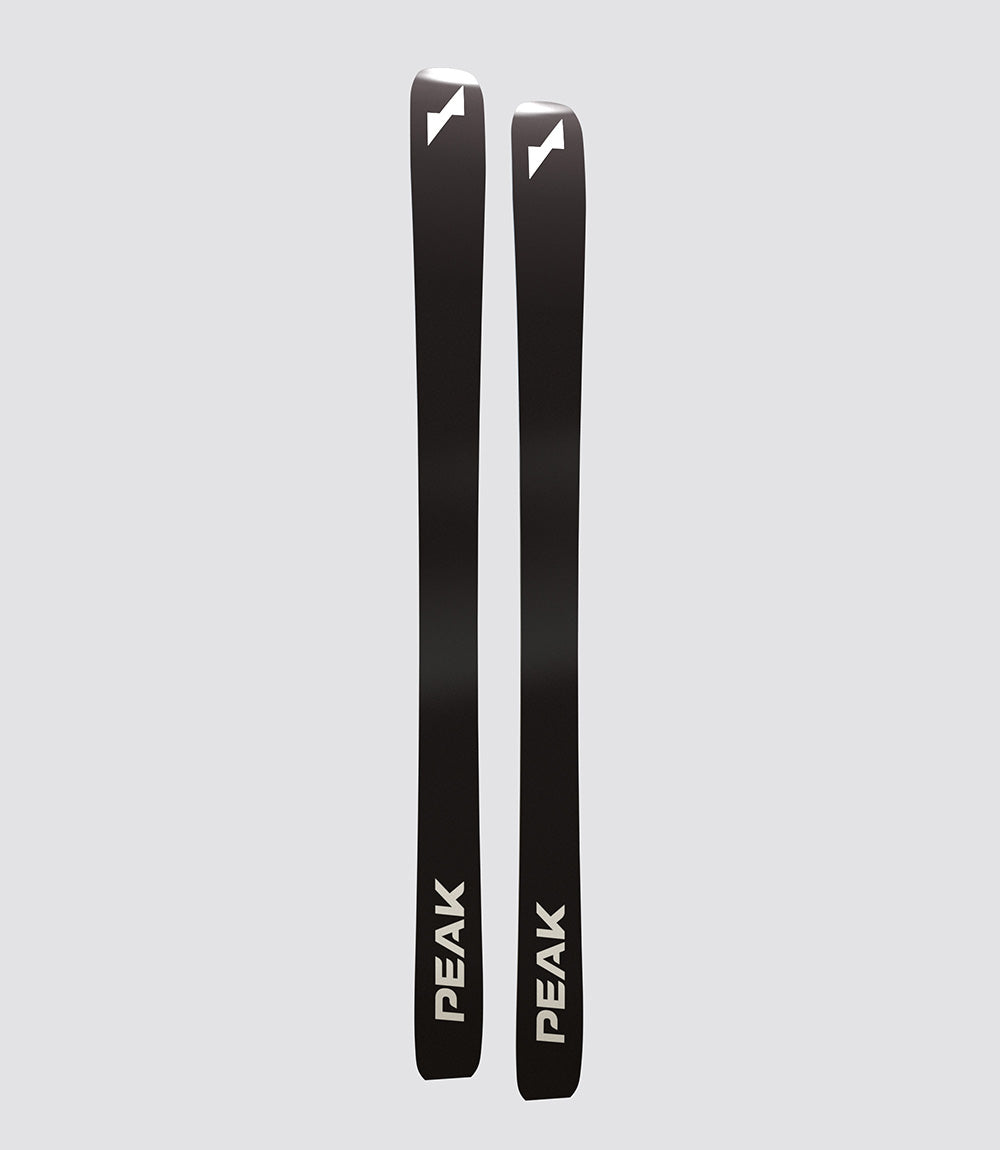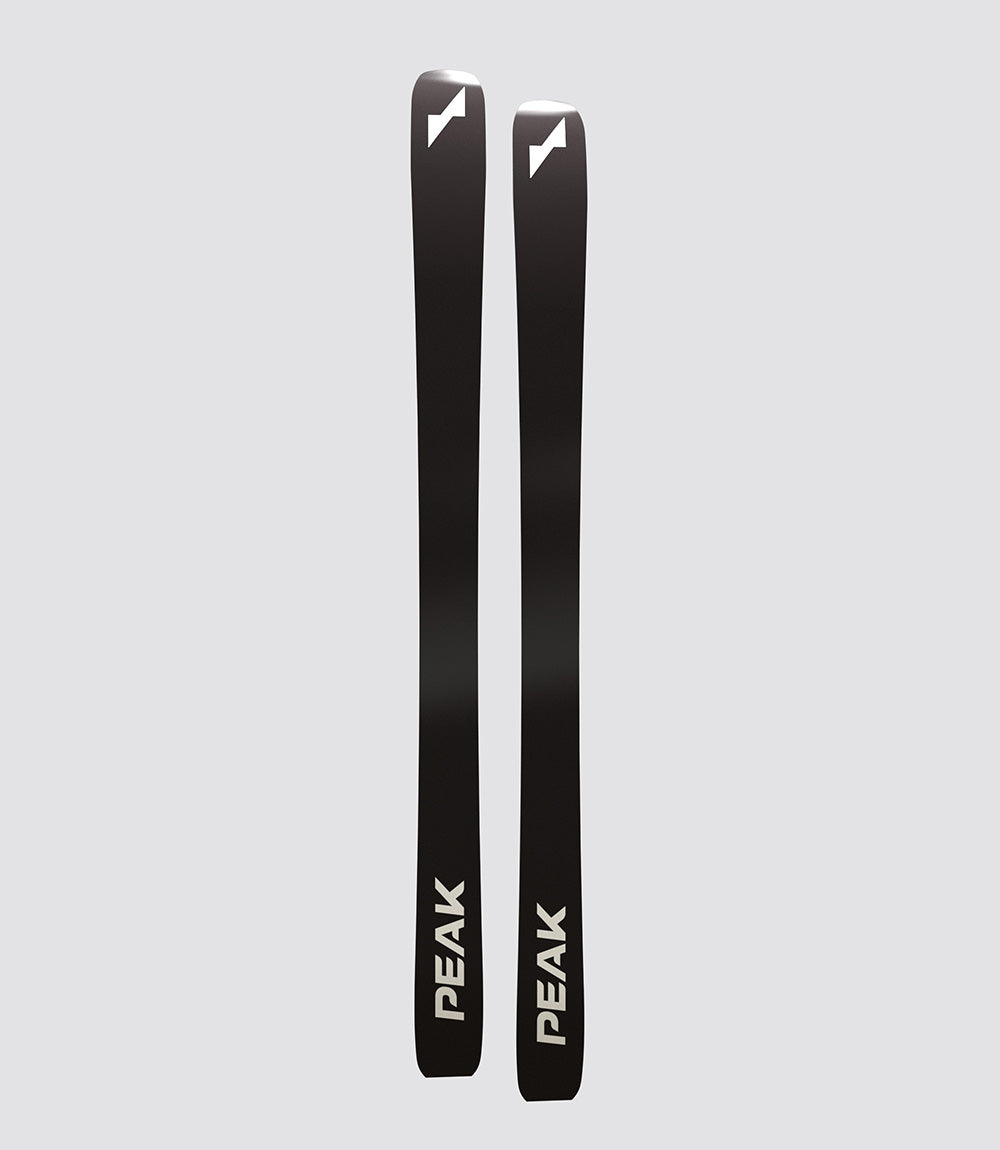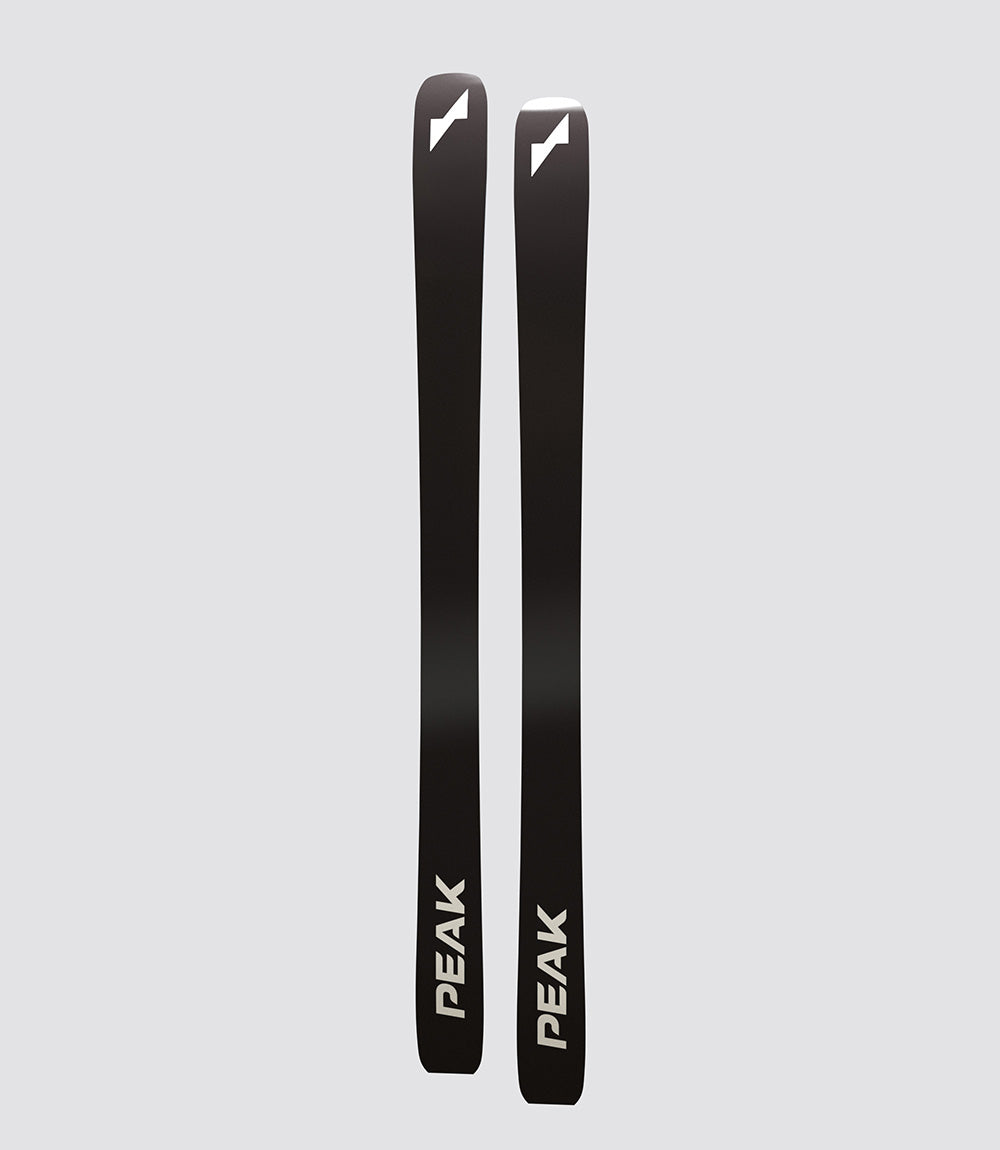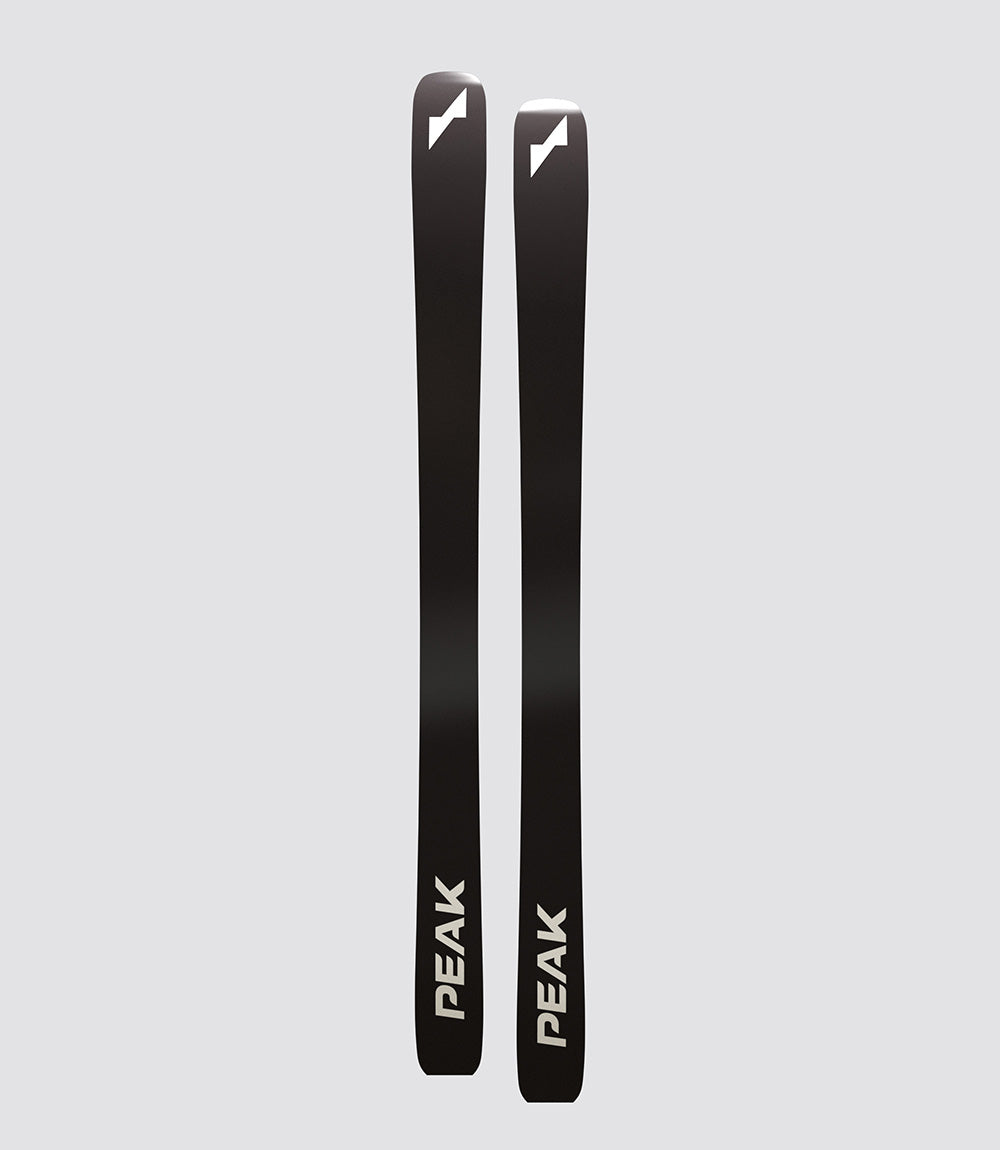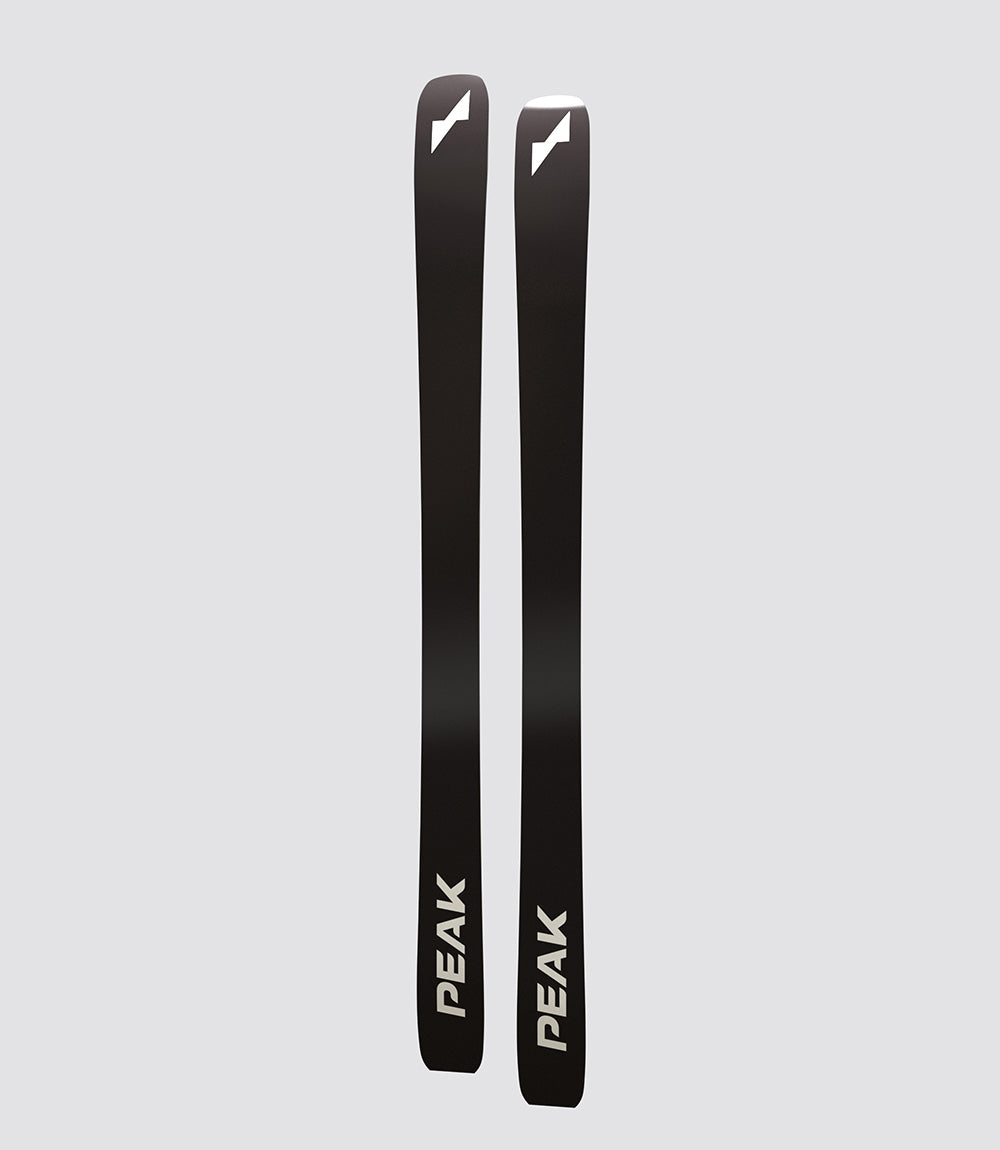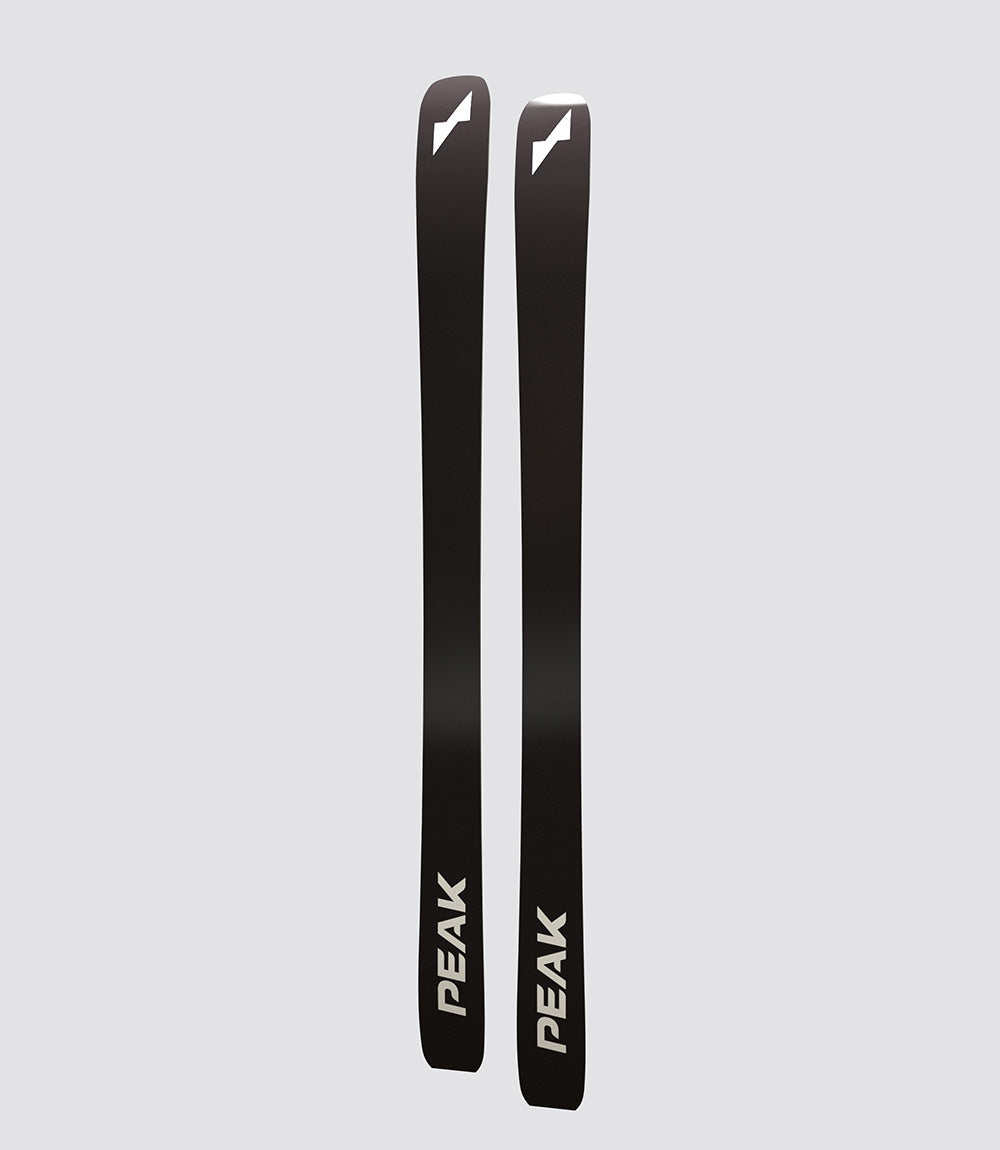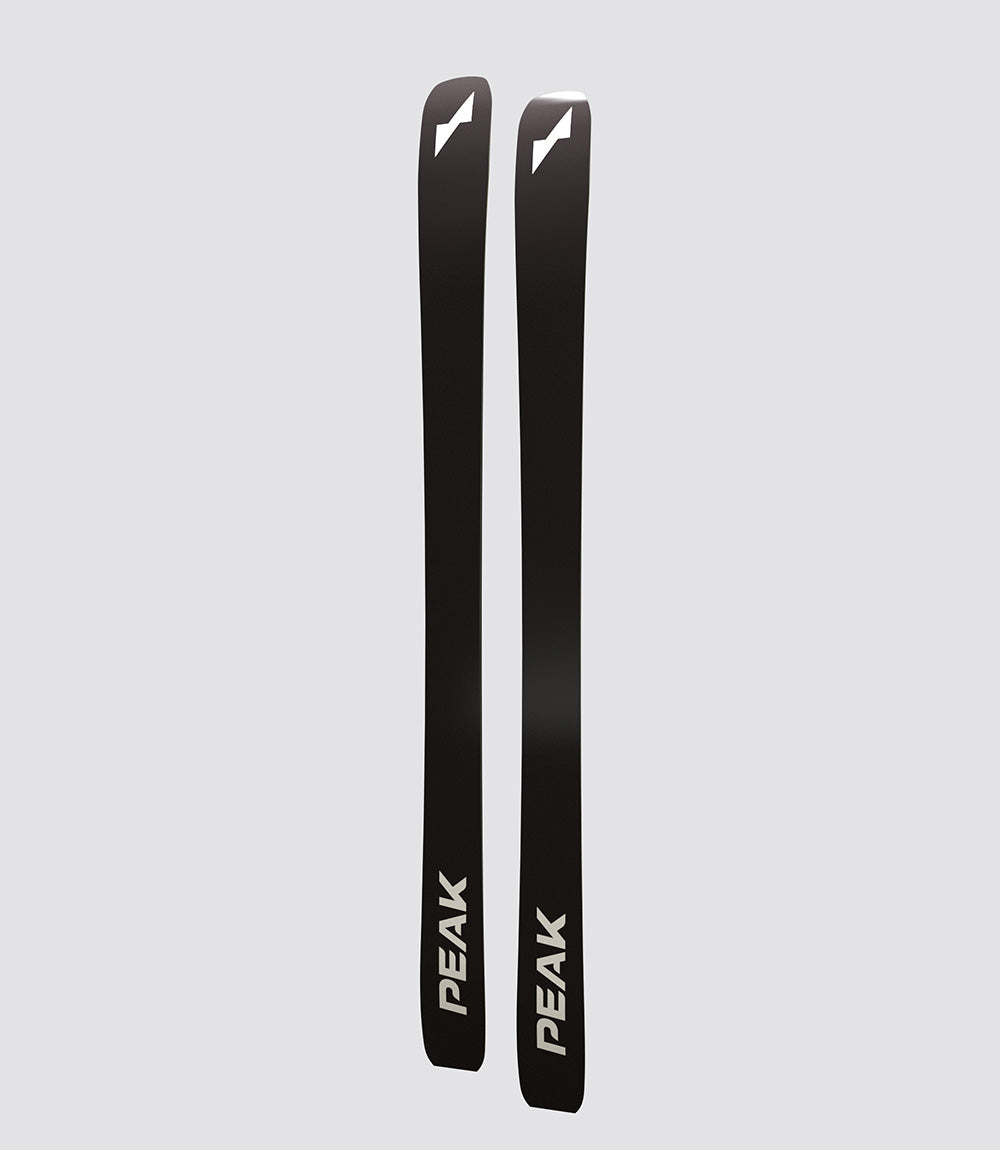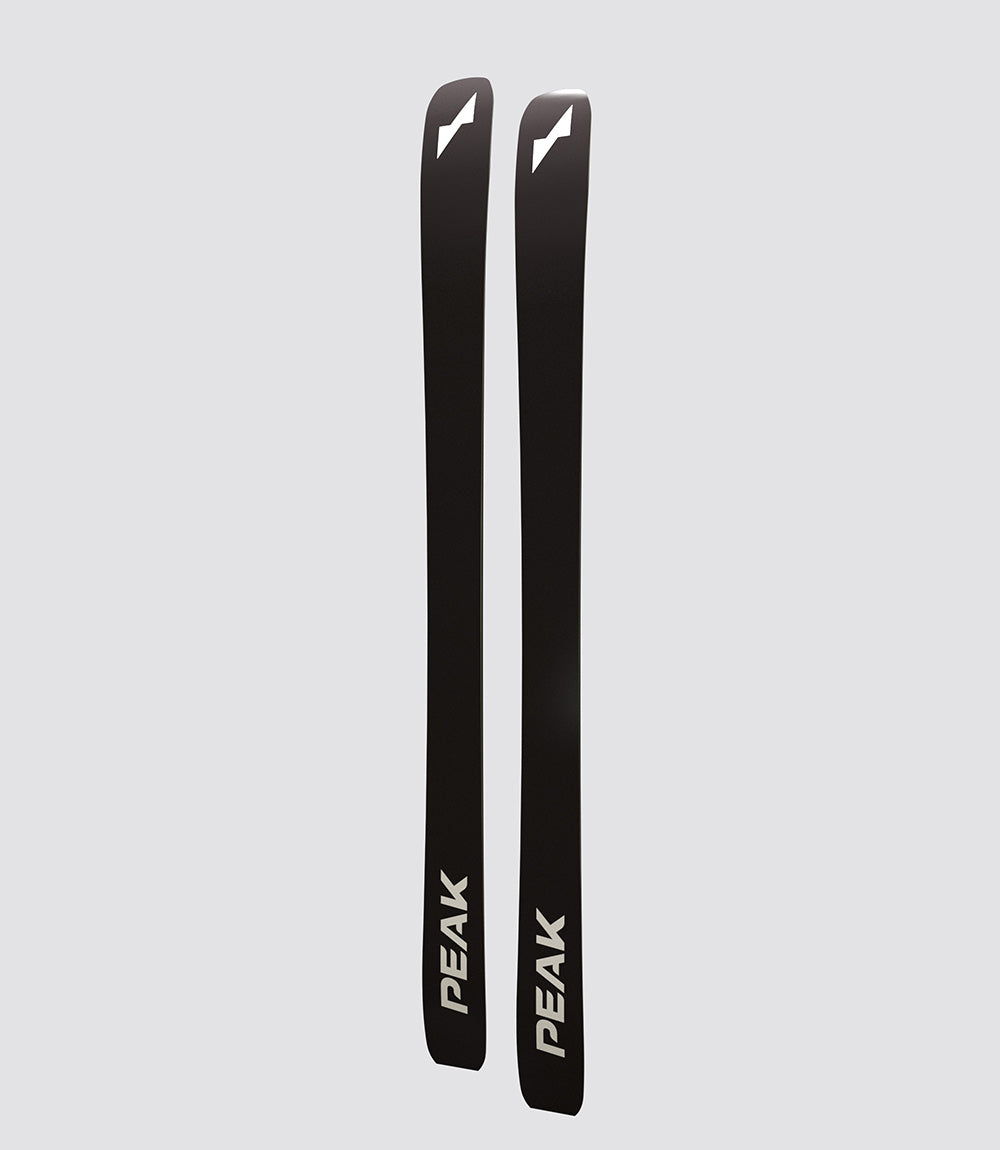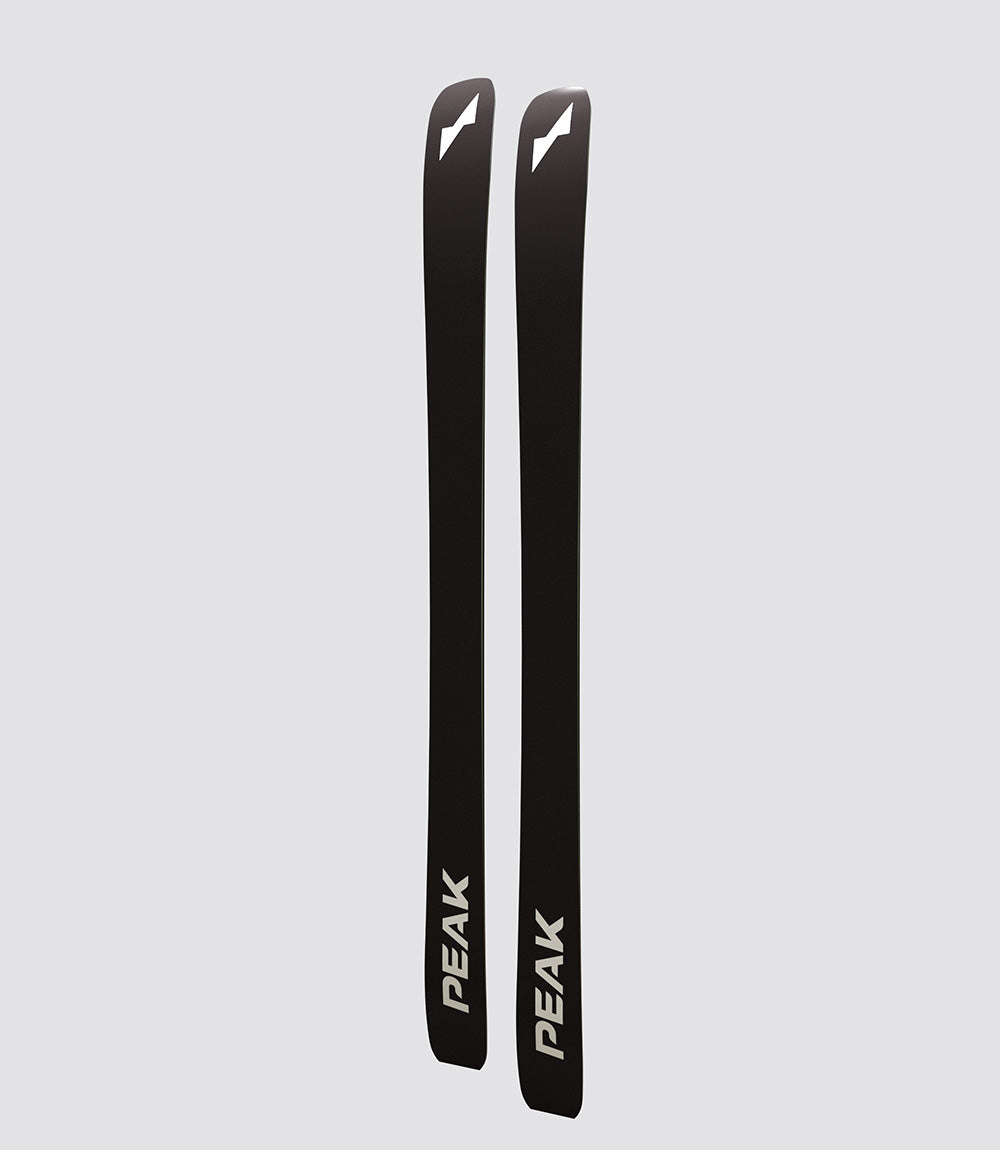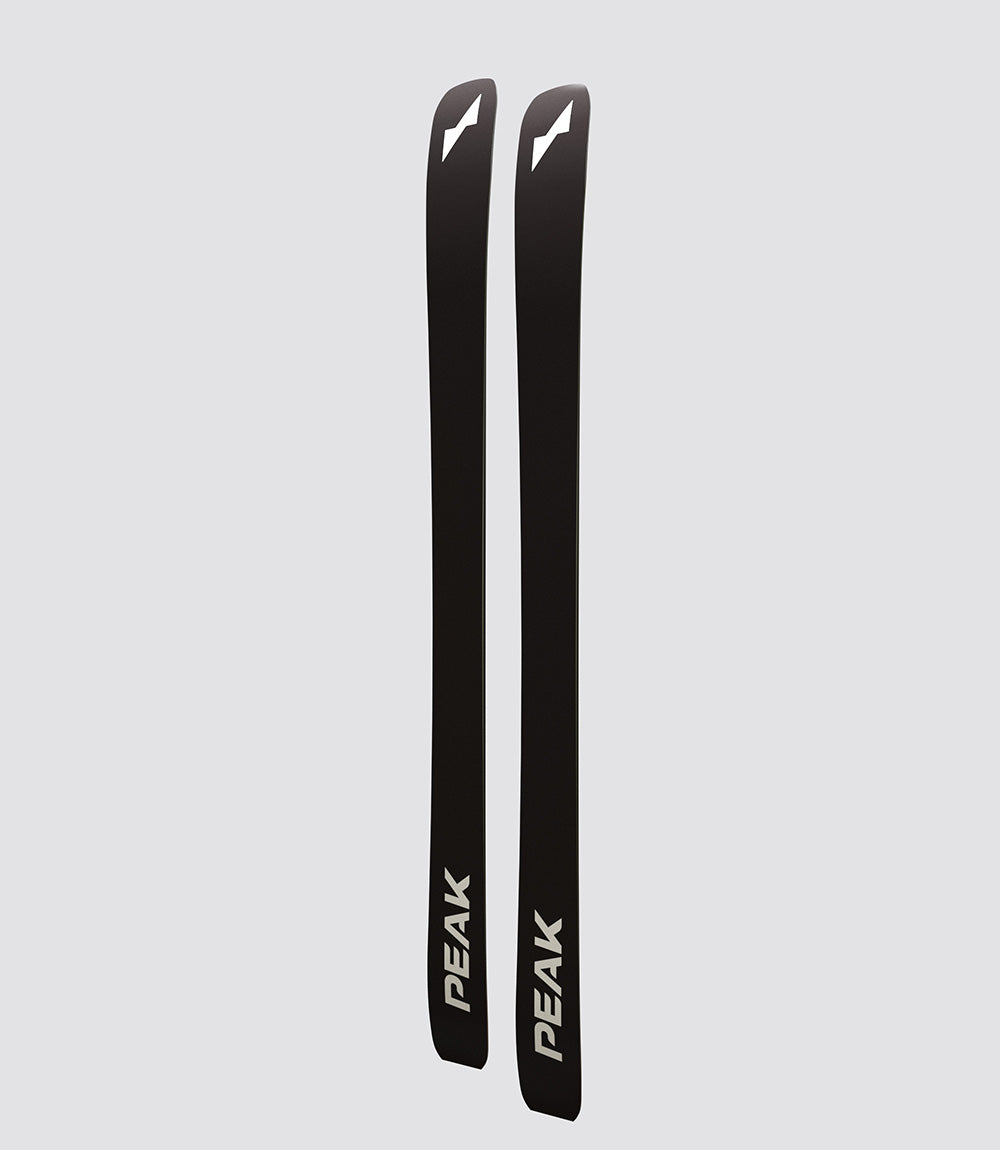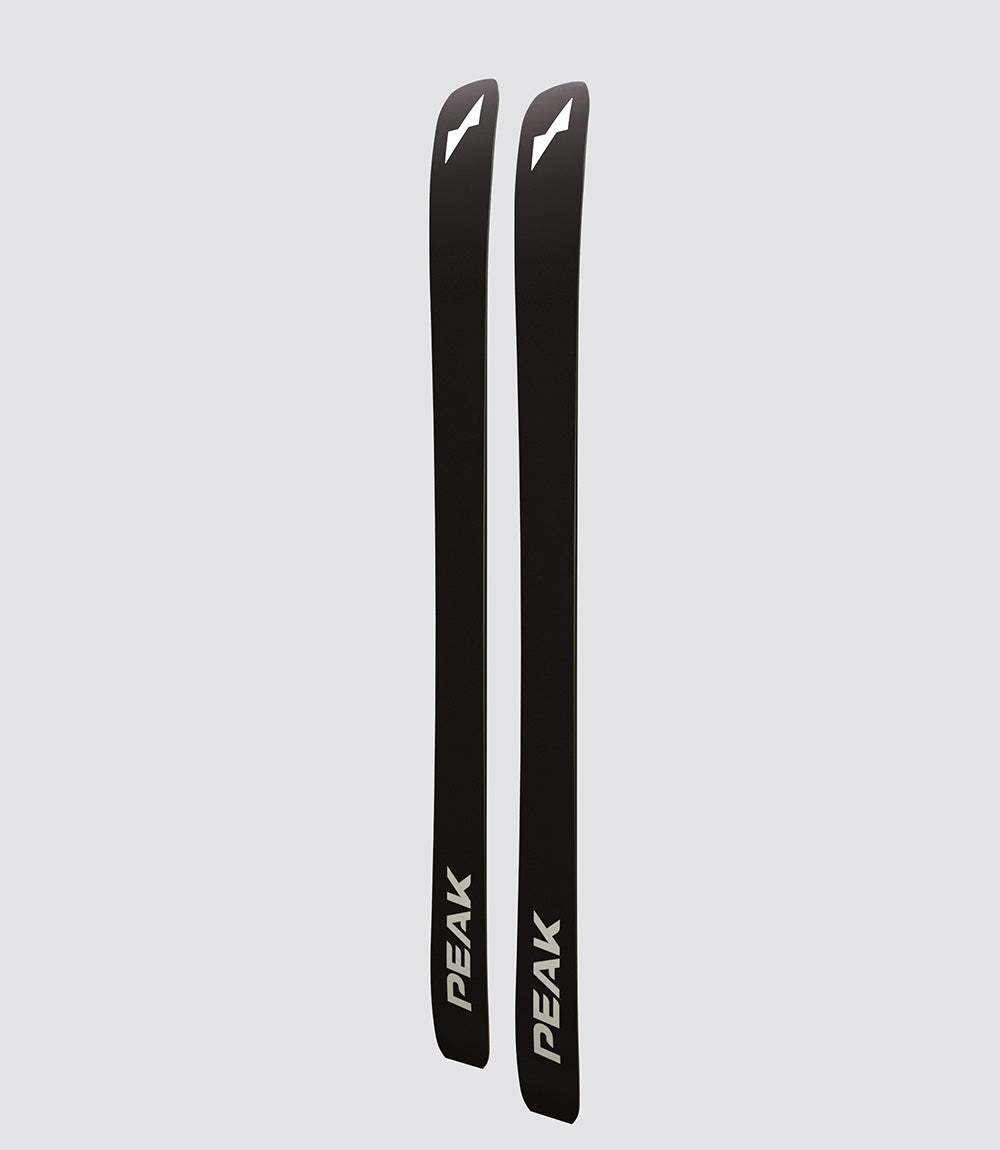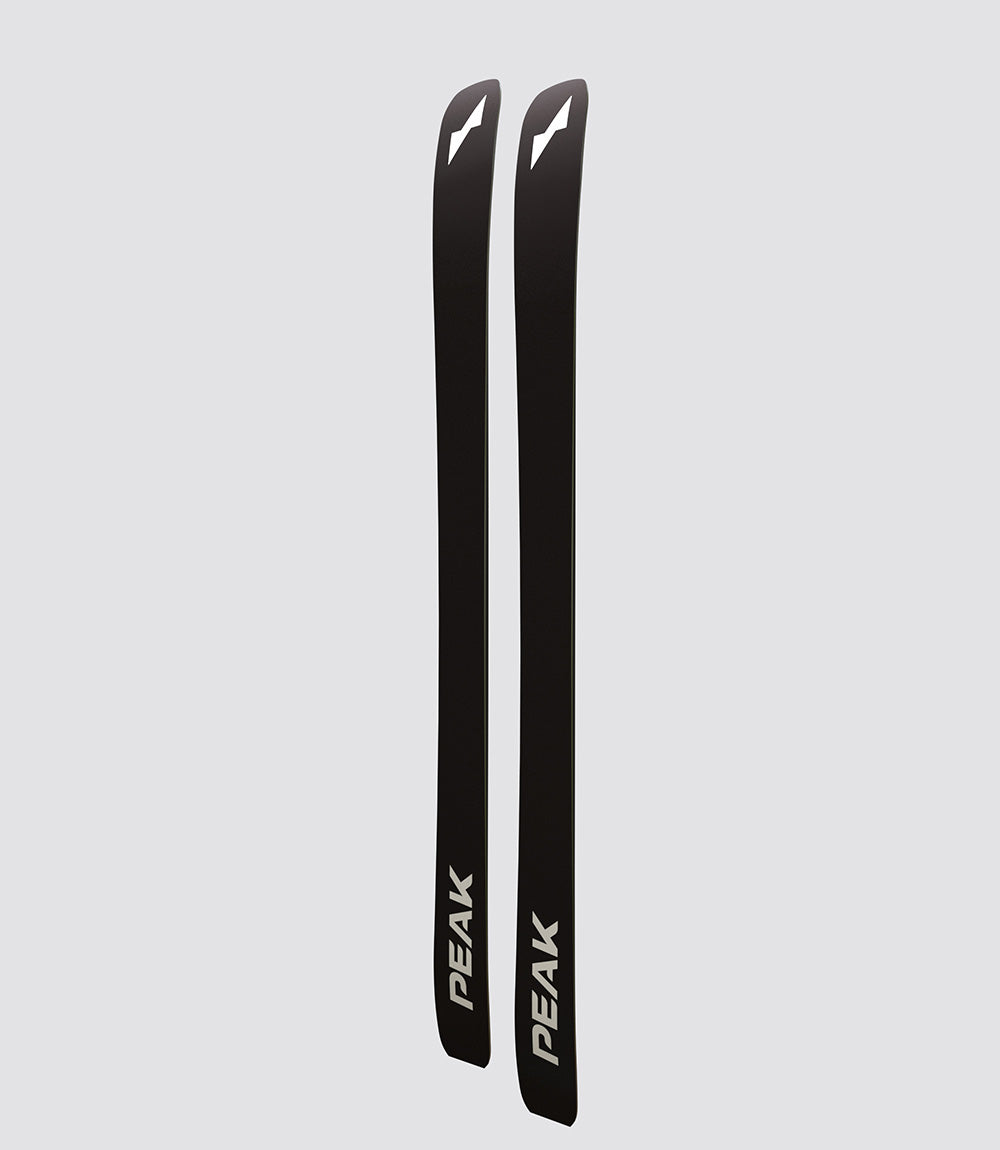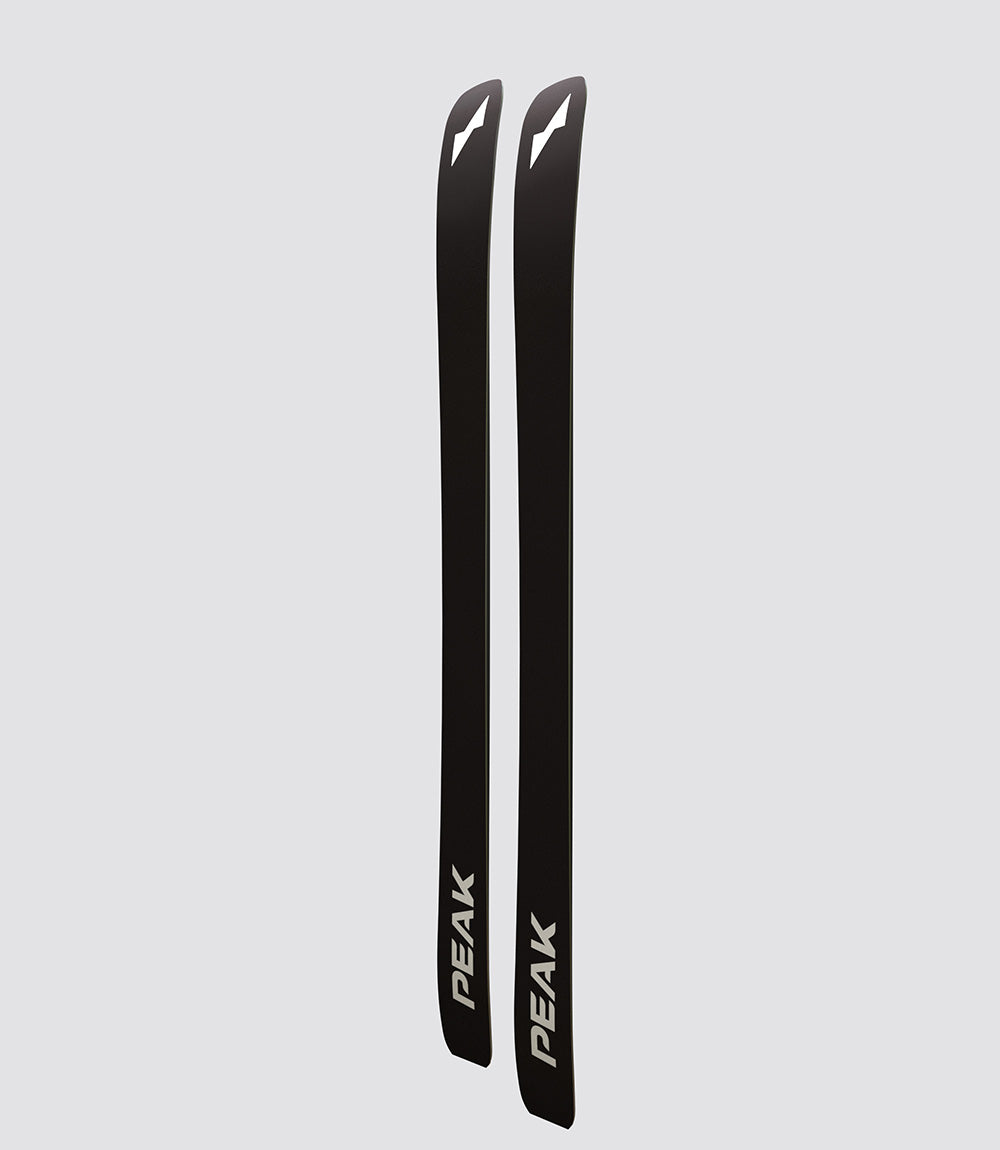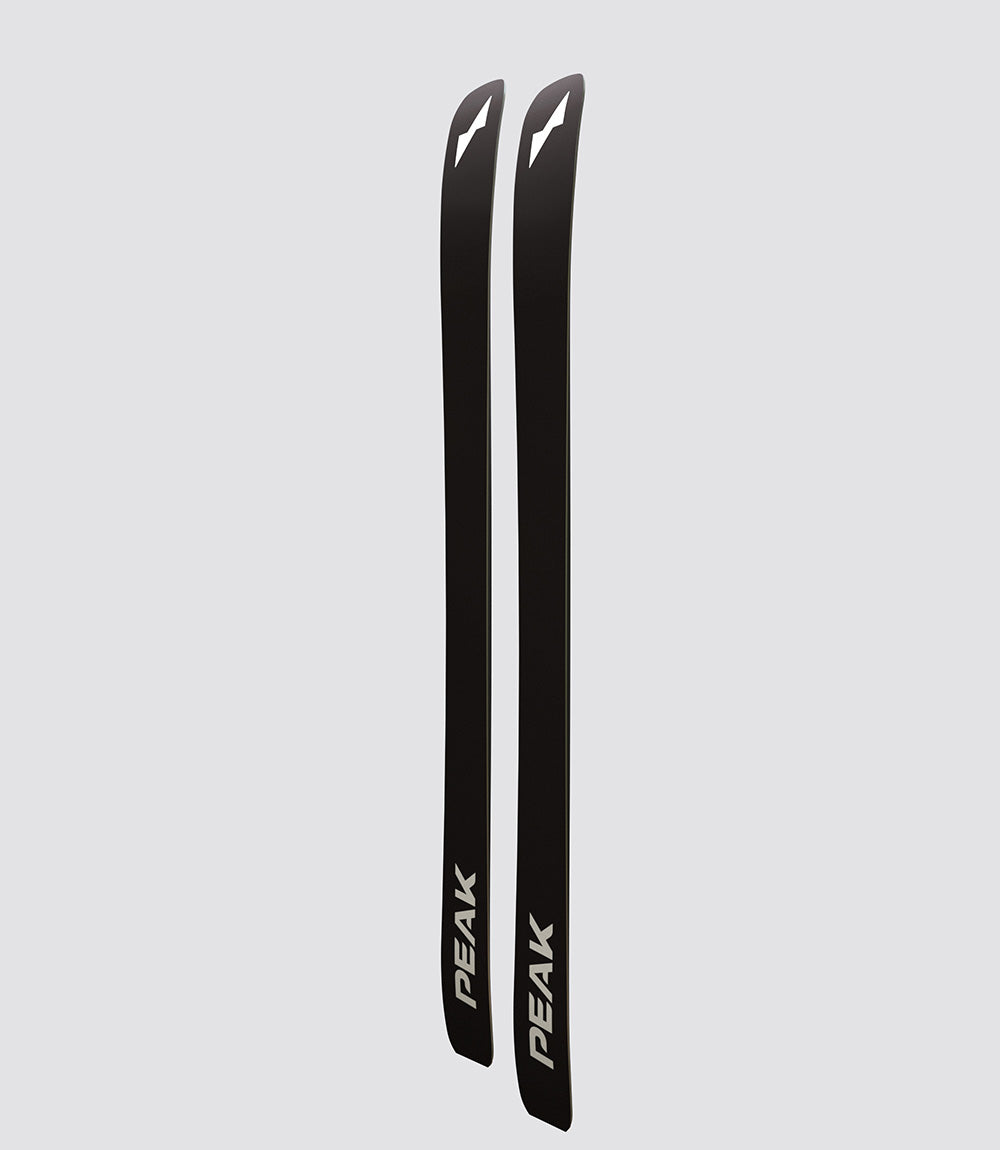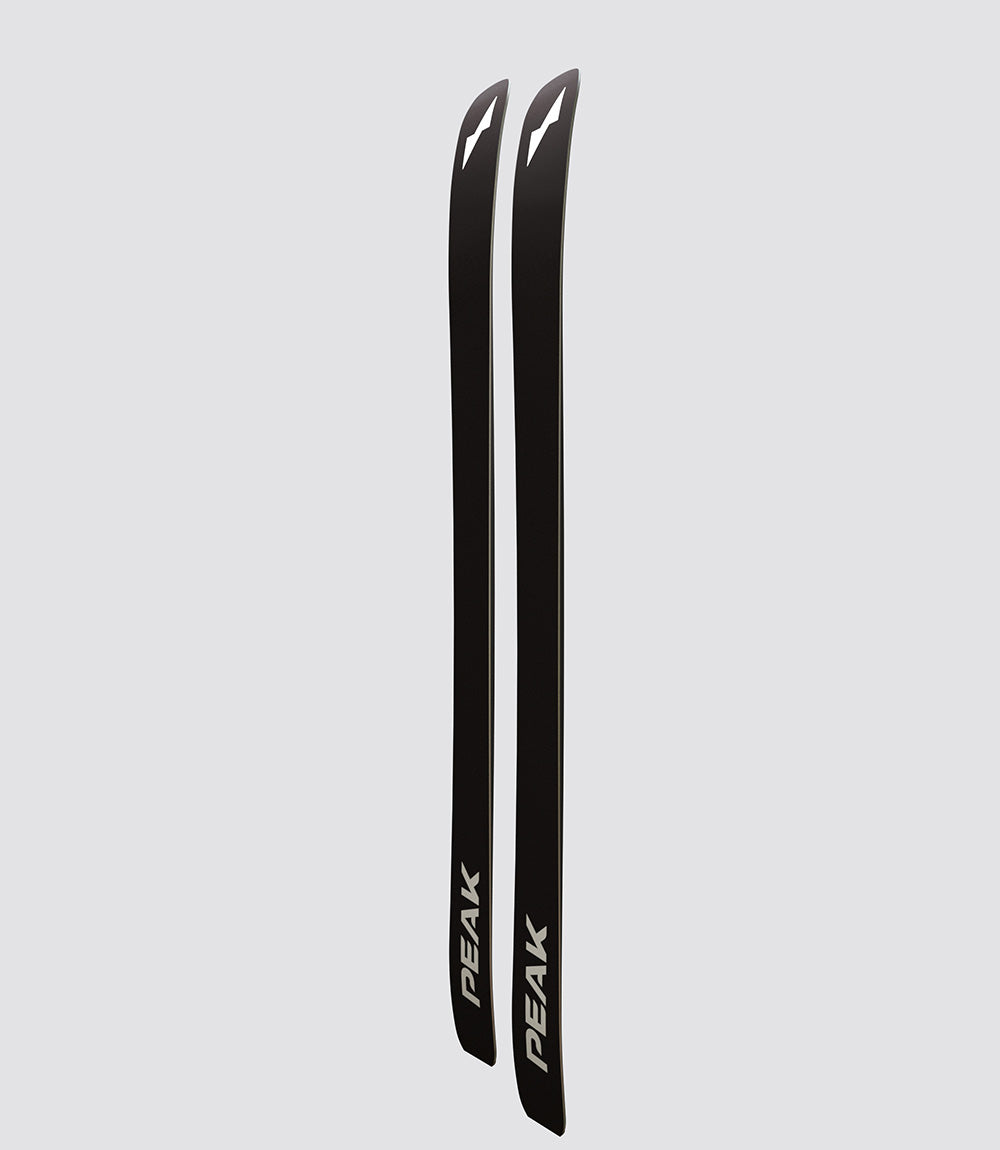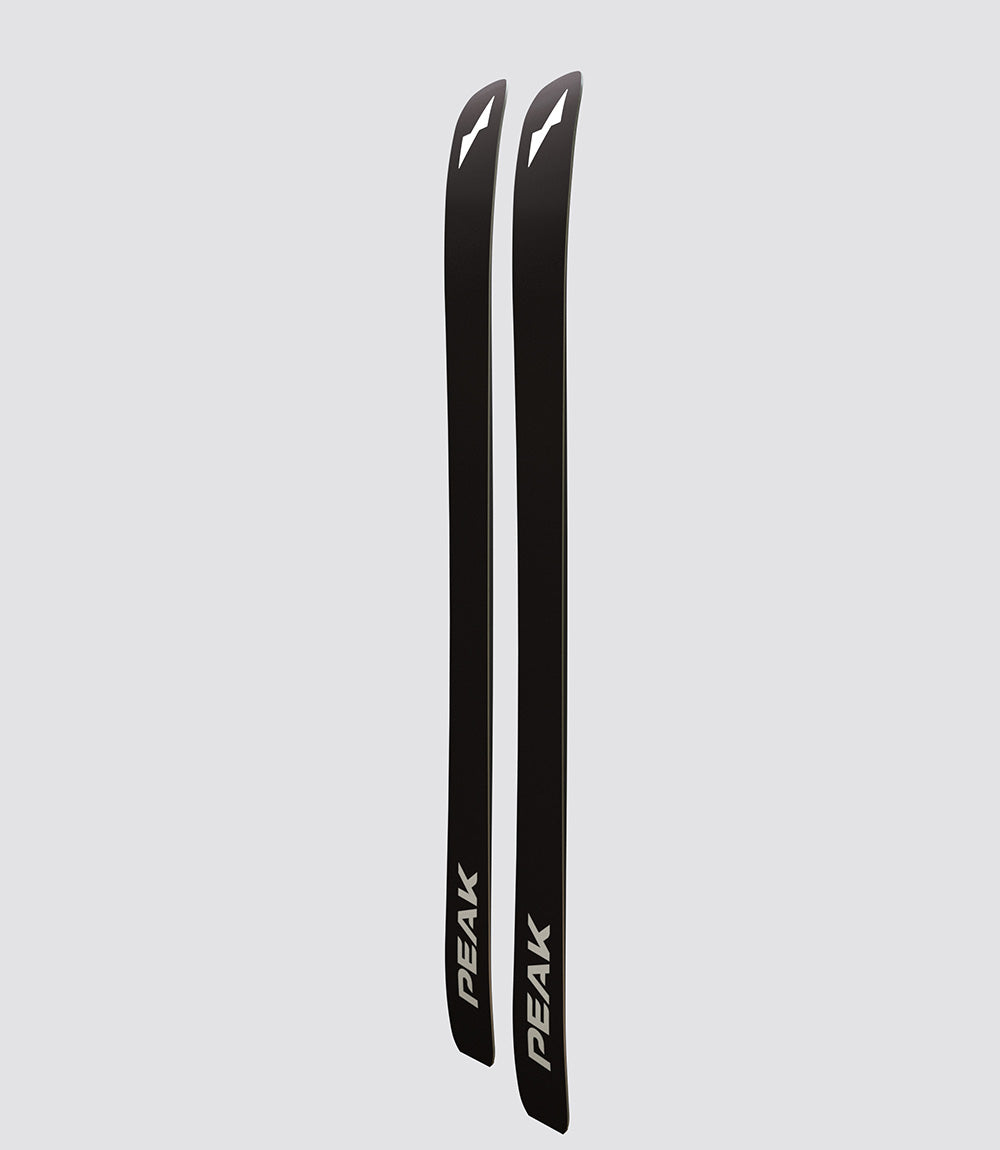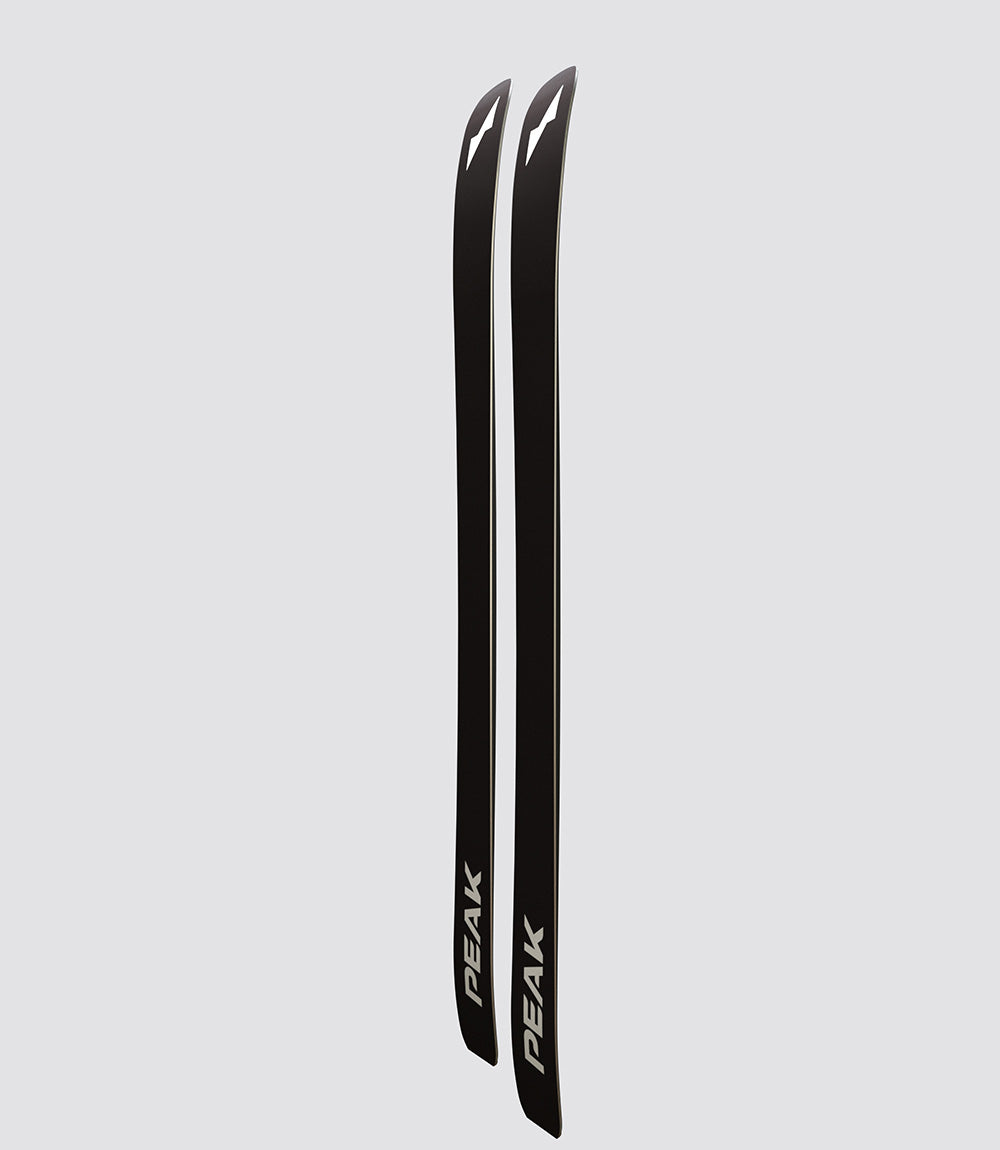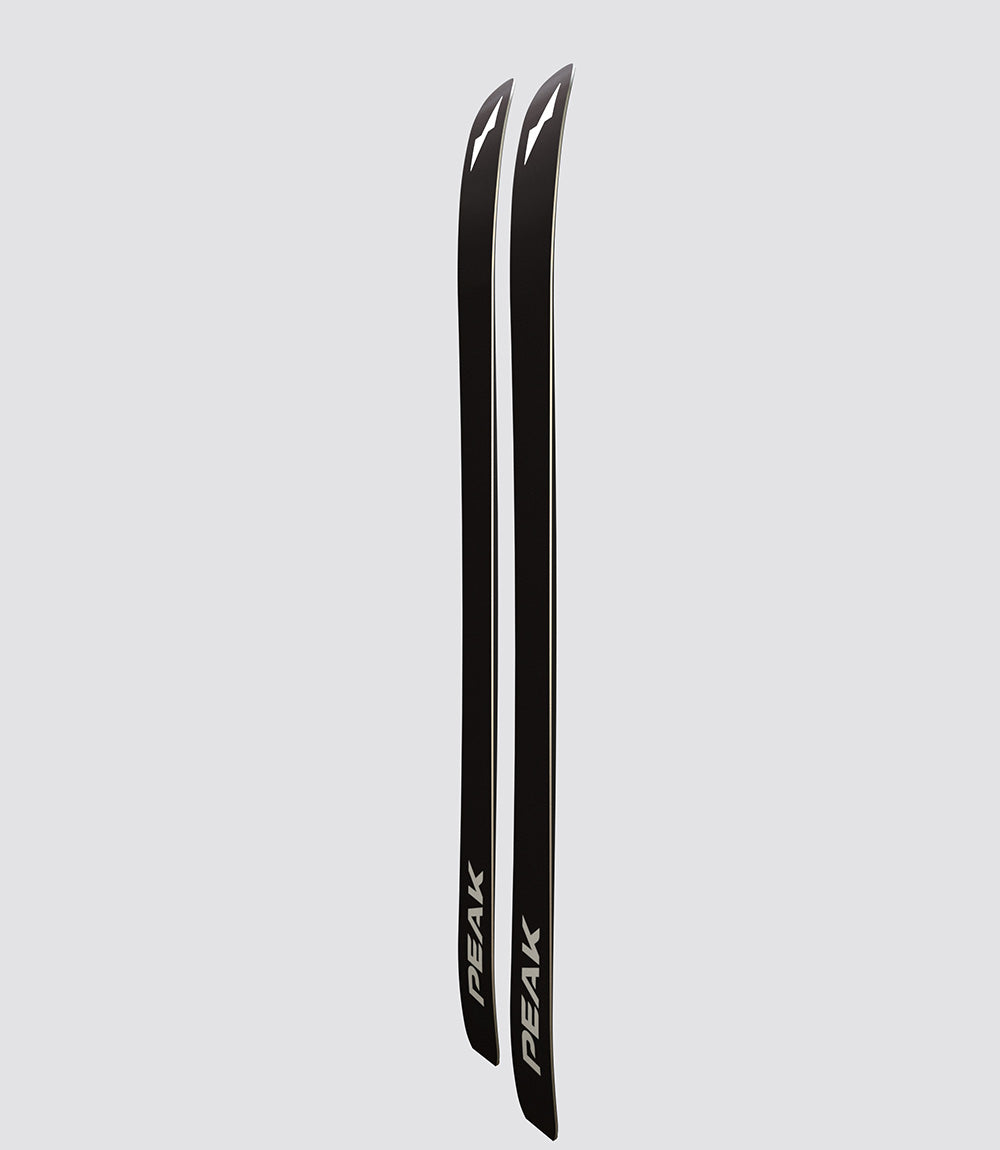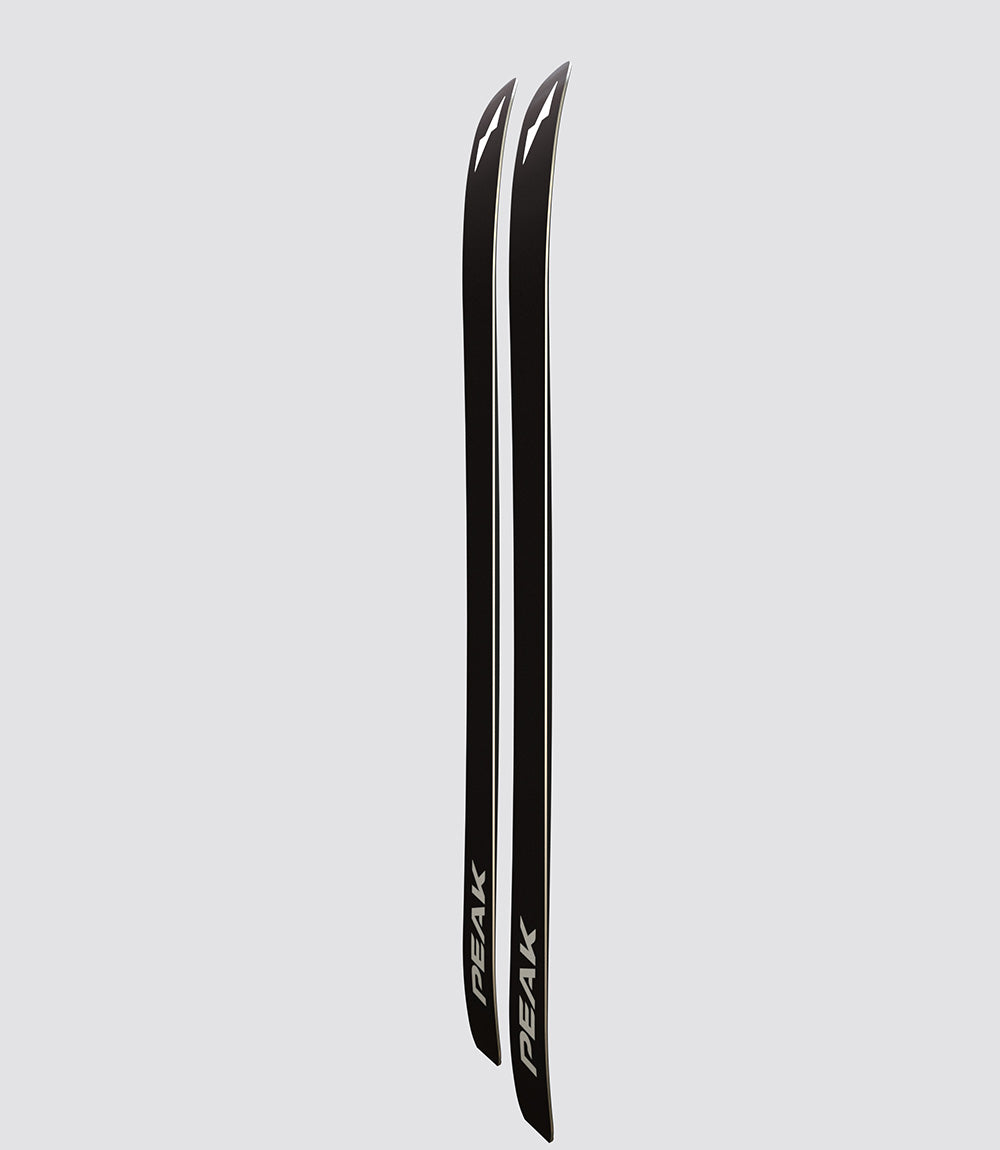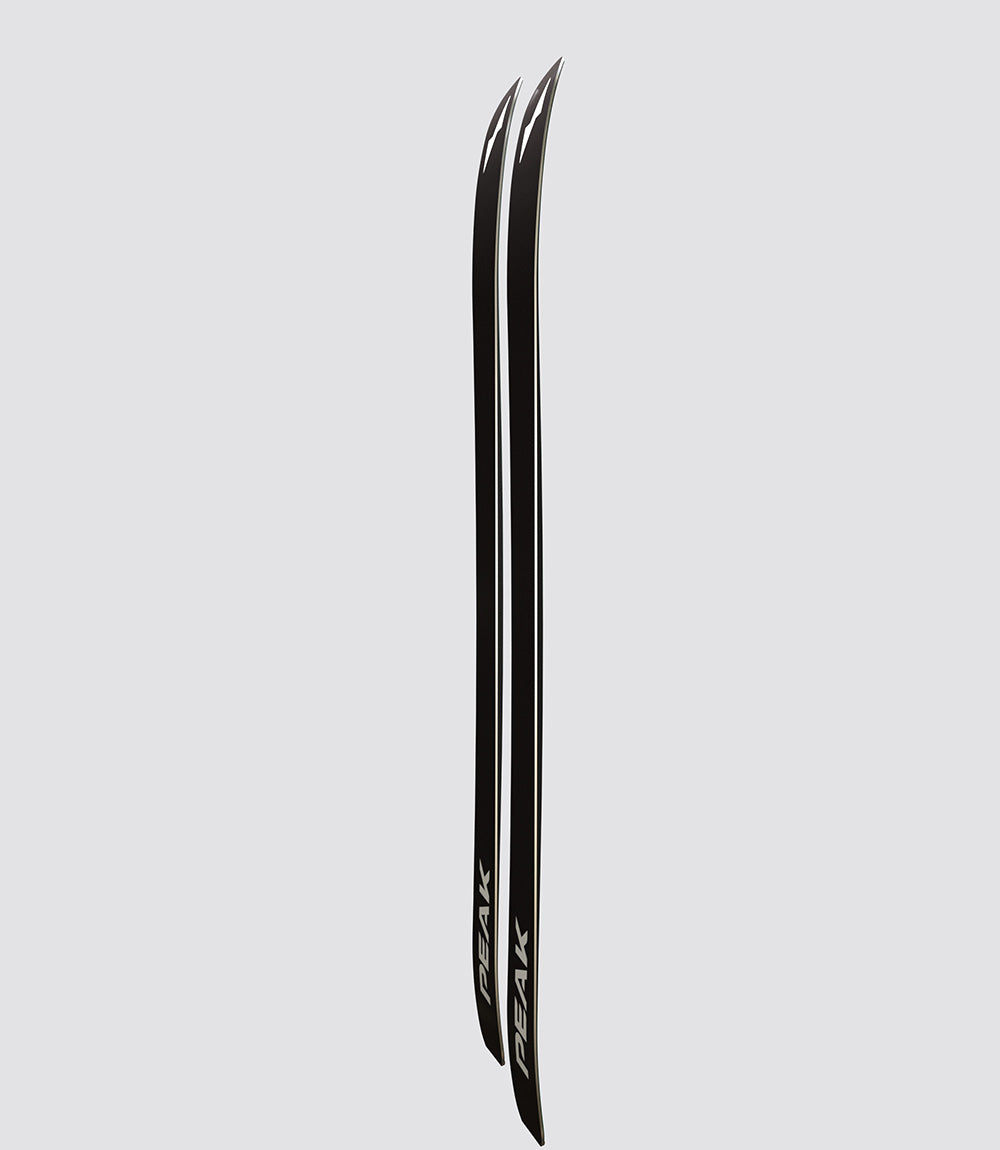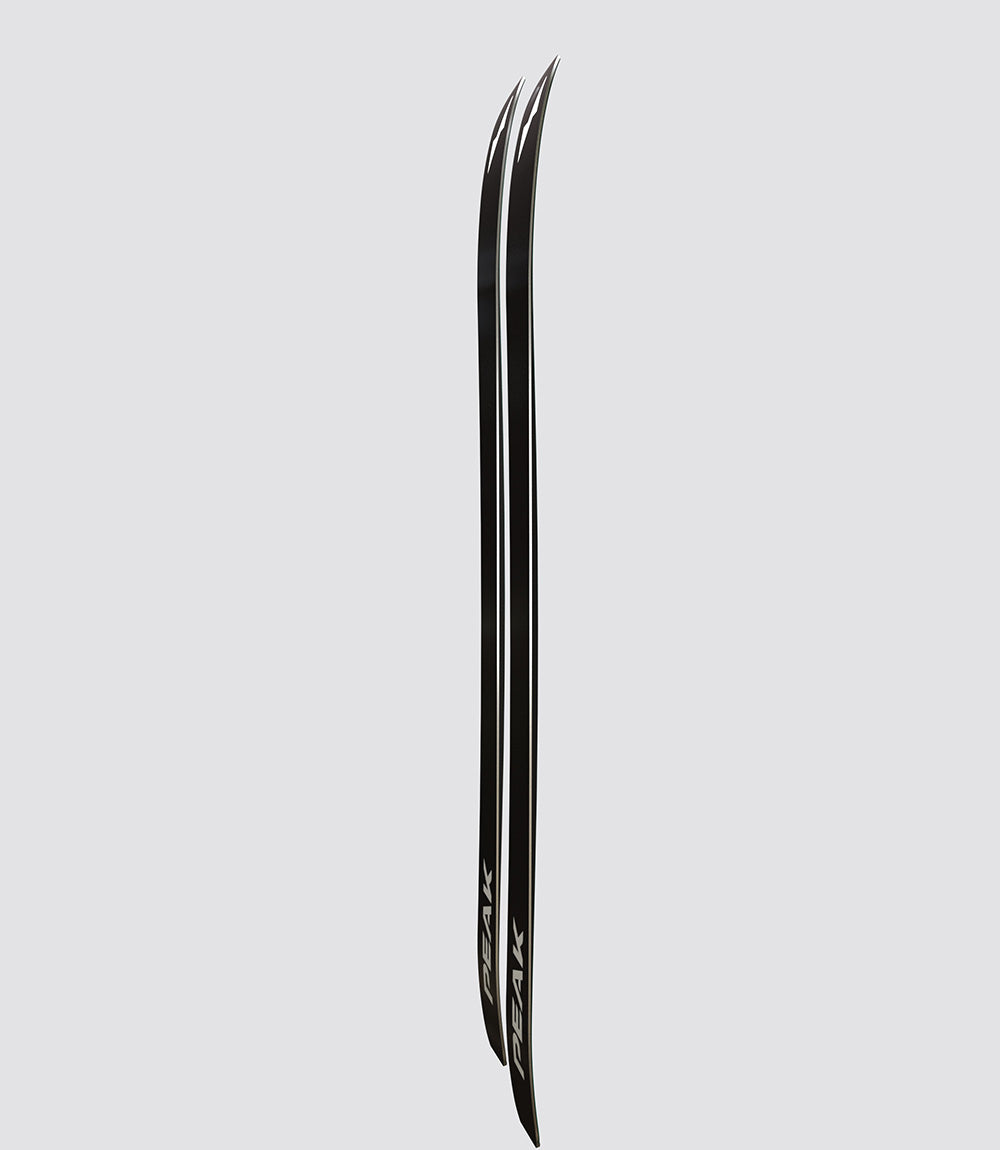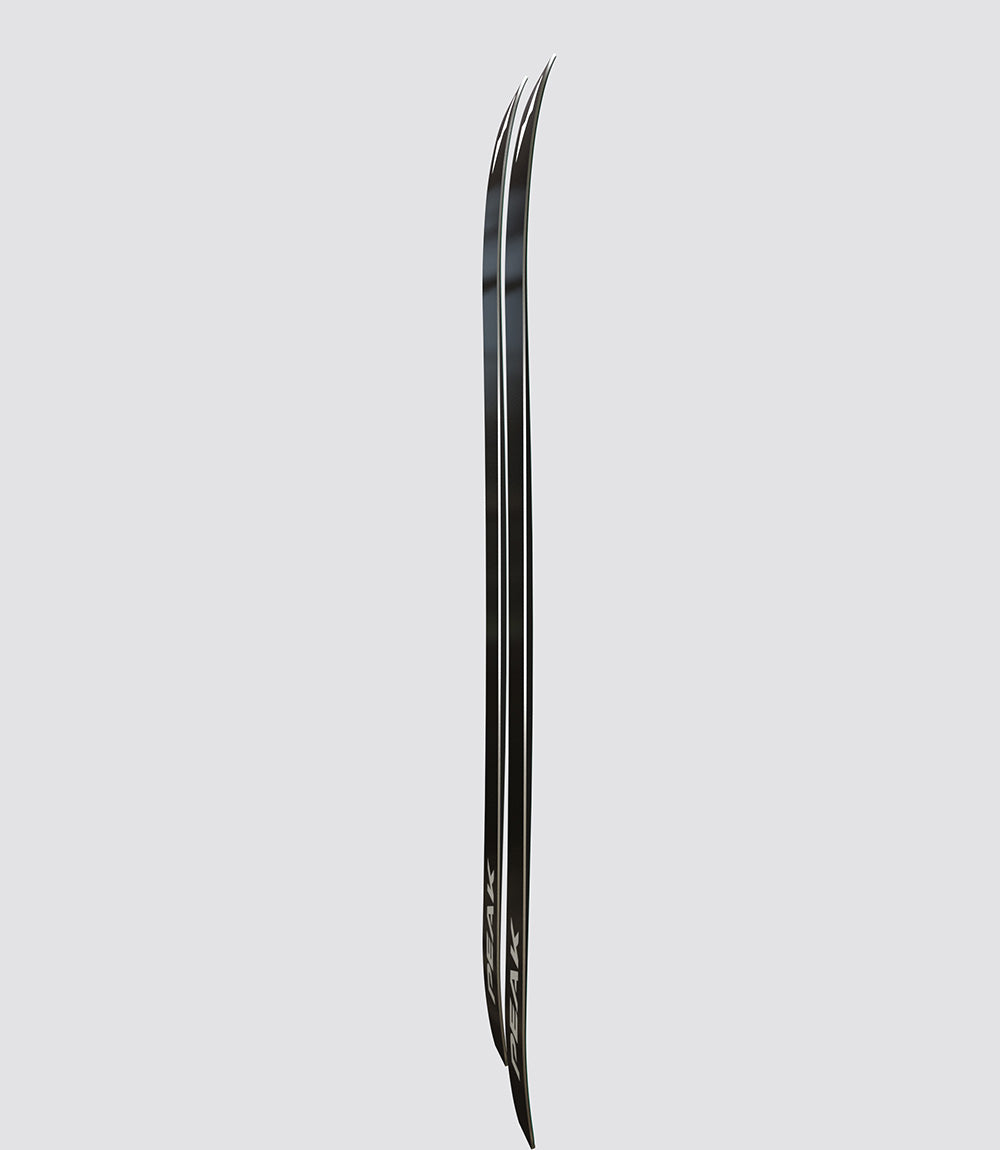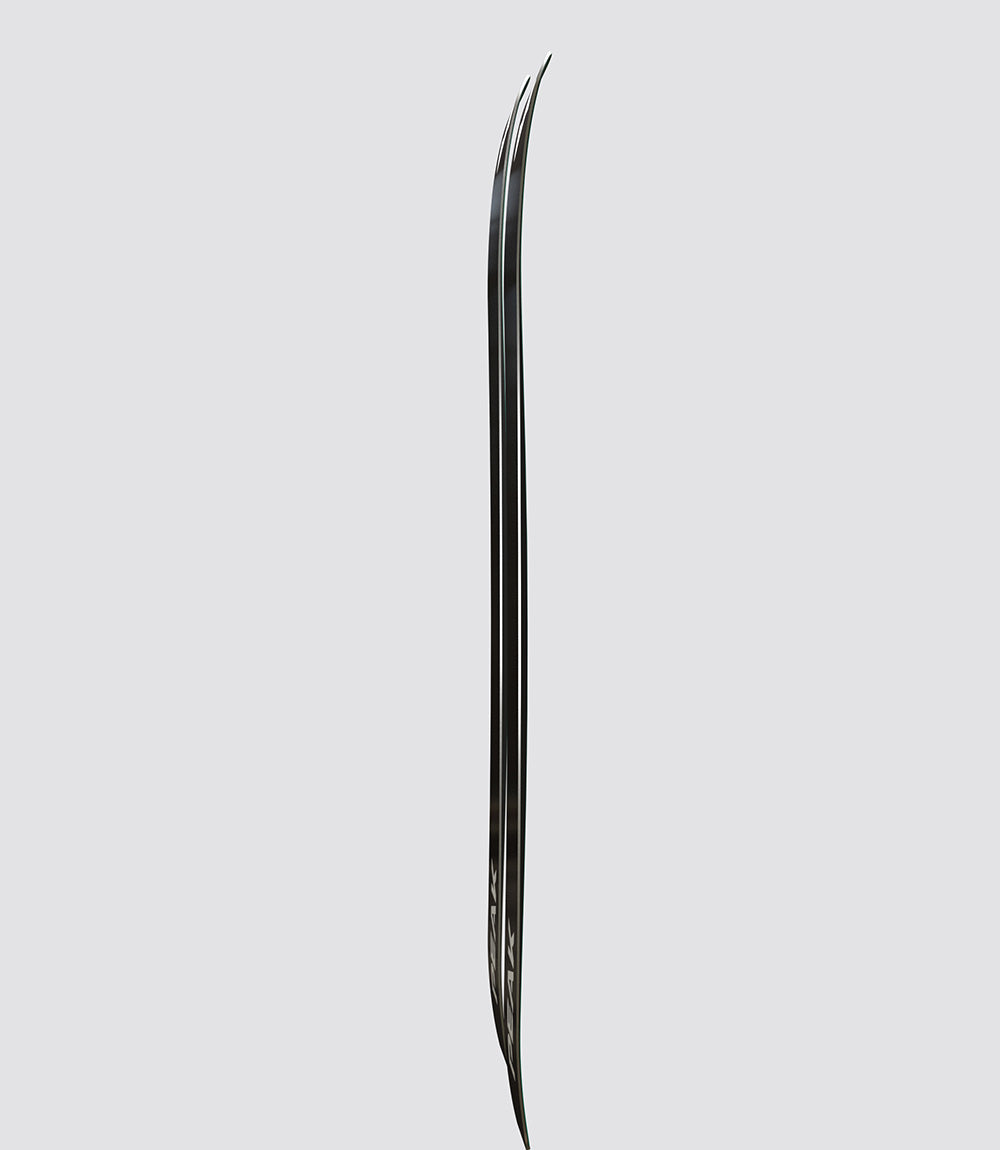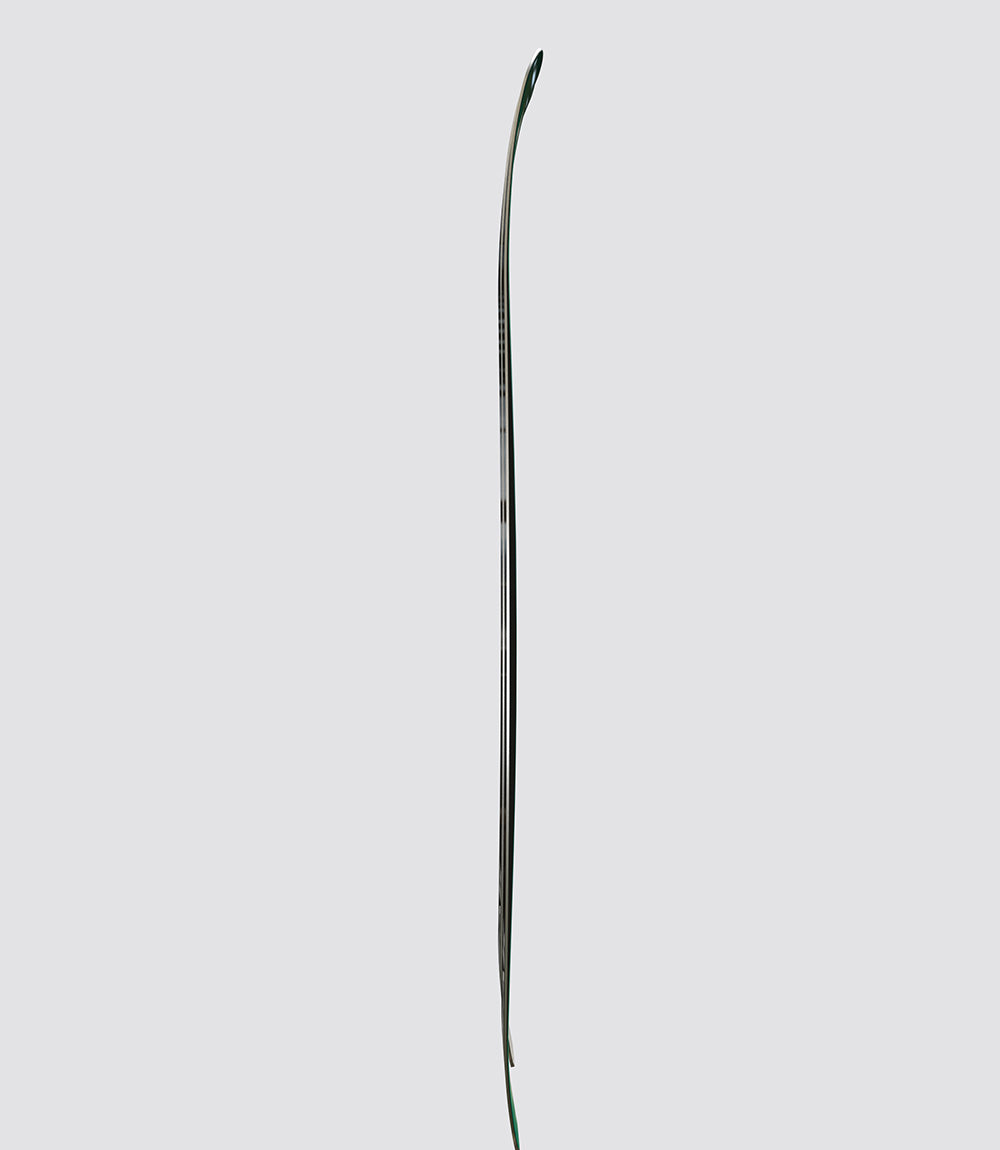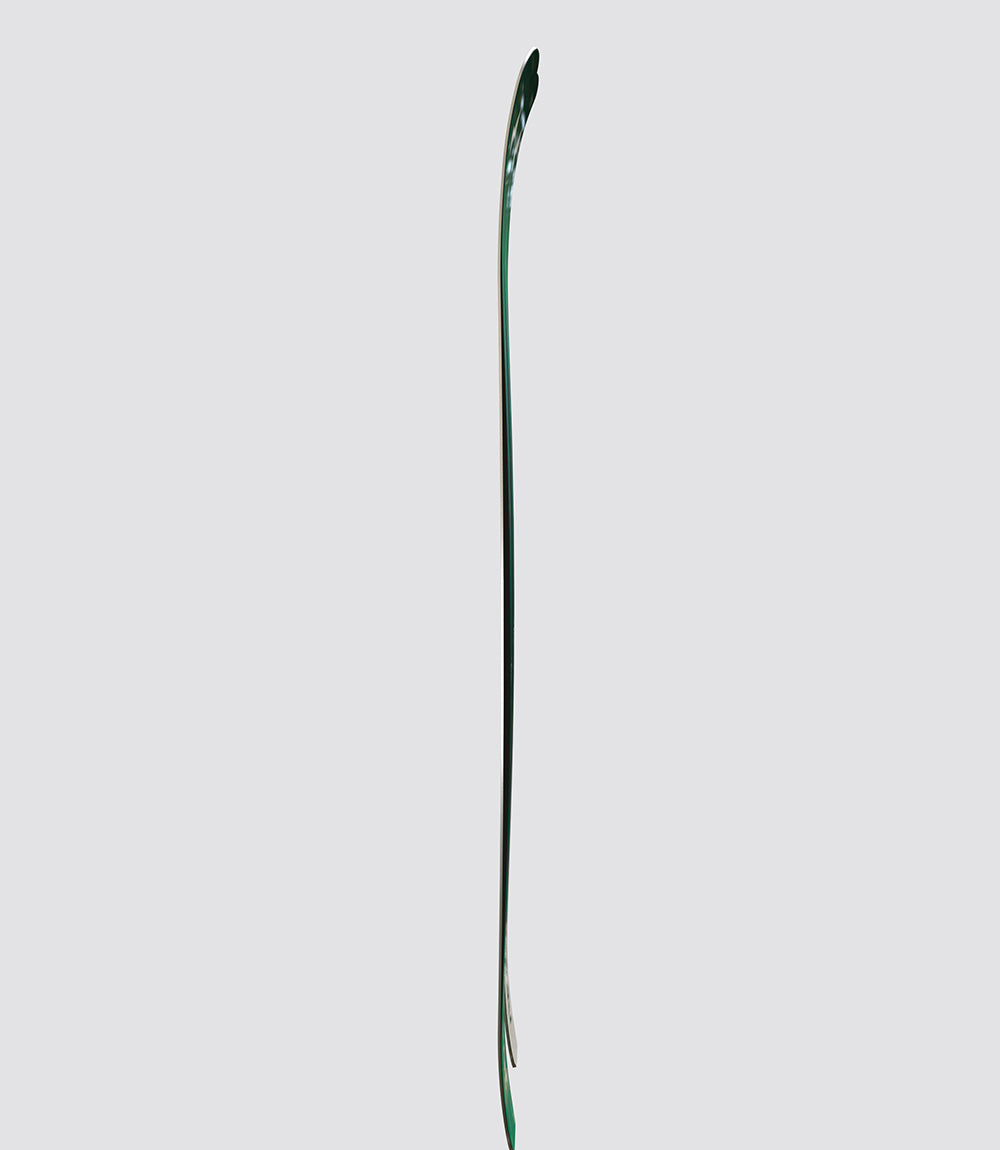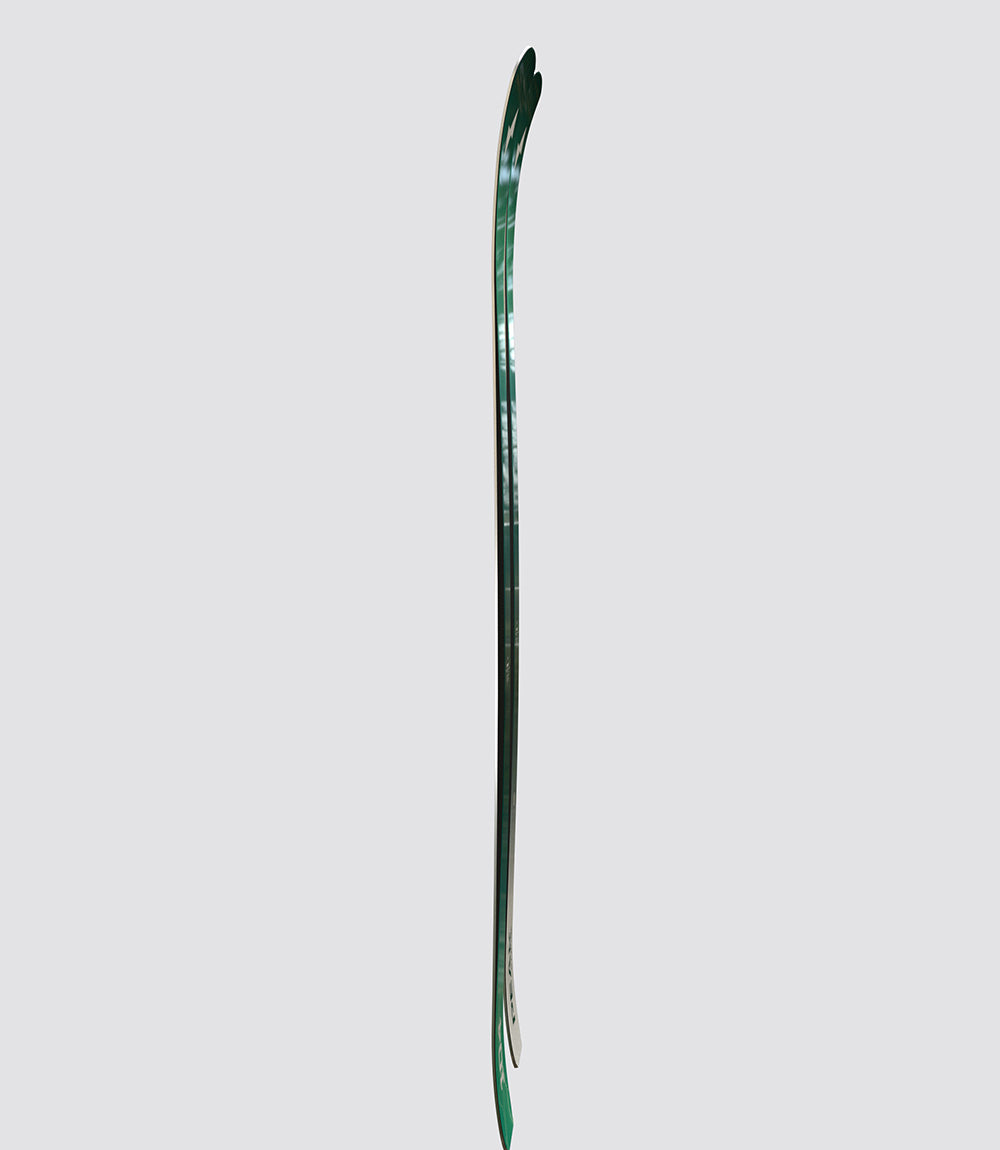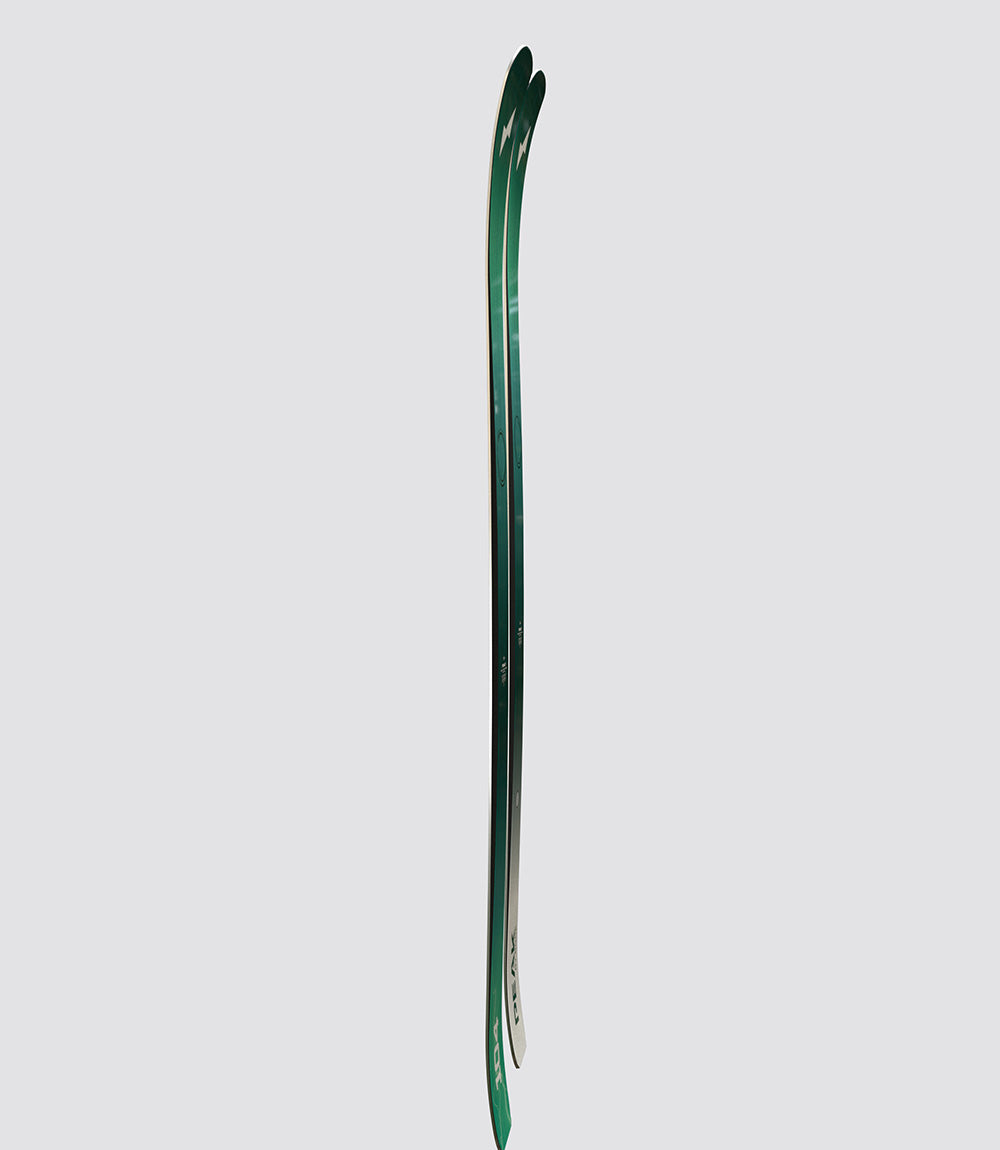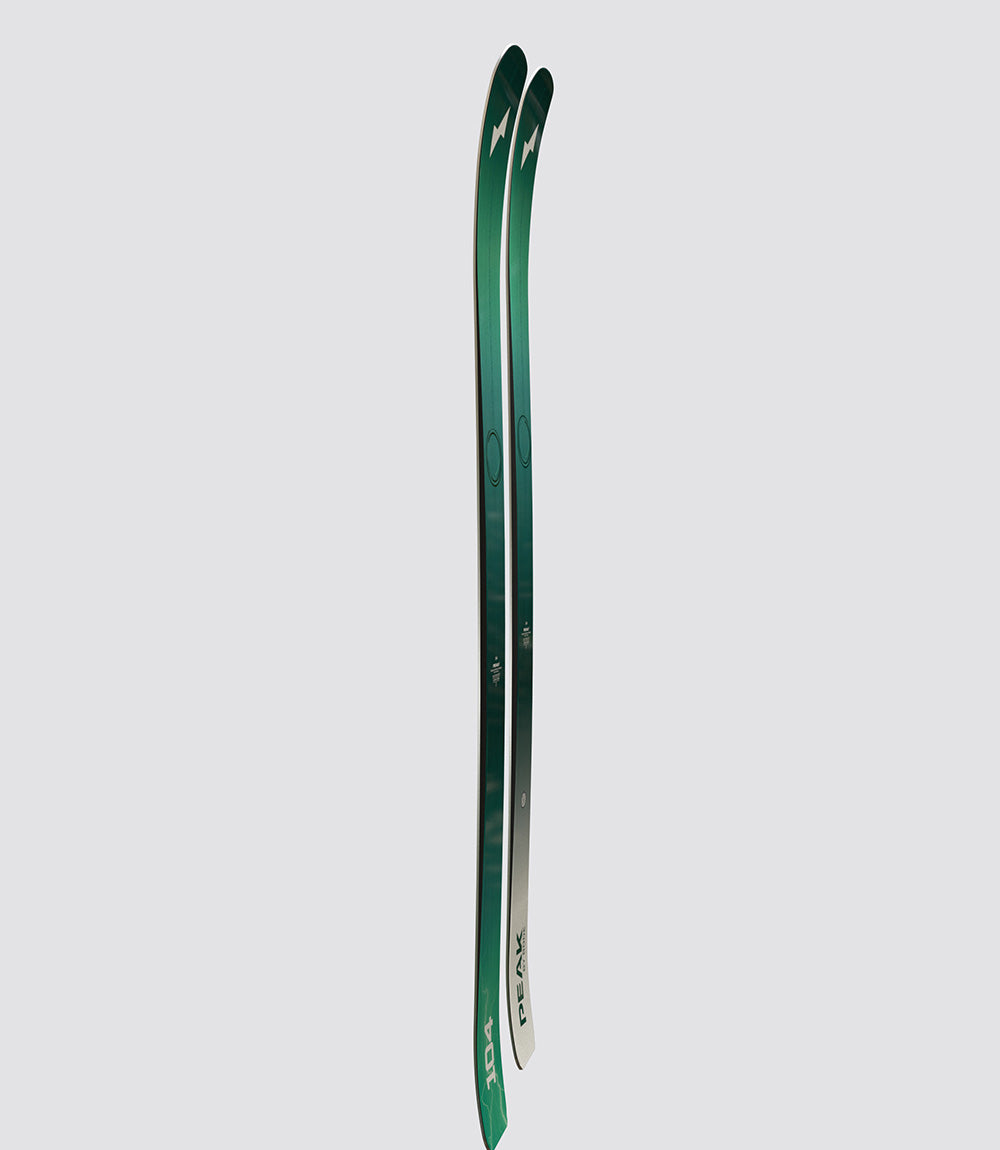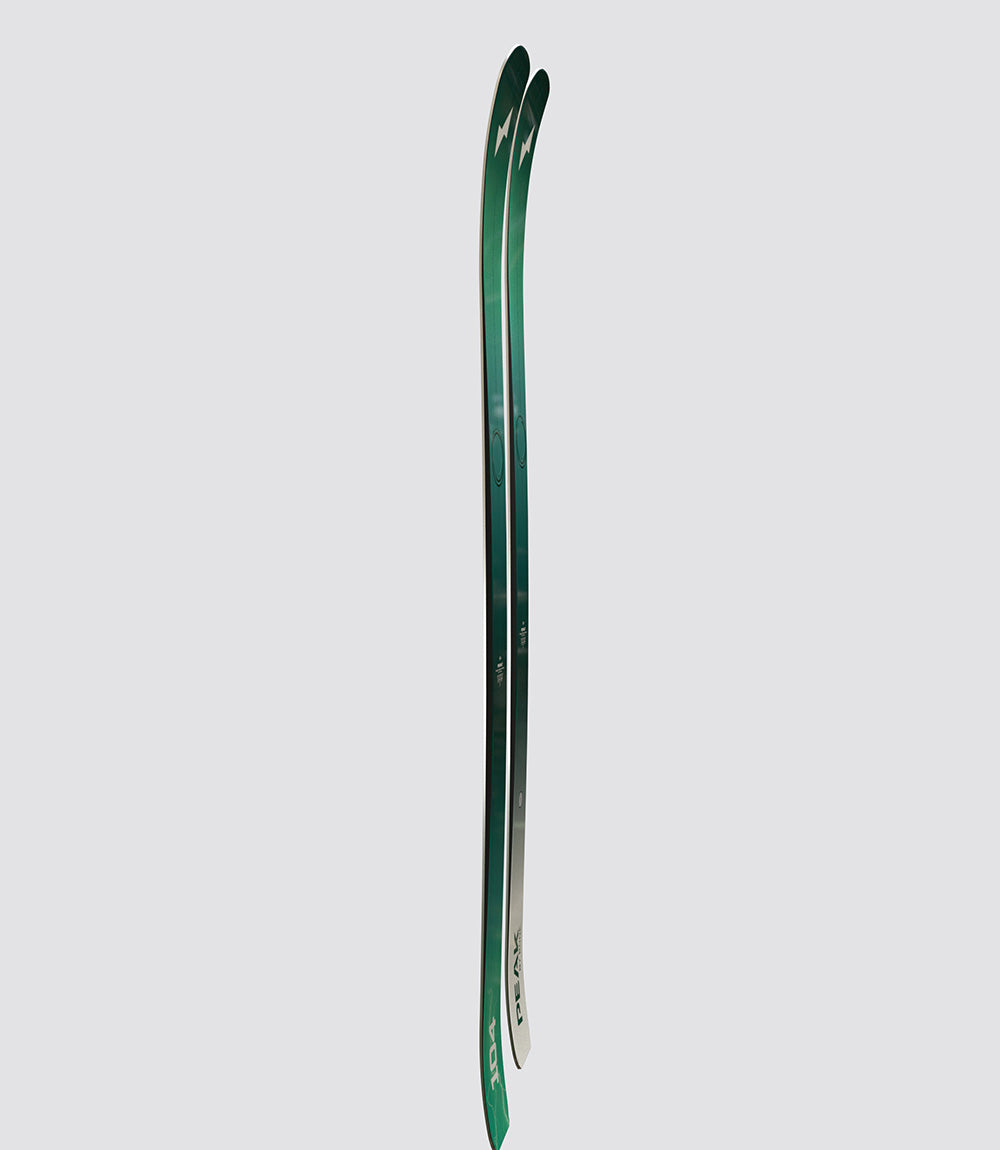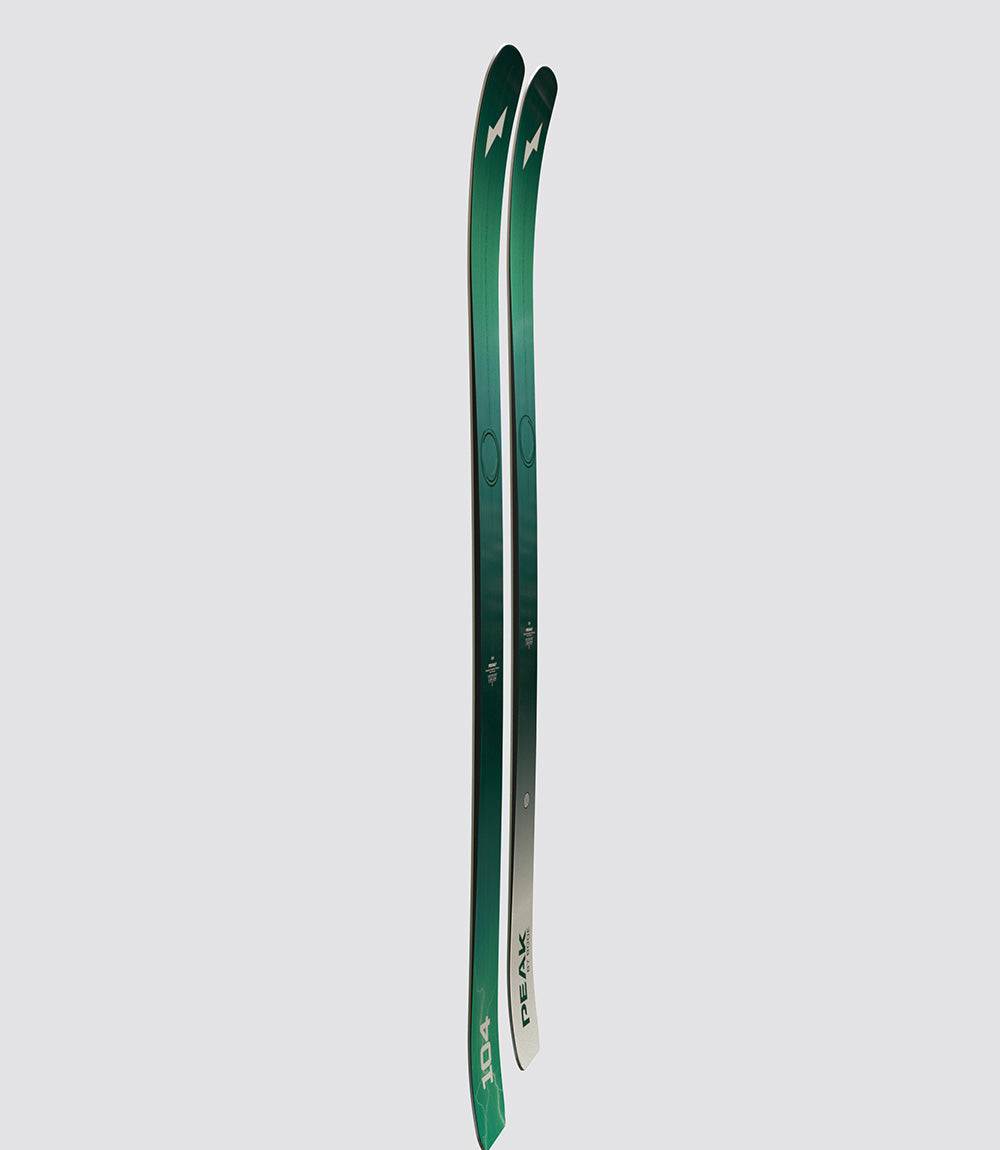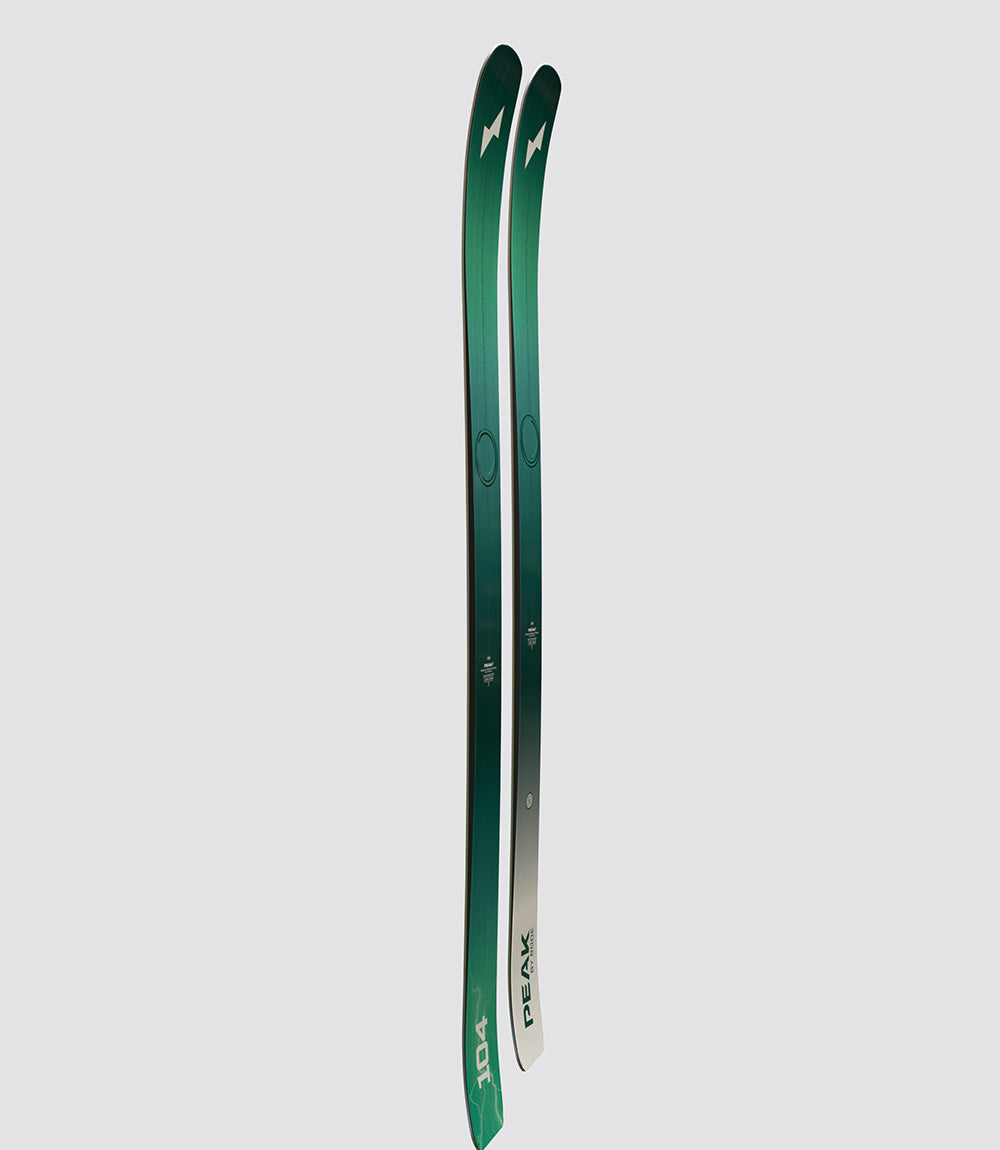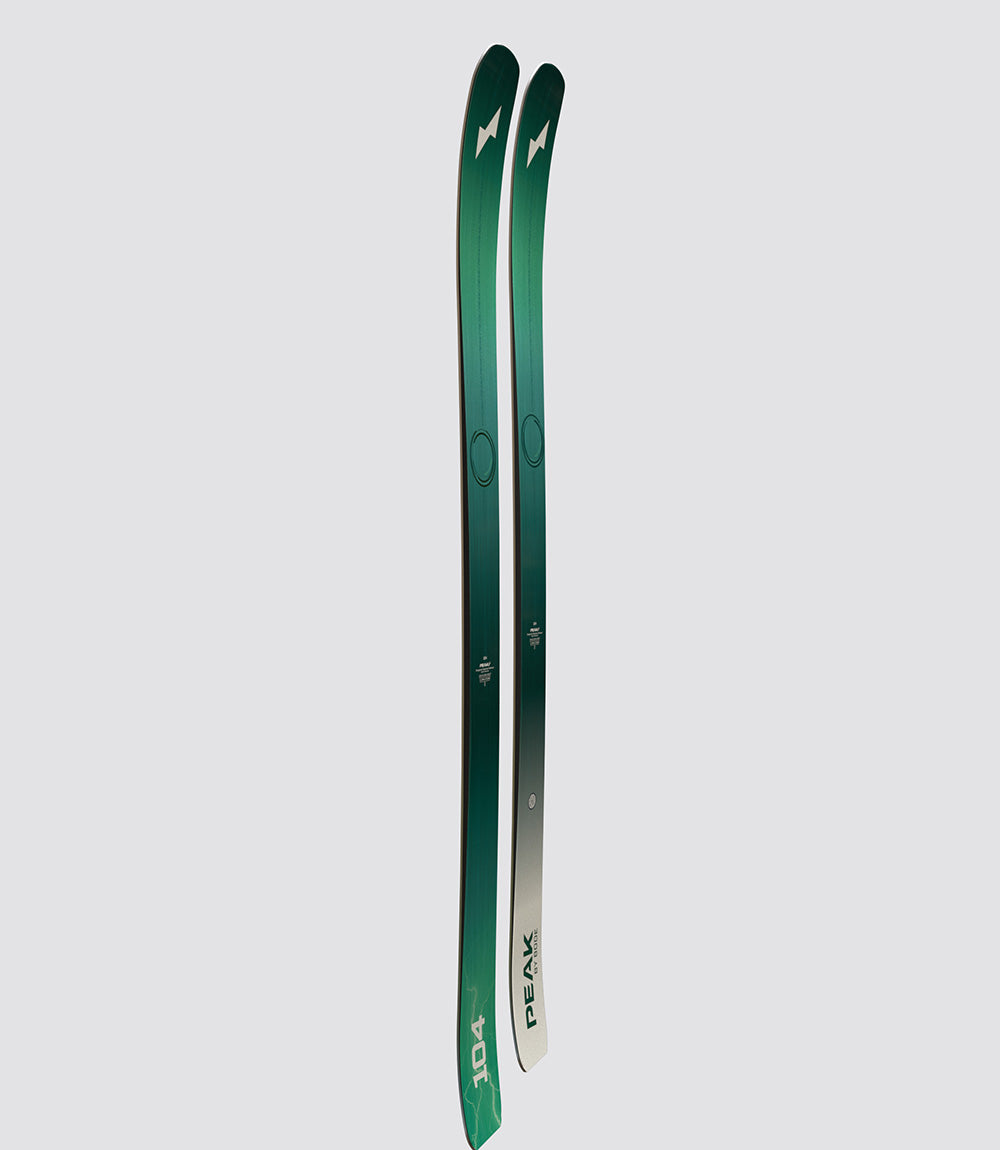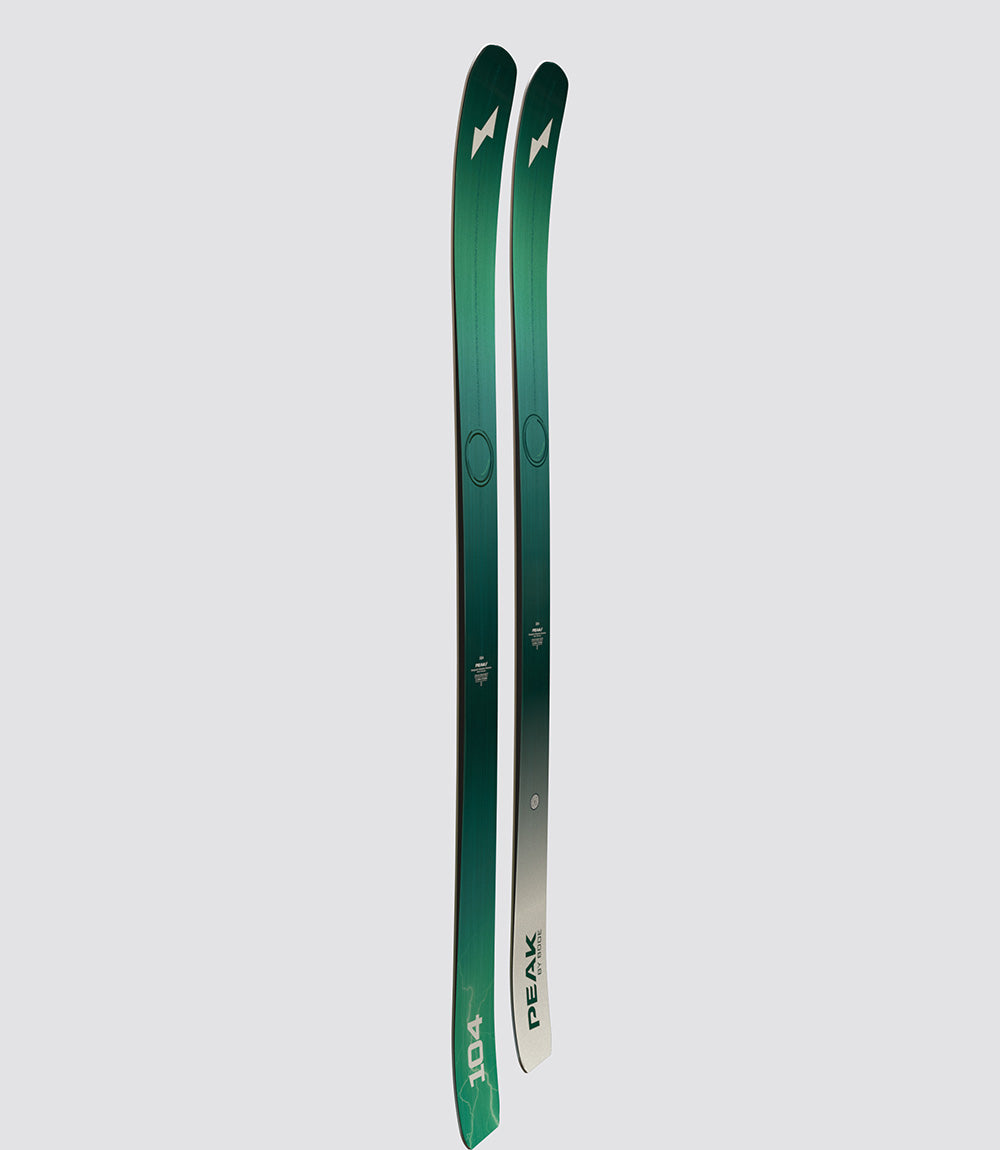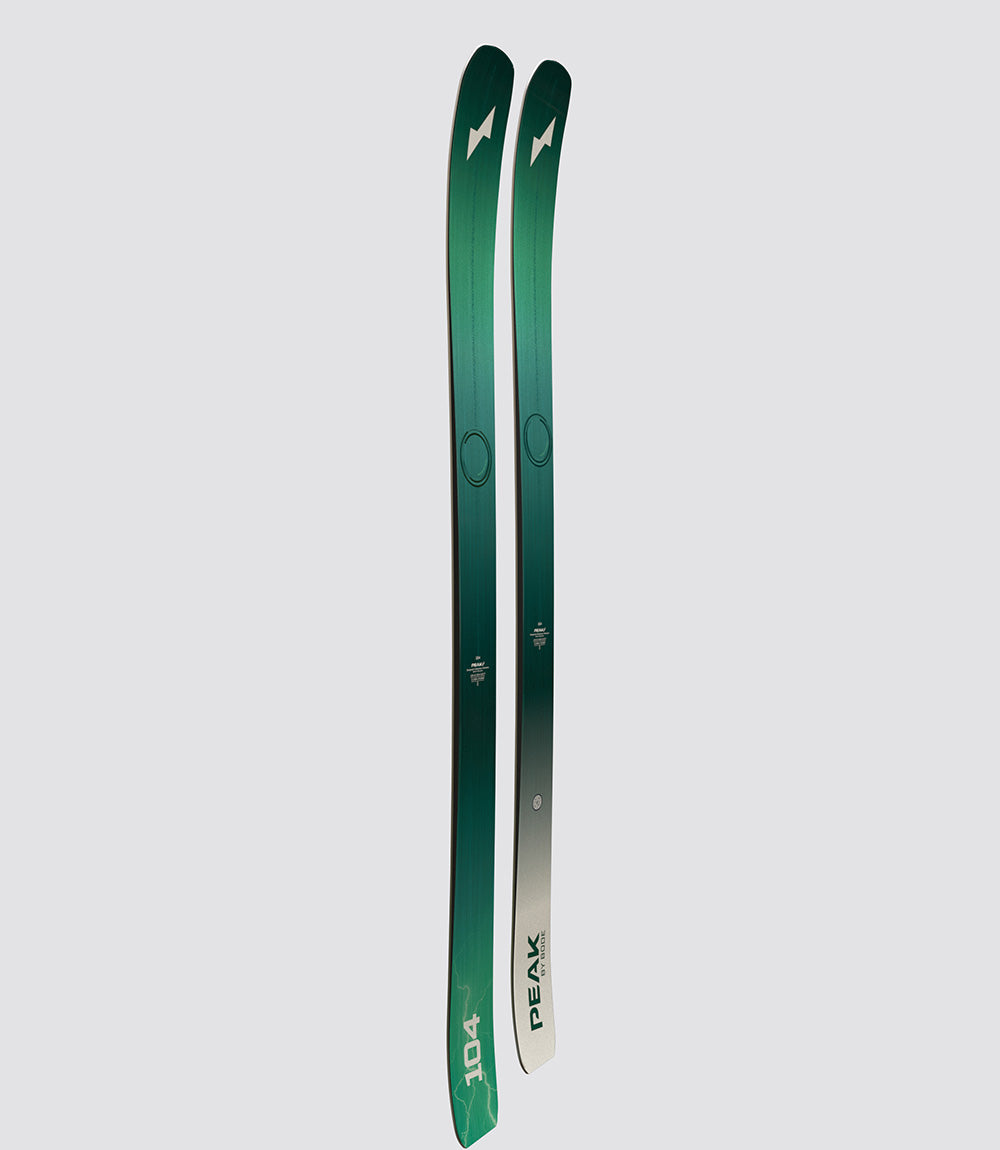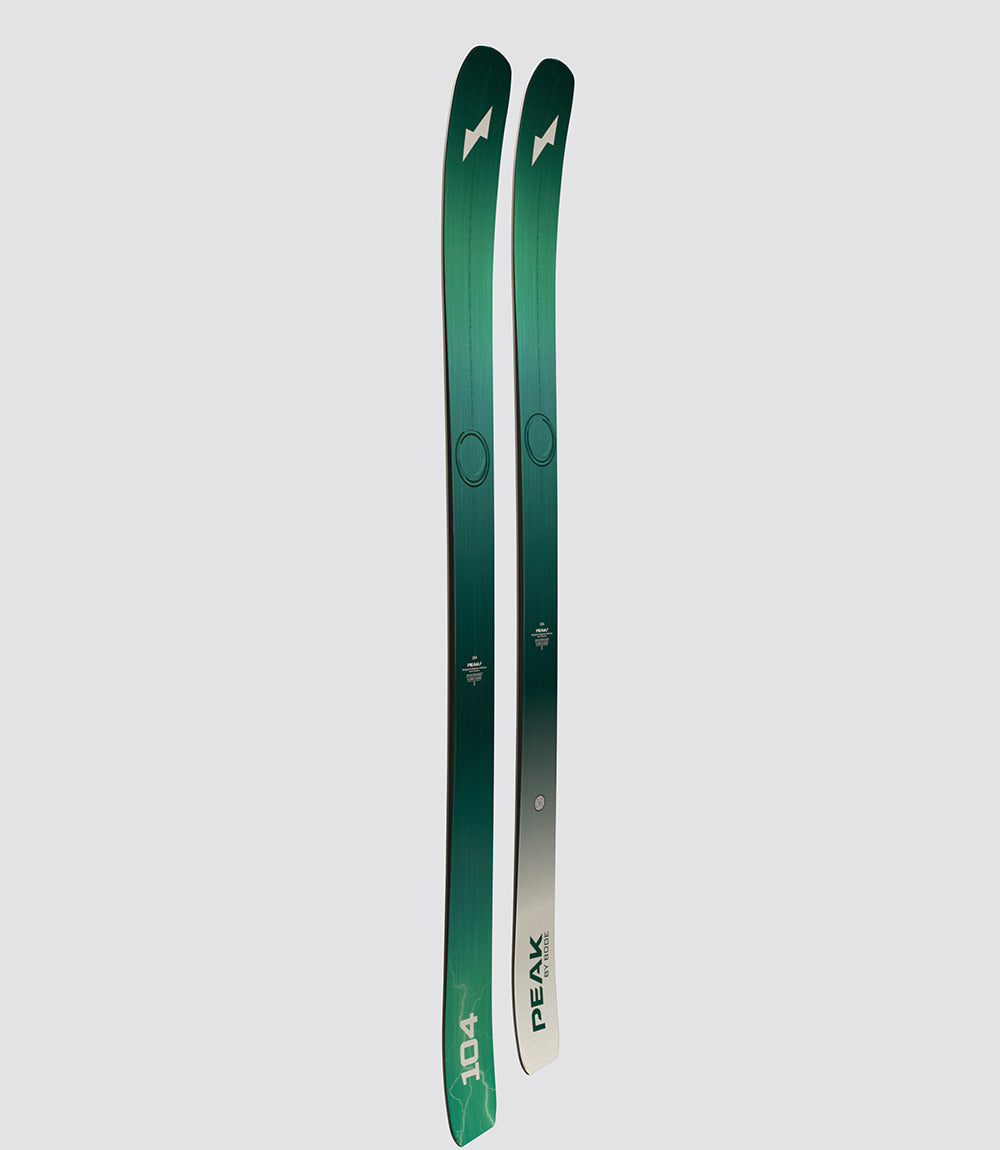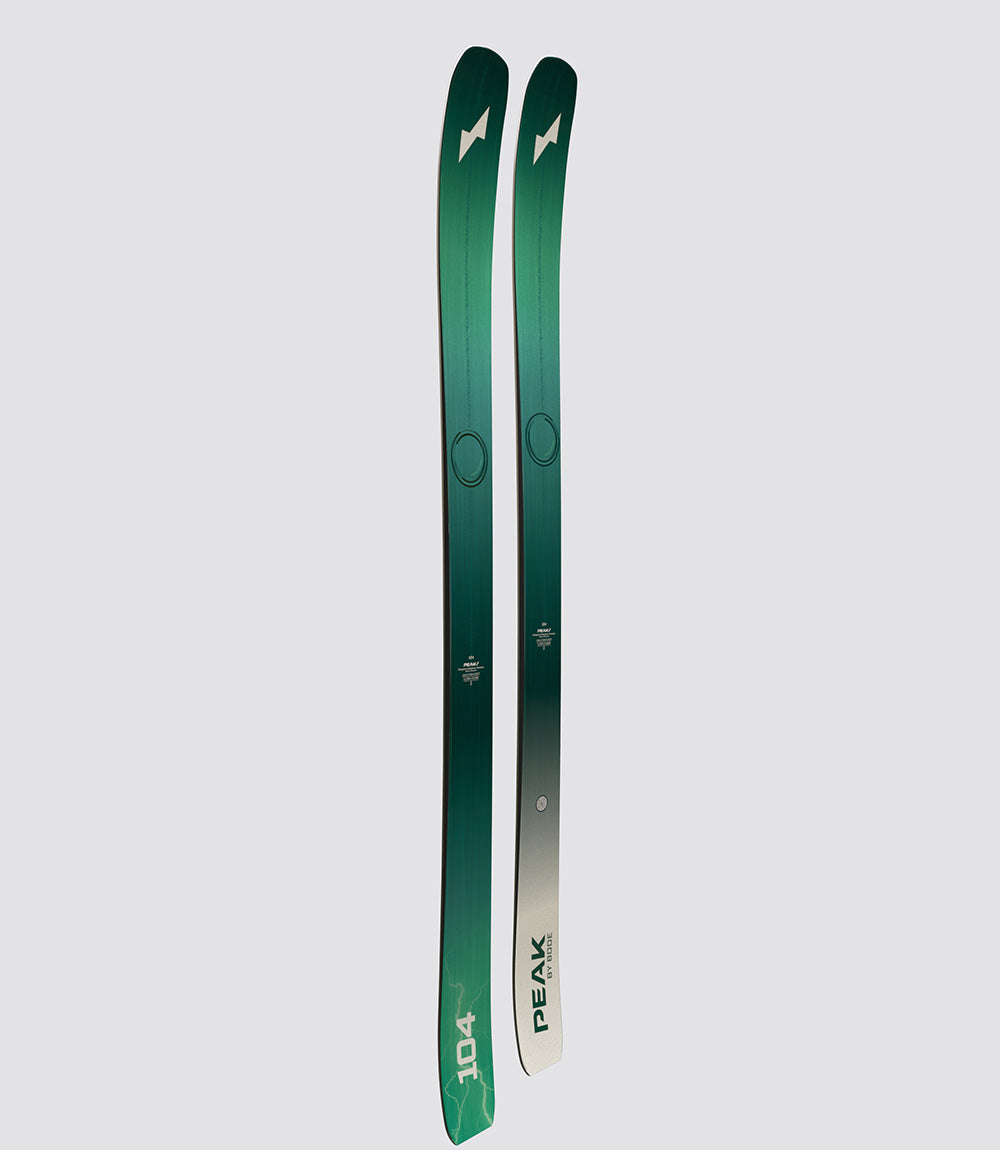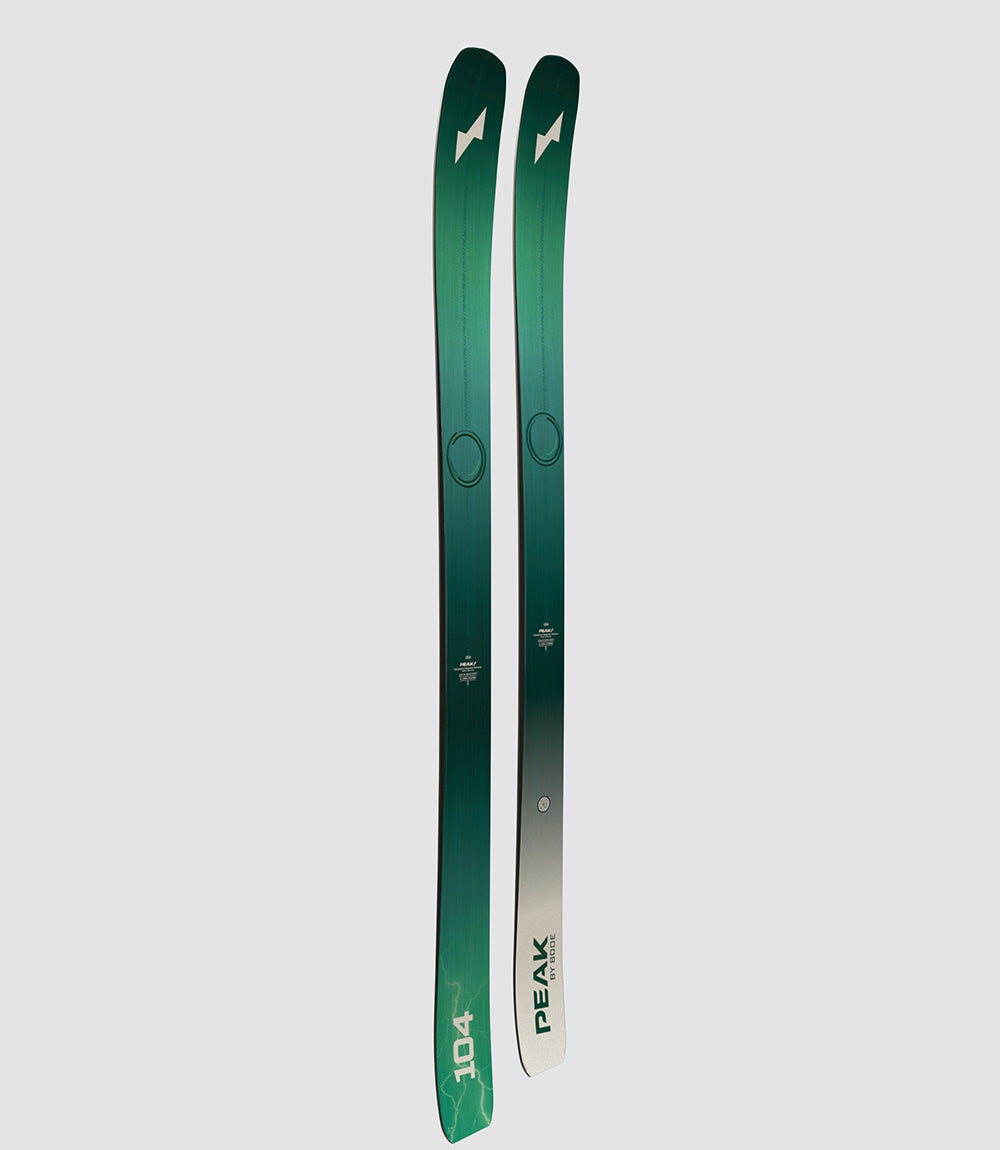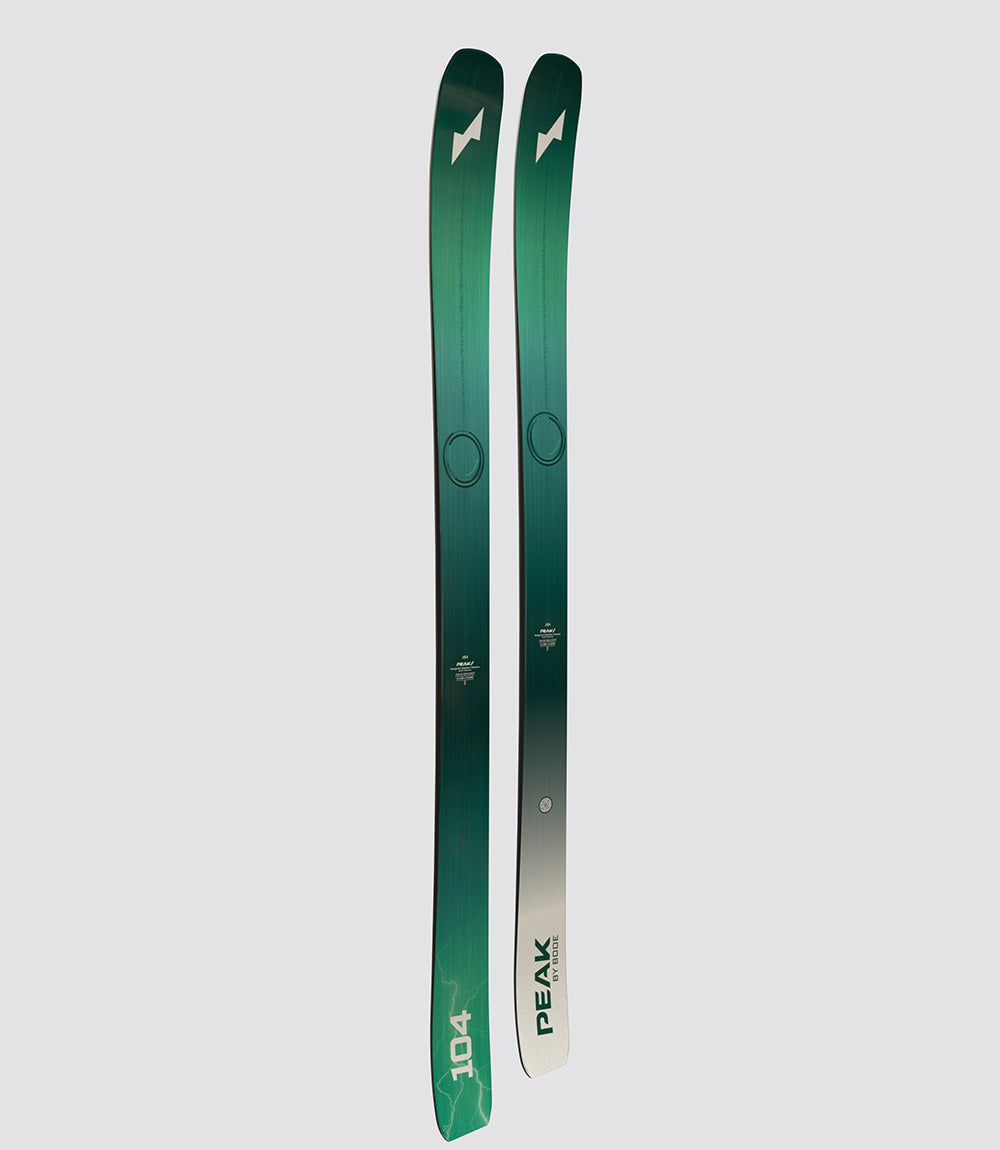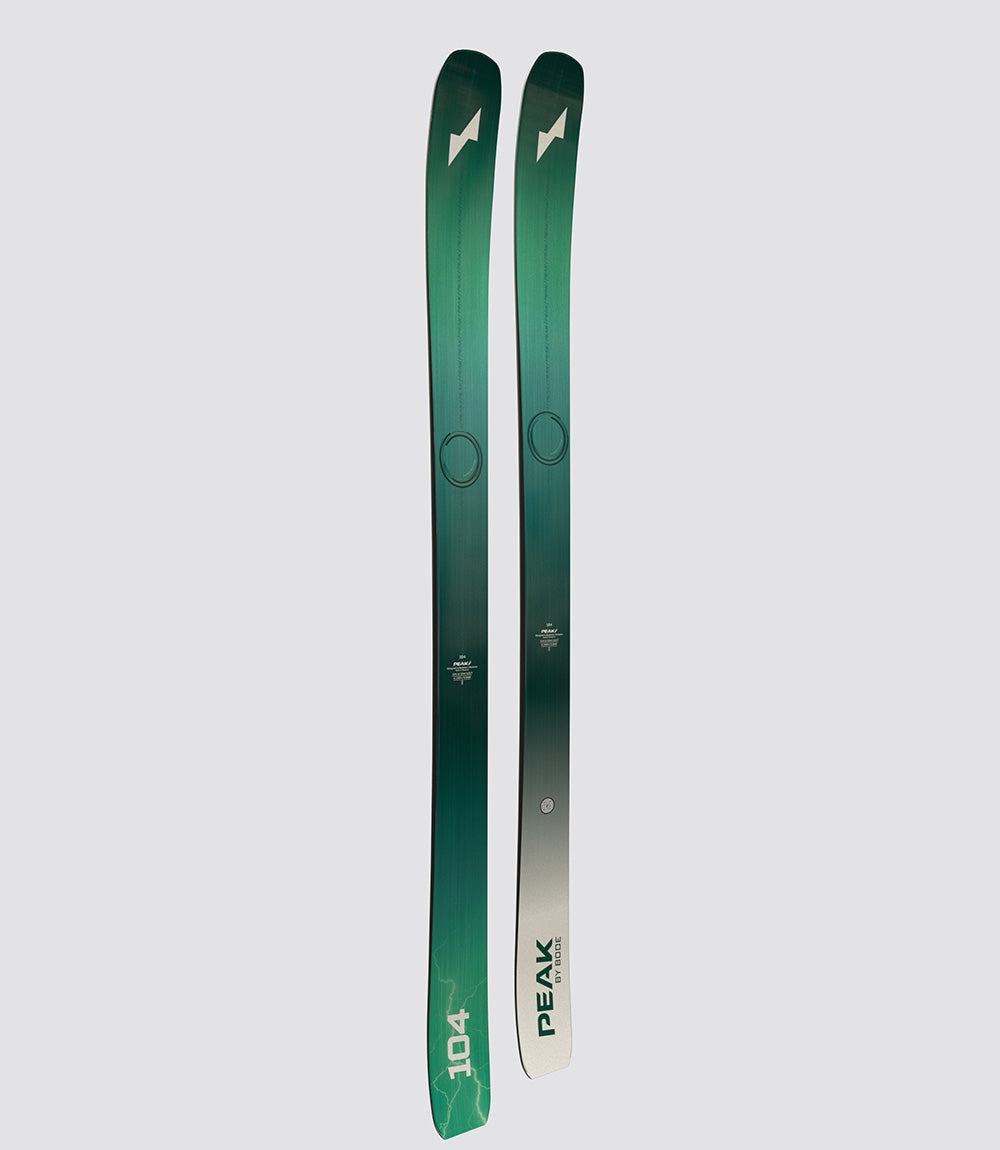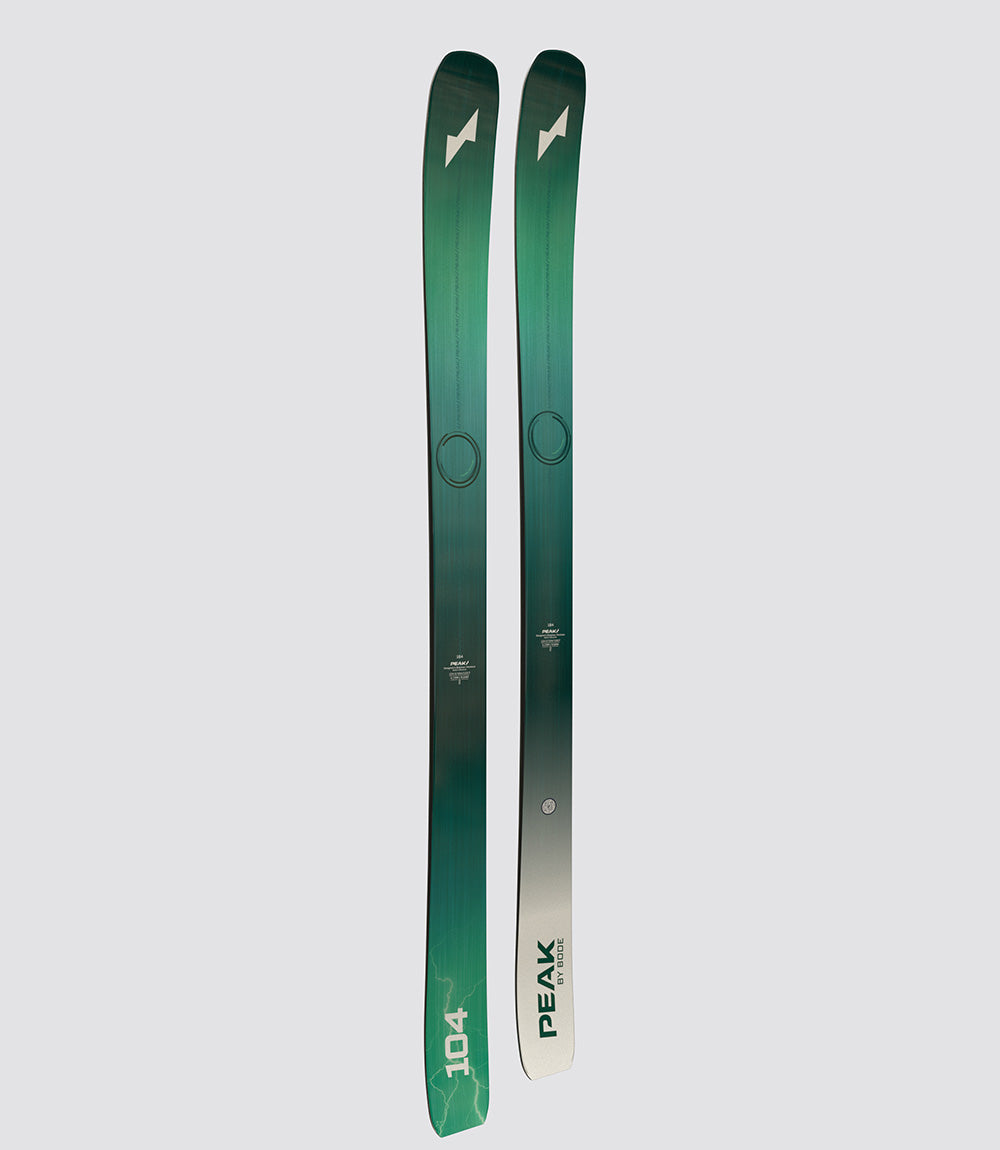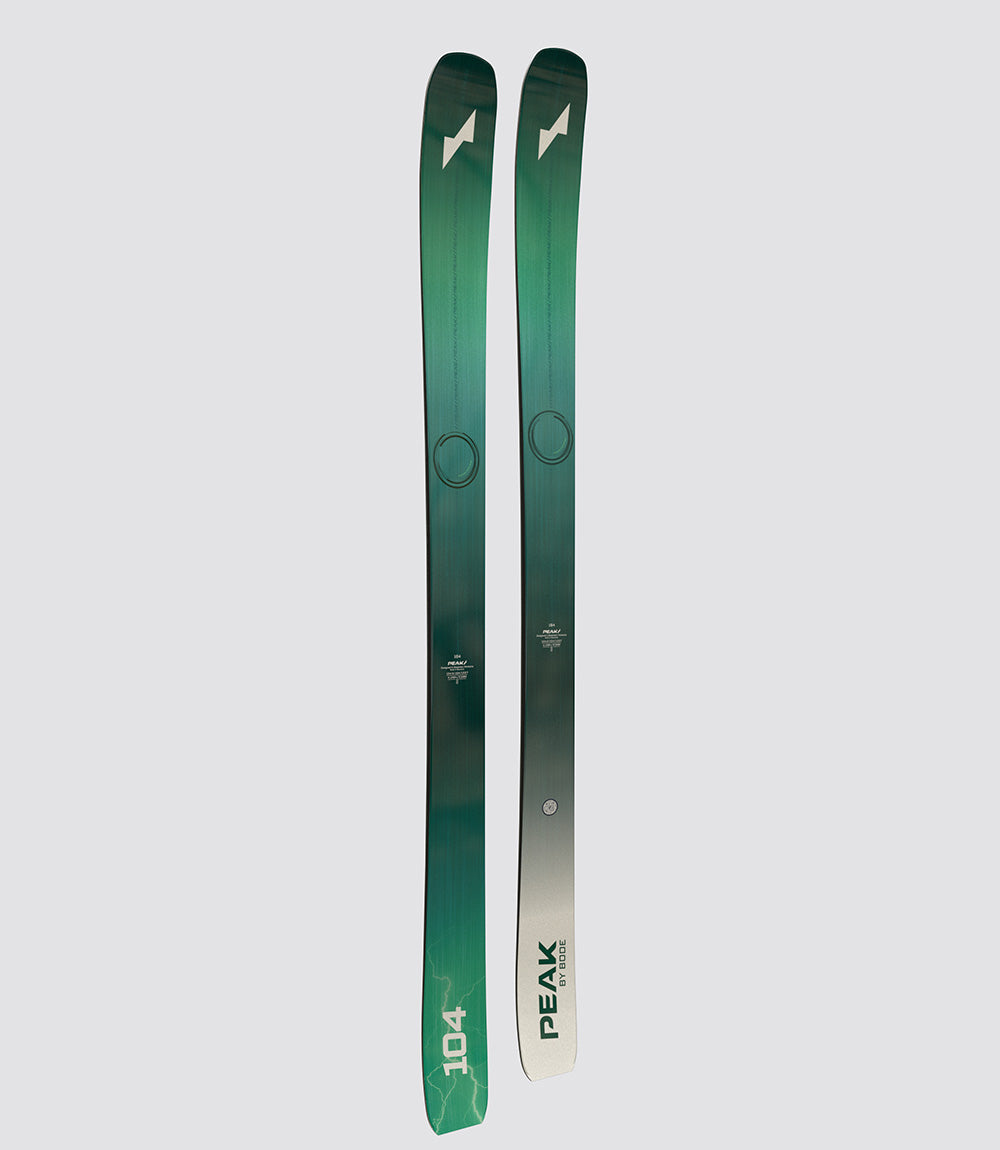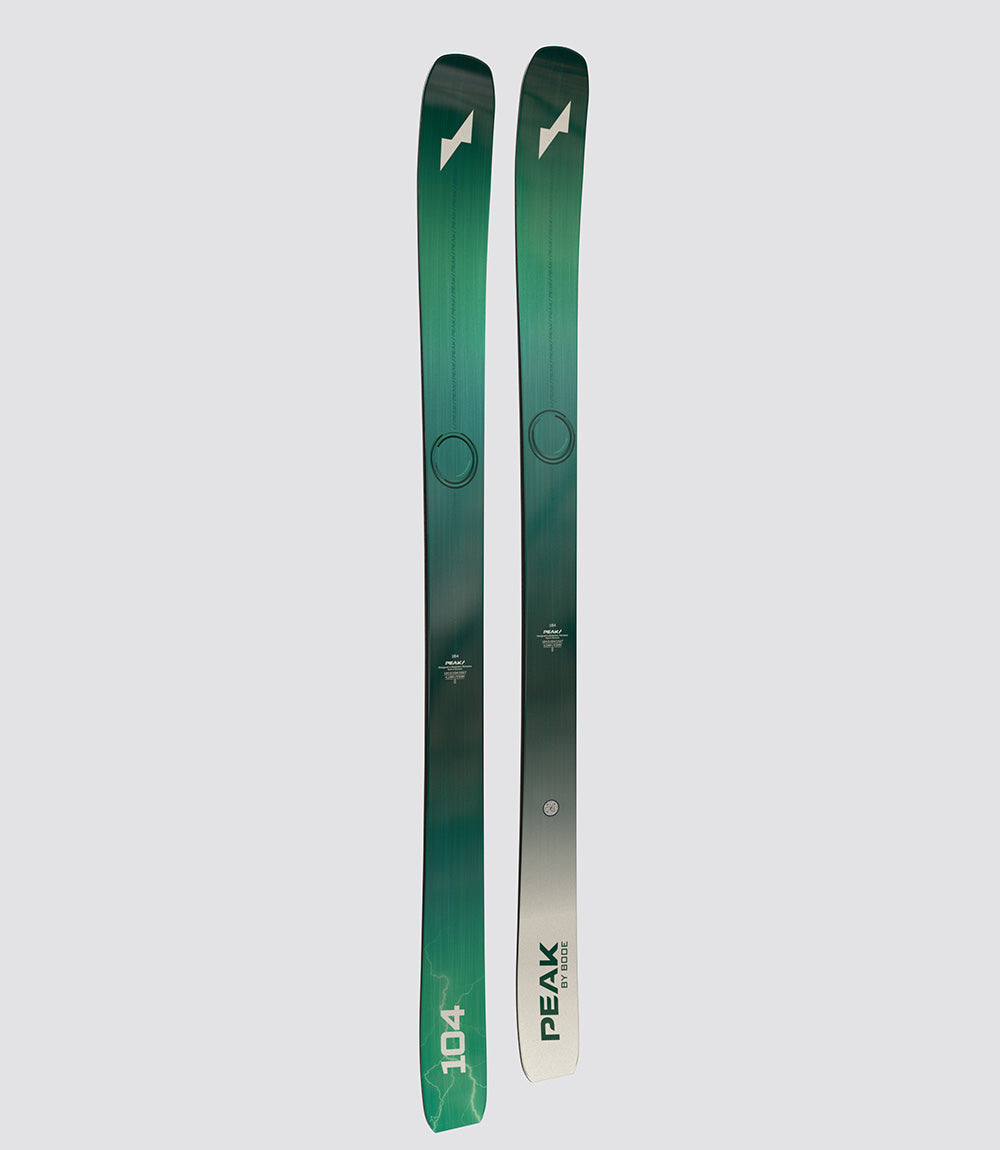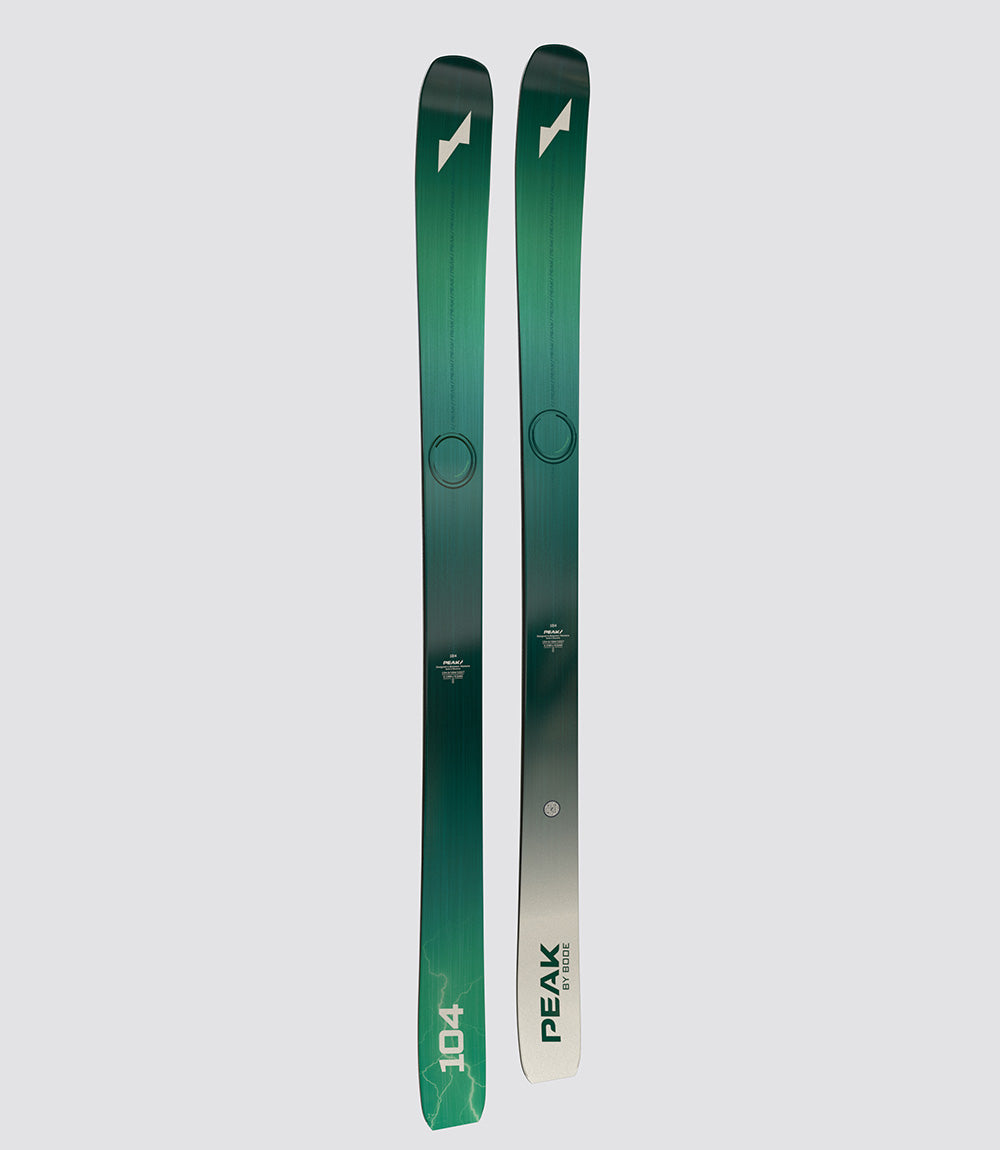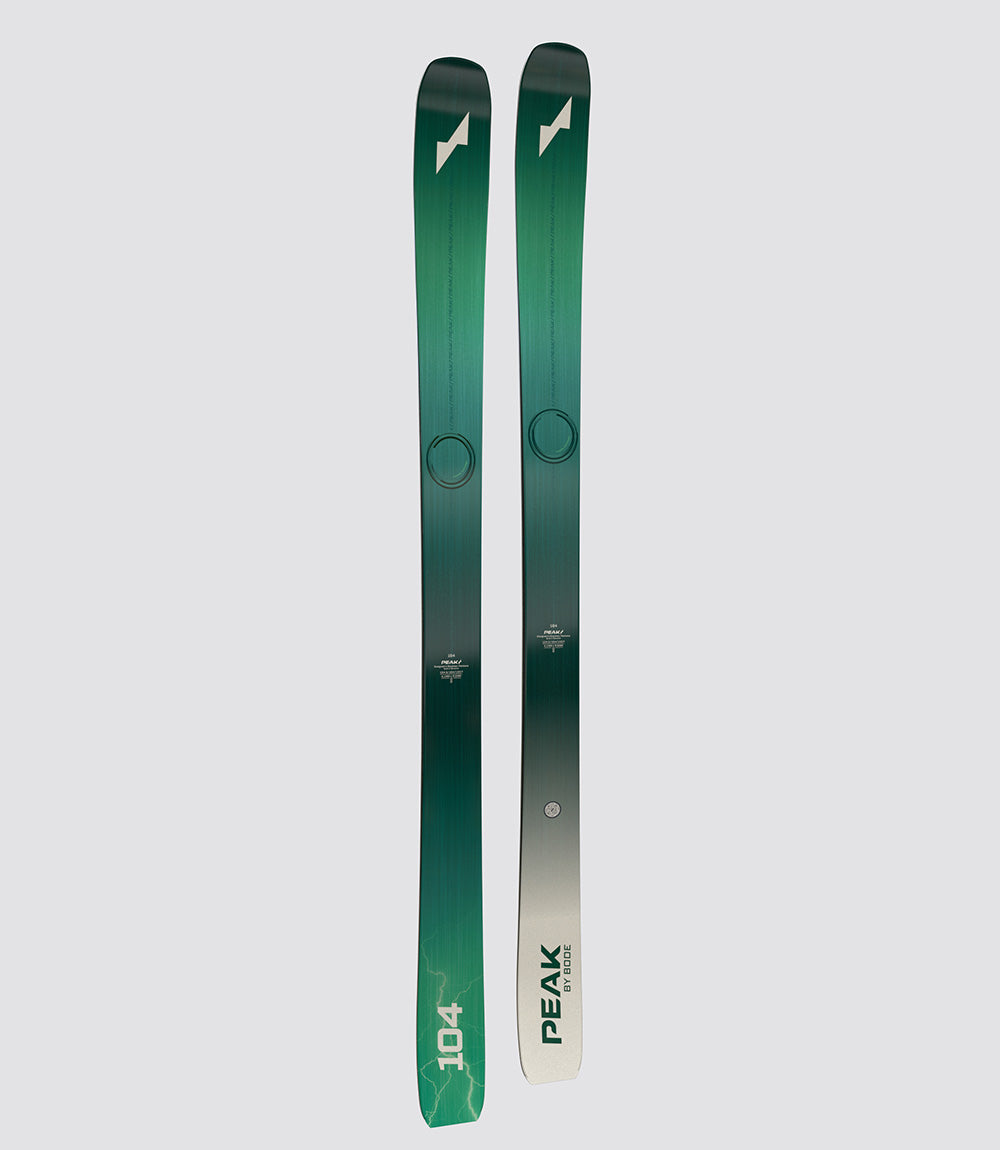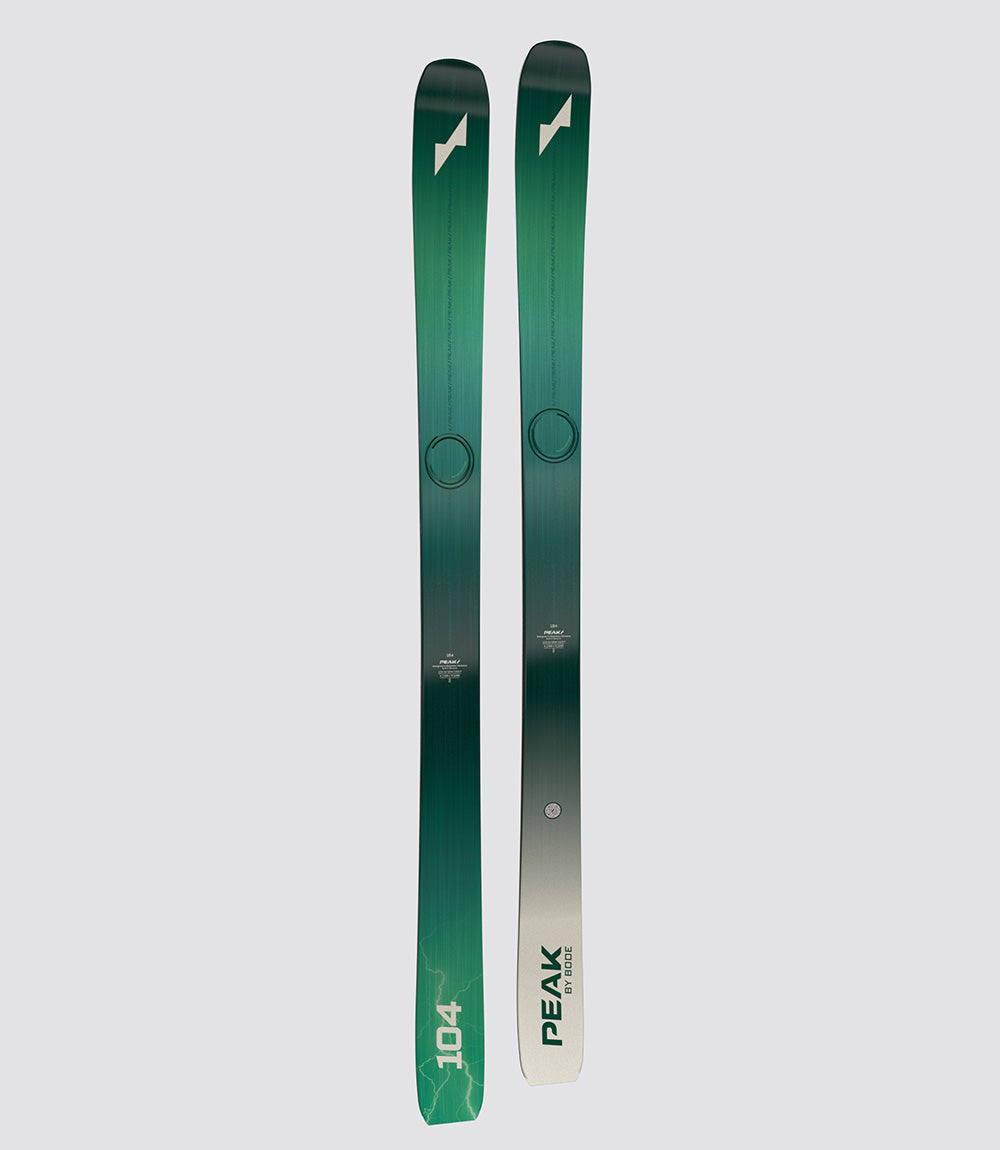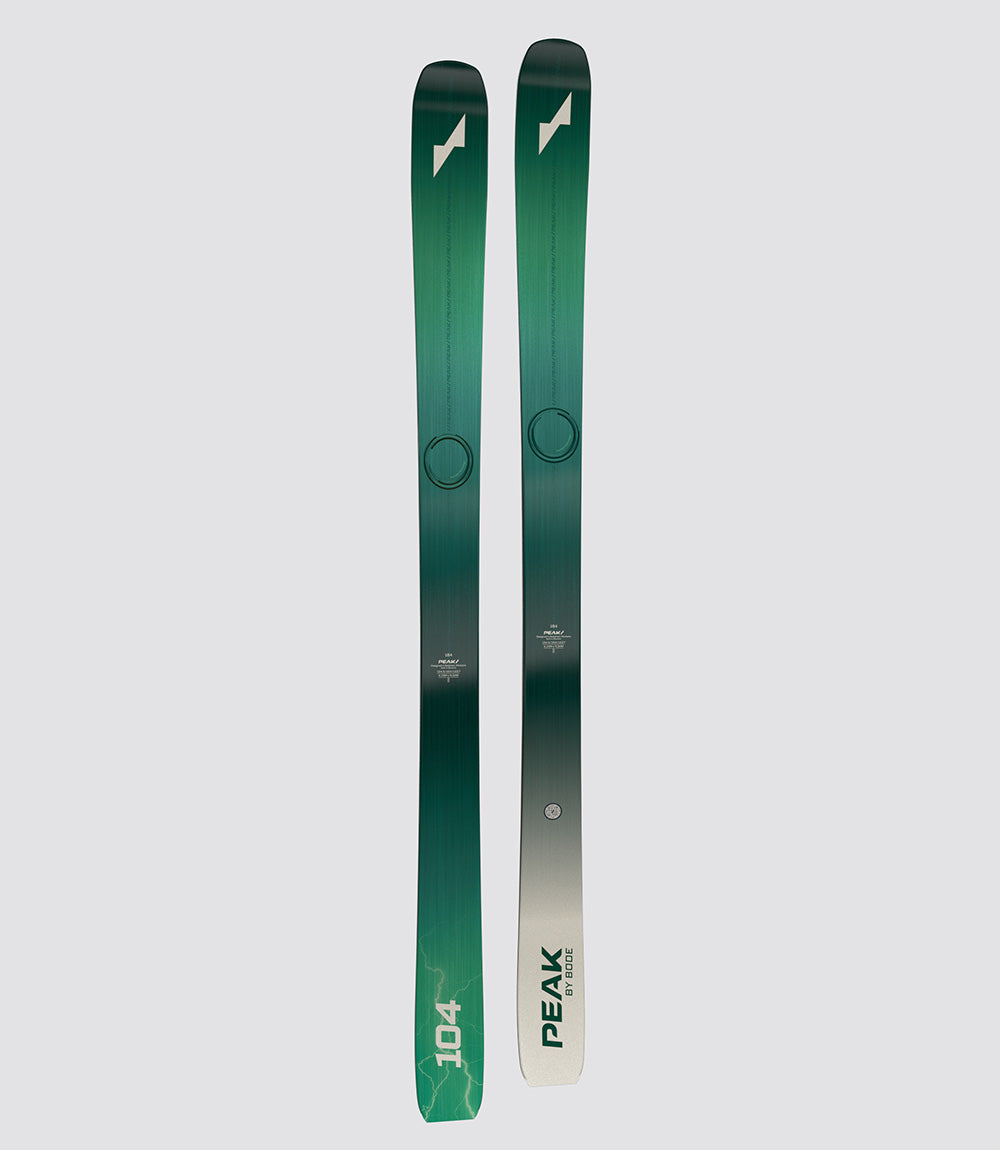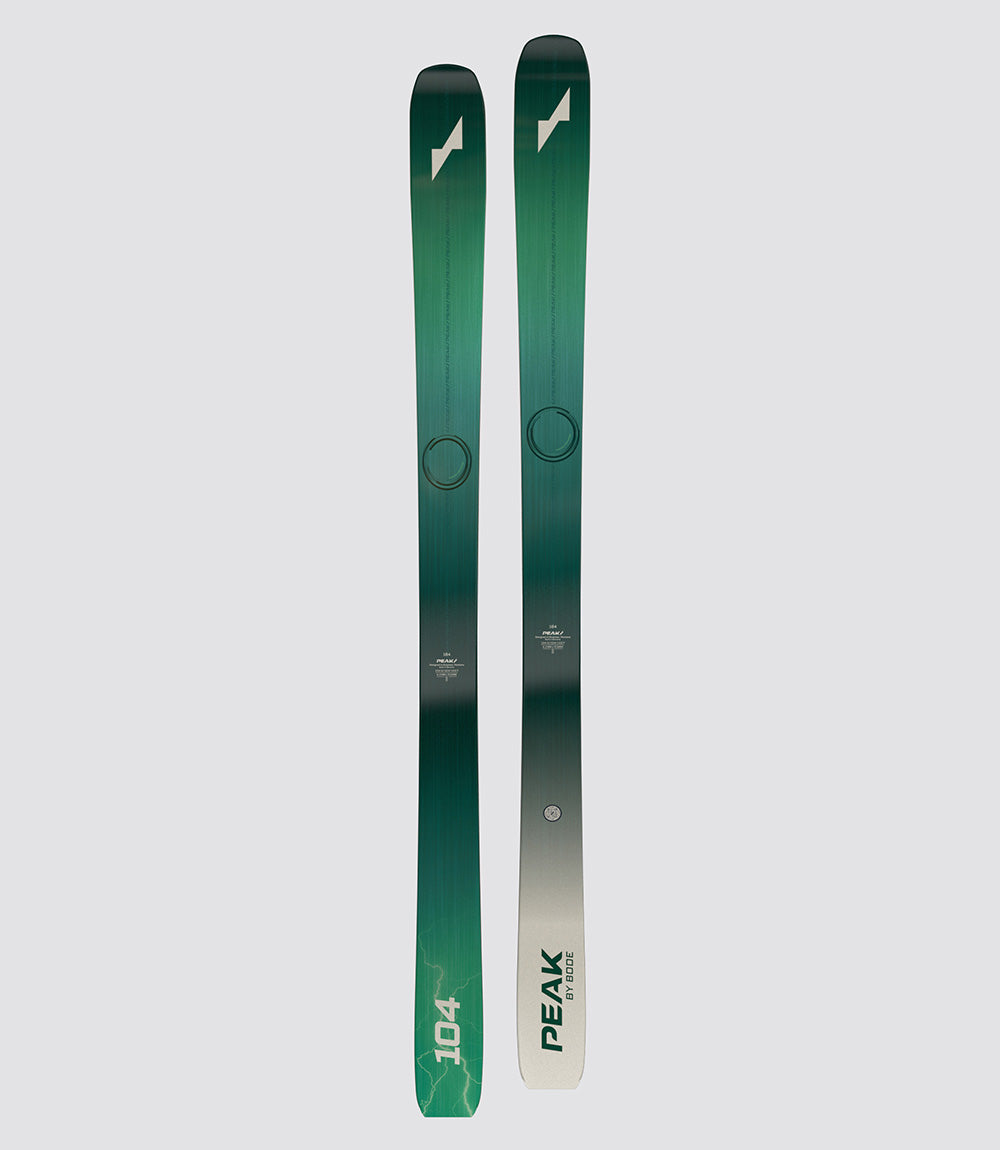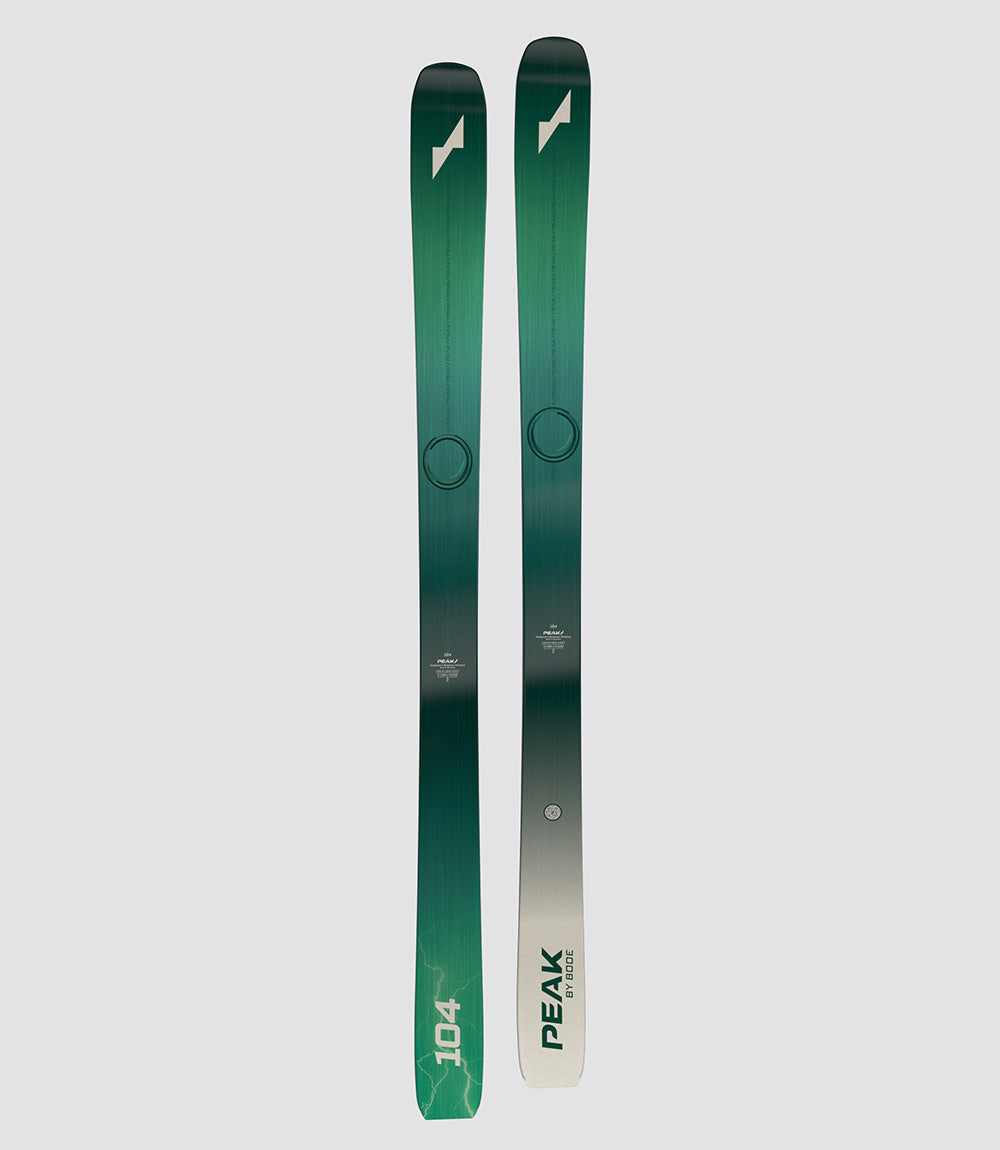 Ski Length Guide
What Skier Type are you?
A/B: Higher speeds and/or open terrain
B/C: Moderate speeds and/or higher terrain (trees/chutes)
C: Slower speeds and lower edge angles
What length skis should I buy?
| Skier Height | A | B | C |
| --- | --- | --- | --- |
| 5'4" – 5'6" | 176/178 | 168 | 160 |
| 5'7" – 5'9" | 184 | 168/176/178 | 160 |
| 5'10" – 6' | 184/188/190 | 176/178 | 168 |
| 6'1"+ | 184/188/190 | 184 | 176/178 |
Peak® 104 by Bode
Whats Under the Hood
Although our Peak 104 has a wider footprint than our 98 for float, and a bit more rocker in the tip and tail for that surfy feel, its still got the 98's powered-up core—ash and poplar—and the full metal jacket of titanal in both the upper and lower laminates to soak up vibration and add edging power. Out West, it's such a versatile ski that we don't think twice about throwing it on the rack.
Best Skis Ever
Hey, I have been meaning to let you guys know how much I like my Peak skis. Your email on the 4th has made me finally do so.

A little background to start: I just finished my 60th season of skiing. I was started very young by my parents and as a teen raced with the Loveland Ski Team for 6 seasons. I also instructed for a few seasons. In 1995 along with my wife we bought a ski shop, Mt Shavano Ski Shop near Salida, CO. Our local ski area is Monarch Mountain. After 27+ seasons we sold the shop recently. (the shop just had its 50th season!) During the course of owning and running the shop I have tested countless skis and purchased many pairs for my personal use. I currently have 40+ pairs and ski almost every one each season. They range from beer league race carvers to all mountain to very fat pow specific with a few tele mounts in the mix.

I purchased a pair of Peak 104's early this past season and first skied them starting in late Dec. when the snow was getting reasonably good. This is the first pair of skis in a long time that I had not demoed prior to purchase (also the 1st pair I paid retail price) but I had been following the Peak story since I became aware of them and wanted to try them out. The keyhole idea matches up with my idea of how a ski should work, easy turn initiation and power under the boot. So I went for it hoping they would be good.

I HAVE NEVER SKIED ON A PAIR OF SKIS THAT WORKS THIS GOOD!!! It was apparent from the first turn that these are an incredible ski. Effortless to turn, stable, quick, forgiving, floats when needed, carves when you want, carves any radius you want, slarves through pow and mixed conditions with ease, any condition any slope they work great, in a word AWESOME! On my rating system that I used when testing new skis they rate a 10+ out of 10 in every category but most impressive is that I rate them a 10++ on my confidence scale. Just jump on and go no learning curve just ski them!
I talked a buddy into a pair, the 88's, he loves them, I also skied his a few runs and was impressed. I got a pair for my wife, the 104's, she liked them but was only able to get few runs in before hurting a knee in a fall. (not the skis fault) I was so impressed that when you made a half price offer late in the season I bought a pair of 98's. I have skied them a few times, spring conditions and am very impressed, they will probably be my #1 ski next season.

I am looking forward to seeing what the future will bring for Peak. I like that you are having them produced by Elan, I used many Elan's in my rental and demo fleet and always loved the quality. The only comment that I would say is that building shorter versions, 160 – 150 for the smaller person would be good. We debated about the 168 for my wife a 160 – 162 would probably be better for her. When I owned the ski shop I had lots of ladies that are very good skiers in the 5' to 5'4 height range that we were always trying to find good "shorter" skis for.

Thanks for making a great product,
Tracy Smith
Peaking
Really not much to say. These skis are incredible! Masters of the mountain at JH!
Perfect for everything
I love these skis! Whether I want to ride groomers, powder, or anything in between, these skis are ready for it all. Couldn't recommend more.
Wow
Purchased 178cm  104s . Im 5'7 175 pd  50 yr old aggressive skier from Midwest. X racer but still train early season . Moved to Colorado 3 seasons ago and found myself having trouble finding a ski that works for me in pow and trees which I had close to no experience with in 40+yrs skiing Midwest.  Have had about every condition within the 4 weeks I've had these skis .  Absolutely love them!!  instantly gave me confidence i was lacking in a longer reverse camber ski i was using for pow days skiing narrow shoots and trees. If that wasn't good enough the big surprise for me was you can still rip turns on groomers !  have no regrets buying the 104s and would like to purchase the 110s down the road .
Awesome all big mountain ski
skied 14 days at BigSky and I couldn't notice a difference on groomers of these 104 and my Bizzard 88. Carving high speed turns was great. However they really stood out skiing the deep powder off the Dakota lift both in trees and in the bowl. Light enough but handled spring crud easily. Recommended to all my family and friends